Outside
Let's talk about planning planting beds, digging them out to crisp up the edges, spreading a truckload of mulch, and other fun curb appeal delights. Yes, with Clara's birthday party coming up this weekend (more on that another day) we've been trying to give our landscaping a little attention. Mother Nature has done her job by cranking the greenery to eleven, so we've done some work to further improve the view from our front porch. And from this post title, you can probably guess what I'm talking about.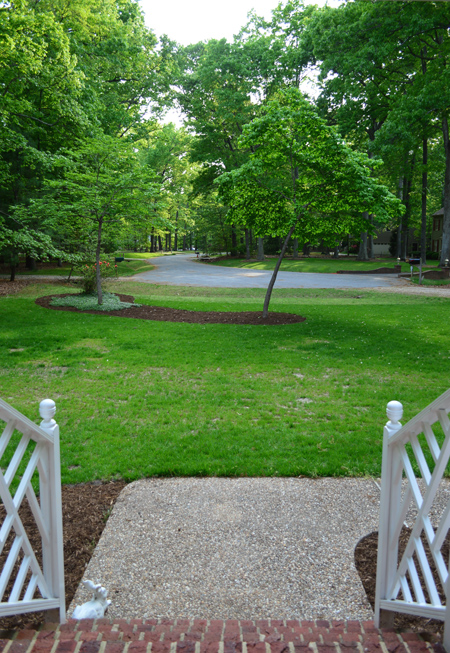 Let's hot tub time machine our way back to last summer (after all, there is no classier way to time travel) when most of our plant beds were looking like this. A nice gradient from weeds to dirt.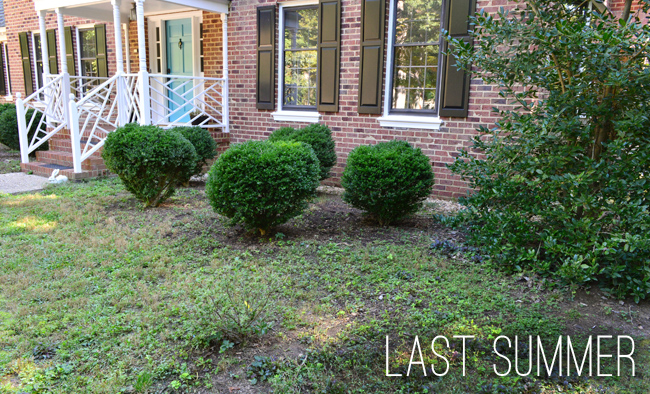 Our grass came in fairly well (not perfectly though, so we overseeded this spring and will probably aerate/seed again in the fall) but we didn't get around to mulching. So by this spring, we had slightly better defined planting beds thanks to thicker grass surrounding them, but they were still looking pretty rough themselves.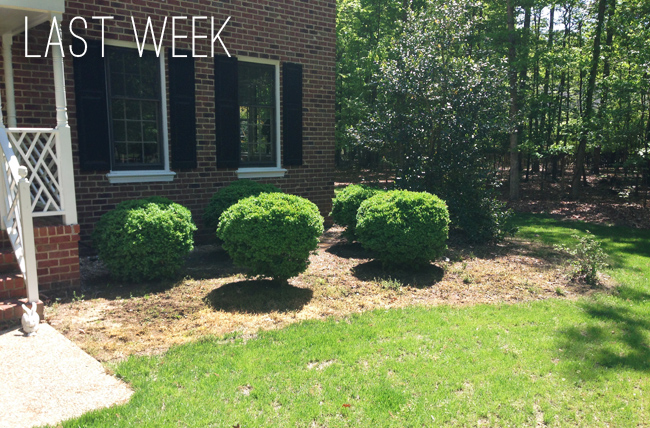 We looked into free mulch since some of you said that was available in your area, but came up empty. So after getting recommendations from a few neighbors and doing some math, we decided to get mulch delivered this year rather than haul a bunch of bags home from Home Depot. We learned that a 10 cubic yard delivery of basic hardwood mulch would run us $280 through this local company that a few of our neighbors used each year. We did the math and realized that even the cheapest stuff at Home Depot would've been $300+ for the same amount… and it would have meant hauling 135 bags home ourselves, so that made the delivery route a pretty easy call.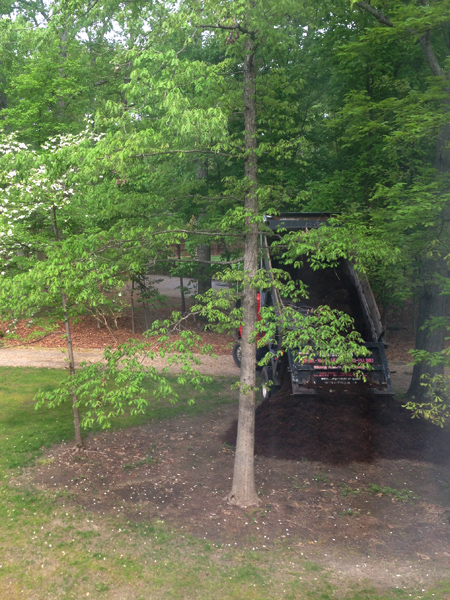 Not that there wasn't lots of hauling involved. Instead of bags, I was shoveling wheelbarrow after wheelbarrow full, but at least I had a helper for a little while. Next time I'll have to convince her to upsize her tiny trowel.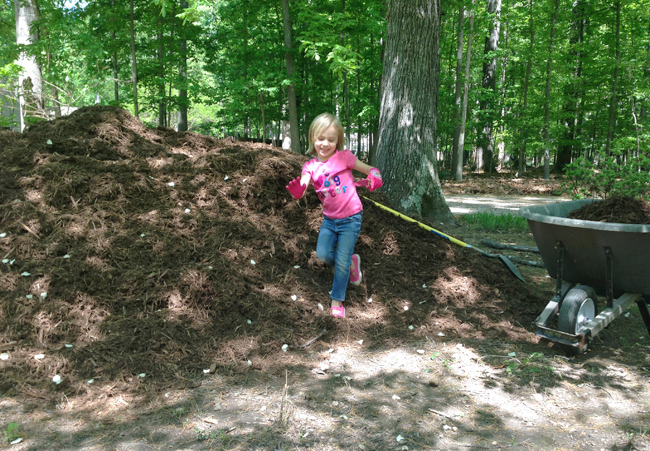 It took 2.5 afternoons, but by the end our landscaping was looking a lot better. We still have a ways to go (like actually planting more and taking care of some bare-ish grass patches) but at least we're getting closer to that ever elusive "curb appeal." Although we're still not 100% set on the shape of these beds (we're debating extending the one in the foreground along the outside of the path so we can plant things on both sides of the walkway eventually.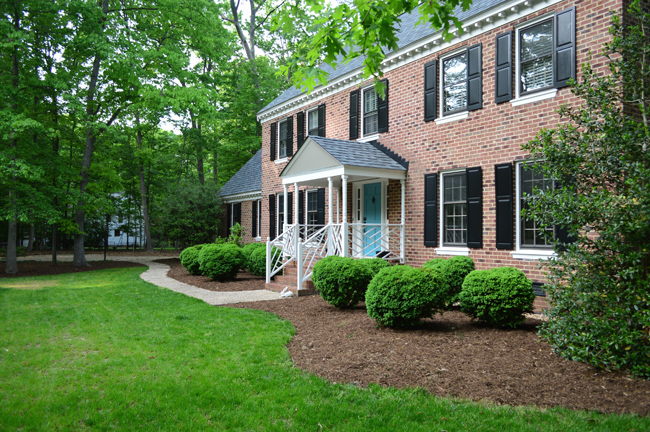 In addition to hauling and spreading, I also took a crack at defining the beds. Many of our neighbors have beautiful landscaping with crisp grass-to-mulch lines that we've long admired, so I thought I'd attempt the same look. I started by outlining the shape with a hose – intentionally going into the grass so it would be thick at the border.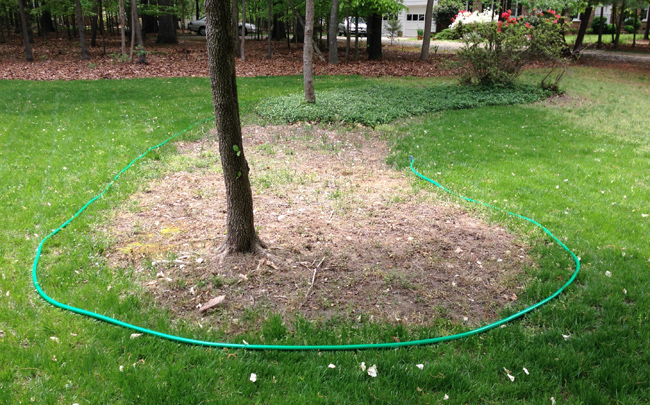 Then I used this small edging spade to cut along the line, just digging out a small chunk as I went.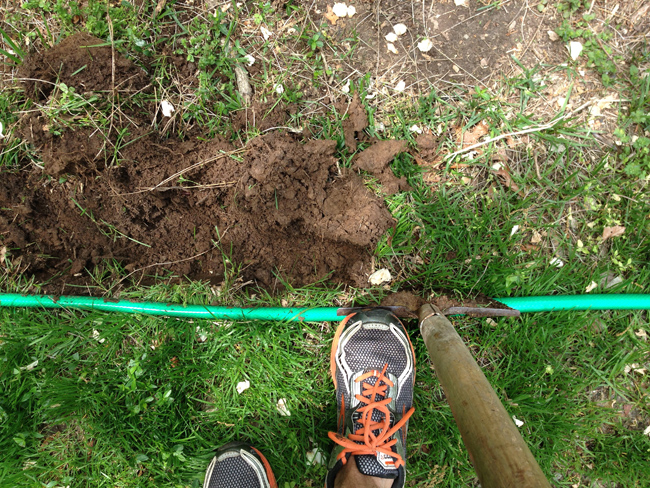 Next I went back along and dug up any grass in the area that I wanted to mulch. This not only helped to keep grass from eventually sprouting up in the mulch beds, but also recessed the whole bed below grass-level, so the mulch will hopefully stay more contained.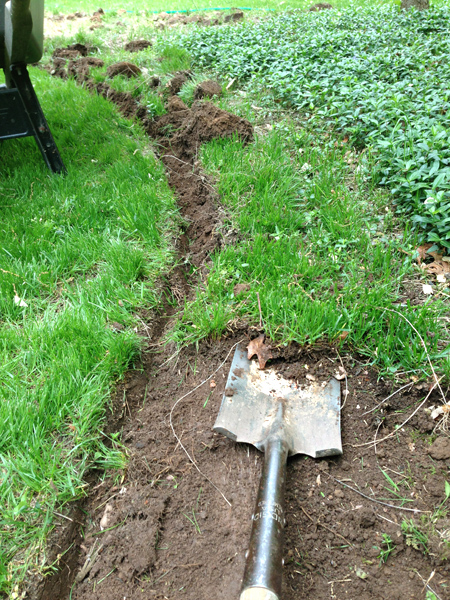 Here's the bed all dug up and ready for mulch. I'm not entirely satisfied with my final shape, but I think once we add back some bushes or flowers it might make more sense. For now we're just kinda working with what's already there.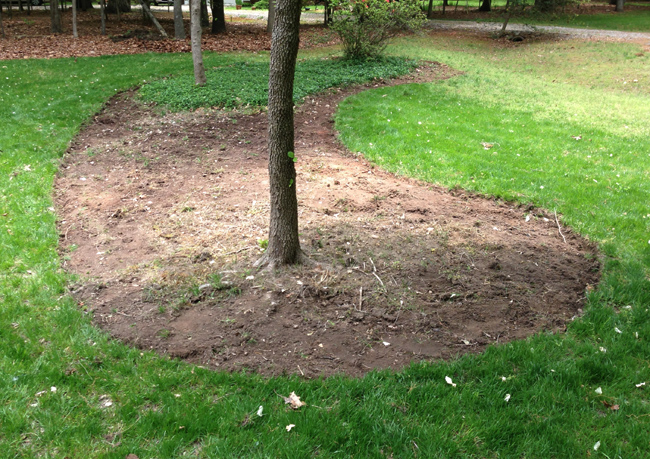 And here it is all mulched up and ready to party. Well, except for that sad looking azalea on the end there. He must be very popular with the deer.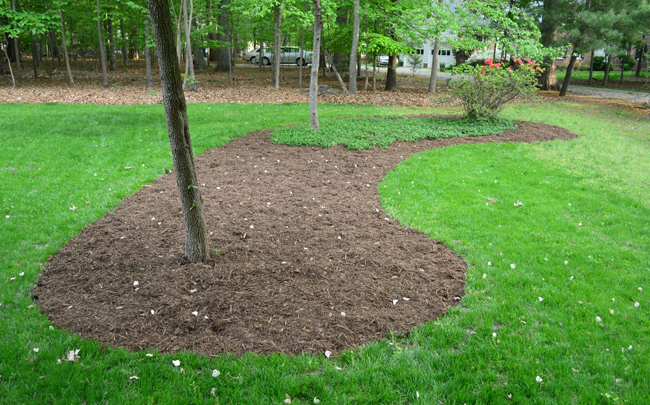 I won't give you a bed-by-bed tour of the yard, but here's another quick before and after progress look at how much things have evolved in the last nine months or so.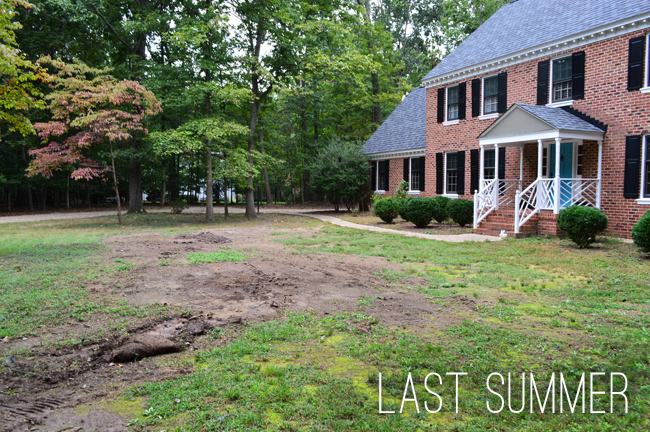 This picture makes me so grateful that winter is over.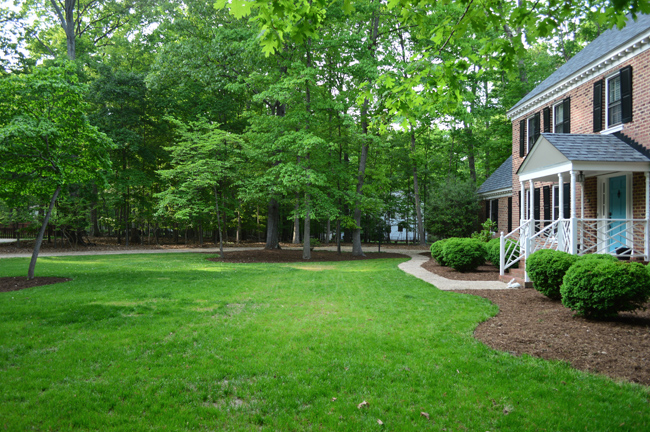 Ten cubic yards ended up being more than we needed (we did some rough measurements and used an online mulch calculator to get that figure) so I think next time we'll just need 7 or 8 and we should be good to go.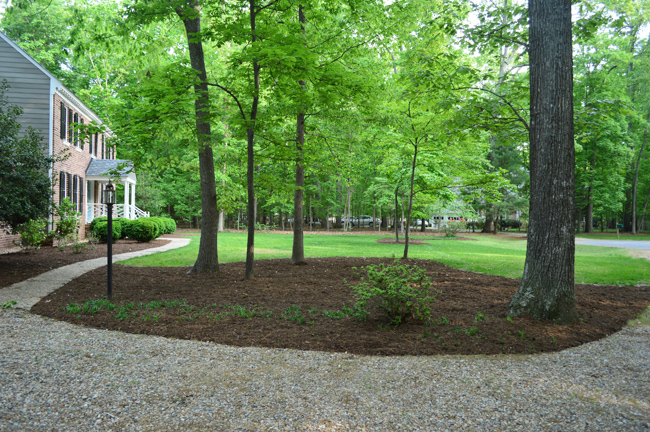 I used up the extra by mulching some areas in the backyard, and then spread the rest over the big bed in next to the driveway (in the photo above) to make it extra thick.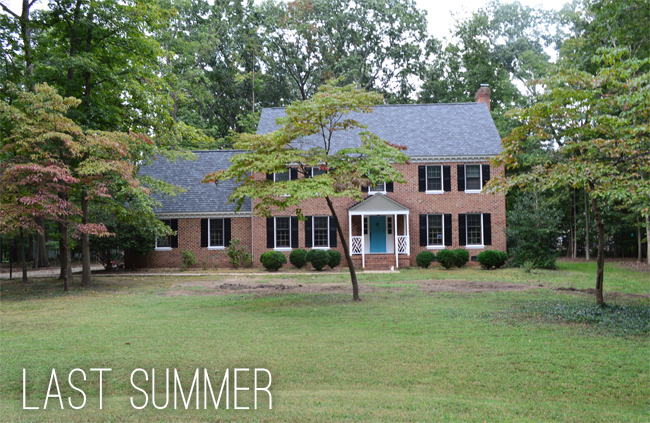 With this task done, we feel like we're finally close to "Landscape Zero" where the property doesn't look too neglected (tell that to the weeds in the driveway) but we haven't really moved forward to getting those empty beds planted yet.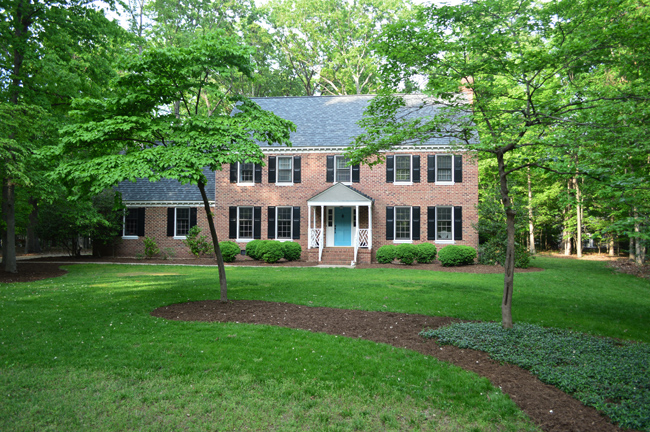 We're actually thinking of hiring the landscaper who did our showhouse for a consultation since we really liked working with him. We'd do all the planting grunt work, but we think that talking to a pro about what should work with the deer and the light that we get would be worth the trouble. We really liked getting a professional opinion on our last house, which seemed to get the ball rolling over there, so we're hoping it has the same effect here.
And while we're on the topic of outside projects, we also have a new addition to our plantings in the back of the house, courtesy of some thoughtful neighbors who unknowingly crossed off "Get Teddy a birthday tree for the backyard" from our to-do list. They gifted us this dwarf magnolia that's called, get this, a Teddy Bear Magnolia.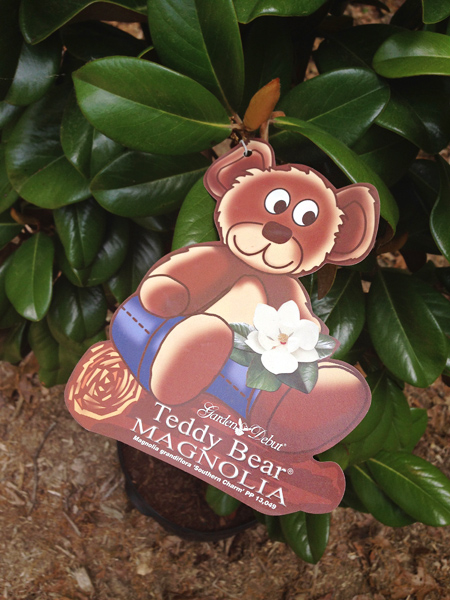 We found a spot for it near our traveling Japanese maple, where we can see it from the living room and where it will also hopefully offer some nice privacy screening in the winter when the other trees behind it drop their leaves (after it doubles in height and triples in width). The maple, btw, seems to be doing well. The deer have "relieved it" of some of its lower leaves (you can see what we did to stop them here – which seems to have worked since that point) but we got lots of new growth up top this year.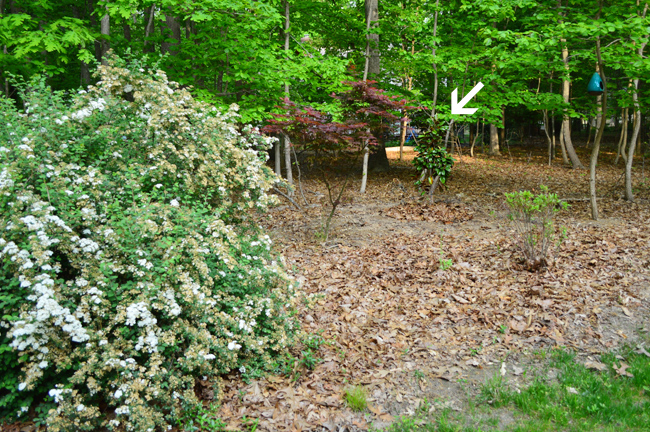 Is anyone else getting their hands dirty lately?
PS – Sherry made a Teddy's Photo Project page (and a new sidebar button to lead you there) this weekend, complete with his three week photo and a few outtakes. We'll be updating it with each week's photo as we go, just like we did with Clara's.
&nbsp&nbsp&nbsp
This isn't "Deckgate" in the sense that there's a scandal involving a deck (sorry Olivia Pope) but for anyone who might want to learn how to build a literal deck gate, well, this could help.
Our previous method of deck "gating" could be considered a little… lacking.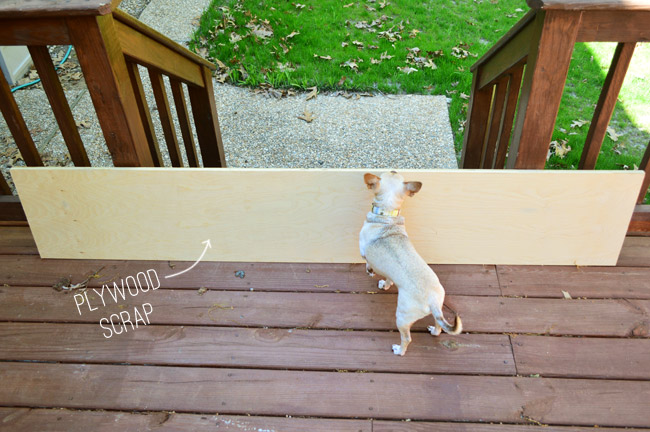 The nice weather has accentuated a shortcoming of our deck once again. Burger likes to sunbathe out there, but the temptation of a grassy yard full of bugs and fascinating smells often proves too great and he goes wandering. We don't have a fence on our property, and he has gotten more brazen lately and may even wander into the neighbor's yard. Hence the classy plywood barrier on one side and the leaned board on the other (yes, that was enough to keep him deck-bound).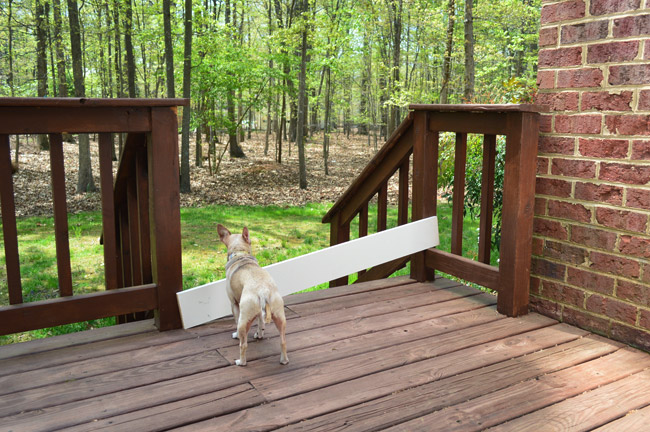 Clearly some gates were in order, since we didn't want to deny Burger his precious sun time but knew with a newborn that policing his whereabouts could fall through the cracks. I read a couple of tutorials online that were particularly helpful (this one and this one), then I took some measurements, sketched out a game plan (I modified both plans a little), and hit up Home Depot. Here's what I came home with: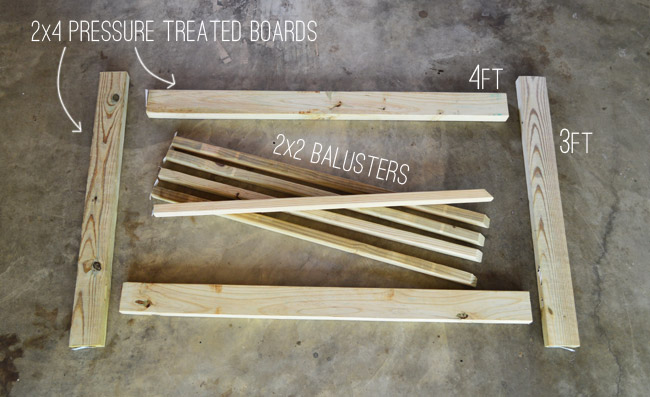 I was making two gates, so picture these supplies twice over.
To get everything I needed, I purchased two 10′ boards (cut into 3′ / 3′ /4′ sections) and one 8′ board (cut in half). The lengths above were just the rough cuts I got at Home Depot to make everything fit into the car more easily, but I knew I'd need to cut my own mitered corners at home. So I started by cutting 45° corners on one end of each board.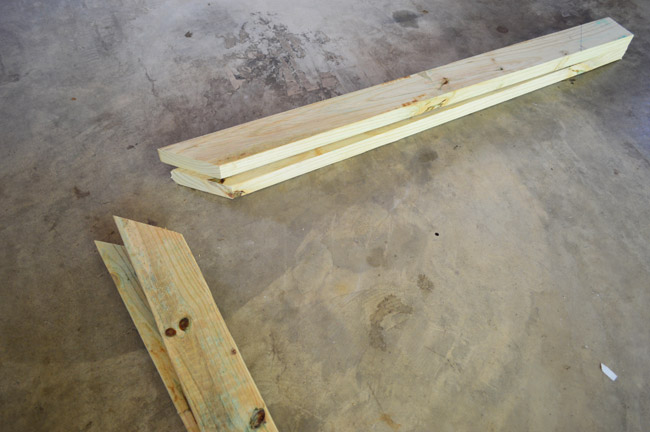 Making the second mitered cut was where I had to be precise on my measurement. I knew I wanted the gates to be an inch shorter than the length of the opening (to give them room to swing) and about the same height as the rest of the railings around the deck. So I marked my lengths and even drew the angle on the board so I was sure I was cutting each one in the right direction. This particular gate was 44″ wide and 29″ tall.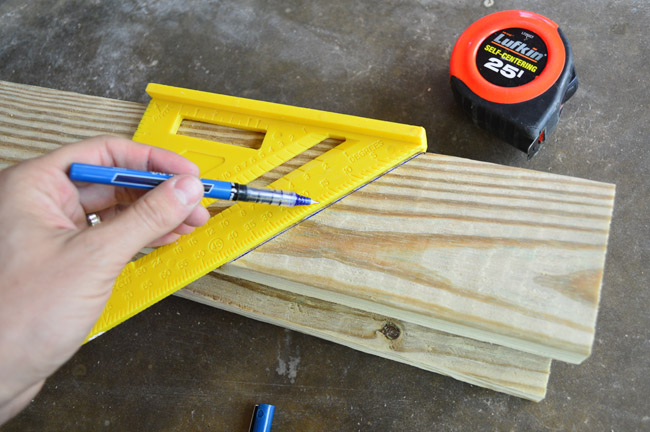 I cut the boards in pairs: the top & bottom boards together, and the two sides together. This ensured that the pairs were identical lengths, which was key to getting my gate all square in the end (so I carefully clamped them together before making the second 45° cut on the opposite end).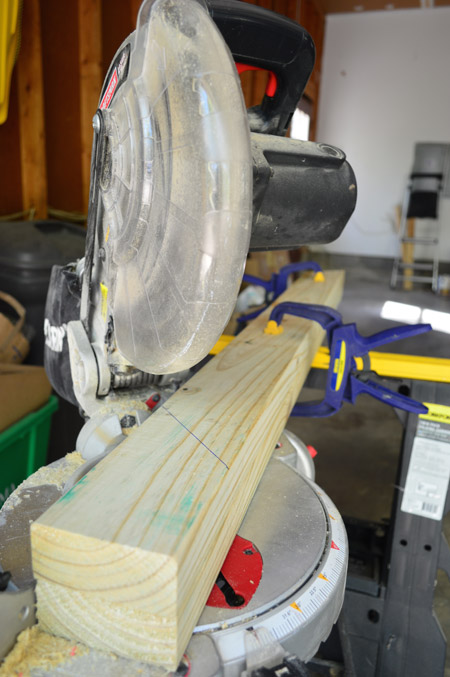 To join my frame together, I used my Kreg Jig to create two pocket holes on each end of the side boards. These are holes I'd later fill with wood putty.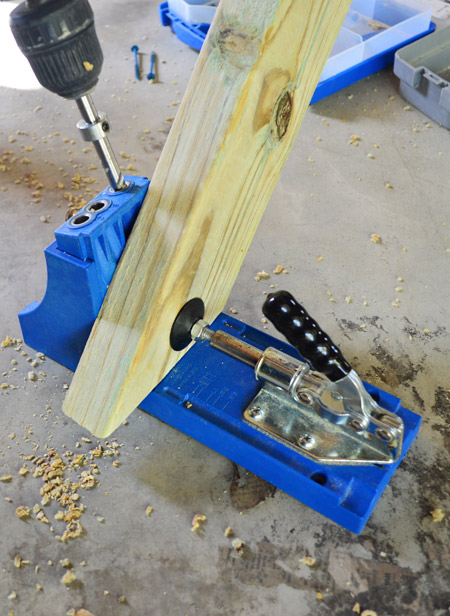 So here's my frame after everything was screwed together nice and tightly.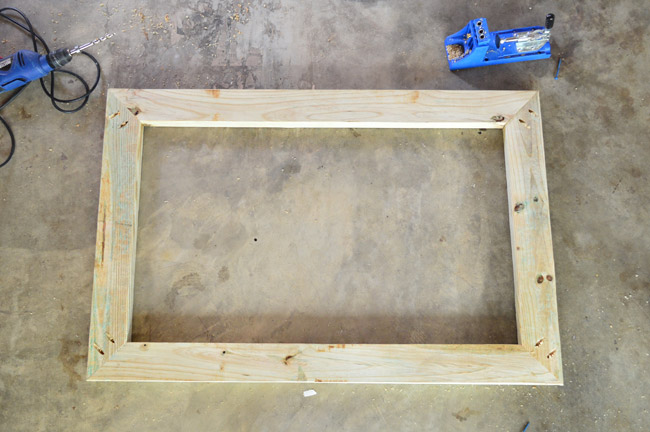 Next I had to attach the balusters to mimic the look of the rest of the deck's railing. Before shopping I had measured the spacing between the existing balusters and determined I'd have space for five of them on my gate. So after cutting mine to length, I attached the first one at the center point of my gate on both the top and the bottom – using two 2″ decking screws (remarkably still left over from my deck project at our last house). Then I used some scrap wood to cut spacers to help me place the next balusters evenly. You can see those in this shot: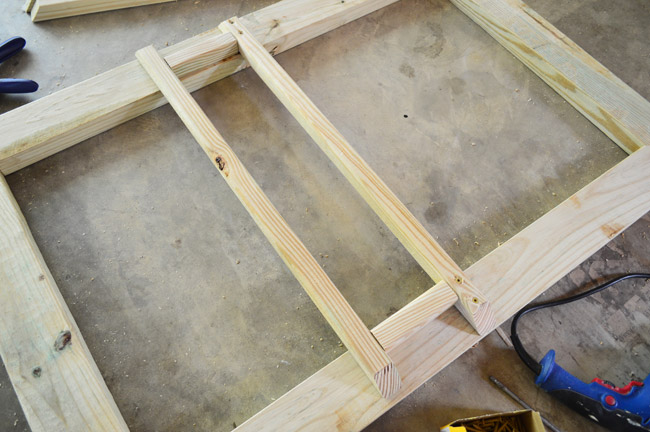 With the gate constructed, we just needed hardware to attach it. Home Depot sold this $15 kit that included two T-hinges and a latch, so I grabbed two of them. I had read in my research that a hinge should stretch about 1/5th the length of your gate. So these 8″ ones were just about perfect for our project.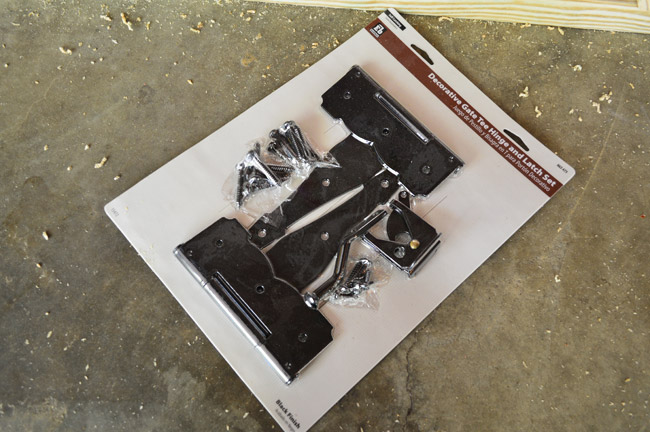 To hang the gate, I used some scrap wood to prop it in place and (with Sherry's help) determined the best spots to attach all of the hardware with of the provided screws. We couldn't center the top hinge (it ran into the existing deck railing) so it rides a little low – but once the light wood is stained to match the rest of the deck we hope it won't be too noticeable.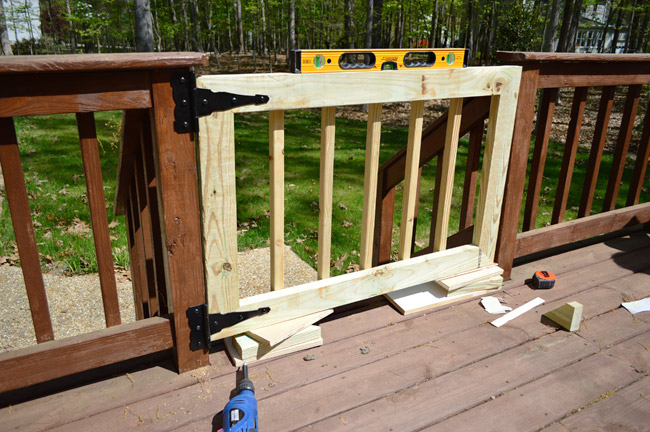 Then we just attached the latching mechanism to the other side, and we were in business.
We still have some leftover stain from last year's deck "rejuvenation" that will make the gates a perfect match, but we have to wait about 2-3 weeks before we can stain them (pressure treated wood can bubble or peel if you don't let it dry out for a little while before staining or painting it). But regardless of the mismatched look, we're just happy to have 'em up and functional. Especially since it only took about three hours to make both of them and my total cost was $53 for two gates ($23 for the wood and $30 for the hardware). File this project under "Why didn't I do this last year???"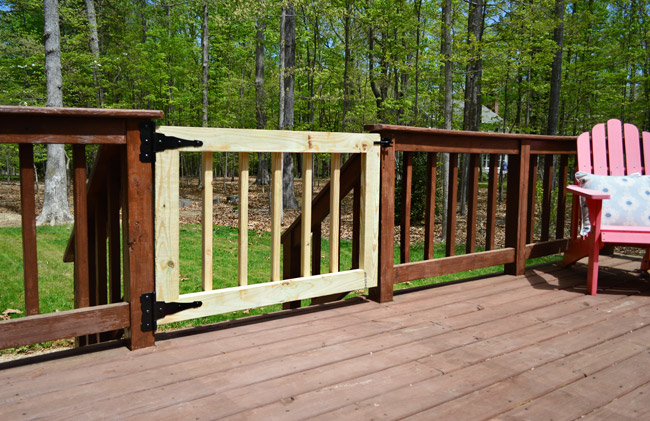 Here's the gate on the other side. I used the same process, although the opening was a half-inch smaller than the other and – get this – an inch shorter! I guess the original railings get a little lower as they wrap around the deck.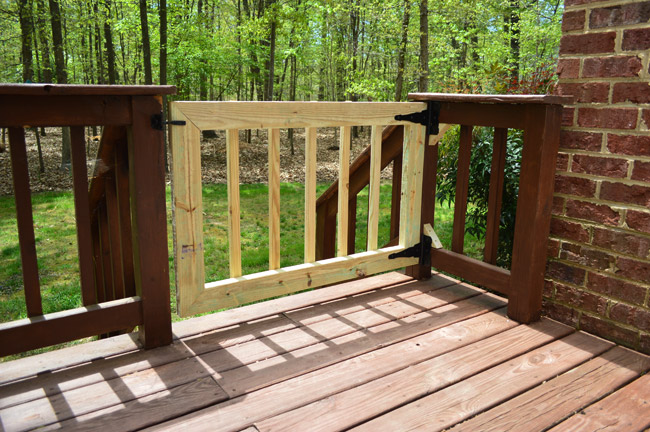 The only extra challenge this gate presented was that I had to screw the hinge into the hand rail and foot rail, rather than the post. The hinge was too tall to fit entirely on it (we really wanted it to open in this direction, so hinging it on the other side didn't make sense).
Thankfully it was a pretty easy remedy – I just screwed in a couple of scrap blocks (the initial mitered corners that I had sawed off) to give the hinge a place to attach. Obviously I'll be staining those too, so they should blend in a lot more in a few weeks.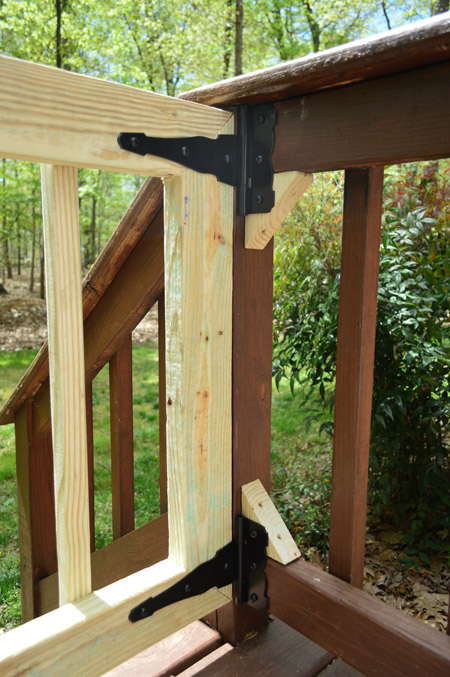 We'll probably leave this side open most of the time, since this is where Burger exits to do his business, and just close it when he wants to linger on the deck. So we're planning to add some sort of hook-and-eye latch to keep it propped open so it doesn't swing in the wind or anything.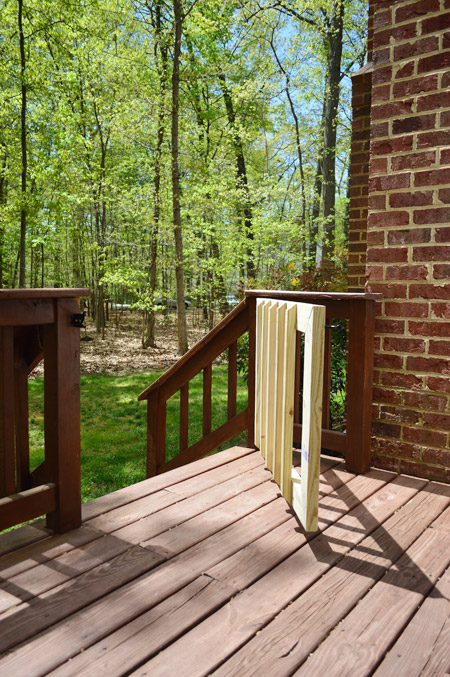 Sherry and I have been talking about eventually fencing some of the backyard so Burger can roam a bit more freely, but in the meantime he seems to love that he can warm his bare belly more often without us chasing him into the house.
Update: Thankfully, just like Burger can't slip through the rest of the deck's perimeter, he can't get through the new gates. He'd have to leap into the air, clear the bottom frame and the balusters perfectly, and then land on the stairs below, and he's just not that daring (he's much happier to be lazy and bake in the sun). But a more brazen pup might be able to squeeze through if they're small – and determined – enough, in which case I'd recommend closer spacing or adding some sort of a cross board.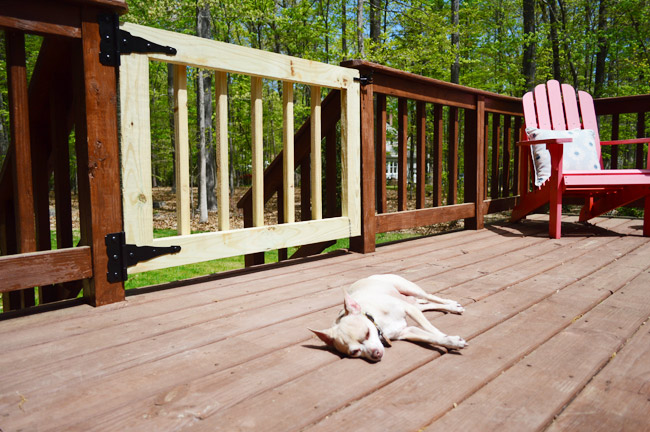 And we figure we'll probably be very grateful (gateful?) to have these once Teddy's more mobile so we can keep him contained without having to worry about tumbles down the stairs. Parenting win!
&nbsp&nbsp&nbsp