Do you guys ever get those irrational worries about how your house looks right before hosting a party? Leading up to Clara's birthday on Saturday I was thinking random stuff like "I really should touch up some of the caulk in the sunroom before everyone comes over" like anyone would notice. And Sherry said "the patio table could use a fresh coat of paint" was running through her head when we were using a tablecloth anyway. But one thing that never crossed our minds was: "The back door is in pretty rough shape. Maybe we should do something about it before IT BECOMES THE PLACE WHERE KIDS PLAY WITH BUBBLES FOR HOURS." Oh well.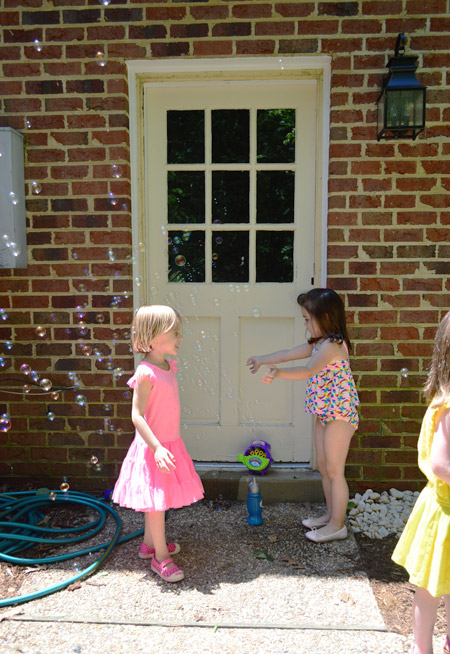 The good news is that this door (it leads to the garage by the way) could have looked worse. Here's what we were dealing with last summer before we ditched the broken screen door & replaced the old rusted light (which we've since swapped out again, but more on that in moment). Ignore the green tint on those bricks – they need some attention.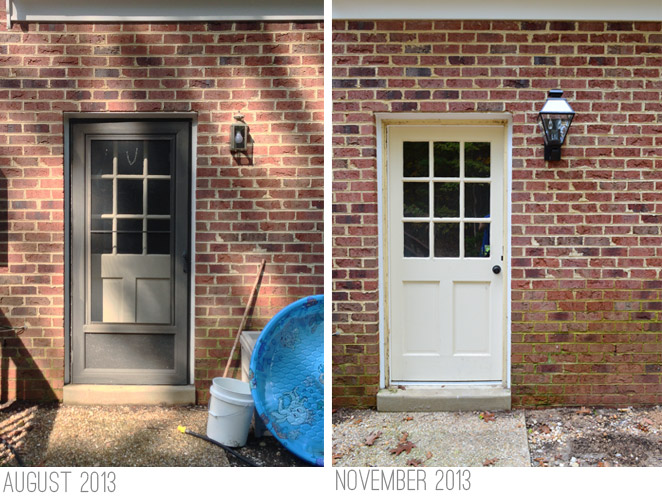 The screen door removal accentuated the fact that the cream-colored door didn't match the white trim on the rest of the house while revealing more creaminess (and dirtiness) from where it had been attached. That along with the cracking and flaking paint, ugly meter box, and our inability to keep the hose tamed made for a pretty unkempt look for Saturday's guests. At least we had gotten around to mulching and adding some fresh stones pre-party (we don't have gutters, so the rocks keep dirt and mulch from splattering everywhere during storms).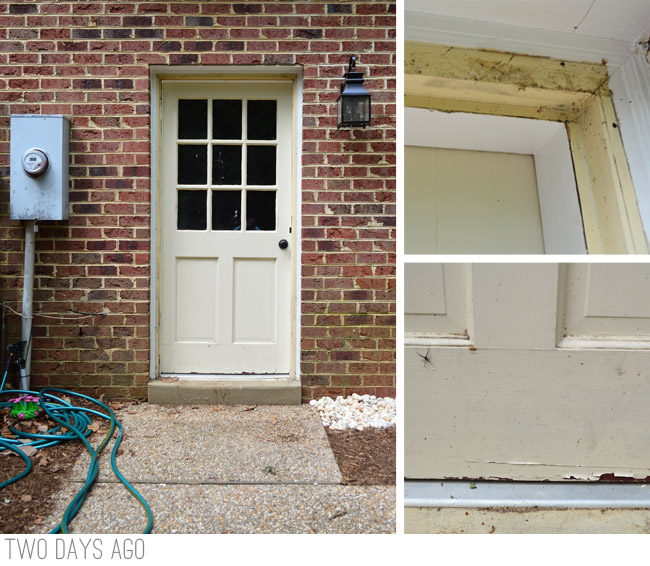 Luckily no one left the party complaining about how our door ruined the event (I think we successfully distracted everyone with bubbles, bubbles, and more bubbles), but twenty photos of kids smiling in front of THAT DOOR were enough to finally spur us into action. First I prepped it by wood filling the holes, scraping off any peeling paint, sanding the rough spots, and giving the door and the windows a good cleaning. Then I applied two coats of Sherwin Williams' Snowbound (leftover from the rest of the house's trim). I rolled all of the flat parts and used an angled brush to do the window mullions, which then got scraped clean with a straight razor after everything dried.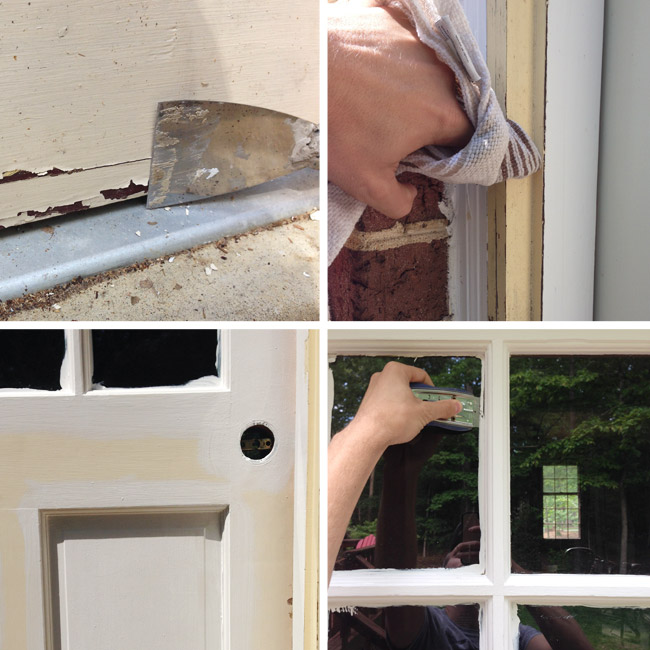 While I tackled the door, Sherry painted the meter box a color that's closer to the bricks. It's a quick update that we broke out in our first house that only calls for a test pot of outdoor paint (she used Behr Premium Plus Interior/Exterior paint in Burnt Russet) and around twenty minutes for two quick coats.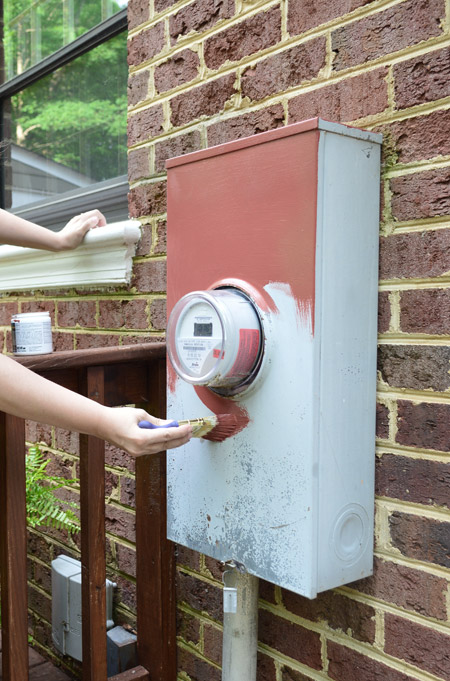 We also picked up a hose pot from Lowe's in an attempt to keep that hose in order. We've never used one before, but hope we have better luck with it than those winding hose storage boxes that we've attempted before.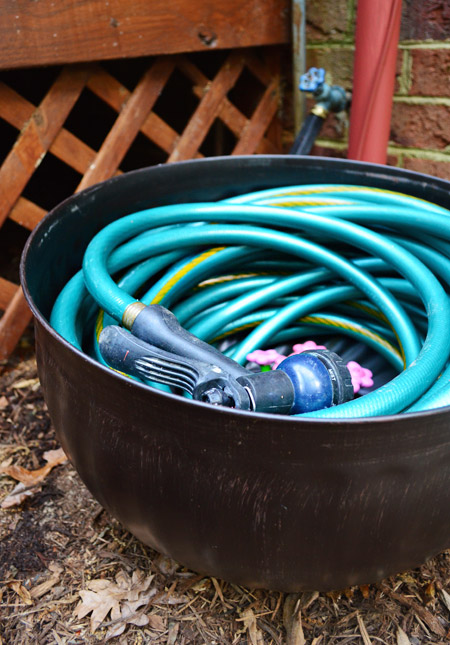 Oh and the light. We made this swap over the winter but it was so sad and brown outside that we never got around to taking after photos. We liked but didn't love the lights we installed last November, and some of you wisely pointed out that their design wasted a lot of light that was cast upwards. We soon stumbled upon a matching pair of these lights at our favorite local lighting shop (the Decorating Outlet here in RVA). It and its bigger cousin, which we installed above the garage, each had a cracked pane of glass on the side so they were marked down by 50%. To fix them we replaced the broken pane on the side of each one with the mint-condition pane from the back of each one. Since it sits so close to the house you can't see that it's missing back there anyway.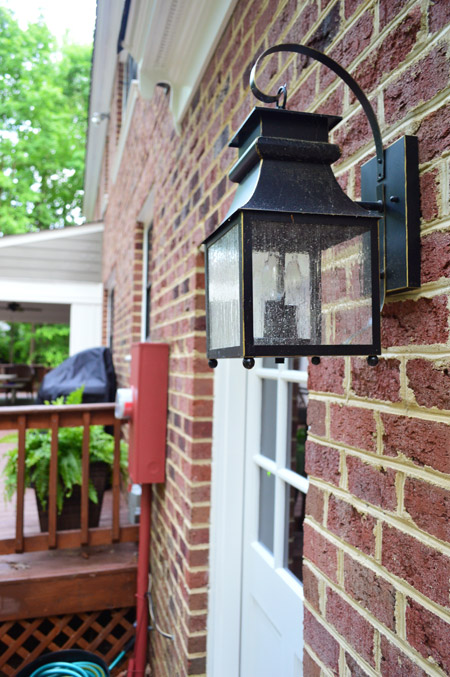 When everything was said and done, the space was definitely looking fresher, although it's not exactly heart-stoppingly-exciting. We'll eventually plant some stuff in the mulched bed which should help – and we might grab a bright doormat for a little more color. In the meantime we tossed down a spare black-bordered one that we had in the garage.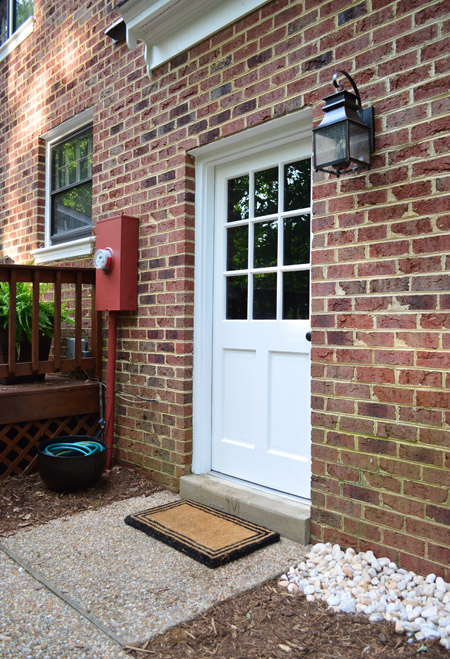 There's so much else going on nearby with the deck that we might be over-thinking the whole "more color" thing. The reason we opted to paint the door white was so that it didn't call too much attention to itself and just kinda blended in with the rest of the house's white trim (and matched the white french door in the sunroom).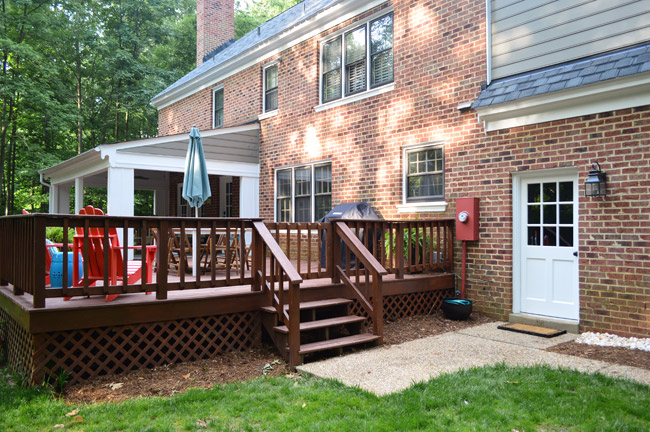 We don't have any more parties planned for a while, but we hope to host some low-key family BBQs over the summer like we did last year when things were looking more like this…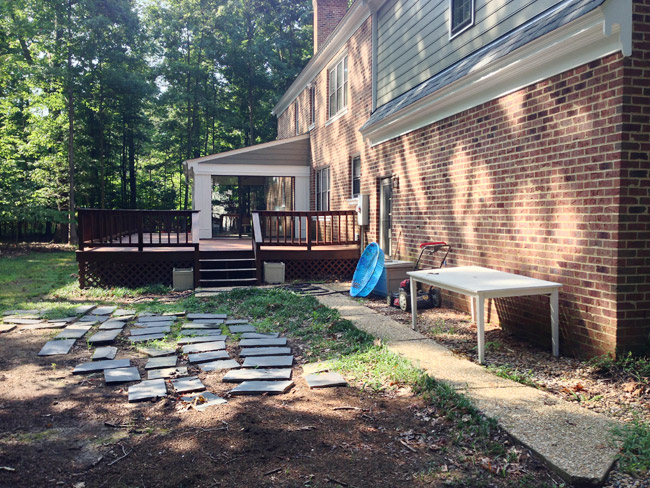 Something tells me this year's gatherings will be a little easier on the eyes.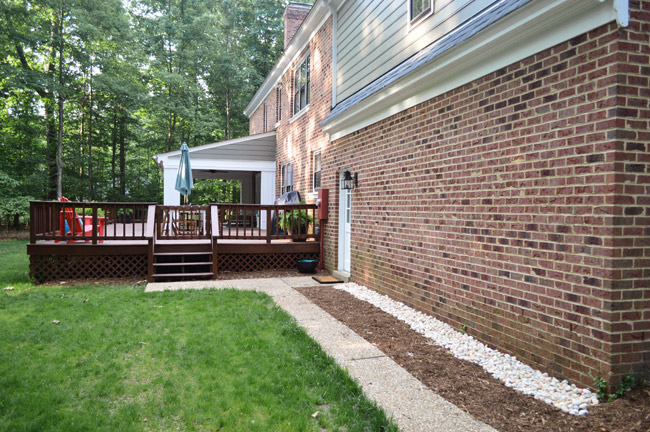 Oh and while we were on the outdoor updates train, we grabbed this three-tiered plant hanger from Home Depot. It's by Pennington if that helps you hunt it down – and we hung it next to the kitchen window on the deck. Since we were drilling into brick, we needed to break out the hammer drill with a masonry bit, but it just took two screws and anchors (meant for brick) to secure it.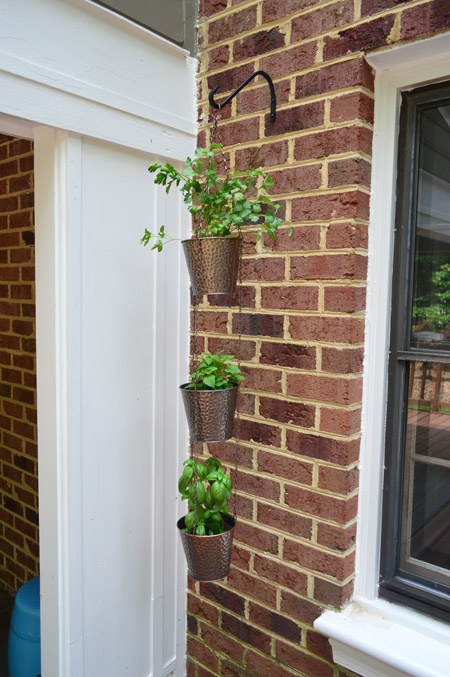 With all the deer that roam our yard we'd be hard-pressed to have any luck with raised beds in the grass, so we thought this solution was an easy way to add some herbs to a place that we hope won't be infiltrated (we went with basil, parsley, and lemon balm). We've never seen them up on our deck (our theory is that they smell Burger and don't want any part of that) so we'll have to see how it goes.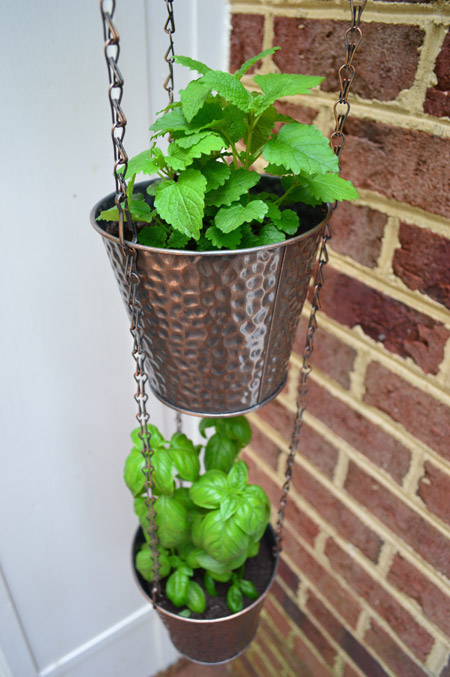 We'd eventually like to build and stain a big wooden planter (most likely one that moves so we can find the best spot on the deck to put it) for larger edibles like tomatoes and peppers – so we'll have to see if we can get that done before planting season is over.
Is anyone else planting stuff like herbs or tomatoes? Or do you get those weird last minute worries about fixing something totally random (like caulk) before a party? In the end does it feel like nobody notices anyway? Although that baby pool/mower/dead grass/slate collection/table combo that we had going on in the backyard last summer might have been hard to miss.
P.S. We took Teddy's five week picture yesterday, and he looks twice as big as he did in the first one (this morning he weighed in at 11 pounds!).