There's something illuminating going on in our sunroom. And I'm not talking about the fireflies Clara is constantly trying to catch and befriend (she told me the other day that she wants one to live in her room FOREVER). Befriend? Imprison? Potato, potahto.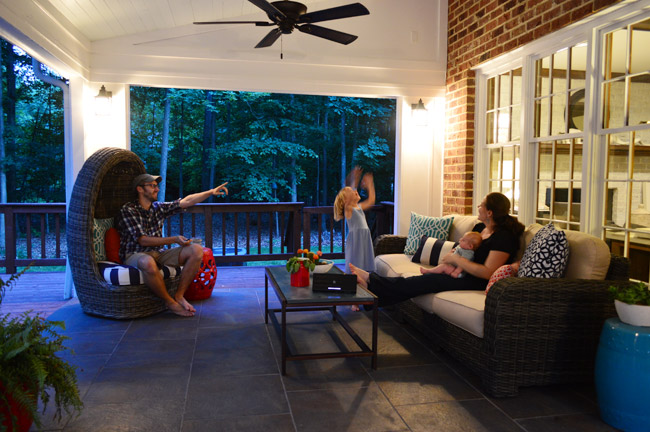 Yep, our sunroom – er, veranda if you're nasty fancy – is finally sporting some lighting, courtesy of the new fixtures that we added to the posts in the four corners of the room.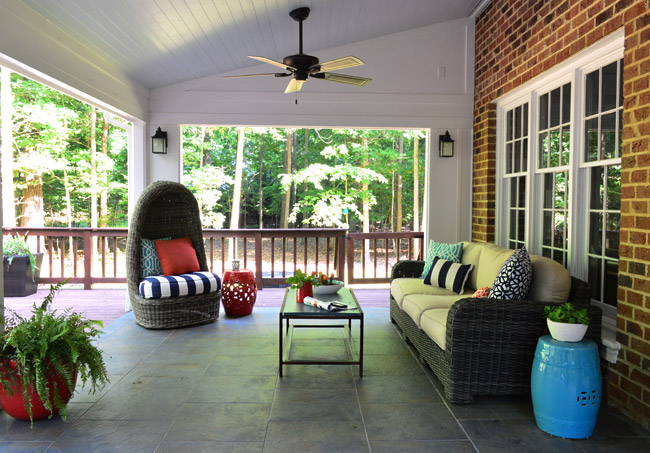 Our original plan last summer had been to install light kits on the two fans in the room, but we never found fan lights we liked… and then we slowly warmed up to the idea of sconces around the perimeter of the space instead of two overhead fan lights (we thought they'd add more in the charm/ambiance department). Until now the room's usefulness had been setting with the sun every day…. but thankfully our go-to electricians (S.J. Ryan for any locals) changed that by coming out to help us add the new fixture boxes we needed. For anyone wondering about costs, they work on a per hour basis, and we'll dive into the benjamins a little later for you.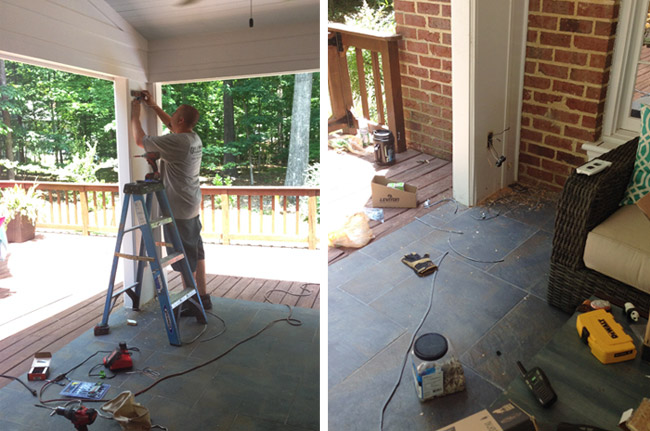 To get all the sconces on the same switch, they tapped into an existing outlet in the space (the one pulled out in the right photo above) that was operated by a switch in the house right by the sunroom door. Then they ran conduit under the deck to each of the other three posts. It was definitely more on the "complicated" end of things since there's a slab foundation under the sunroom itself (so nothing could be run/drilled under there), which meant that most of the wiring had to be within the posts or run under the deck. If we had realized we wanted sconces on the posts instead of fan lights back when we had the room torn apart (after raising the ceiling and before planking it) this process would have been much easier. Picture Sherry channeling Cher and singing "If I could tuuuuurn back toooooowwwwwwm."
Now instead we have these small conduit things on the outside of each of the four posts, but we think once we paint them the color of the house they should blend in better. Sherry has big plans to drop some planters in front of them if they still bug her after that. Big plans, people. Huge.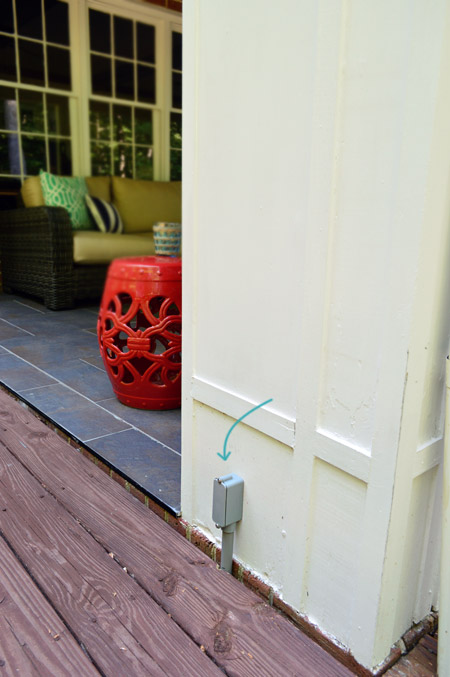 But back to the fun stuff. The lights were Joss & Main finds, which caught our eyes because (A) they were similar to our other outdoor lights, (B) they were the right size, (C) we could get four matching ones (not so easy on craigslist or at our favorite lighting outlet), and (D) they were within our budget ($51 each with free shipping).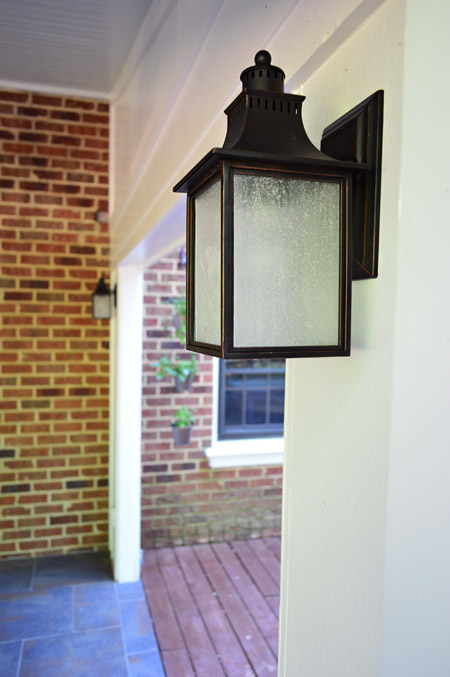 They're not so big that we – well, mainly me – have to worry about walking into them, and the dark bronze finish brings some nice contrast to the room along with the fans.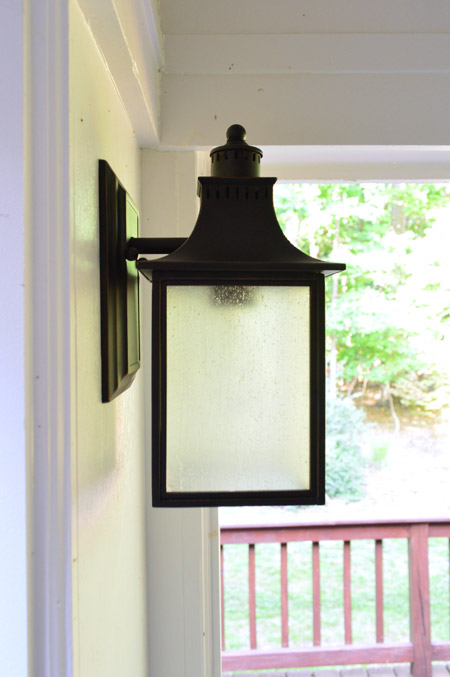 While we had the pros here, we also got their help removing the old intercom from the wall and terminating the wires properly. Sherry and I were just grateful it didn't leave any major marks in the wall. Just a small dot where the wires came out (see arrow below) and a couple of subtle holes in the mortar where it was screwed in. We were picturing a giant hole lurking under it with a missing brick or something, so this was a much better outcome. Picture Sherry channeling Cher and singing "Do you belieeeeeeeeeve in life after intercom?"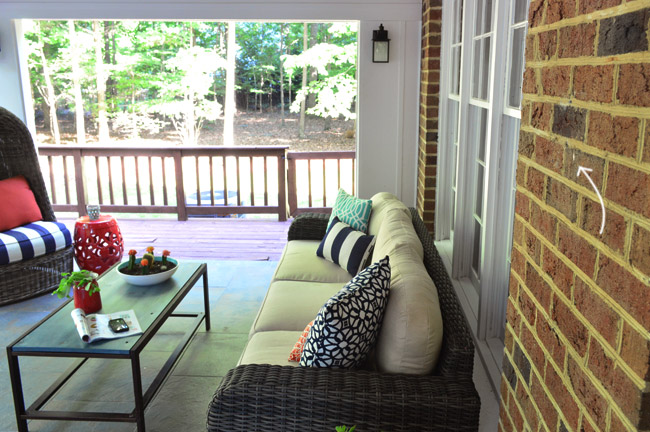 The sunroom was just one of several rooms that got some electrical attention (here's a peek at the office before getting a ceiling fixture box and floor outlet under the floating desk).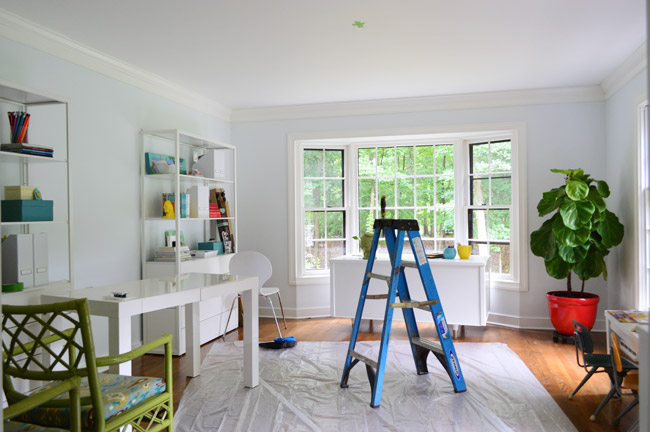 We've been keeping a running list of wiring/lighting to-dos and decided to finally pull the trigger on them all at once for efficiency's sake. We've still got some fixtures to add and drywall to patch, so we'll dive into those other updates when a few are a little more finished looking, but bulking all the wiring work saved us a good amount of money, so we'll break that down for you in that update too (still waiting on the itemized bill).
Although a bunch of other indoor spaces got some work done, the new lights outside are the highlight of our electrical punch list. Just as we hoped, they illuminate enough without feeling like giant search lights, they make things feel a lot cozier, and we love that they extend the amount of time that we can use this space. Some nights it means a later bedtime (and maybe a popsicle or two). Other nights it just means not having to sit in the dark while Burger takes his last potty break of the night. Either way, we'll take it.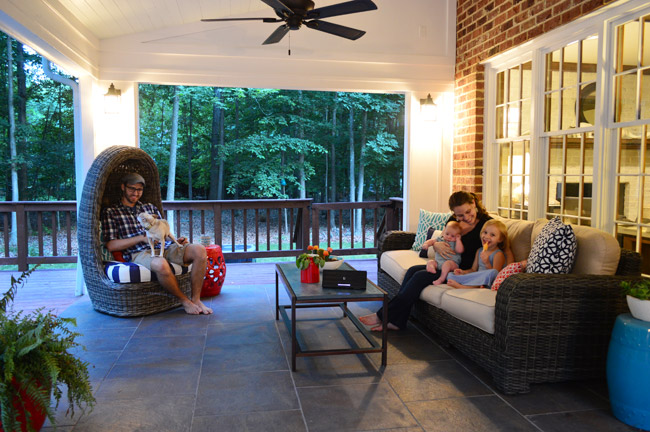 How are you guys enjoying your summer nights? Is it weird that I'm tempted to rent a projector or something and watch a movie out here? Not that that requires lighting, so I'm not sure why I'm just having this idea now…
Psst- Teddy's weekly picture is up, and I'm pretty sure he's the man.