Just dropping in with a quick little patriotic update out front and some future yard plans. We're no strangers to decorating in reds, whites, and blues outside, and the good news is that the back of our house isn't having all the fun anymore. That's right, the purchase of a $25 flag has me grinning every time we come home to it (and it only took us two tries to get it right – ha!). The funny thing is that when we moved into our house there was an old flag holder in a similar spot… but we were about to repaint everything from cream to white so we removed it. And then, well, the house was flag-less for the last four years.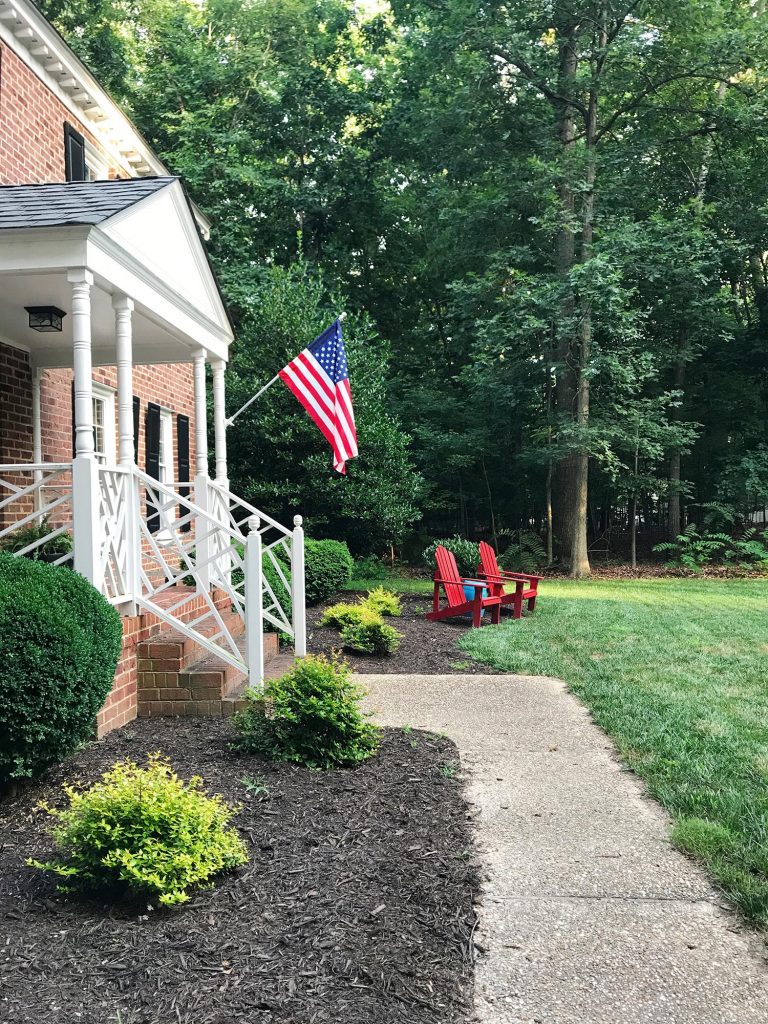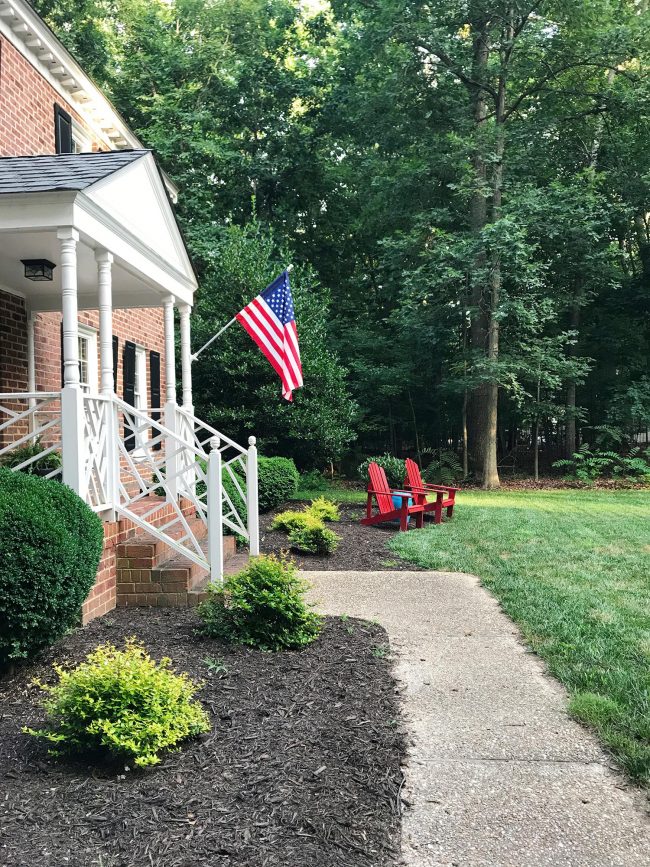 Fast forward to me dragging our red adirondak chairs to the front yard (they're super functional for when the kids play out front) and eventually adding the blue garden stool between them (it tied the chairs into the front door color nicely). As soon as that was plopped down John and I basically looked at each other and said in unison: let's get a flag!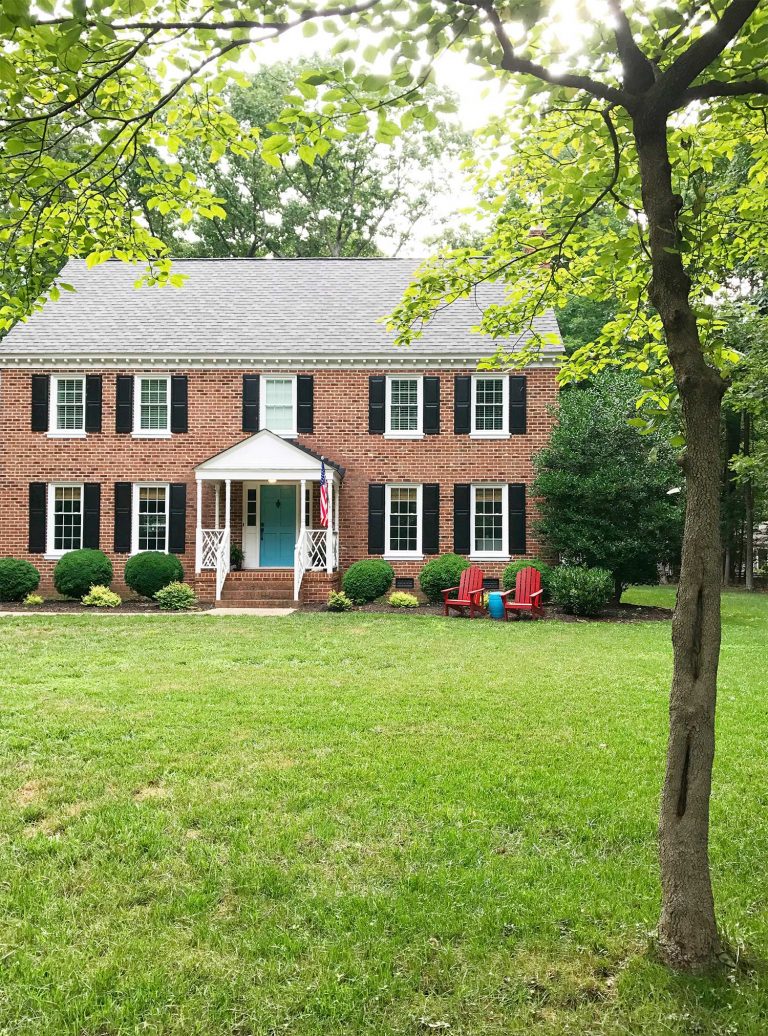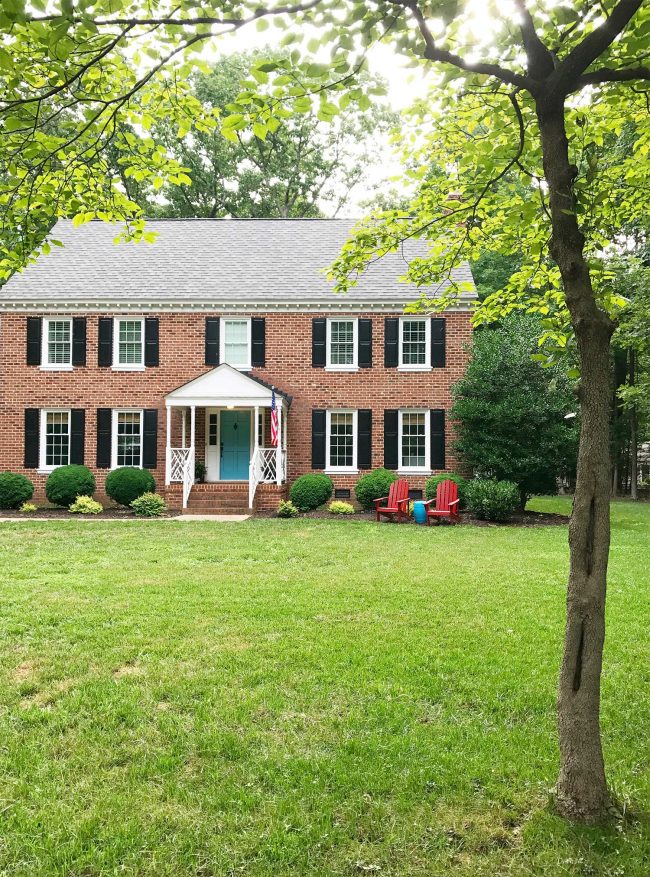 Perhaps we were a little over-excited because we ran to Home Depot and purchased the biggest flag and pole that they had, thinking it would look bold and fun out front. But when we got it home and held it up…. it looked gigantic. Like one of those car dealership flags. Literally, my friend came by and laughed so hard that now she snaps pictures of enormous flags and texts them to me saying "look, it's your flag!"
So back to the store we went, and this time we grabbed a more moderately sized one (2.5′ x 4′) with a smaller pole, and WOOT, it's perfect.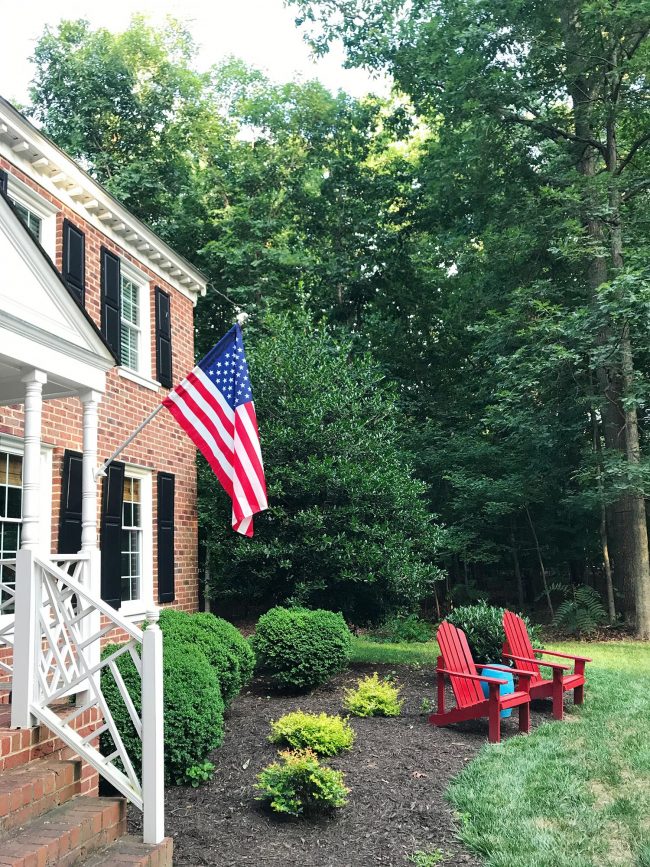 I think our newly-awakened enthusiasm for patriotic front porches can be traced back to a quick stop we made in Cape Charles over Memorial Day when we were checking in on our beach house. How lovely is this old beauty with that giant front porch?! Those buntings hanging from the railing are so cute (here's something similar if you have an amazing porch like this to deck out – wait, here it's two for that price).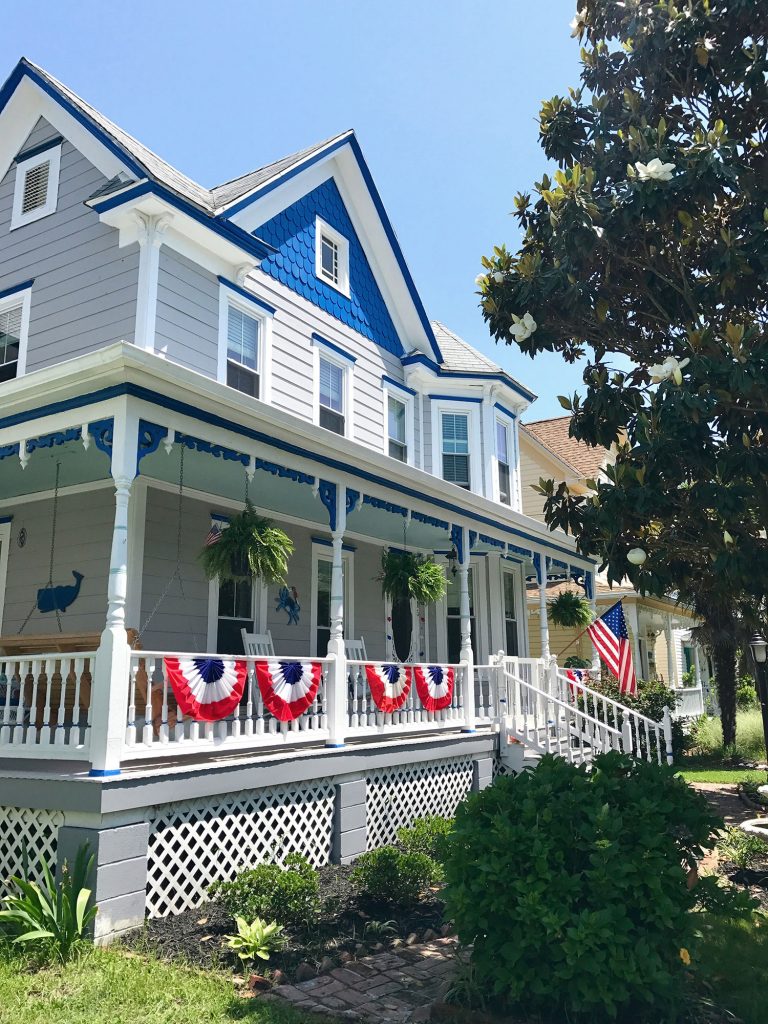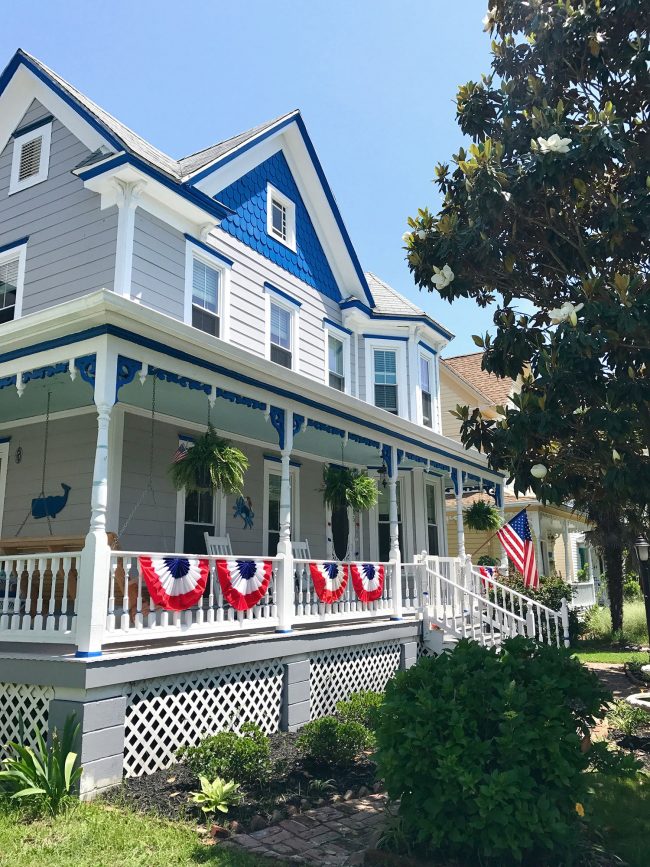 This house is also one of my favorites, thanks to the bold siding color and the teal steps and porch floor. It's such a sweet town full of playful and bright houses you guys. I want to buy them all.*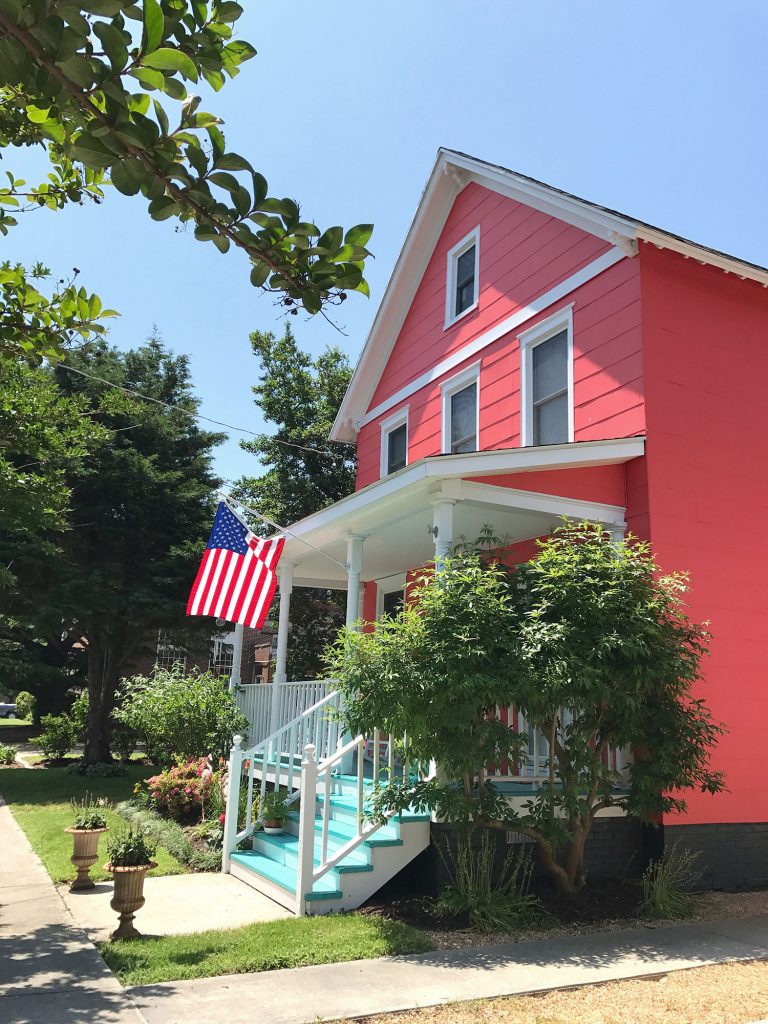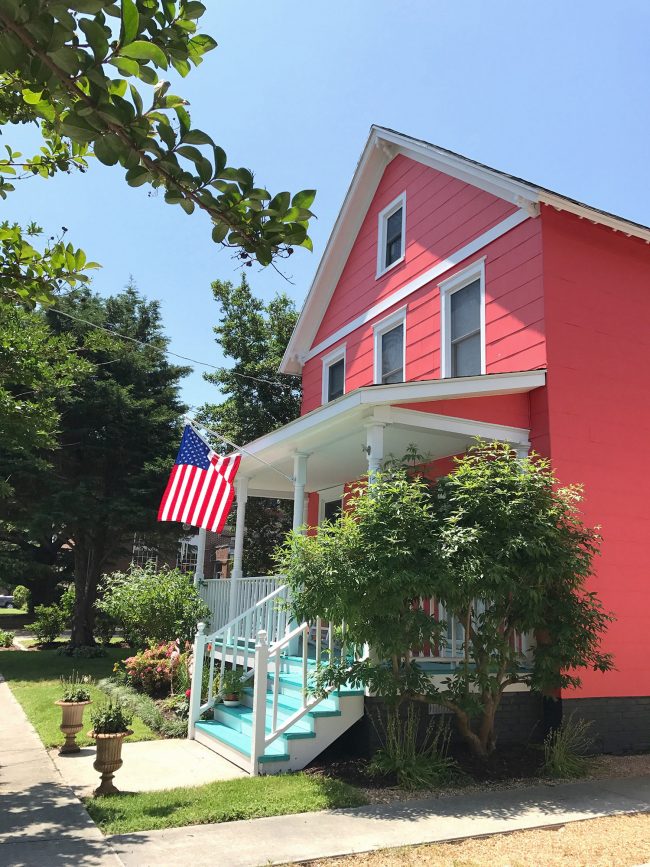 *John said no
We also love this sweet shingled beauty with a nice big flag out front (along with those cute little ones stuck into the flower pots). It's tempting me to add some smaller flags to the potted ferns on either side of our front door.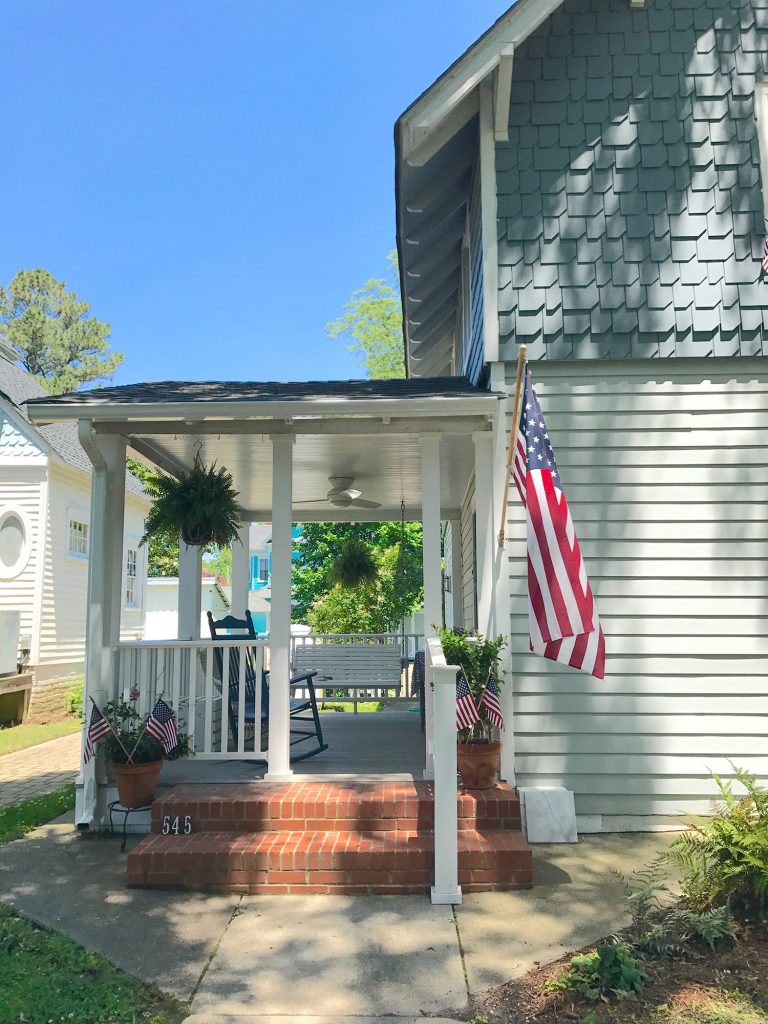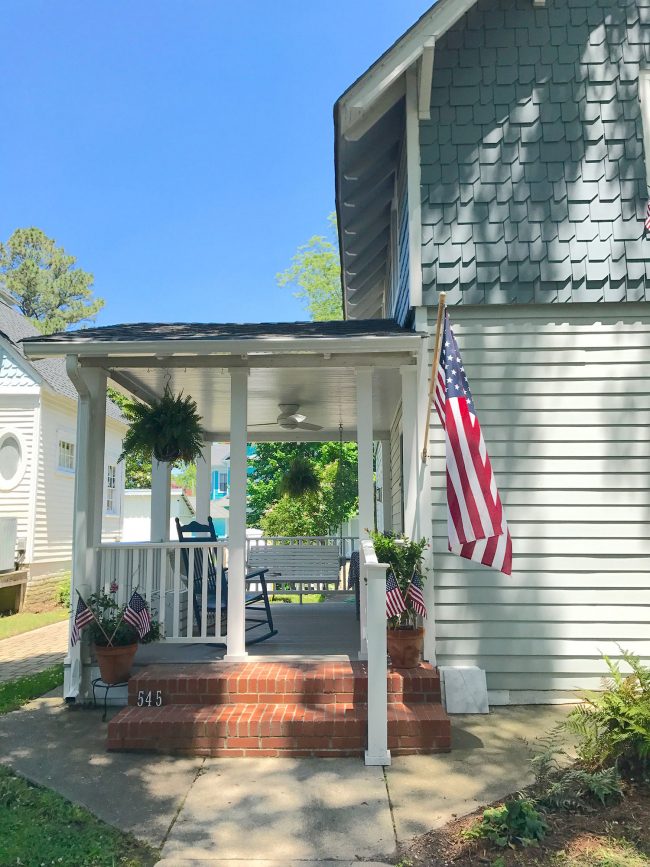 So if you're wondering where we'll be on a nice evening while the kids catch fireflies or chase a ball around, there's a fairly good chance we'll be sitting right here. Hopefully with an ice-cold refreshment on that little blue side table.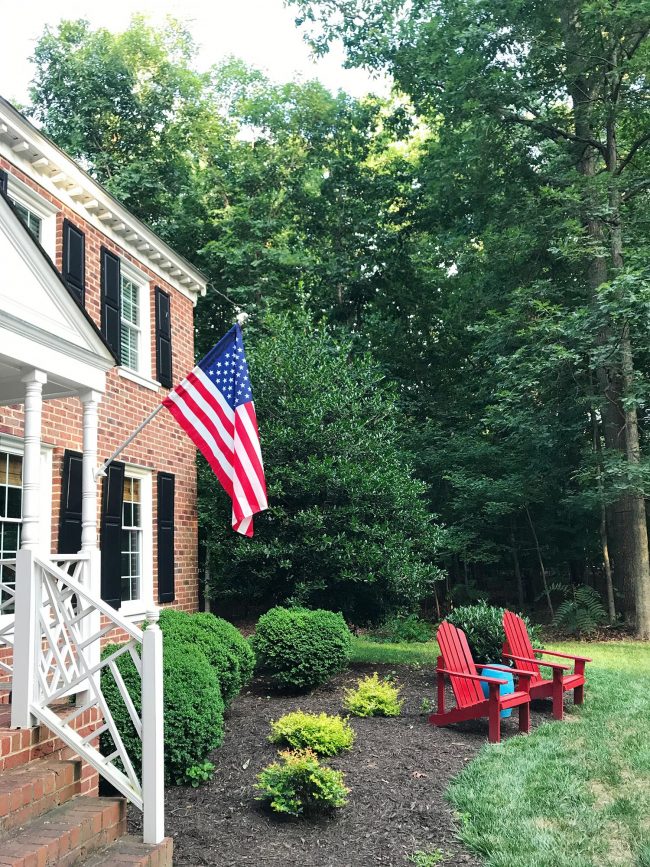 Note about the chair placement: due to marital debates (John not wanting the chairs in the grass because it would be annoying to move them to mow – which is something he does frequently) we plopped them right there in the mulch, but eventually we might make them a little paver patio spot or do some pea gravel under them or something. We also dream of someday creating a big stone or brick landing at the bottom of the stairs, sort of like these – which would be such a sweet place for chairs or benches eventually.
(source)
(source)
(source)
So along with wanting to rip the deck off the house, now I also want to jackhammer the old walkway and get to work on a front patio. As you can imagine, John is thrilled (just kidding, he's still recovering from the whole irrigation thing).
Anywayyyyy, I'll work on him ;)
In the meantime, remember that when you're thinking about working in some red, white, and blue stuff outside, the fun doesn't have to stop after the Fourth of July. In fact, our back porch has had red, white, and blue going on for years! (here are the sources for everything in this space)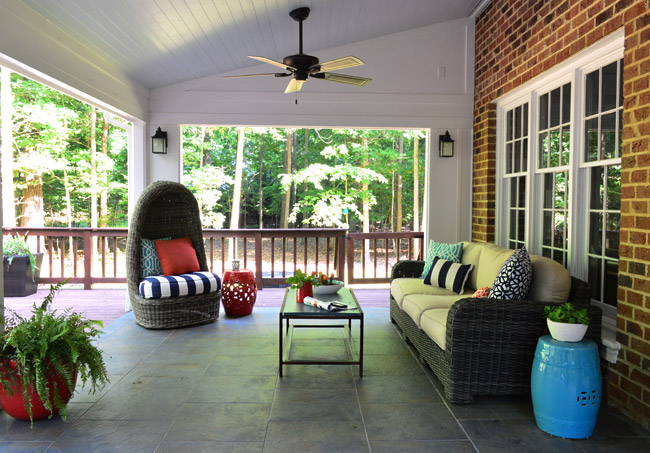 So if you're looking to jump on the red, white, and blue train with me, here ya go: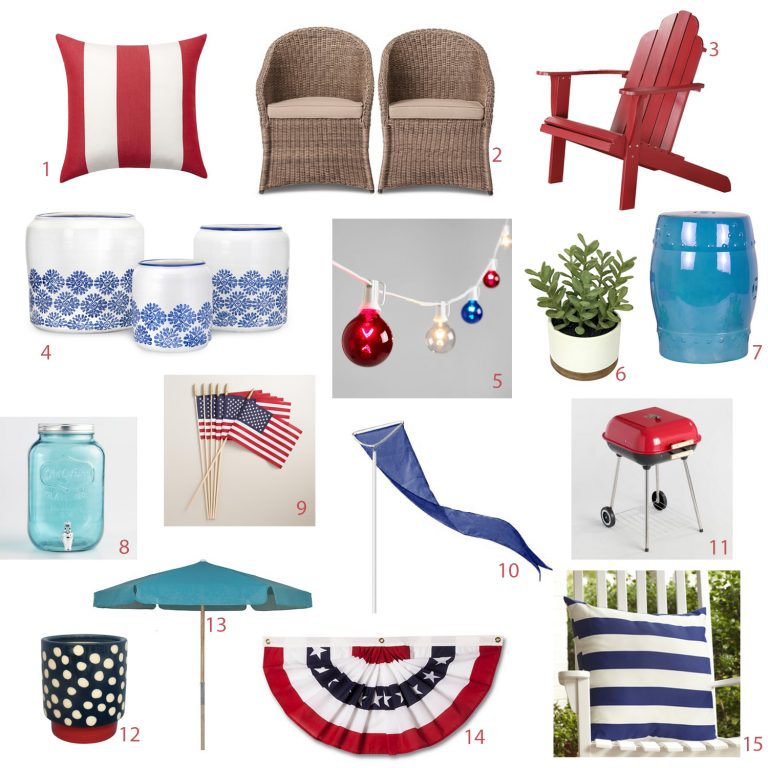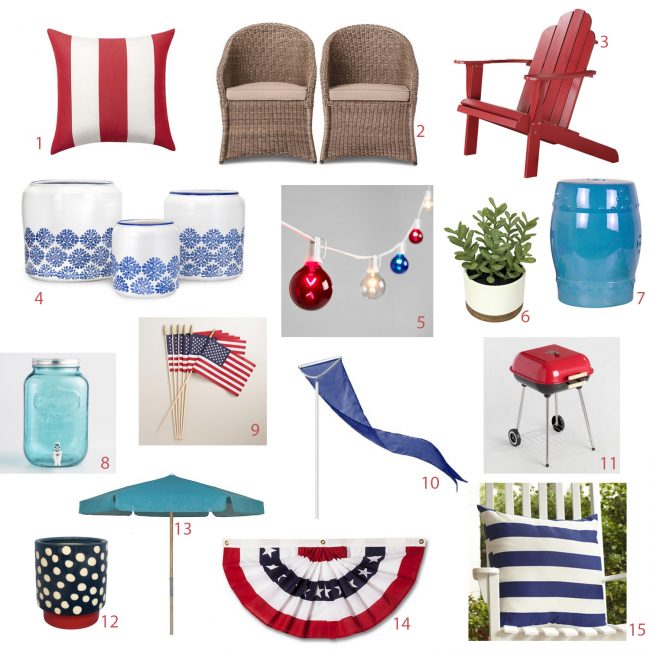 1 / 2 / 3 / 4 / 5 / 6 / 7 / 8 / 9 / 10 / 11 / 12 / 13 / 14 / 15
My favorites are those woven chairs (#2) even though they're not red, white, or blue because they'd look awesome with a red and white striped pillow on them (#1) and I also LOVE the blue umbrella (#13) – we have a similar one on our back deck and it's awesome. I'm also FEELING that trio of planters (#4) – don't those designs look like little fireworks?! LOVE. Also, those red white & blue string lights (#5) are awesome and I can't get enough of that little red grill (#11) or the blue drink dispenser (#8). In summary: GIMME ALL OF THE RED, WHITE, AND BLUE THINGS.
Psst – Want more? You can see a bunch of other holiday-related updates and projects that we've shared (like this watermelon carving from back in 2009).
*This post contains affiliate links*