Despite having a blast with the pressure washer we rented a few years ago, we'd always been hesitant to bite the bullet and purchase one. Part of us didn't want to store another bulky tool, especially since it didn't seem like something we'd be using all that often. But recently the universe sent us several signs that we were missing out. My neighbor kept waxing poetic about his. They were popping up in our blog feeds everywhere. Oh, and the pollen. The universe sent us lots and lots of pollen this year. Exhibit A: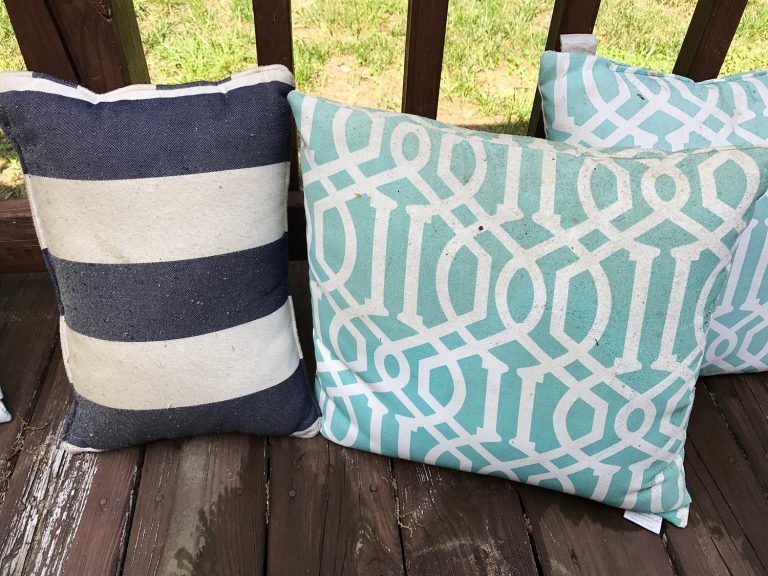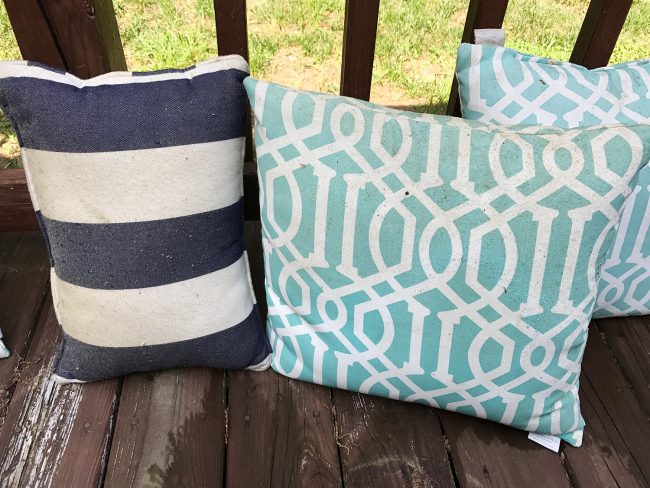 Those are pillows from the open sunroom on the back of our house, shown below shortly after we finished it back in 2014. We leave most of the furniture out year-round since the area is covered and we find ourselves plopping down on the couch even on mild winter days (I've even watched the kids play in the snow from it a couple of times!). But it does take a beating in the early spring when every surface in central Virginia gets coated in a thick layer of tree dandruff. So if you're not emotionally prepared to see lots of grimy, dingy, pollen-covered stuff, this may not be the post for you.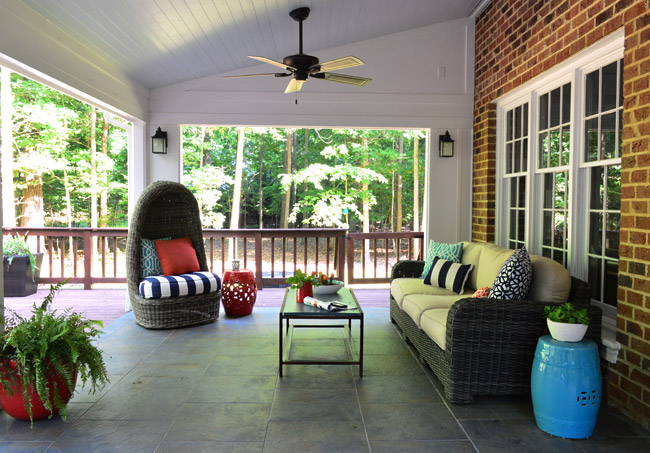 Once the pollen chills out around mid-May, I usually spray everything down with a hose and we're pretty good to go for the season. But by last summer I felt like they were noticeably dingier than when we had first bought them. We tried this outdoor cleaner that attaches to your hose (along with a scrub brush and some good ol' fashioned elbow grease) but they still felt a little dirty, and I think we definitely spent less time lounging out there last year as a result.
Fast forward to this year, and we find ourselves talking to an outdoor furniture manufacturer for another project. I picked their brain about cleaning outdoor cushions and they mentioned that a pressure washer can be a great solution – something we had never really thought of before. They did give a couple of caveats, though. You don't want to use too much pressure, which can tear some fabrics or rip seams. And you want to make sure it drains well so the cushion fill doesn't get mildewy. And of course, always test in an inconspicuous area first.
So given the intense pollen season we'd endured this year, Sherry and I went on the hunt for an affordable and not-too-bulky power washer. Our exact model is no longer sold, but here's the current version they offer. It's electric, not gas powered, and only 1600 PSI, which is very light duty – meaning it's suited for easy cleaning tasks, not stripping paint or washing second-story windows. We also liked that it was pretty compact (no big wheels or handles to store) and quick to set up: attach hose, plug-in, turn on.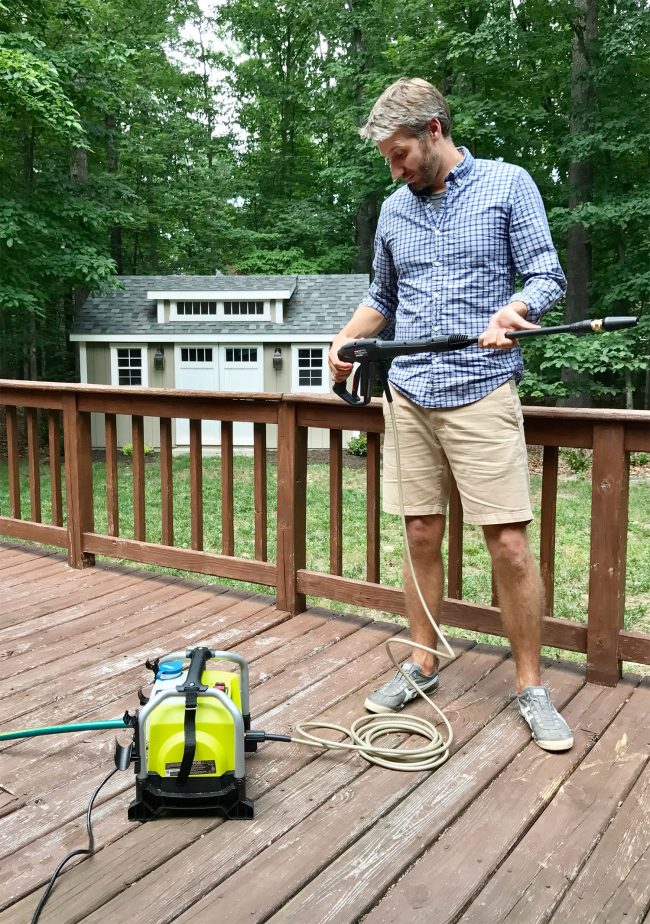 I gave it a go on one of those pillows first, since I could always flip it around if it damaged the fabric. The pressure washer does come with a soap tank if you want to use an outdoor-safe detergent to boost your cleaning, but I wanted to see what plain water would do first. You can see the difference it made on the right side below. Adios grossness!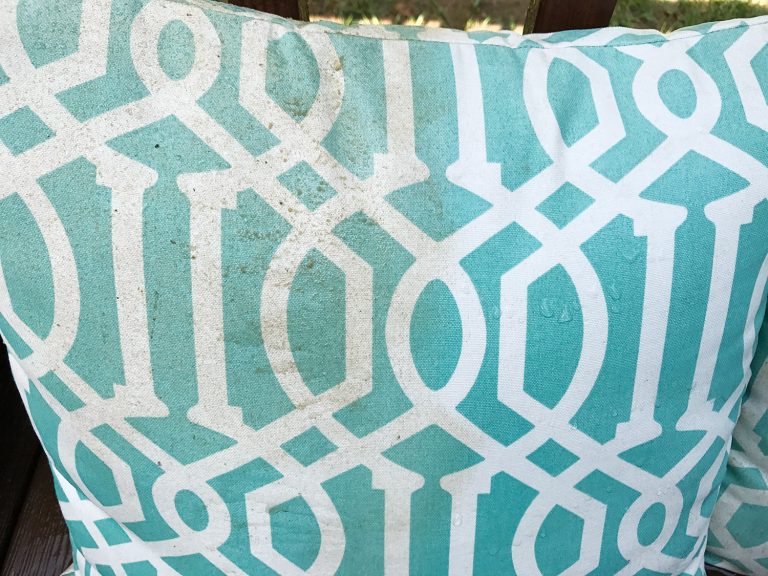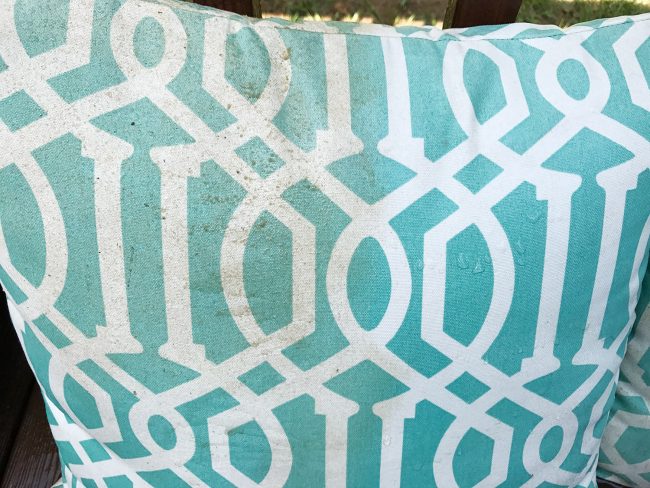 With my first attempt a success, I charged ahead… cautiously, still testing in inconspicuous spots first, and not getting too close to the fabric itself with my sprayer. The only fabric that didn't like it was our outdoor dining chair cushion, which frayed a tiny bit (good thing I tested it on the back first!). But it played nicely with everything else – see the cleaned stripe on the left side of this pillow. It's magic, I tell you, MAGIC!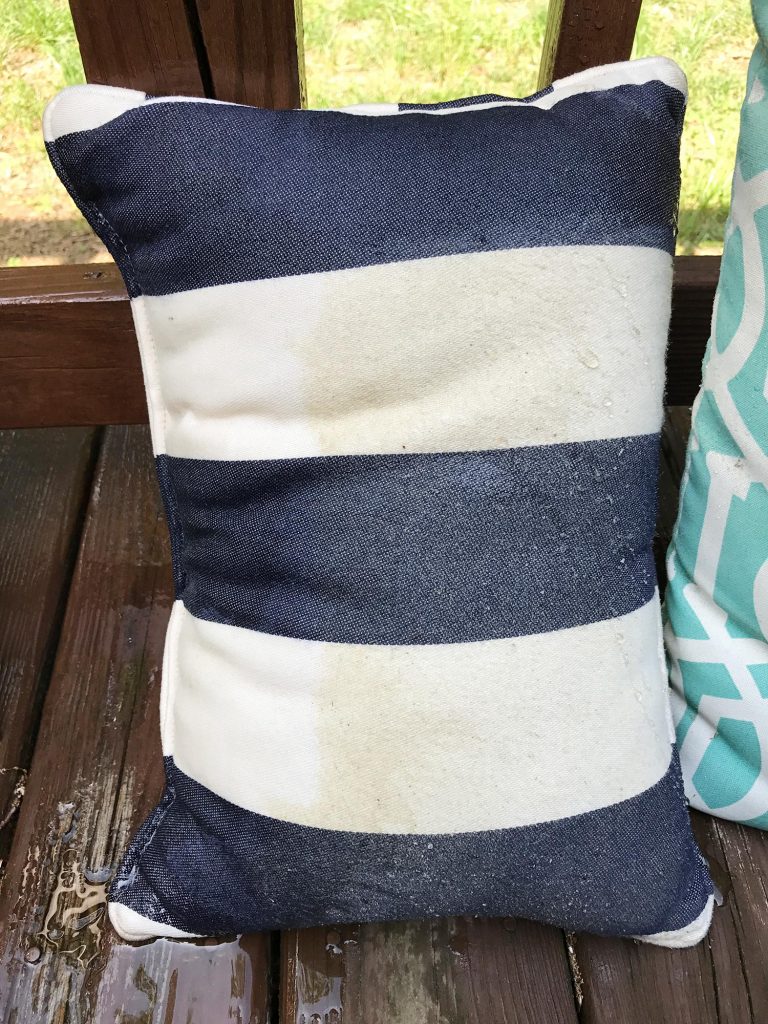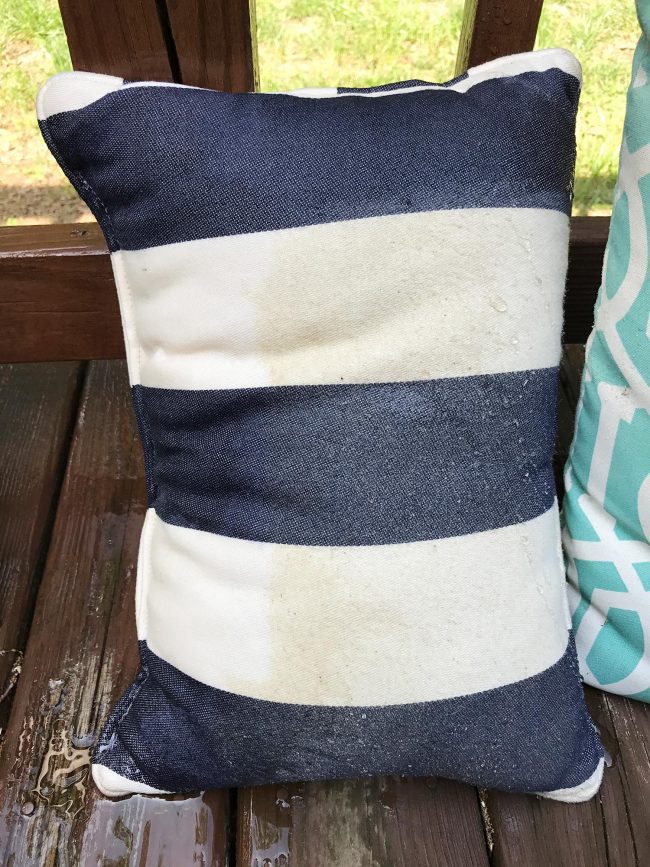 The big test was going to be the large seat and back cushions for our outdoor sofa. In the picture below, you can see their original color on the right side (where the throw pillows had protected it from the elements). But you can see the nasty discoloration on the rest of it. Not exactly something you want to park your keister on, right?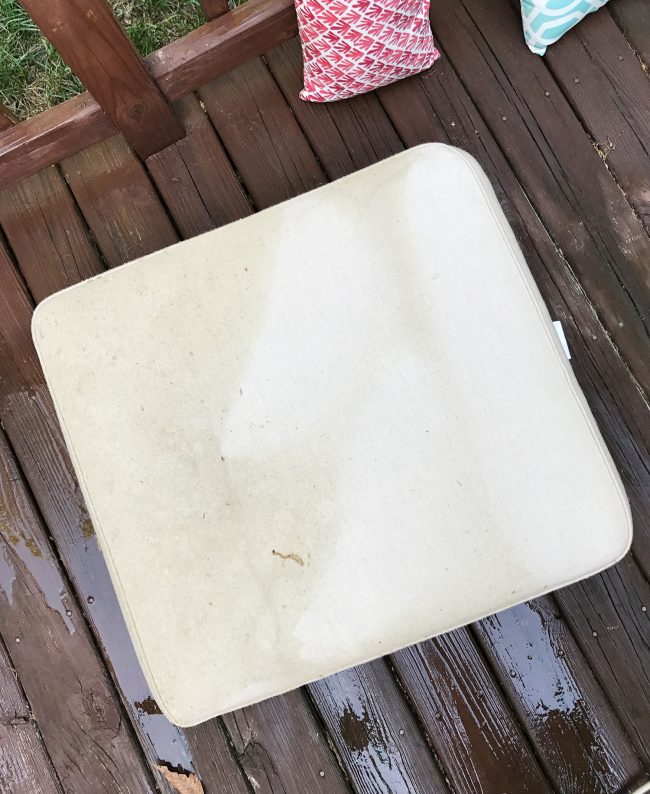 So if my cheesy heart shaped cleaning mark is any indication of how happy I was with the result, you can guess how this story ends. It even got out a persistent stain and some discoloration we hadn't been able to conquer the previous year.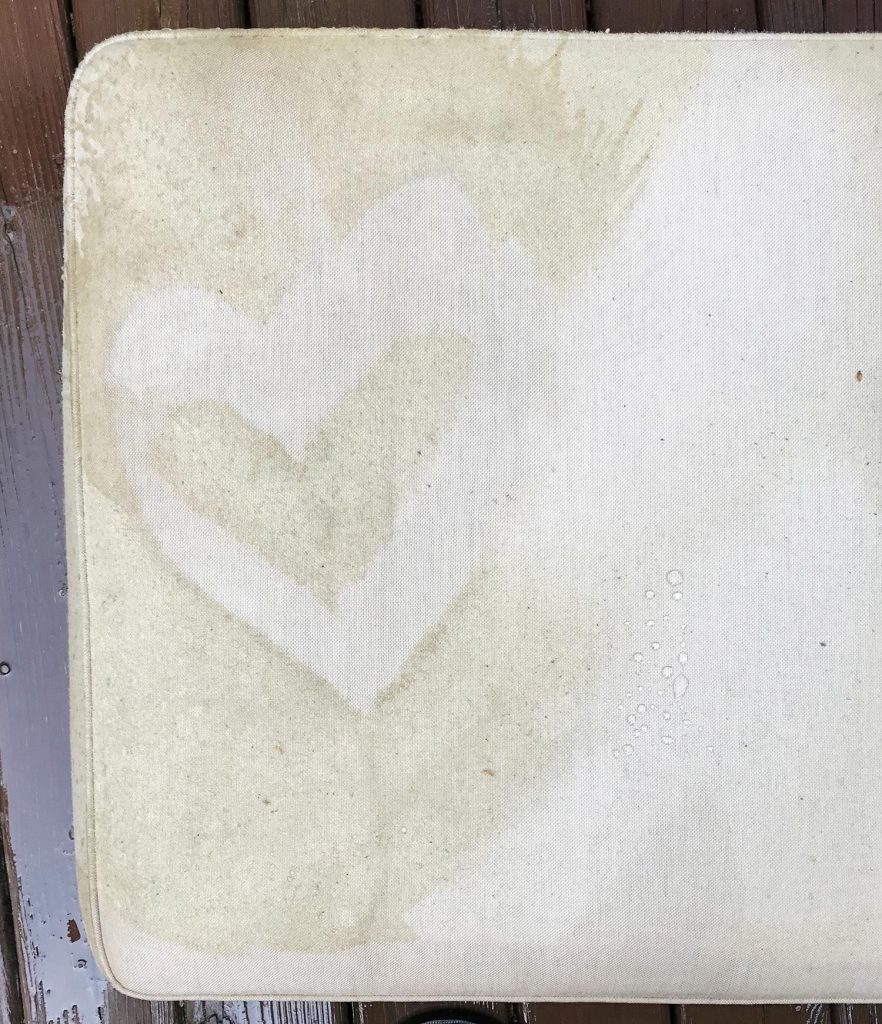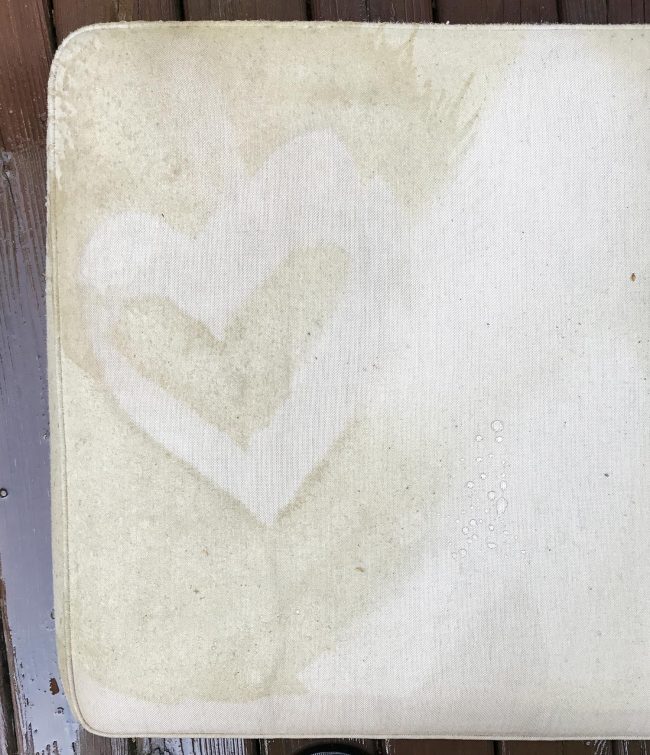 One other caution I read about cleaning outdoor cushions this way was potentially harming any stain or water blocking treatments the manufacturer had applied to the fabric (for example: see how the water beads in the photo above). I tested our cushions afterward to make sure water still beaded up on them, so I think we're good. But we could always add a coat of outdoor Scotchgard to double-up our stain blocking efforts.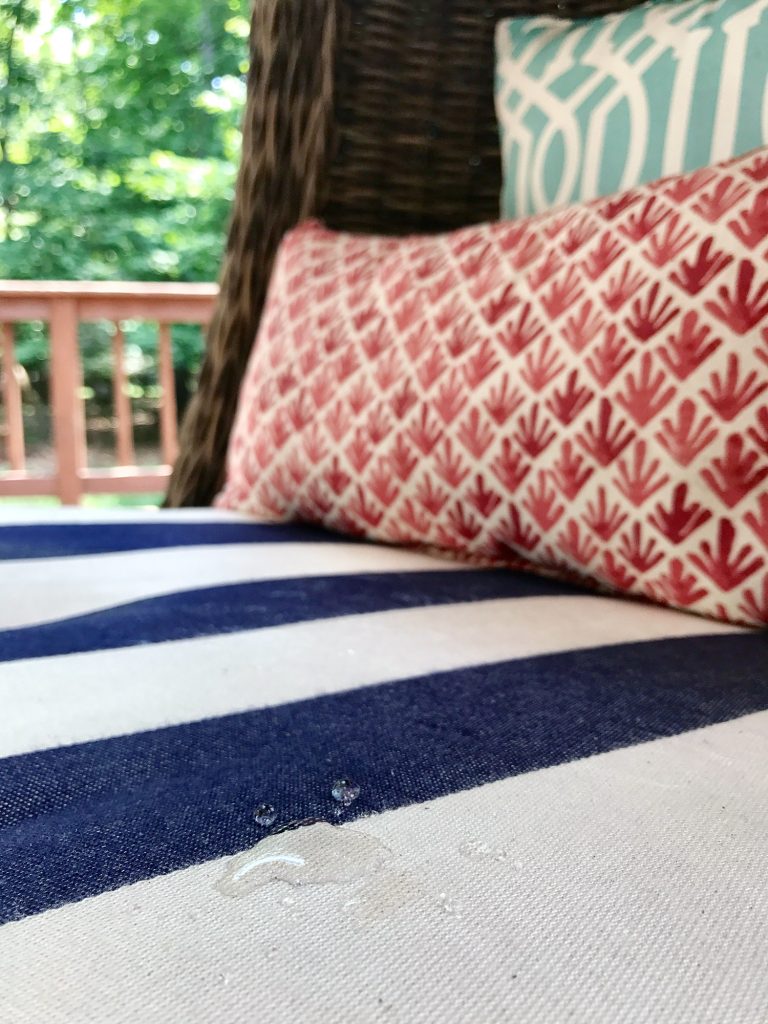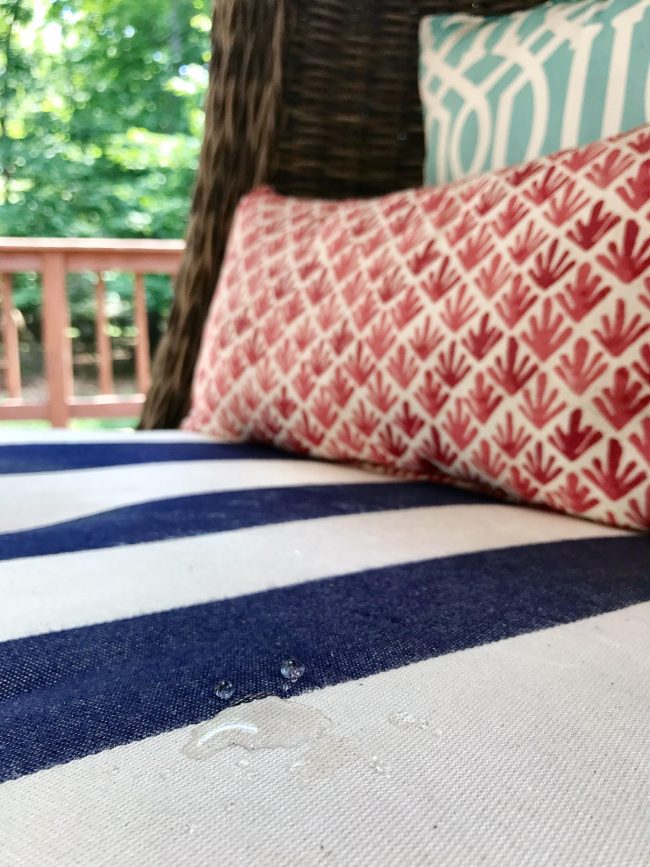 During this whole process, I also dragged the furniture bases out onto the deck to spray, which revealed some not-so-pretty looking spots on the tile underneath. I guess some leaves had parked themselves under there for who knows how long. In the photo below, you can see the clean tiles on the bottom, and the leaf-stained ones at the top.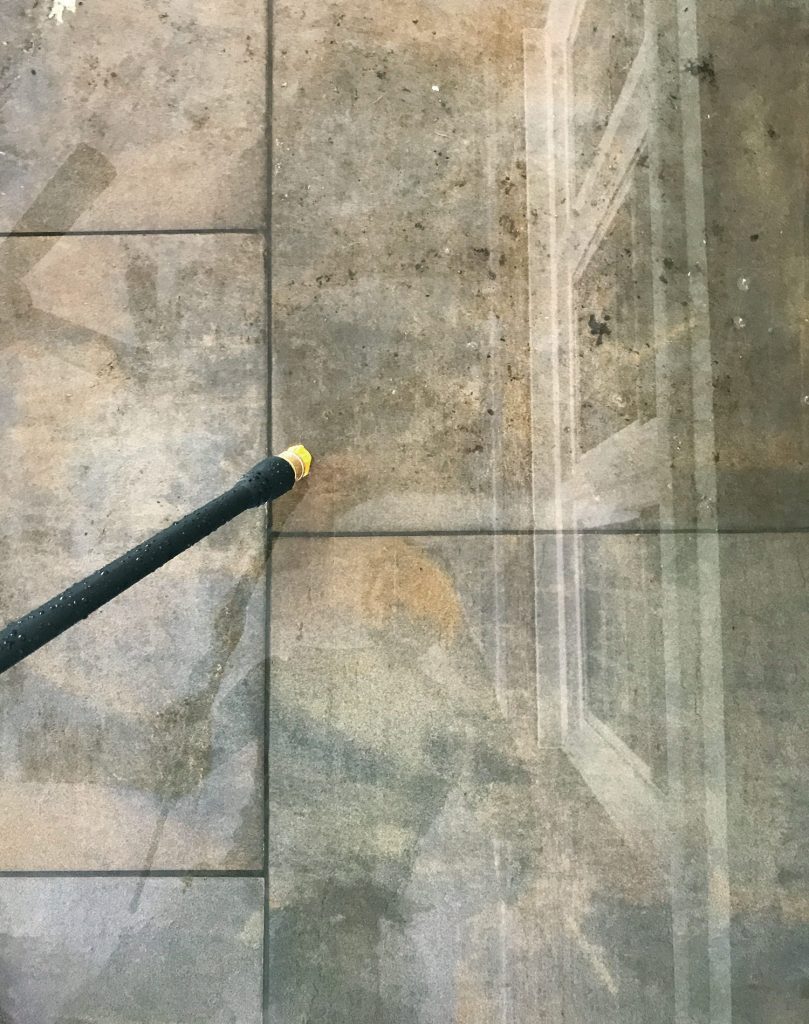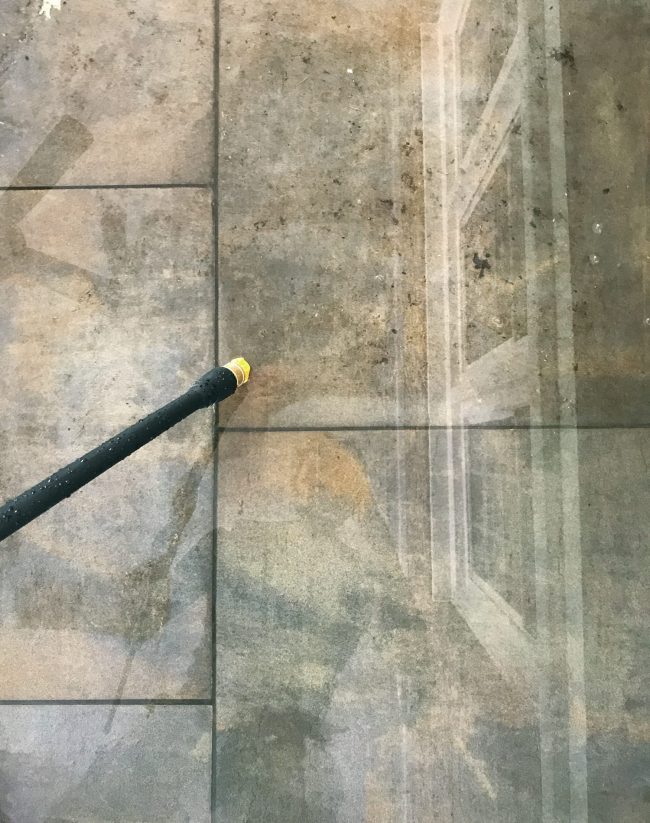 I actually ended up pressure washing the entire tile floor, since it quickly became clear that the whole thing had collected a grimy-cast over the years. Perhaps it's a blessing and a curse that the tile we chose hides dirt? Here's another spot in a corner where the egg-chair and a garden stool had sat for months, unmoved. This is the before…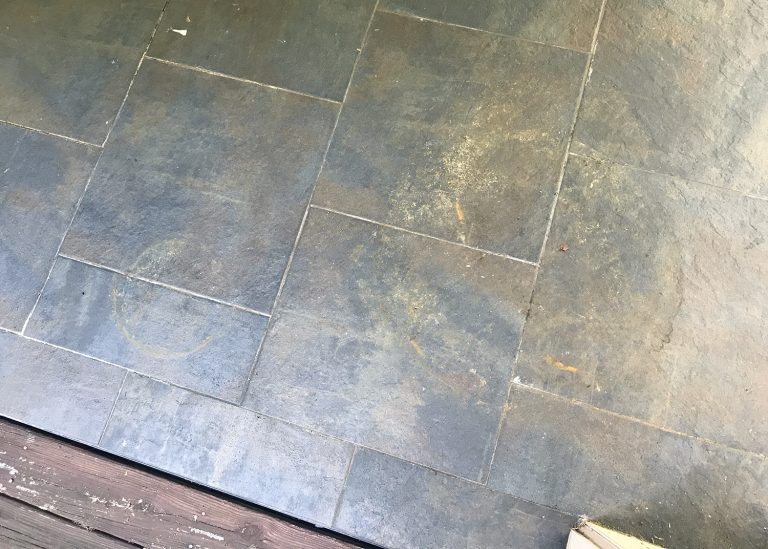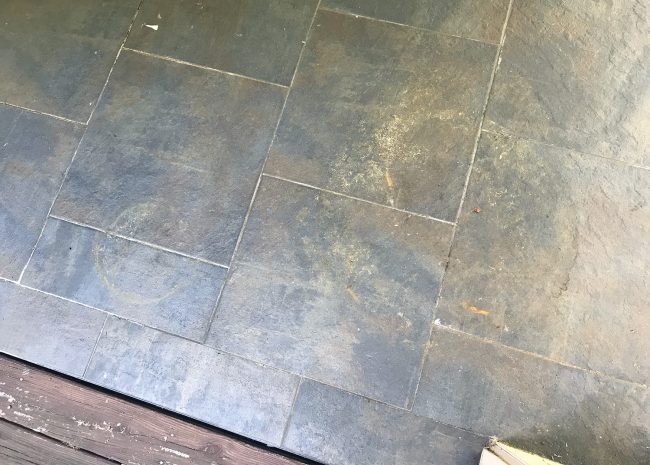 Here's that same spot after it got washed and then fully dried out.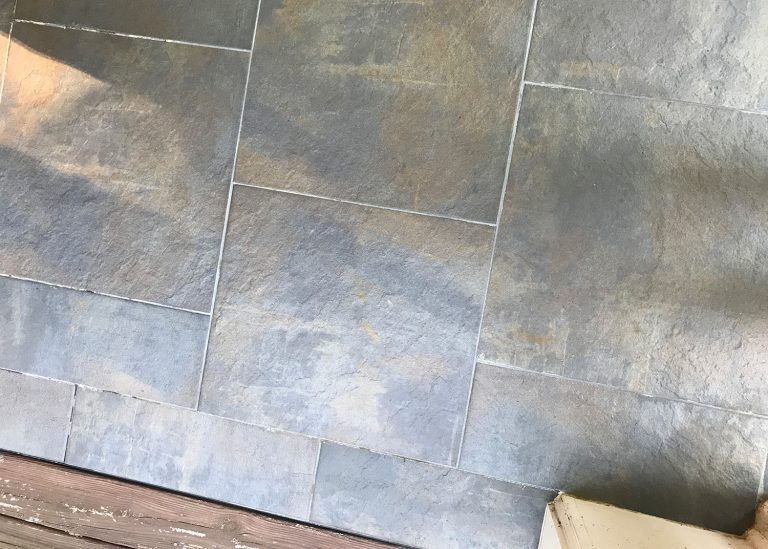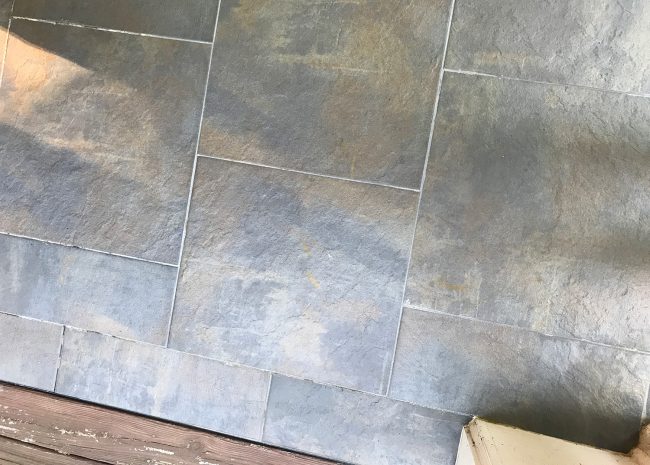 My mind is now racing with other things around the house that are probably due for a good spray, but for now I'm just trying to relish how CLEAN the sunroom feels. Here are some pics we took on Monday to prove it.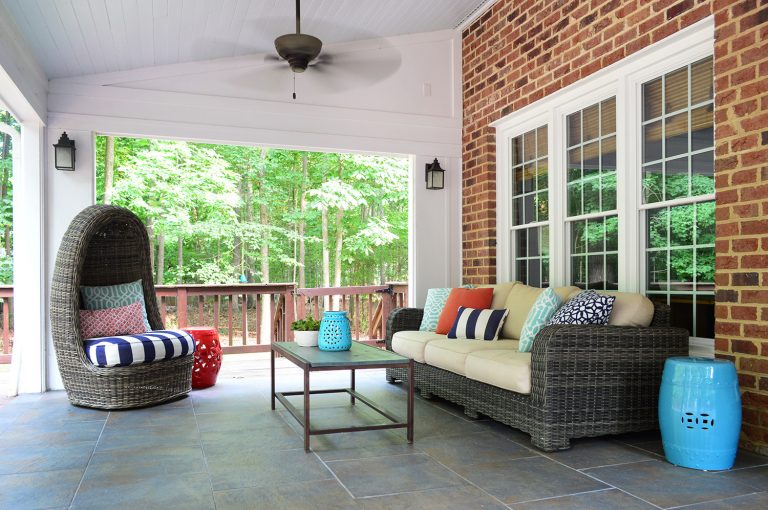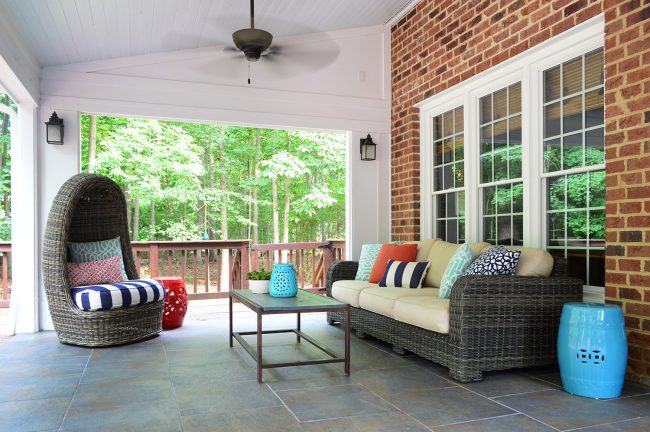 We mentioned on our podcast a few times that, despite the failing condition of our deck, we're really trying to make this a summer where we spend more time outside. And having returned this furniture to its original glory feels like an important step in that direction. Now I can sprawl out on the couch and not worry about finding a green cast on my clothes when I get up.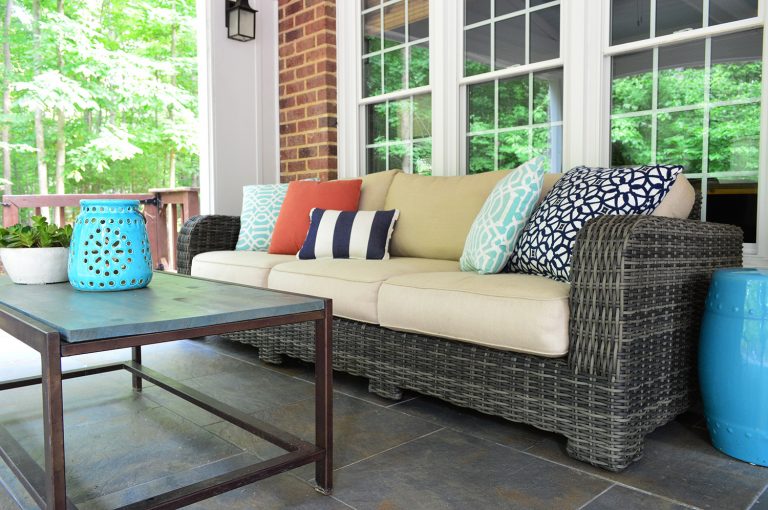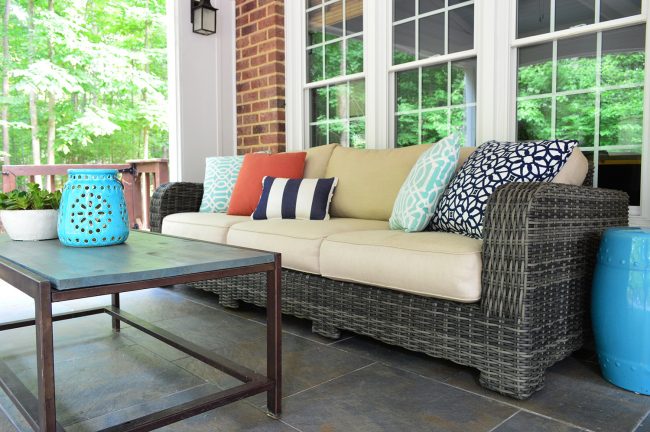 Again, here's the current version of the pressure washer we bought if you want to grab one (hint: Father's Day is this Sunday). And also, remember to test your fabrics first before diving in and accidentally shredding them with your pressure washer. I'm hoping that the deep clean I gave them this year will mean that in coming years I can rely on a lower pressure spray (maybe with some soap in the tank?). I mean, not that I'm really looking for an excuse NOT to break this puppy out and spray my little pressure washing heart out. Not the literal puppy – he's just there for scale.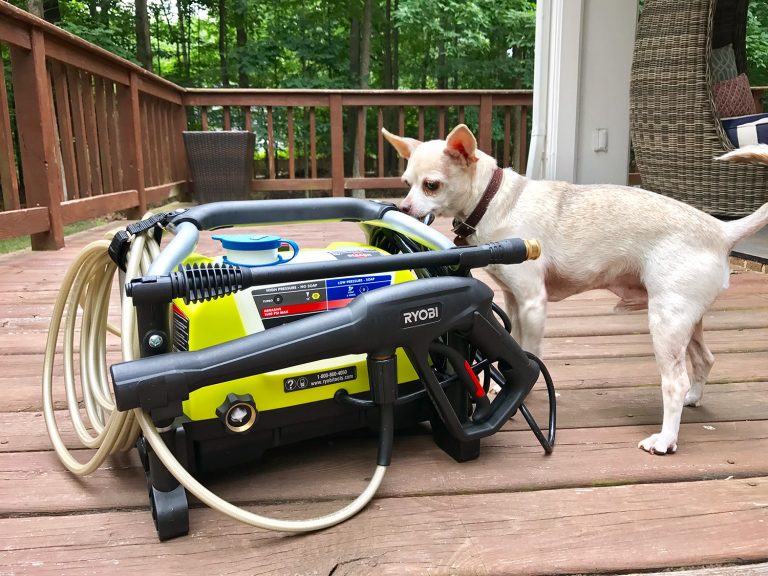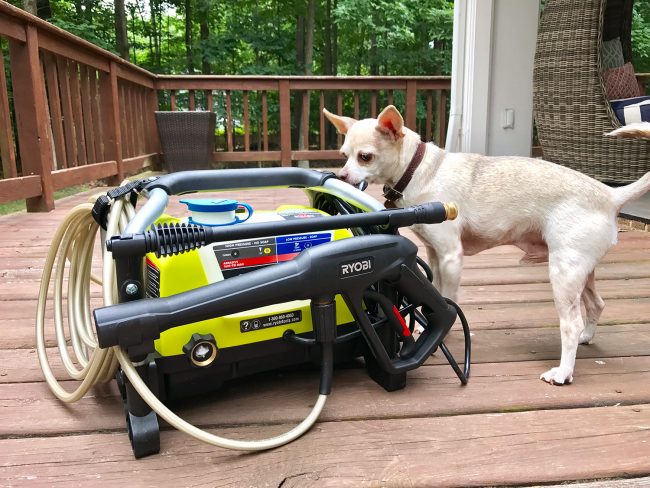 Psst – In the mood for more home update ideas? Here are a bunch of other outside projects and makeovers.
Want to get a lot of useful tools for home? Check out crafted garage!
*This post contains affiliate links*