Our First House
Do you hear that high pitched scream? It's me, all the way in Richmond, shouting at the top of my lungs that the office/guest room/playroom makeover is finished. Woot! Come on in and take a look around. But wait, for old time's sake, let's check out the room as it looked when we moved in: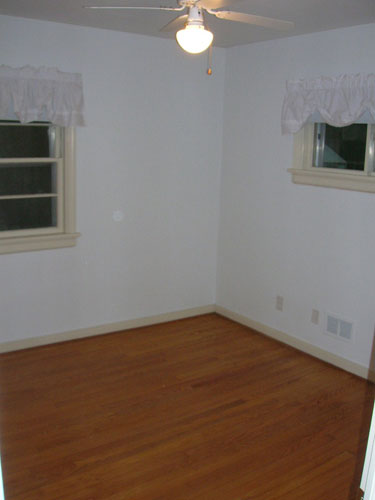 And here it is now, all office/guest room/playroomed out: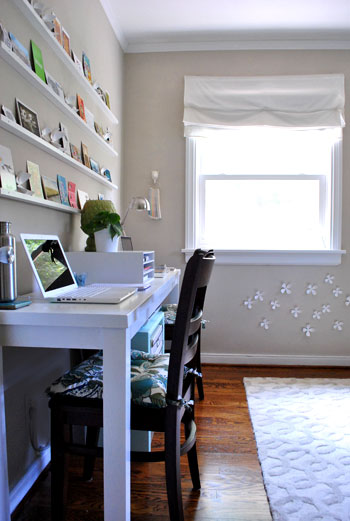 We love this room because although it's only a 10 x 10.5′ box, it easily gets the best light in the house. So it's not a bad spot to spend 80+ hours a week logging blog time, playtime, and accommodating the occasional guest or two. It was totally worth all the projects that we took on to get it to where it is today- in fact it was a darn good time.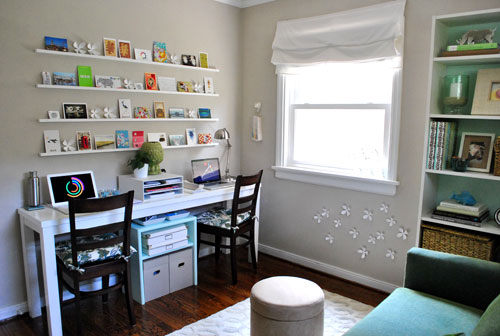 We did our best to squeeze in as much function as we could, from the shallow DIY desk and the magnetic wallflowers under the window to a ton of shelves and bookcases and a storage ottoman that's filled with Clara paraphernalia (aka: Claraphernalia). And we can't forget the fact that our budget friendly sleeper sofa (with a comfy full sized mattress tucked inside) really freed up some serious floor space.
The desk that John built with our old bathroom door really saved us money and space (since it's not too deep to keep the sofa bed from easily folding out when guests arrive- stay tuned for photos of the bed folded out in this afternoon's post). We also found a lot of room for files and paperwork thanks to some woven baskets on the tall bookcase by the window and the small blue filing cabinet under the desk, which John also built.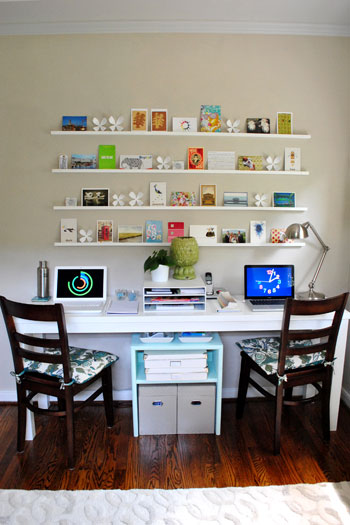 You'll also notice that we picked up some fun patterned seat cushions that work really nicely with the sofa and the rest of the colors in the room. We already had these chairs at our disposal since we switched them out for a padded bench in our dining area a while back. And happily the cushions were just $12.50 a pop at World Market, and they definitely make our already-comfy dining chairs even easier on the ol' backside (we've put in some super long days on them and can't complain a bit).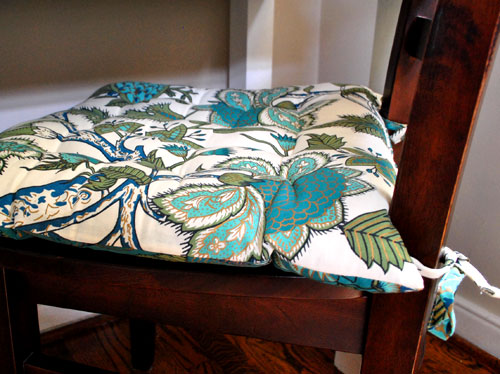 And we can't forget how we wrangled all of our wires to keep things looking streamlined. The whole office side of the room really works perfectly for us- and there's enough room on the rug behind us for all sorts of playtime with Baby P (since one of us is usually on Clara duty while the other blogs away at the desk).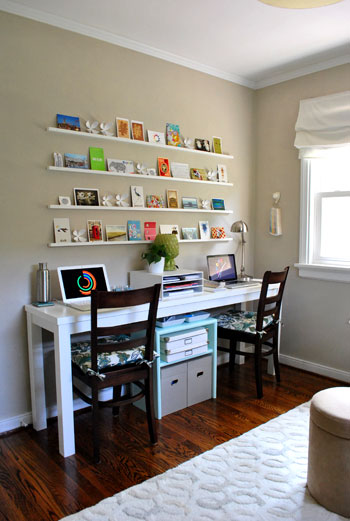 John also got to flex his problem solving muscles. A few days ago I was telling him how I wished there was a way to keep paint decks from taking over my side of the desk, and he smartly suggested that we hang a $5 ceramic pig hook (from Mongrel here in Richmond) at arm's reach. It totally does the trick- and actually looks like art. Especially because we used two other pig hooks across the room to hold up our flash card clothesline and a fourth one in the closet to hang Clara's growth chart. And you know I love a good ceramic animal (or four) to swank up a room.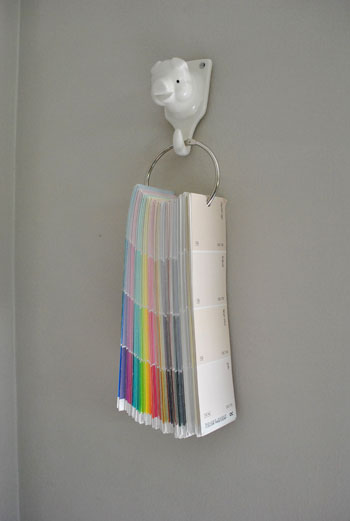 Oh and that's actually a DIY paint deck that I made by grabbing a slew of my favorite swatches, hole pinching them all in the same spot, and sliding them onto a 3″ binder ring (snagged at Office Max on the cheap).
We're also really enjoying our never-boring homemade postcard shelves since we can easily rotate things in and out whenever the mood strikes. In fact we've already switched out a ton of postcards and other small objects that make us smile. It's addicting. Thanks again to everyone who generously sent postcards and other notes for the art wall our way!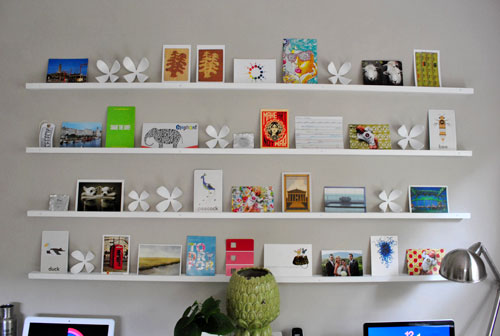 We've received them from England, Holland, Switzerland, Afghanistan, Greece, Spain, Austria, Italy, India, Africa, Australia, Canada, and a ton of interesting domestic locations as well. We keep all of the ones that aren't currently on display in the handy top compartment of one of our filing boxes so we can change things up in a snap. So if you don't see your card it doesn't mean it won't be up on the wall soon!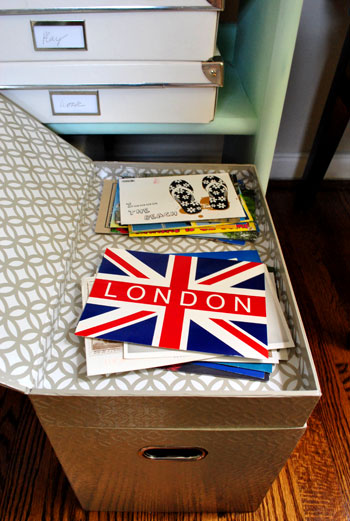 We use the other small compartment in the top of our second filing box to house all of our cords and wires in neat little bundles, thanks to some little blue binder clips from Office Max (which keep them from turning into a huge knotted mess).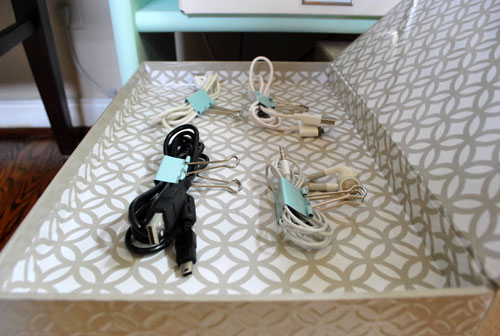 Then we have the Ikea bookcase that we tweaked with a soft blue background and some sawing at the molding to ensure that it would sit flush against the wall. It's another really important storage piece in the room (those baskets from Michael's are filled with paperwork and office accessories that we like to have on hand- plus it houses our printer). But we did our best to add some eye-pleasing accessories to keep it from feeling too work-heavy when guests come to stay.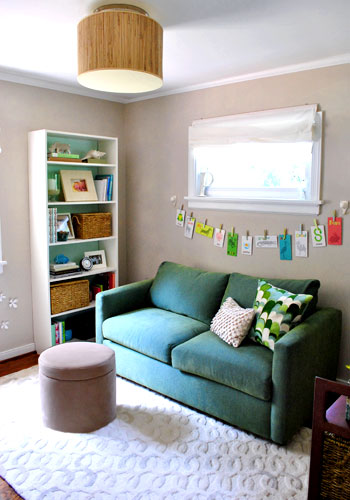 We even have a quick shelf switcheroo that we pull when friends and family members arrive (stay tuned for that info in this afternoon's post).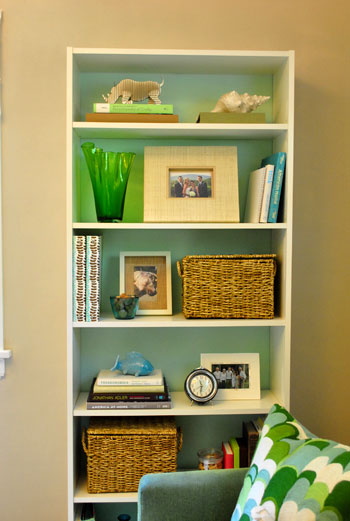 We also used an already-owned white Ikea planter to corral mailing tubes for shop orders that we like to have nearby (they used to be stored in a cabinet in the kitchen, which made for a lot of trudging back and forth).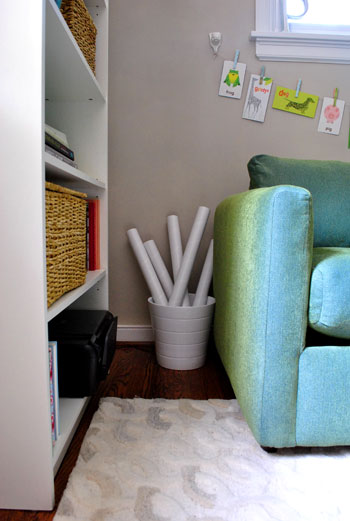 And of course we have the DIY flash card clothesline that we whipped up. Safety note: twine, wire, or ribbon can be strangulation hazards. Hanging things out of reach and keeping an eye on children who may get hurt is always advised!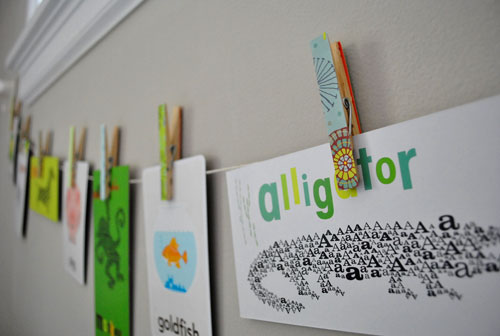 We love that it can also be used to display art that Clara makes as she gets older- or even a strand of colorful paper flags (check out those pictures here). Plus this morning we explained how we made those patterned clothespins over on Babycenter, so be sure to drop in on that post too (just click here)! We really didn't want to- er, half butt- the playroom aspect of the space by tossing a few toys on the floor and calling it a day. So adding things like the flash card clothesline and the magnetic wall (for Clara to interact with thanks to our already owned magnetic wallflowers) really introduced that authentic playroom feeling. Not to mention that we have tons of spots to stash her books, toys, blankets, and blocks. Like this $27 storage ottoman from Target…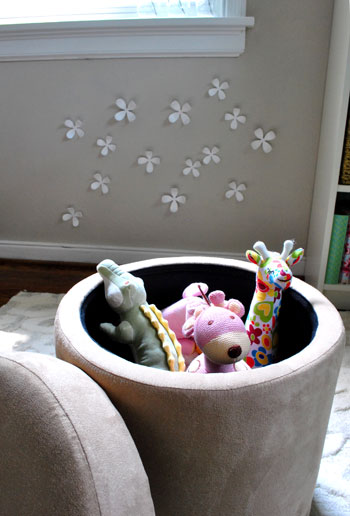 …and the woven baskets on the bookcase by the closet…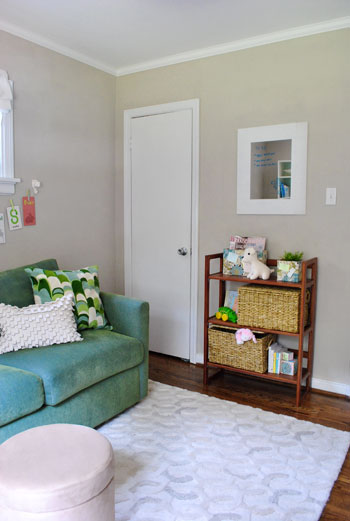 And speaking of the closet, our little makeover last week really transformed it from a dark and gloomy mess to a totally functional place to store linens when the guest bed isn't in use (and clothing and luggage for our friends and family when it is). Remember, stay tuned for photos of the bed all folded out and ready for company in this afternoon's post.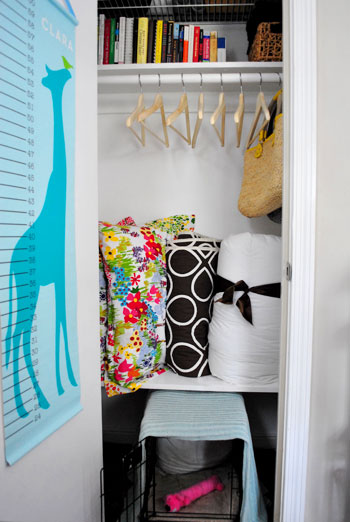 Who knew we'd end up with two bookcases in one tiny room? But they really do the trick. This one is perfect for all of Clara's books, stuffed animals, block sets, and other "playroom" stuff that we stash in those generously sized baskets (from Michael's) when things aren't in use. And do you see those two patterned boxes on the top shelf? Stay tuned for a quick tutorial on that fun little project coming soon.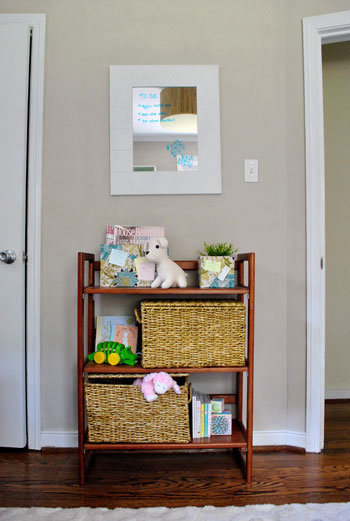 We can't forget about our mirror/to-do list. A mirror is always nice to have around for guests to check their hair before emerging. And we gave it some office function by using a dry erase marker to write down whatever we need to accomplish and crossing things off as we go. But when guests come to town we erase all of our scribbles and write them a sweet little welcome note instead.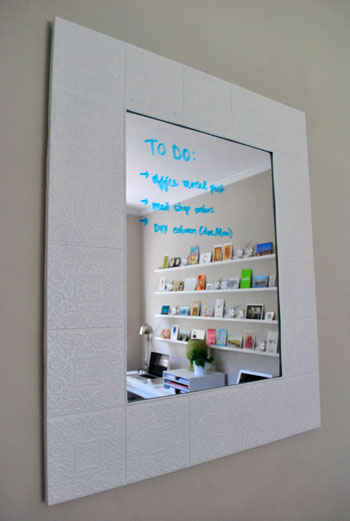 So that's the big office reveal. But how much did it set us back? Here's the budget breakdown:
DIY pendant light: $32
Homemade desk: $70
File cabinet: $20
File boxes & desktop cubby: $42 (from Target)
Chairs: already owned
Chair pads: $12.50 a pop (from World Market)
Post card shelves: $23
Post cards: free (thanks to you wonderful people!)
Small bookcase: already owned
Large bookcase: $69 (from Ikea)
Baskets: $40 (from Michael's)
Mirror: already owned
Storage ottoman: $27 (from Target)
Full sized sofa bed: $699
Pillows: already owned (from West Elm and Crate & Barrel)
Rug: already owned (from Pottery Barn Outlet for $129)
Wallflowers: already owned
Magnetic primer for wallflowers: $21 (from Home Depot)
Clothesline: $20 (for decorative paper, ribbon, and flash cards)
Pig hooks: $5 a pop
Closet shelf: $12
Eco power strip for cord wrangling: $39
Wireless printer: $79
Mailing tube caddy: already owned (a repurposed planter from Ikea)
Total: $1,238 ($539 without the sleeper sofa)
We're pretty excited that the entire room makeover came in at a little over a thousand dollars and we were able to add: a two person desk, a bookcase, a sleeper sofa, an ottoman, a wall of built in shelving, a pendant light, a file cabinet, a wireless printer, and tons of storage solutions. We figured that much new furniture would bring the budget to more like 2-3K going in. Especially because many of the sleeper sofas that we researched cost over $1200 alone. And the idea that we only spent $539 after the cost of the sofa has us pretty proud (since someone could easily spend that amount on a two person desk or just an ottoman and a bookcase – and we were able to stretch that amount to include a slew of other furnishings, accessories, and electronics). Now we have a multifunctional space where we spend tons of time each day, and it also works to host our friends and family whenever they swing by.
Oh and we're thrilled that we were able to take on 90% of the transformation after Clara came into the picture. Hooray for naptime projects and taking turns with the beanette while the other parent applies magnetic paint, builds a file cabinet, or whips up a flash card clothesline. And we're even more excited to tackle our next mini makeover (did somebody say sunroom?). Stay tuned!
Update: You can check out what this room looks like when it's all set up for guests or being used as a playroom right here!
Psst- Looking for more info on any of the projects or items that you see above? Click here for the intro post, here to read about the big sleeper sofa hunt, here for the DIY desk play-by-play, here for the homemade light fixture project, here for our hacked Ikea bookcase, here for the file storage we built, here for how we squeezed in some toy storage, here for how we picked out some DIY art that we could agree on, here for how we wrangled our wires, here for the play-by-play of creating our postcard art wall, here for our magnetic wallflower paint project, and here for our closet overhaul.

&nbsp&nbsp&nbsp
Like every good bedroom, our now office/playroom/guest bedroom has a closet. In fact, it's the one I used to keep all of my clothes in before we installed the built-in wardrobes in the bedroom and I earned a spot to keep clothes in the same room that I slept in (upgrade!).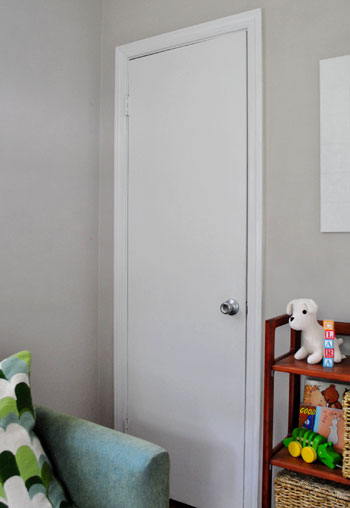 But what was once my closet, and later became a bonus storage space (full of nothing but Burger's crate) has recently turned into this: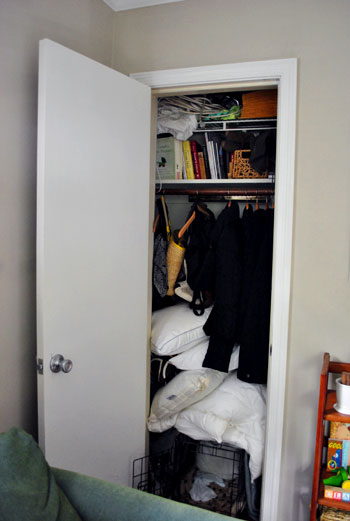 The reason for its current state can best be described as (1) it's now required to hold a lot more stuff and (2) it's not doing a very good job of it. Besides being a catch-all for miscellaneous items like winter coats and extra books, its main two functions were actually to still house Burger's chihuahua sized dog crate and to contain all of the bedding for the fold-out guest bed hidden in the sleeper sofa (that stuff used to reside on the guest bed itself, thereby freeing up a lot more of the closet). And those two functions were constantly at war because every time we traveled with Burger's crate, we'd slide it out and the pile of linens would fall to the floor and progressively get shoved back on top of his crate when we returned (less and less tidily each time). I know, excuses excuses…
But since that closet door actually remains open most of the time, except when we have guests in there (Burger loves chilling in his crate) we knew that it was time to conquer the mess. And the first step was to create a shelf to keep the linens from toppling every time we slipped the dog create in and out. So first we cleared out most of the mess and then it was solution time.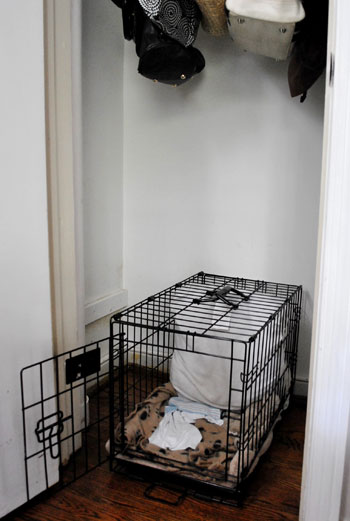 Inspired by the lower shelf that had once been in that closet before (see the white board on the left wall of the closet above?), we decided we just wanted to build a simple system with two rails on either side of the closet that would support a large plank of wood. So off to Home Depot we went, where we picked up one 1 x 2 and two 1 x 8 planks, all of which I had cut to size at Home Depot.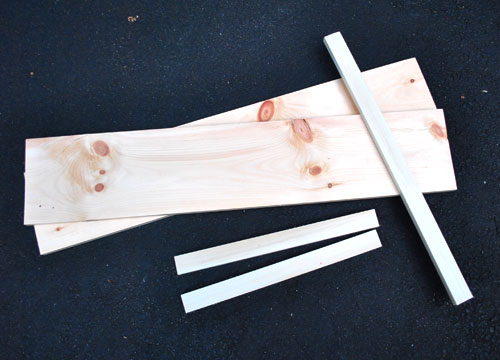 The two 1 x 8s would sit side-by-side to create a 16″ shelf while resting on the 1 x 2 side rails that I would install. Plus I cut an extra 1 x 2 for the back wall, just in case I needed a little more shelf support (I didn't end up needing it though – hooray for spare wood).
Then, with Burger's crate still in the closet, I measured the height of my shelf – leaving a bit of breathing room. Note: Burger's crate is taller than 12 inches, I was measuring from the top of the baseboards in the picture below. I know he's small, but he's not that small.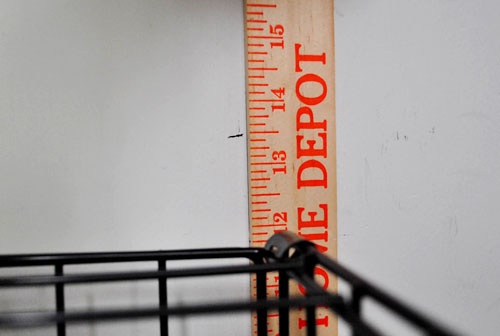 Then after making the level marks along the two sidewalls I position my rails and screwed them each in, using three screws per rail. I didn't do anything particularly heavy duty with the screws since it's not going to hold very heavy items (although one on each side definitely went into a stud) but if you're doing this to hold books or gold bricks, be sure to find a few more studs or use anchors. Once each side was attached I set my planks on top of the newly installed rails and made sure everything looked level. Luckily it did.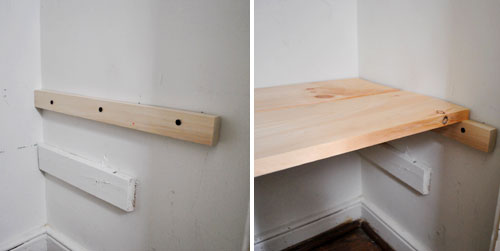 You'll see my rail is a bit longer than the plank. I did this just to have some wiggle room if I needed it (we could always grab a 1 x 3 and lay it across to further extend the shelf to the edge of the ledge). You'll also notice that the shelf isn't as deep as the closet itself. That's because the pipe for our radon mitigation system runs up the other side of the closet wall (see the white tube on the left in the photo below, which emerges from the floor and looks a lot like molding from that angle). This large plastic pipe prevents me from making the left rail any deeper. I could've tried to cut the shelf around the pipe in that corner, but it honestly wasn't important enough for me to bother.
Oh, and of course I double checked to make sure Burger's crate actually fit under it: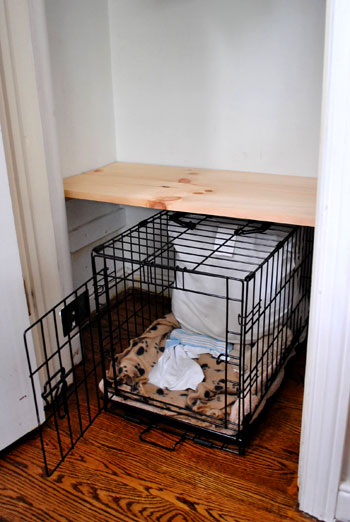 Next came painting. As you've probably noticed in the before pictures above, the closet walls were less than pristine themselves, so I took this as an opportunity to not only paint the shelf semi-gloss white, but to actually put a fresh coat on the whole closet, hanging bar, and the back of the door. That was probably the most time intensive part of this whole process (we used Freshaire off-the-shelf white semi-gloss paint since it's no-VOC for the beanette).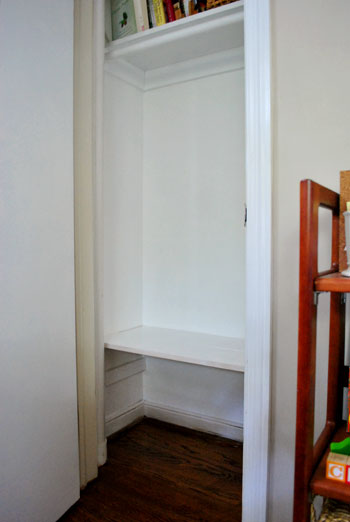 With the whole space "freshened up" it was time to put everything back in and call this project complete. Well… not everything.
We were able to pare down the guest bedroom linens by just storing the sheets on the mattress, folded up in the sofa bed and only keeping two pillows in this closet (the other two – in case our guests need extra – now live atop Sherry's wardrobe in our bedroom). Then we were finally able to store the remaining bed-stuff a bit more stylishly on the newly constructed shelf to make the whole area look more appealing. So much better, right?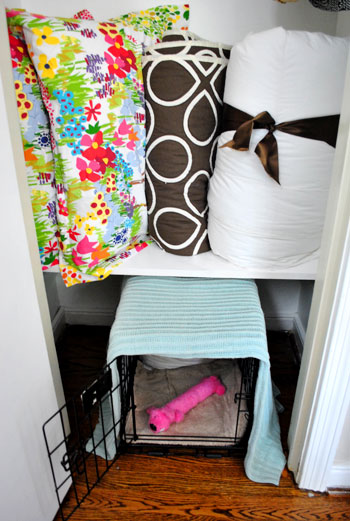 Of course, the best part of the set-up is that we can now easily remove Burger's crate to travel without all the guest bedding tumbling down into a heap. Don't you just love some order in the court closet?
We also cut down on the number of hanging items. All unused/old winter coats and bags got donated and the remaining few coats/jackets were moved into my bedroom wardrobe since I was able to open up some space by ditching some past-their-prime work shirts. What we're left with is a lot of free space for guests to hang their clothes up when they arrive (and two bags that Sherry decided to keep on hand- which actually look kind of sweet in the closet, thankfully).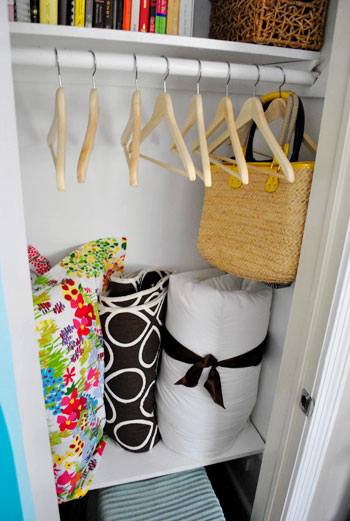 We also straightened things up top a bit while we were at it. We pulled out a few good reads to donate to our local book store, wrangled the scarves and gloves that had been crawling out of the basket and wrapped up some spare surge protectors (tip: keep extension cords and surge protectors from coming unraveled by wrapping the wire and then plugging them into themselves to keep them tightly bundled). Oh, and then there's Sherry's stack of mailing envelopes for YHL shop orders.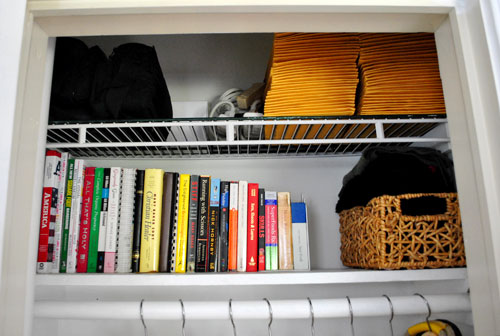 The last update to the closet was more of a fun one. Stacy at Name Your Design had recently sent Clara this personalized growth chart as a baby gift, so we thought the inside of this closet door was the perfect spot to hang it. And we broke out a whimsical ceramic pig hook (purchased locally at Mongrel for $5) to do the job. You know how Sherry is about ceramic animals…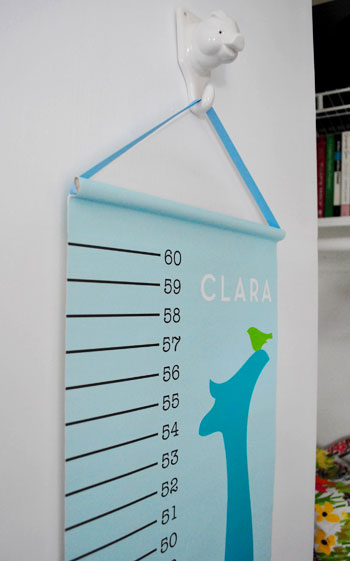 So all-in-all we'd say that we made our closet a much more pleasant space to look at and live with. Honestly, you have no idea how much we're looking forward to being able to pull out Burger's crate for our next road trip and not have pillows and blankets crash down on top of us.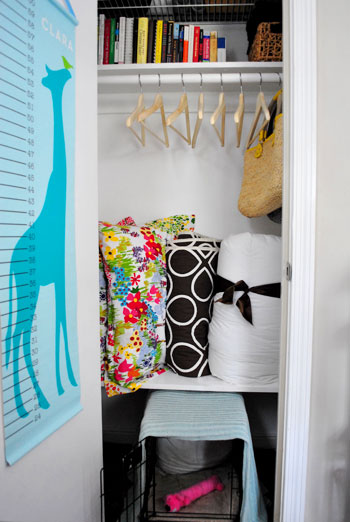 Most importantly, Burger approves of the changes too. Phew. He can be a tough critic.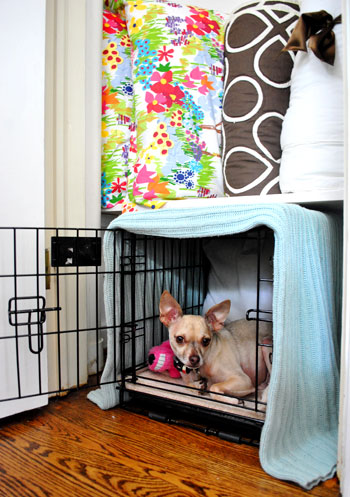 Have you guys done any closet wrangling recently? Or do you have any other tricks up your sleeve when it comes to storing linens or guest bedding? We realize our situation of linen closet/dog house is fairly unique, so throw in your closet uses (especially if they're on the unusual side like ours).
Oh and don't forget to check out this week's column over on BabyCenter (right here). It's also office related, and it chronicles how anyone can DIY some pretty impactful art for an entire wall in your home in three different (and super easy/cheap) ways. Here are a few sneak peeks for ya. Check out all the details over on BabyCenter.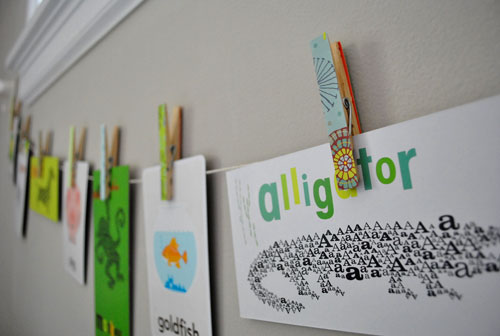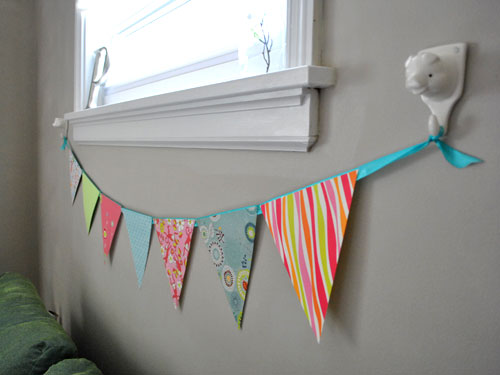 Psst- Wanna follow the entire office/guest bedroom/playroom makeover? Click here for the intro post, here to read about the big sleeper sofa hunt, here for the DIY desk play-by-play, here for the homemade light fixture project, here for our hacked Ikea bookcase, here for the file storage we built, here for how we squeezed in some toy storage, here for how we picked out some DIY art that we could agree on, here for how we wrangled our wires, here for the play-by-play of creating our postcard art wall and here for our magnet paint project.
&nbsp&nbsp&nbsp