A recent bout of spring cleaning turned into an archaeological dig when Sherry uncovered this piece of ancient history: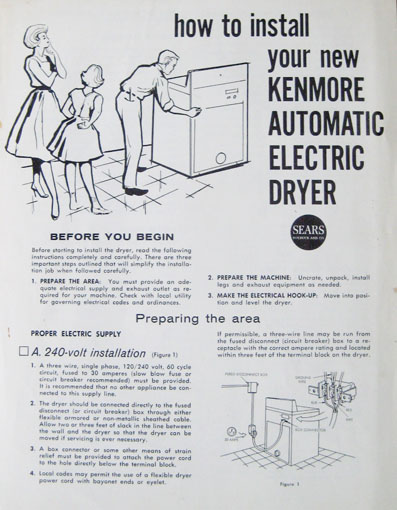 Ok, so it's no dinosaur bone, but who expects to find something this dated in their own filing cabinet? What we had stumbled upon was the installation manual for our old – wait, scratch that – REALLY OLD dryer, which has since been donated to make way for our new front-loaders. (Below is the only pic we have the old stuff, which was taken mid-demo. It was too ugly to photograph otherwise.)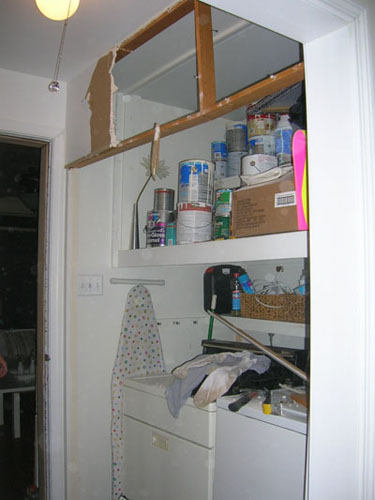 Somehow we didn't see the manual during our first flip through the files we inherited from our home's previous owner. But based on the vintage illustrations and old school Sears, Roebuck and Co. logo we were able to determine that the manual (and therefore the ol' Kenmore dryer) was from the 1950s. Which means that our former laundry appliances were probably original (!) to our 1956 house. We actually shouldn't be that shocked. As Lowe's was hauling our dryer away to be donated the guy was rambling about how he'd never seen such an archaic appliance with actual cinder blocks built right into the base to keep it from scooting around.
Admittedly, I now feel some pangs of guilt for letting go of such an "antique". But we're sure there have been just a few significant dryer developments in the last half of a century, so we can certainly appreciate that we're cleaning our clothes in less time with less noise while using less electricity. Oh and the new front loading version is also a heck of a lot easier on the eyes.