At a recent open house, our suspicions that a last-minute countertop switch saved our kitchen were confirmed when we saw this kitchen with a granite countertop in Blanc Noir- the style that we almost chose: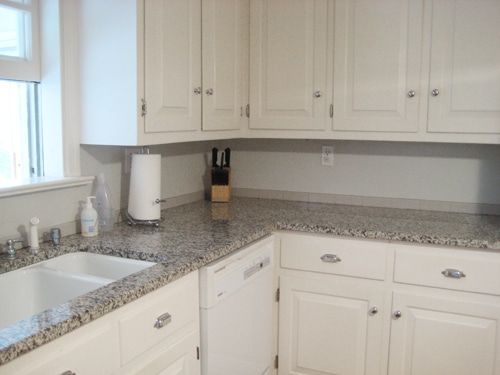 In fact, we did choose Blanc Noir, but when we viewed the full slab (as opposed to a tiny sample that Home Depot provided) we pulled a last minute switcheroo from Blanc Noir to Pashmina. And this open house kitchen was all the proof that we needed to be sure that we absolutely without question made the right decision. Here's our granite counter in Pashmina for comparison: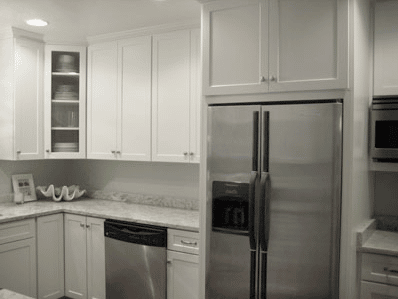 Our fears that the Blanc Noir granite would be more busy and patterned (at one point we started calling it dalmation-esque) were absolutely confirmed. We're so glad we went with the more subtle and veiny (as opposed to spotty) Pashmina- and although it was slightly more expensive, the high end marble-look is worth every extra penny.
Let this be a lesson to all of you in the process of picking out a counter- be sure to check out the giant slab at the stoneyard! The mini samples of each of these styles looked extremely similar, but when we saw a big slab of each of them they couldn't have been more different. Whew.