Holiday & Entertaining
Well, you can stick a candy cane in it, because one of our favorite seasonal projects ever is officially done!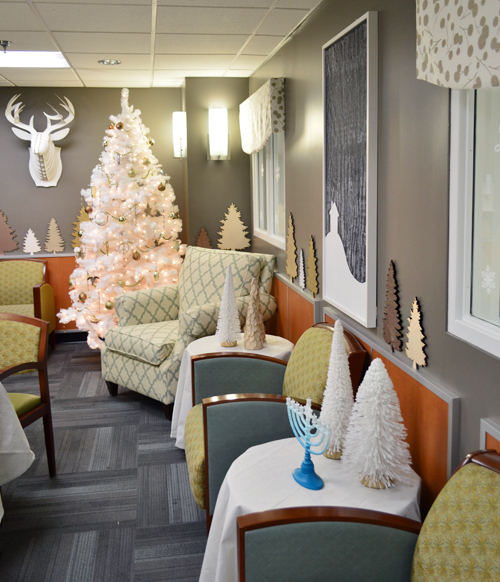 To recap, we were invited to help with a very special project: decorating a family waiting room at the Children's Hospital of Richmond at VCU. They contacted us in the hopes that we could volunteer our time to warm up the room so it's more cozy and homey year-round, as well as to add some festive touches for the holiday season. Not only did it sound like a fun project, it had such a deserving purpose that we couldn't wait to get started. Here's what it looked like when we first visited.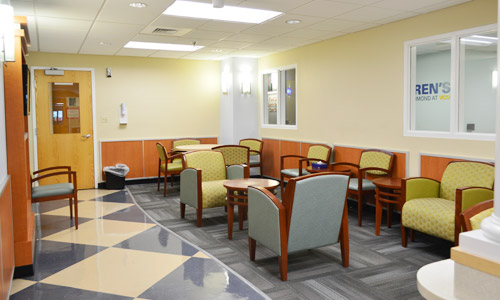 We set our sights on giving the space a living-room-like feeling for all of the children, parents, and staff that are spending the holidays at the hospital. One major change was a new paint color (Gargoyle), which was inspired by staff members who requested something enveloping and cozy since so many other rooms there are super bright/clinical. Although it might read as gray, it's actually a mocha/brown/taupe color in person (it's the swatch on the right of this image). And adding touches like a cozy armchair next to a big bright tree, some soft window treatments, and a bunch of holiday additions (like a little parade of wooden trees around one side of the room) hopefully brought in more of that homey vibe.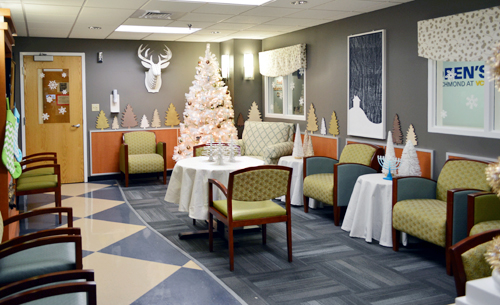 The room will also be getting new hardwood floors, a white door in the place of that blonde wood one, and some updated furnishings in a few months – but they didn't want to wait when it came to making the room feel festive for those families spending their time in the hospital this season, and we're so glad they asked us to jump right in.
There's so much that we want to tell you, but let's kick things off with a recap video that the hospital put together. It pretty much sums things up (and they thankfully cut out the parts where we got all misty-eyed).
Heather, the Senior Child Life Specialist at the hospital, states it perfectly in the video when she says we want families to feel cared about when they come into the room. Decorating for the holidays is a tradition that lots of us treasure, but when you've got a child in the hospital it's probably the last thing on your mind. So we wanted to incorporate a lot of handmade touches to hopefully make it feel more less corporate or cold and a lot more like home.
We already shared four projects in the room – including the faux fireplace and paper garland which, by the way, has gotten even prettier since we first left them thanks to some of the young artistes on the floor. So let's dive a bit deeper into some of the things you haven't seen yet, starting with the Christmas tree. We went with white to not only pop against the freshly painted walls, but also since there were lots of traditional green trees elsewhere in the building. We grabbed our pre-lit tree from Garden Ridge, but most of the ornaments came from Target and JoAnn Fabrics.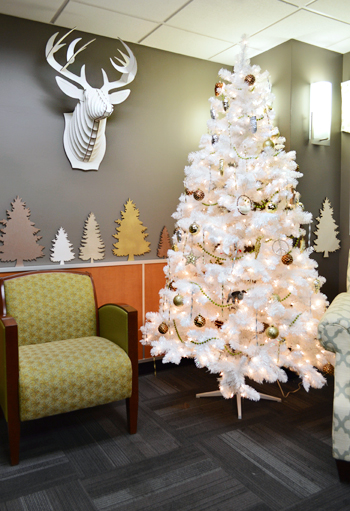 Presiding over the tree was Bucky, the big cardboard deer, er, reindeer that was sent over by Cardboard Safari. They're based nearby in Charlottesville, VA so they were excited to help us holiday-up the space for the hospital. We're told Bucky was quick to earn admirers as soon as we hung him, so we're glad he's making friends. Cardboard Safari also donated a few of their snowflake trees to help spruce up (ha! pun!) some of the tabletops. You'll start to notice that trees are a theme in this room.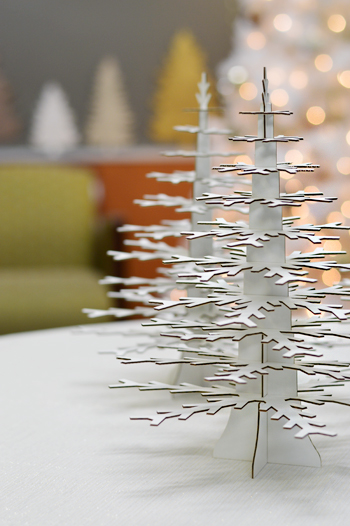 Speaking of trees, one element that was super fun was our metallic tree forest that lined two walls of the room. We knew very quickly that we wanted to line something up along the wall panels, but whatever it was had to be thin and lightweight. The idea of a "forest" popped to mind, but we couldn't figure out a way to execute it.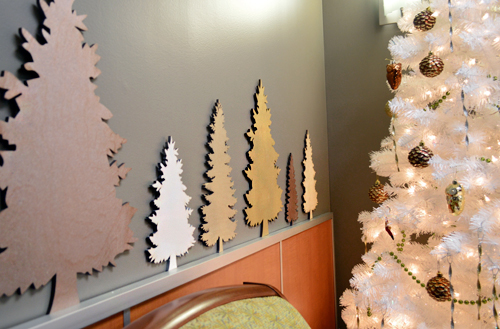 Then we remembered a cool local shop called Big Secret who uses a laser cutting/engraving machine to make all sorts of stuff. They were super excited to help out and offered to donate their time and materials to cut us a bunch of trees in varying sizes (we just sent them some free clip art that we found online for them to use as their template). Then we coated them in a variety of metallic spray paints so they'd pop against the painted wall and secured them with 3M removable velcro strips (so they can slip right off the wall without damaging it after the holidays).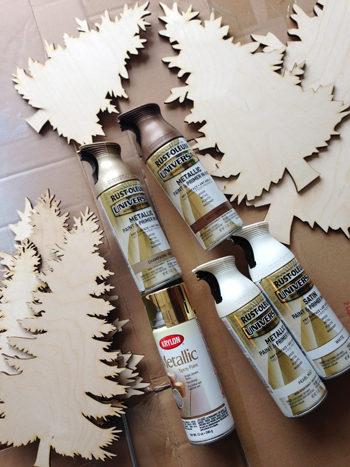 Another local company that jumped in to help us pull the room together for these awesome kids and families was U-Fab. They made two custom valances for the two big windows in the room out of a version of this fabric that we selected a few weeks back. We liked how the pattern looked kinda festive and seasonal, yet it can still work in the room year-round.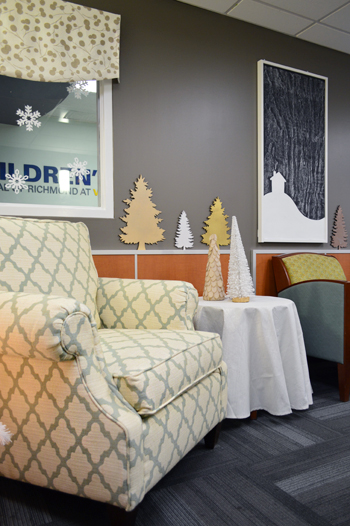 And since there wasn't time to have a chair custom upholstered, they kindly offered one up from their showroom floor – and boy was it a hit! People didn't want to get up once they sat in it, and Santa even paid a visit to the kids and had a nice big armchair waiting for him. There's also talk of U-Fab recovering it with durable/wipeable vinyl if this fabric doesn't hold up down the line, but all of the staff and kids seemed really excited to have a cozy place to sit by the tree in the meantime.
You also may have noticed the big chalkboard between the two windows. It was one that we built out a piece of plywood and some leftover chalkboard paint. For a fun twist we mixed up some white chalkboard paint too (by adding a couple teaspoons of light colored non-sanded grout to white paint) and painted a house on a hill along the bottom of the board. We thought it'd be a fun way to spice it up beyond your traditional black square, and that it might encourage people to draw a scene – like a wreath on the house or a kid sledding down the hill.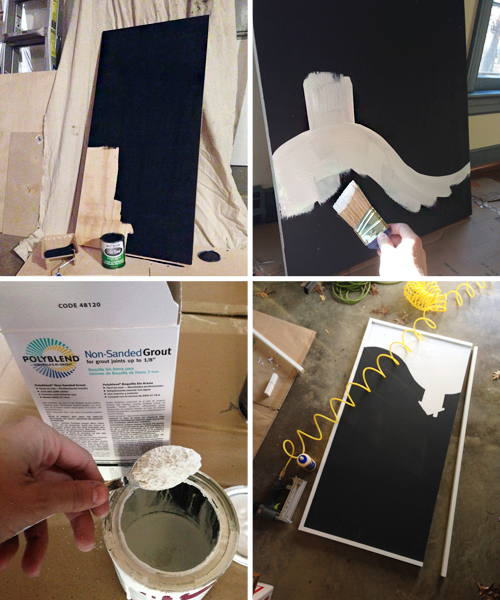 Once we hung it, Sherry wintered it up by dragging some white chalk down the surface on its side (so the natural wood grain came through). We figured until it got doodled on, it was a nice, almost snowy, texture to start with. And we hear it has already filled up with cute drawings and holiday wishes.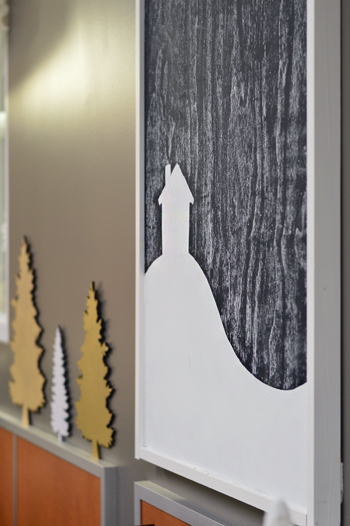 One of our favorite details of the room is something that you guys helped us with: the two cork boards that we filled with cards, letters, and crafts that you mailed to our PO Box full of warm holiday wishes for these awesome families. We were completely overwhelmed by how much care and love showed up, and the families are having so much fun looking through the stacks and stacks of other items that couldn't even fit on the board (we left a basket full of the other sketches, cards, snowflakes that will be rotated in, but can be read from that basket in the meantime).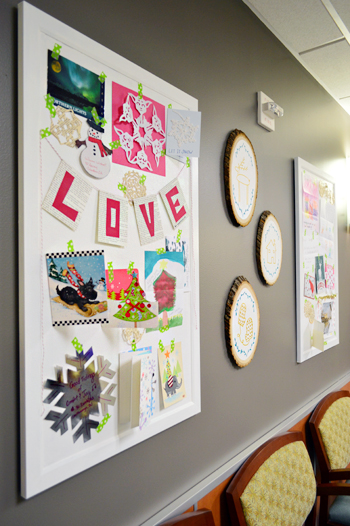 We originally planned to pin things up to these cork boards – but after learning that pushpins are a no-no in hospital-land AND realizing the room could use some white on that wall to balance the tree in the opposite corner, we painted them white. They could still be used to hold things up (the hospital is known to staple things in lieu of using pins), but we just taped things up with patterned washi tape to get things started, so they can easily be rotated out and enjoyed.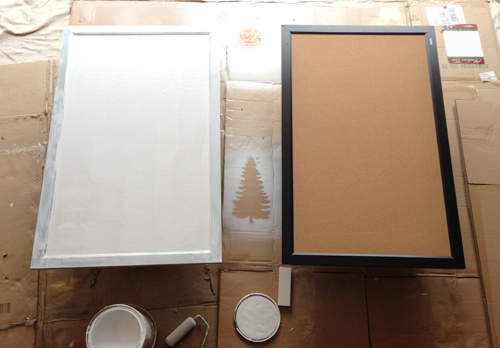 We got stuff from all over the country (Hawaii! Alaska!) and even the world (Canada! the UK! New Zealand! Australia! Switzerland!). Seriously, you guys blew us away. Even a couple of notes from Google showed up! So thanks to everyone who took a second to make these families' days a little brighter. We saw them soaking up the love firsthand, and it really was the best part of the entire experience.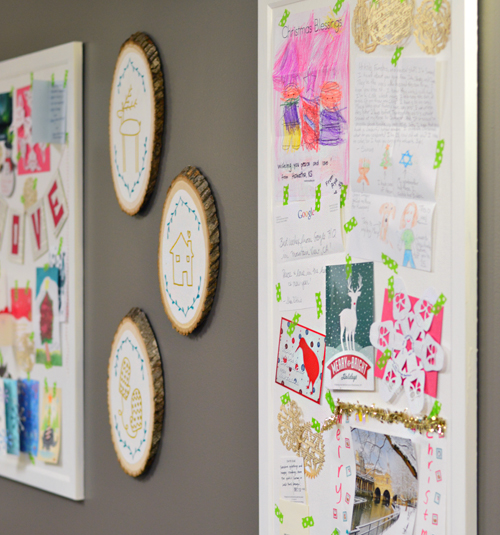 Those wood wall hangings between the two boards are a little art project that Sherry made using some wood plaques purchased at JoAnn. She just primed a nice wide oval on each one (to cut any wood bleed), painted those ovals white, and used paint pens to sketch some leafy vines on the top and bottom of each one.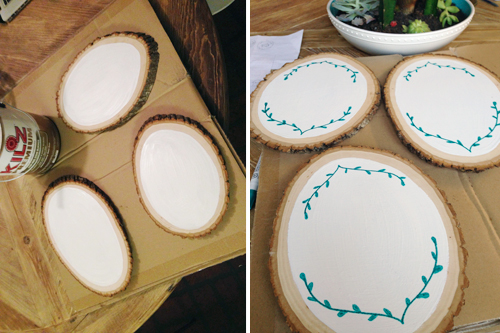 Then she drew one little holiday-ish item or object on each one. As much I liked her mittens and her little house, my favorite was the stick-figure reindeer. I kinda want him on a t-shirt. She even took some step-by-step photos for anyone else who might want to make one at home: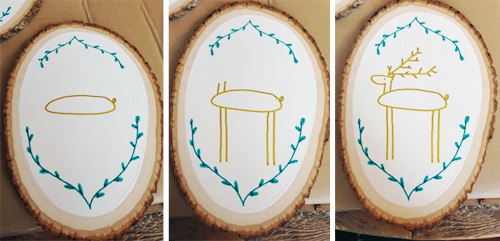 Even though they're not shaped like trees, they seemed to fit right within our cozy, lodge-like vibe – and it was fun to hear the families talk about which ones they liked best.
There's also an adjacent kitchen right off of the living room area, so we added a little bit of cheer in there as well. This corner is pretty busy and with limited wall-space and heavily used counters, so we just hung some gold glitter wreaths (from Target) on the upper cabinets. They're locked, which means they're rarely opened, so the staff actually  recommended that we hang something there since other areas of the kitchen are used so frequently (for example, anything on the counters would just get in the way).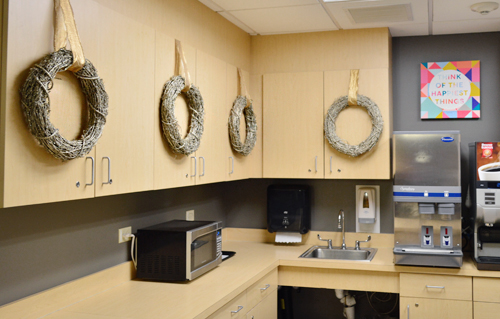 An amazingly sweet reader from Australia named Belinda also sent us this canvas print from her shop Poppy Love to Groove, which has a Peter Pan quote on it. The staff wanted it in a place where they could see it all year round – and what better place than right above the caffeine station?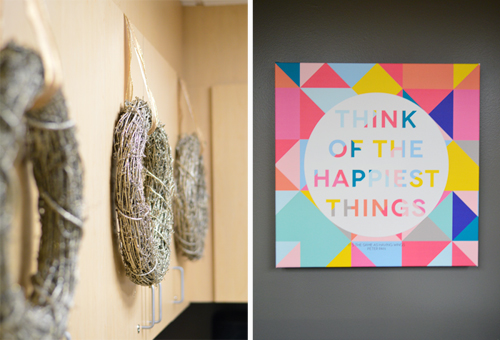 As pleased as we are with how the room looks, the best part has been witnessing the reaction to it. During the span of days that we worked on-site over the last few weeks, we got to meet lots of patients, parents, nurses, and administrators whose sincere appreciation was so heartwarming to witness. It was really rewarding to hear them echo words like warm, cozy, and soothing – which had guided us through this project.
I think we're really the ones who are the most thankful in all of this, though. It was a fun assignment and an interesting challenge, but more importantly it just felt good to not be so wrapped up in our own home decor and holiday stress (which frankly seem silly by comparison anyways). And of course there are the kids. They really are The Best. Here's a little proof, courtesy of a fun holiday video that they made. Really, I dare you to watch this and not have a smile plastered on your face:
So we're sending out one last thanks to the Children's Hospital of Richmond at VCU and all the people who helped this come together – especially the folks who donated items to the makeover and all of you who took the time to send a little cheer to Richmond for these sweet families. We certainly have lots of blessings to count this season.
P.S. – You can help the Children's Hospital of Richmond at VCU spread cheer by texting HEALTH to 50555 to donate $10 to support the children. To learn more you can visit CHoR on Facebook.
&nbsp&nbsp&nbsp
Nothing makes a house (especially one that we've lived in for 6 months) feel like a home like a little holiday coziness. So along with decorating the front of the house, and setting up our tree, each year we love to document how we festive-ify the rest of the house (here's that post from last year, two of them from 2011, one from 2010, one from 2009, and one from 2008). This year was an especially exciting year because it's our first Christmas of living in this house… which means I have new spaces to play with – like a different fireplace mantel, and stairs for the first time in seven years of home-ownership!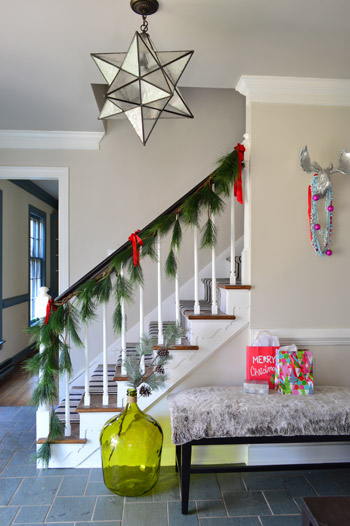 For almost every other space I just used what we already had, but for the stairs I ran to JoAnn and bought some faux garland (and an evergreen sprig for my green HomeGoods jug). It was $14 for both of them thanks to 50% sales on the Christmas stuff. To hang the garland on the railing, I just used red ribbon from last year (I'm the girl who saves every ribbon when I open presents to reuse it) – one at the top, one at the bottom, and one in the middle. I also added a clear zip tie at the top (under that ribbon) to be sure things stay put.
The bench is a HomeGoods find that we're planning to eventually use at the foot of our bed (once I recover it) so I tossed a furry blanket on it and plopped it in the foyer for now. I got the idea for the whole garland/bench thing when a few people showed me this photo from Country Living and said "I can't believe that's not your house – there's even blue trim in the room next to the stairs!" – how funny is that? So it was definitely the inspiration for this little holiday moment. Although the first thing we did in the foyer has already turned into a new holiday favorite: The Christmas Moose!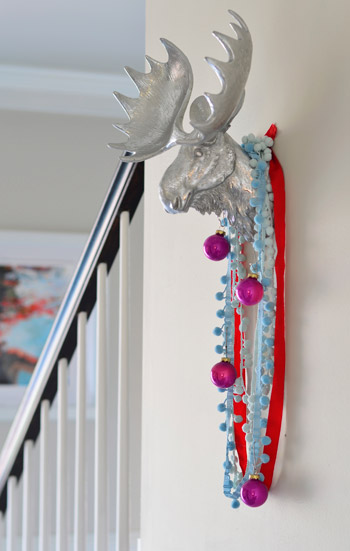 We grabbed him at HomeGoods back in September for $9 (weirdly enough, it was John's idea – I think I'm rubbing off on him) for the express purpose of hanging him up for the holidays. Basically John picked him up, declared that his name was Morris The Moose, and said "we should bring Morris home and hang him every Christmas, so he can live out his destiny as The Christmas Moose."
Sold.
He's pretty much Clara's favorite holiday decor item ever (if live seals can't be brought in for the roof, at least there's a silver moose in the foyer). The best part is that I didn't have to make any holes in the wall to hang him. I just used the screw that was holding up the Ikea frame that usually lives on that wall, so it should be easy to swap out that picture for a moose every December. And then I just stuck some remnants of ribbon and pom-pom fringe around his neck along with a few pink ornaments and called it a day.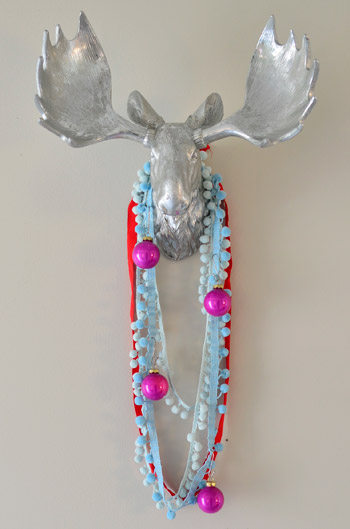 Next we have the living room mantel, which has a bunch of stuff that we've enjoyed for a few years in a row. The green feather trees (they're hand-me-downs from John's sister, but she originally got them from Target) are nice up on the ledge, along with some wrapped presents. Those are my favorite no-fuss accessories to break out every year because they're fake and I wrapped them back in 2010 but they're such an easy way to look like I'm this master gift wrapper (meanwhile I've shopped for about 6% of this year's gifts and wrapped 3% of them). Oh and our stockings are currently labeled as "Mommy & Daddy", "Clara", and "Burger" but we're thinking when the bun comes along next year we'll get five of them (one for each person) so there's no more random stocking sharing going on.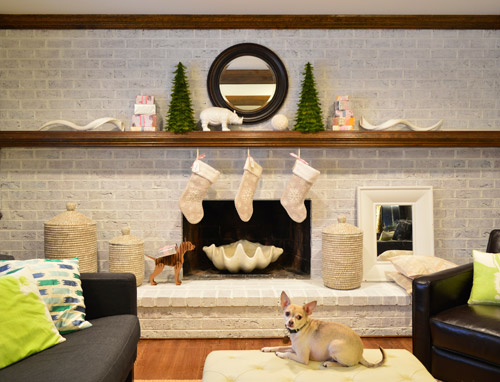 My favorite detail of all in here is the cardboard Burger (a reader hand-made him at a book tour signing last year) who's sherpa-ing a present. Cracks me up every time.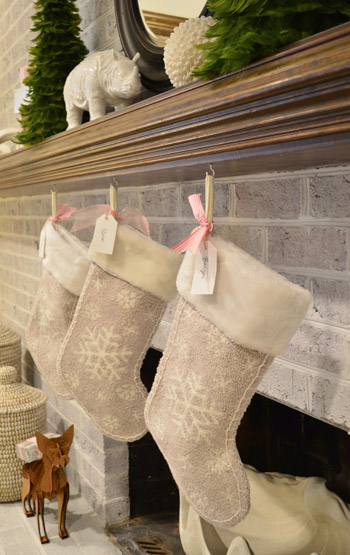 A few folks asked where our outdoor star pendants ended up in this house (you can see where we got those here), and the answer is that we finally got around to hanging them in the corner of the sunroom-turned-veranda, so we can gaze at them from the sofa in the living room every night.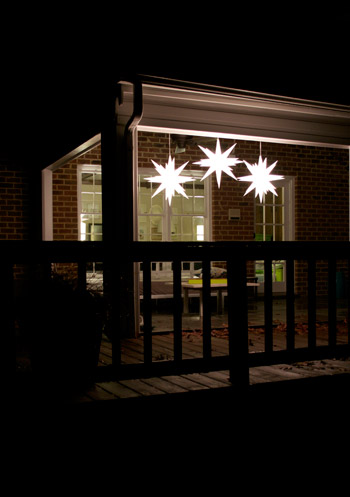 The console in the foyer also got some casual cuteness, mostly in the form of leftover ribbons, and a homemade reindeer.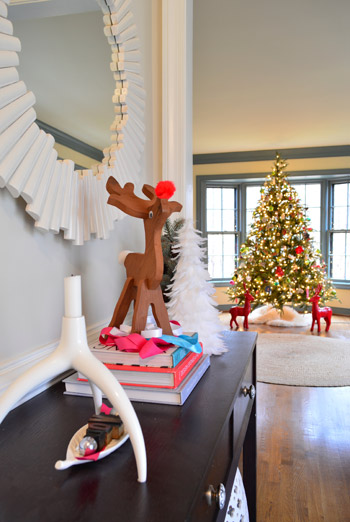 I have these little letterpress "love" blocks out year-round, but a pink ribbon and two tiny ornaments make it a little more cheerful…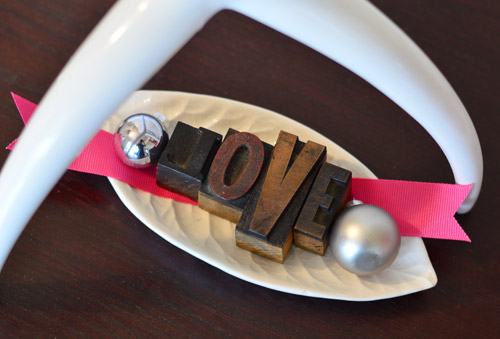 … and this reindeer was handmade by John's grandpa, so he's hugely sentimental and we love seeing him standing on his ribbon pile when we come down the stairs.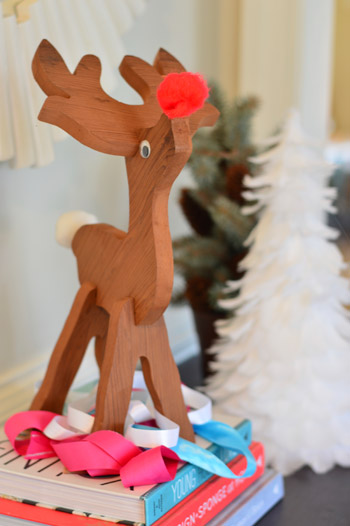 Our leaning chalkboard in the office got a little holiday message on it as well. Clara asked me to add the birds and snow. Now I just need her help decorating a snowman down at the bottom (she loves to chalk things up down there). She's also a fan of drawing bunnies these days, so we might get some of those in the mix…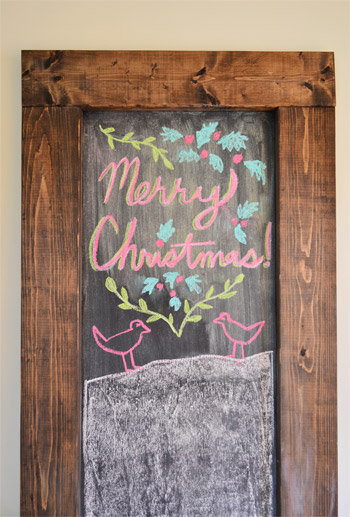 Clara and I also got to do a fun little Christmas craft together, which was basically making a giant mess with fake snow (it was THE BEST and SO HILARIOUSLY MESSY). Otherwise known as making these two snow-filled boxes, complete with tiny trees and mini dogs.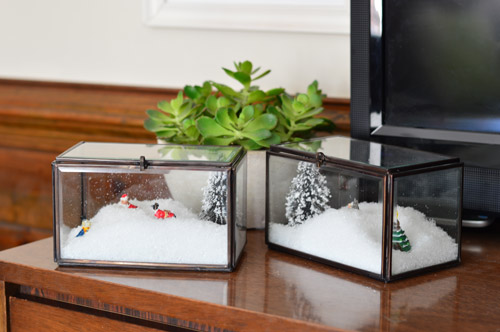 Don't mind Captain Barnacle's legs in this shot (he still goes everywhere with Clara). This is what we used for the project: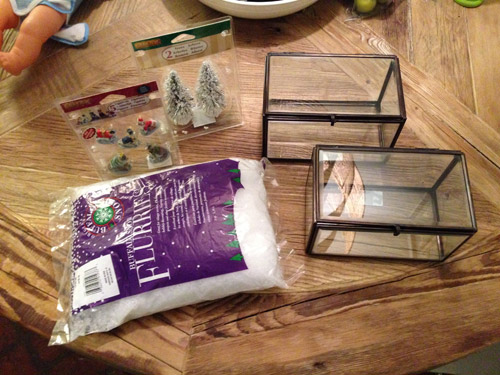 I grabbed two of these glass boxes from TJ Maxx (I think they were $7.99 each) along with a bag of fake snow, a two-pack of little trees, and one package of tiny ceramic dogs from Michaels (they're meant for those little holiday villages that people make under the tree with various buildings and skating rinks, etc).
Then Clara just had fun covering the kitchen with fake snow filling each of the two boxes with a mound of snow, and adding a few dogs and a tree. Now they sit on the media cabinet in the living room and Clara can usually be found standing about 2″ away just gazing at them. She even named a few of the dogs (Elmo is the one on the right, and the one in the top hat is Gru). The good news is that the hand-vac was able to suck up all the little glittering snow particles that exploded all over the table and floor during our little crafting session.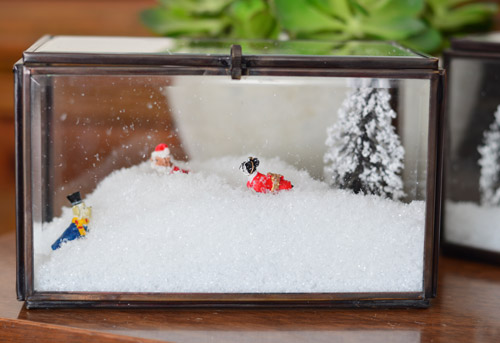 So that's how we added a little more holiday fun to the house. It definitely feels homier with stockings and ribbons and a big ol' silver moose. What have you guys done inside? Is anyone else having the best time ever decorating their stairs? I can't be the only one walking in there every ten minutes just to smile at the railing.
Psst –  Still in the holiday spirit? Here are nearly 40 other holiday posts from the past: 
&nbsp&nbsp&nbsp