Crank up "Grandma Got Run Over By A Reindeer" and chug some eggnog, because we're about to share some festive photos up in hurrrr. First up, the tree. You guys might remember that we set it up in the office the first year that we lived here.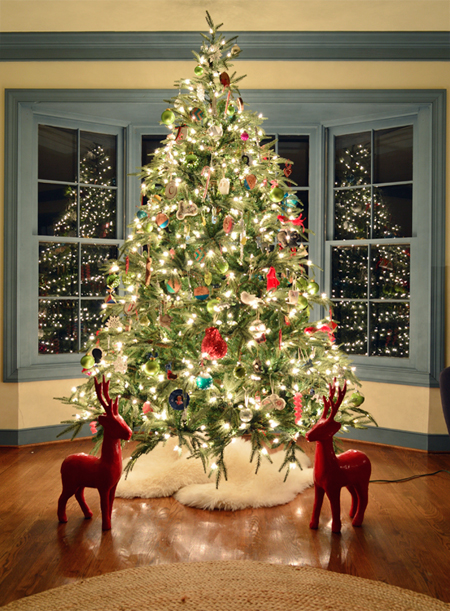 As much as we loved the effect of the lights reflecting in the bay window, we're glad we experimented with a different spot for it (after putting my desk there last year) because we like the new location even better.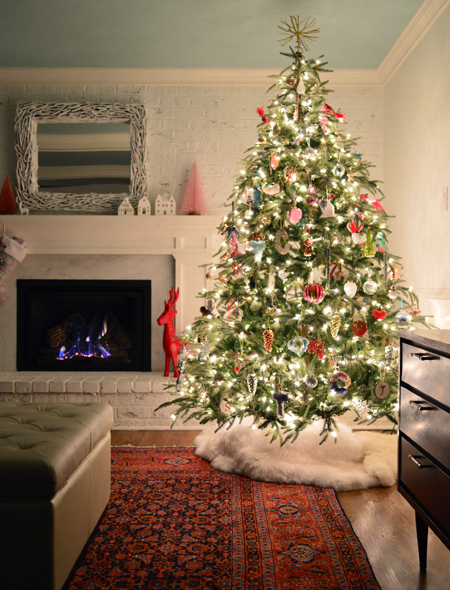 As we learned last year, Christmas morning feels cozier when you're opening presents in a living room rather than a home office. I mean, just look at how comfortable this dog is.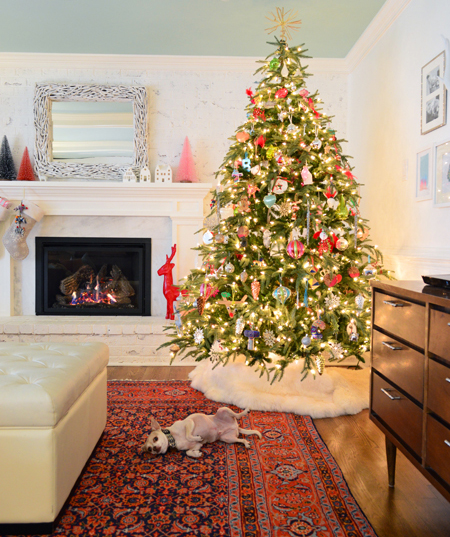 We're still embracing a smorgasbord of meaningful and sweet ornaments without much thought about a certain color palette or theme anymore (other than "lots of shiny and glittery things that make us smile"). There's everything from a Rudolph made of popsicle sticks to a chihuahua wearing a sweater. And an actual burger ornament. Every tree needs at least one of those.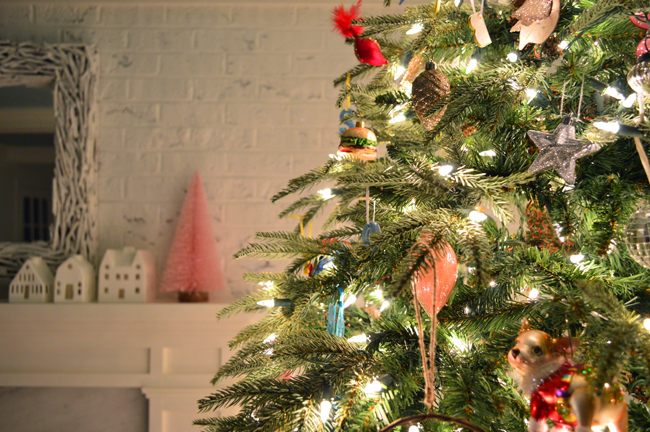 Some of my favorites are the handmade ones, like these silhouettes of the kiddos (C's on the left and T's on the right). I also have their little hand prints that I traced when they were both small enough for them to fit on a tiny round ornament (more on making both here).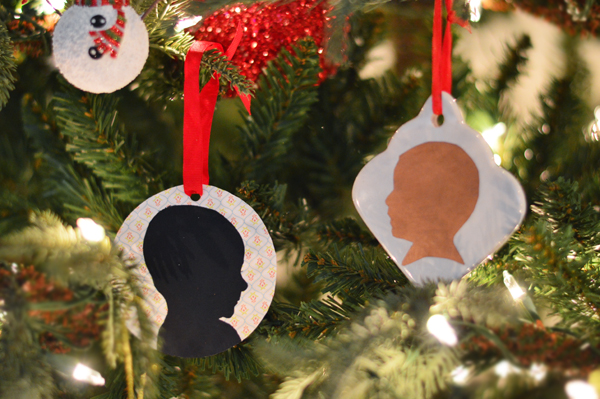 The mantel is extra simple this year. I like that it's not too fussy, but it still feels happy. The ceramic houses are from a few Christmases ago (you can see those if you scroll up a few photos) and the trees are from Target (here's the red one, pink one, and navy one). We have the same snowflake stockings we've had since 2007, but this year I spiced them up with these elephant chains from World Market.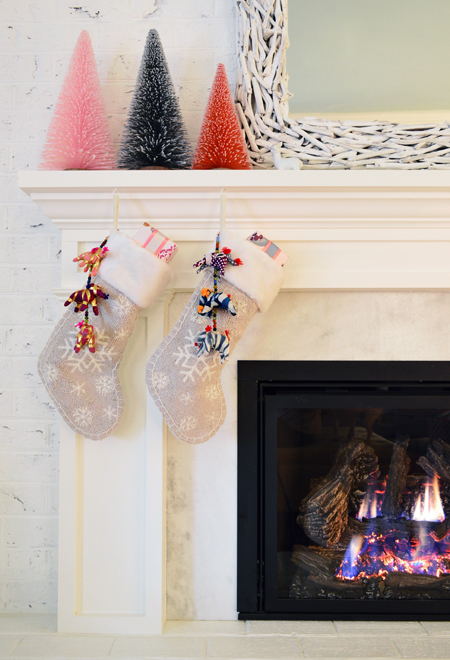 There are a bunch of elephants on each one so you can cut one down to fancy up two stockings (or make ornaments with the extra ones like I did). Clara & Teddy are 95% more into their stockings since we added some four-legged friends.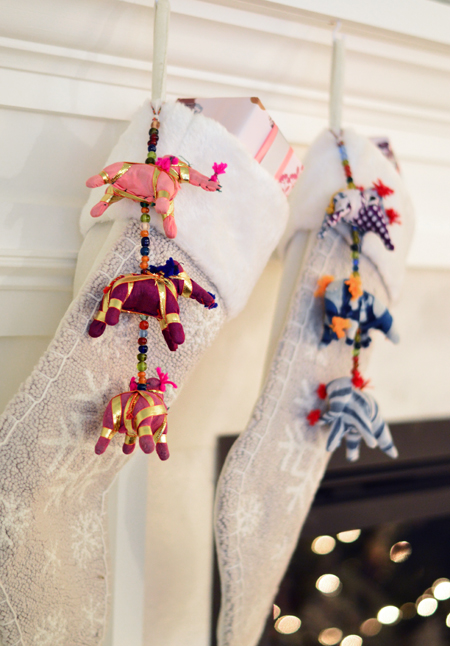 Our console table in the foyer features Old Faithful (my favorite feather tree) and I shoved a bunch of ornaments under a glass cloche for some gleaming this-took-me-ten-seconds flair.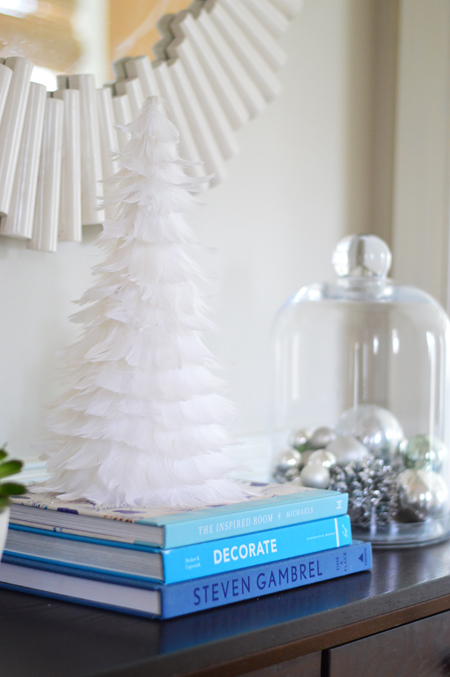 Christmas Moose is also back in the foyer. And this year we taped up all of our holiday cards to the nearby coat closet using thin navy ribbon looped over the door. One tip: leave extra ribbon going down the back of the door where you secure it with tape – that way you can release it to lower your ribbons in the front of the door and free up more room on top to tape more cards as they come in. We're still getting them with T-minus 3 days 'til Christmas!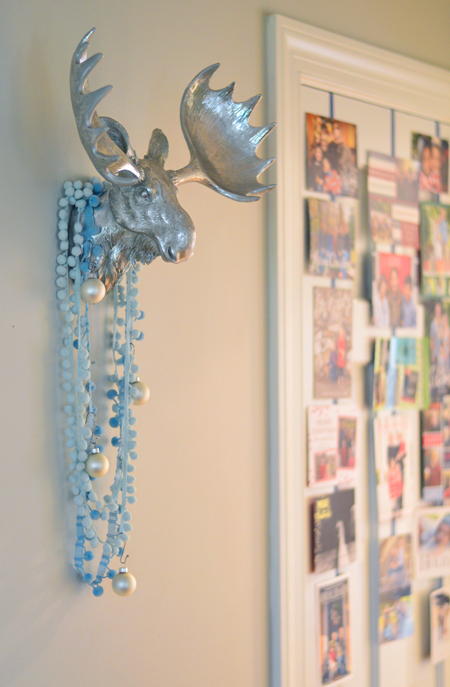 Not much has changed in terms of our outdoor decorations, except for one addition.
Wait for it…
Wait for it…
BOOTS WITH THE FIR.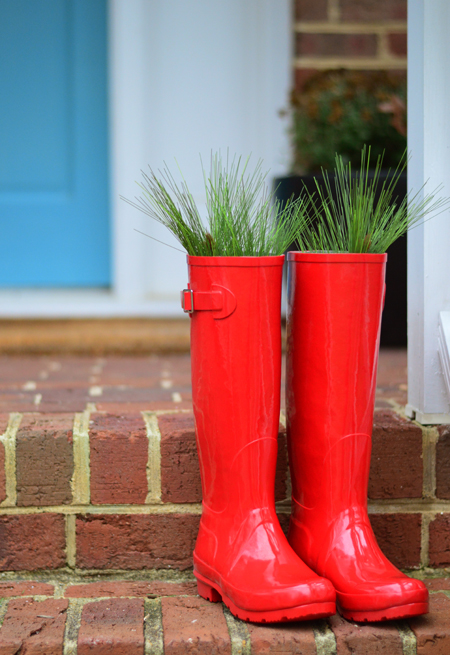 (I'm ridiculously proud of that pun. Like you should see my face right now. I'm beaming.)
I pulled them out of the shadows of the porch to snap that picture, but they really live under the awning next to the door. I found them secondhand for $5 and they're all rubber so it's cool if they get wet and stuff, but since they're under the awning they're not filling up with water and bugs, which is a plus.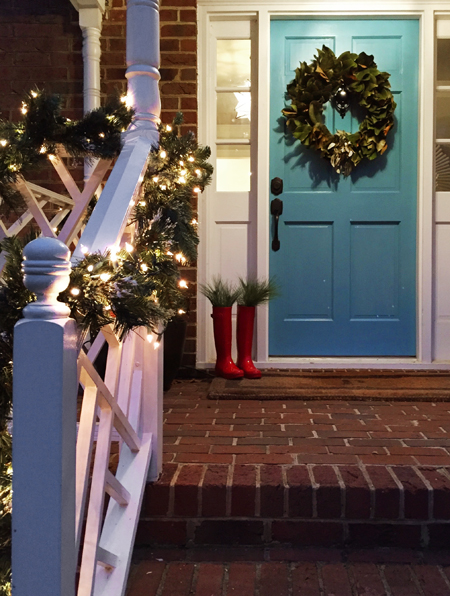 Oh and that's my magnolia wreath that I shared with you guys a few weeks back on Instagram. I went with the girls to a vineyard called Rassawek that's about an hour west of Richmond where they put on an annual wine & wreath thing (we house crashed their cabins a couple of years ago). It took about an hour to make 20 little leaf bunches with wire (while pausing for snacks and drinks) and then you stick your leaf bunches into a big wire wreath form and this machine they have clamps the wreath form closed around them. Hard to explain, but super cool.
Sorry it's so shadowy and dark up there in the door photo, but here she is in all of her glossy during-the-day glory. Also, tell me that's not the best freaking photobomb you've ever seen.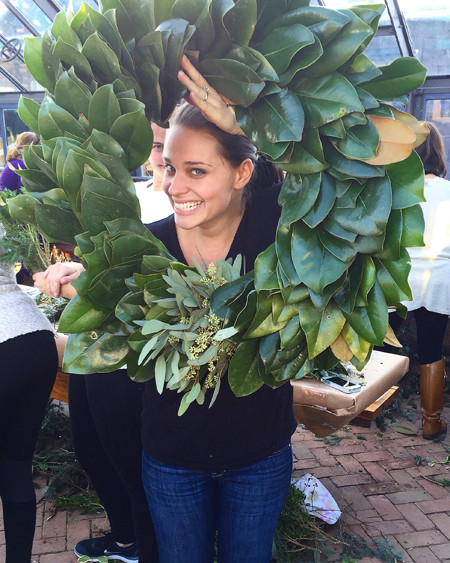 I might even try to make a magnolia garland for the mantel next year. We'll see how well this wreath fares…
Oh and one last thing (especially if you need a last minute grandparent gift). We saw these black & white mug kits at Starbucks that came with porcelain pens, so we bought a couple for Clara to doodle on for her coffee-loving grandmas. Now we'll all never forget how cute her one-antlered reindeer and tall skinny triangle trees are.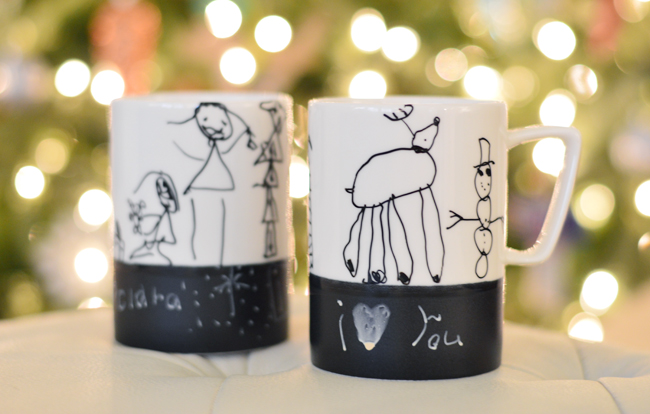 Anyways, we hope you guys are all gearing up for some good times full of family, food, and fun (and boots with the fir?). We're excited to celebrate our first Christmas in our finished living room. As you can see from this shot that we took last year, it was about halfway done (note the unfinished fireplace, old rug, and tiny Tedster).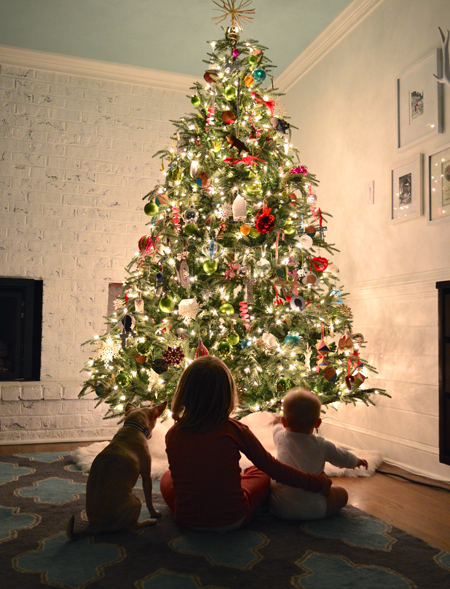 Fast-forward one year. Now my kids are giant and I'm crying. Deep breaths. Deep breaths. Just think about boots with the fir. Ha! I MIGHT NEVER FROWN AGAIN.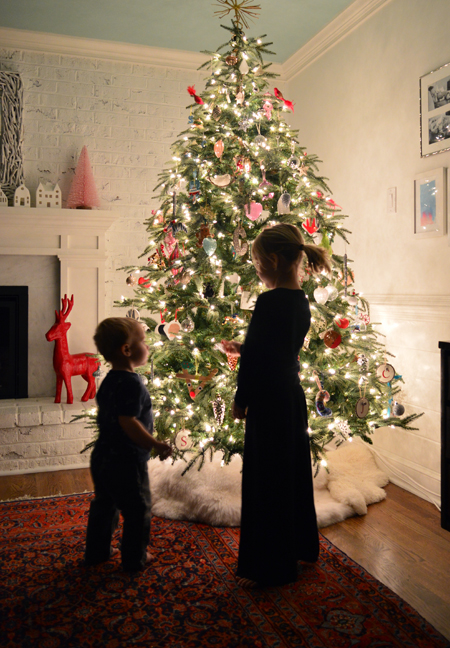 We're keeping our holiday festivities somewhat low-key this year because we have some pretty major home updates underway (gotta love a holiday tradition that's still going strong). We can't wait to share those with you guys when they come together a little more. Until then, we hope that you have a safe and happy end of 2015 and an awesome New Year. Holy cow, 2016, here we come!
*Affiliate links are included in this post*
Psst – Wanna know where we got something in our house or what paint colors we used? Just click on this button:

Update: You can check out all of our favorite holiday decor finds here – many of which are under $15!