Archive for June, 2012
Alternate post title: The Vow (Not The One With Channing Tatum). Ok, now it's the one with him in it because I mentioned him in the title, but he has nothing to do with this post. He's not my type anyway. You know I like 'em tall, lanky, and bookish. And not formerly of a male dancing background.
But back to my vow. This year I wanted to actually share 4th of July ideas with enough time for other people to see them. I'm usually so last minute about holiday stuff, sometimes I post 4th of July ideas on the actual 4th of July (like this) which doesn't do anyone much good. So yes, I literally raised my left hand with my right hand over my heart and said "I hereby vow to get it together and actually post table setting pictures the week before the 4th of July. You know, so anyone who sees something they like might actually have time to get 'er done instead of seeing it when they're back at work on the 5th.
I only have one rule for myself when I play around with holiday table settings: use what I have. So I didn't buy any table wares or accessories for this, just padded around the house to see what I could dig up (and got lucky that we had lots of fresh fruit in the house thanks to my fruit-loving daughter). Oh but I did spend $3 on half a dozen Ukrops cupcakes (best. cupcakes. ever.) which not only came in handy when I used them for a table setting, they came in handy when I ate them. Haha.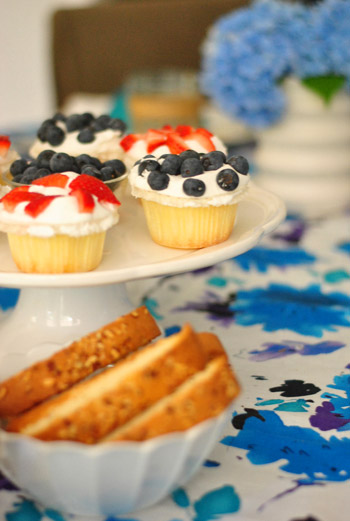 But other than that, this was a zero dollar table setting spree. I even snatched some fresh flowers from the yard, but we'll get to that in a second. My method was basically to hunt/gather and see what I could find. Here's what the counter looked like about halfway through – I just plopped anything red, white, blue, or neutral enough to drop in and add texture on the counter in one big pile and just picked stuff out and played around until landing on something I liked. And yes that is a navy blue dog leash in my pile of possibilities. Could've been cute for tying around napkins (but I didn't want to cut it up) or weaving around a vase to make a little textured "cover" – maybe next time…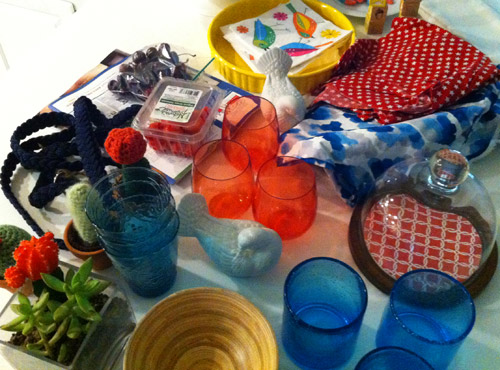 I actually did three table settings, and let me just tell you, it's times like these that I miss our first house's little rectangular table so much (remember this and this and this). It seated four people most of the time (and six in a pinch) which was a huge pain for family gatherings, but it was so much easier to set/shoot for my little bloggy adventures in table setting. So bear with me as I share the corner of our giant round table with four place settings (since it's a monster that seats eight, it's awesome for family gatherings but not so easy to shoot). Enough jibber-jabber. On with the show.
Setting number one was all about keeping things easy and casual, while adding some patriotic pop (mainly with fresh fruit):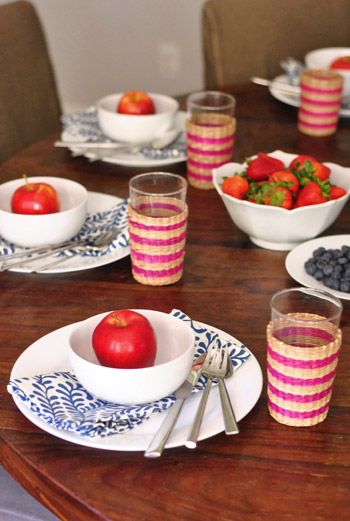 Here's what I used:
our regular white dishware and silverware (from Linens N Things for our wedding)
woven cups with pink stripes from HomeGoods a while back (I figured they were close enough to red, and kinda playful)
bowls with red apples in the middle for some 4th of July flavah
blue patterned cloth napkins from Marshall's a while back
a scalloped bowl full of strawberries (from Target a long time ago) and a regular old dessert plate full of blueberries
I think it could make for a cute breakfast, brunch, or dessert shindig since it's so blissfully uncomplicated (which is usually how I like to host since I get all sweaty at the thought of formal gatherings).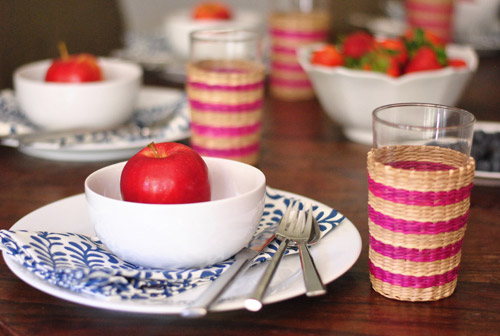 And now for a shot from above. It's getting crazy up in here.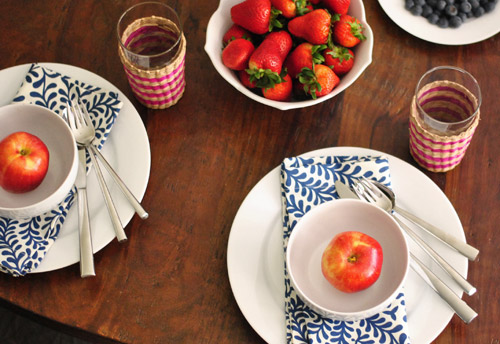 The second setting felt a little more "gussied up" thanks to the use of an old fabric remnant and some free flowers from outside.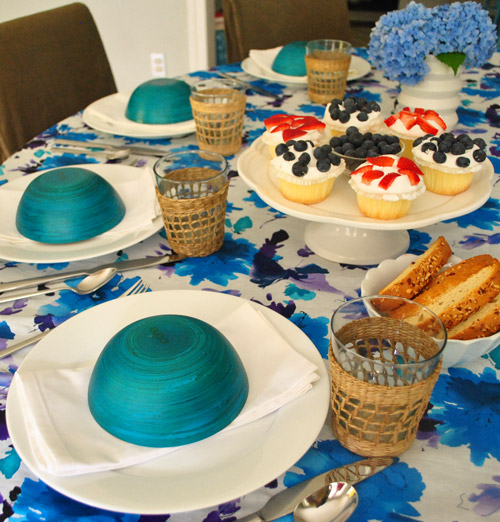 Here's what I used:
our regular white dishware and silverware
basic white cloth napkins that we've had forever (from Target or Bed Bath & Beyond, I can't remember)
woven cups on clearance from Sur La Table a few years back
blue wooden bowls (the same ones that usually sit on our open shelves in the kitchen) from HomeGoods a while back
a cake stand from a thrift store a few years ago
an old vase from West Elm with a free hydrangea swiped from the patio
two yards of fabric that we used for one of Clara's monthly photos (from JoAnn with a 50% off coupon back when we got it)
And now a view from the top. I flipped the bowls over so the blue part faced up (the inside is a tan color like the woven cups) and decided it could be cute to use them like little serving domes and hide a treat for each guest under each one. So pretend there's a little box of chocolates or a roll of Smarties under there.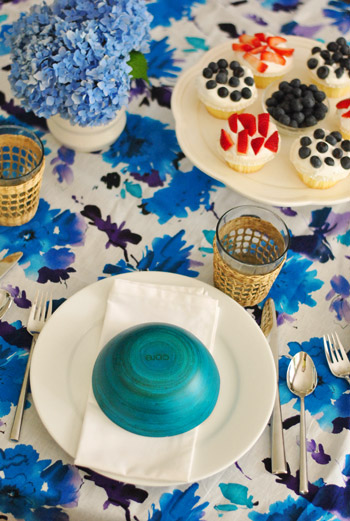 See what I did to my regular old store bought white-icing-ed cupcakes? Just shoved a few blueberries on three of them and a few sliced strawberries on the other three. I'm telling you, this is The Lazy Girl's Guide To Hosting. Just get store bought stuff and take a second or two to add fresh fruit or some other topping and suddenly it feels special without having to fire up the oven or break a sweat following a recipe (yes, I actually get sweaty when I attempt to follow a recipe).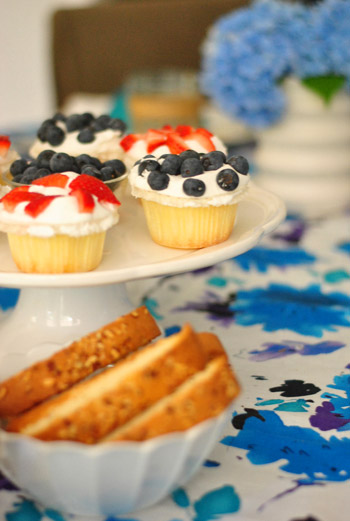 Oh and that's a little bowl (from Target) full of biscotti. Cupcakes and biscotti are my idea of the best party ever hosted.
This last setting isn't as pretty since the sun was setting so my shots are kinda meh, but you get the idea. It's my little riff on a kids table. Of course my imaginary guests would have to be a little older than Clara (maybe 5 and up to sit at their own table and make this stuff work), but when searching the house for place setting items to use, I kept coming across fun kid-ish stuff, so I smashed it all down on the table and called it good.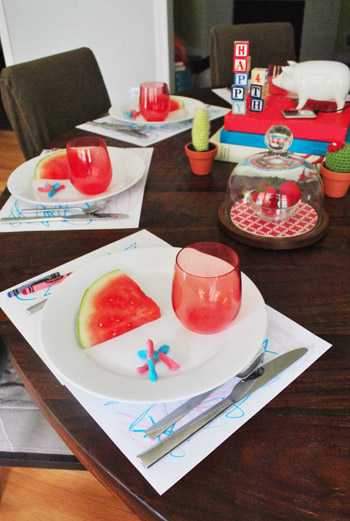 Here's what I used:
our regular white dishware and silverware
two pieces of cardstock under each plate with a red and a blue crayon for patriotic doodles
a few of Clara's blocks to spell out "Happy 4th"
stacks of colorful books with our little pig dock on top (for playing some kid-friendly songs)
my crocheted cacti from here (blissfully free of dirt to spill)
plastic (aka: unbreakable) cups from Target that we used for Clara's party
red and blue sugared gummy worms (yup, I picked them out of a multi-colored pack) along with a slice of watermelon
a little thrift store cheese plate with red decorative paper that I made a while back with a small dish of strawberries inside
I like how Wilbur is sniffing Clara's blocks in this picture. Totally a Burger thing to do.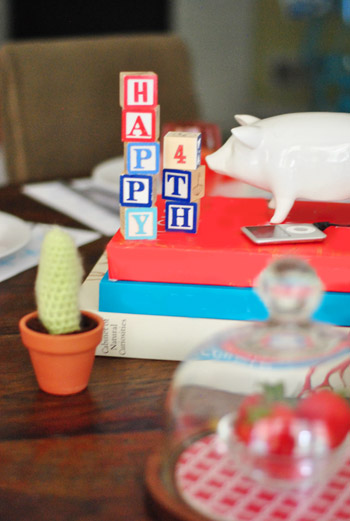 And here's a little worm close up. You know we love worms around here…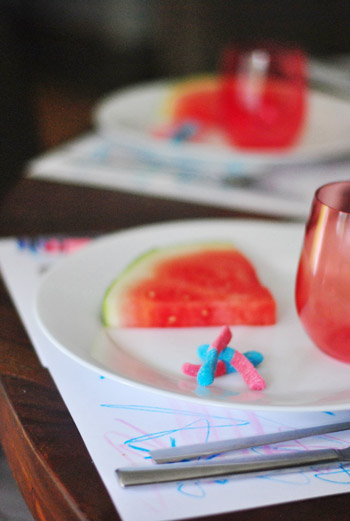 Oh and for those wondering where Clara was, she was sitting on the other side of the table for some of the fun. Haha. As soon as she saw me break out the strawberries, let's just say there were requests. So it was nice to play around with the bean nearby, watching and chewing and singing hilarious things like "the strawberries on the bus go bite, bite, bite." But that's not even that funny. I just shared THE FUNNIEST conversation she and I have had to date (warning: it involves female anatomy and a baby in my belly) over on Young House Life.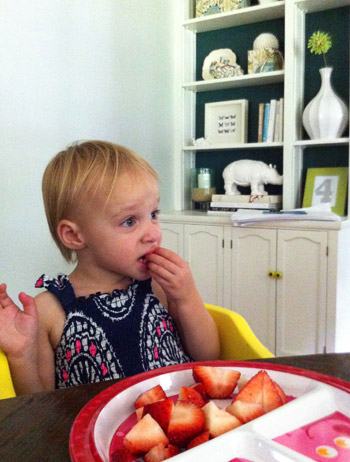 So there you have it. Fourth of July place setting ideas almost a week in advance. How novel!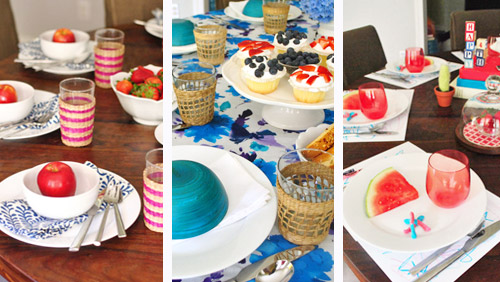 Now if only I could magically sort through 1K house crashing, window shopping, and thrift store photos from ATL. My goal is to have those all written up for ya next week (except for a few of my House Crashing posts since I like to space those out) so here's hoping! In the meantime, what are you guys doing for the 4th of July? Anyone hosting? Or planning to squish some berries into store bought cupcakes? Any other awesome 4th Of July ideas you want to link to or try in the comments (would love for the comments to become a treasure trove of holiday goodness). Feel free to link away!
Psst- Speaking of things that don't have to do with Channing Tatum, we're over here chatting about dealing with the ceilings (and that giant "to paint or not to paint" question).
&nbsp&nbsp&nbsp
You ready for a post full of embarrassing photos (of me and Katie B) and adorable photos (of Clara and Will) with a few house crashing and shopping-on-the-road sneak peeks mixed in? Oh yeah. Let's do this.
The crazy thing is that even though this little recap of our four days spent in Atlanta has over 40 photos in it, it's just the tip of the iceberg road trip, so we'll be back with a few detailed House Crashing posts, a nice juicy window-shopping post from on the road, and a thrift store video that Katie and I cobbled together all in one take (yes, someone comes up to chat with us right in the middle of it). Just gotta go through our 1000+ photos and make sense of everything. So there's that to look forward to. But for now let's focus on trying to encapsulate the amazing/embarrassing/inspiring/delicious/nerve-wracking lovefest that was Haven. We had a blast. And to the people who organized it… I can't even imagine how much work went into it. It was so much fun to just show up and wander around with tons of fellow DIY and blog-lovers.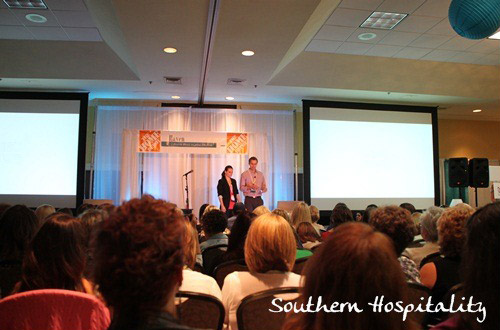 Pic above from Rhoda.
We were asked about a year ago to be the keynote speakers and we agreed before we could get too nervous and second guess ourselves. Then we had a whole year to think about how not to make a fool of ourselves. Did it work? Of course not. Somehow I worked the word fart into at least five sentences. You had to be there. Seriously, who has a video of that, because no amount of explaining will do that justice. But amazingly, we heard some very kind words from the organizers, sponsors, and attendees when it was all over. So I'm calling it a success. If you're consumed with curiousity about how the word fart slipped in there, you can check out a pretty detailed rundown of our chat here.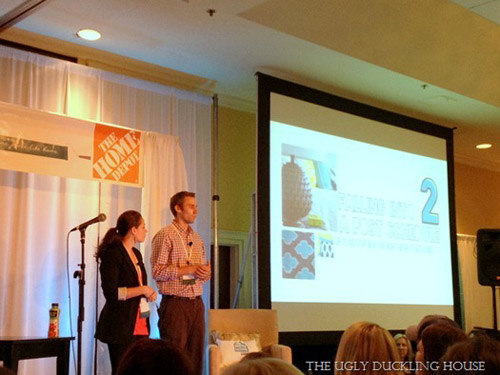 Pic above from Sarah.
Did we know we would be speaking to a room of hundreds of people? Nope. But we tried not to think about it or say the word fart (only 50% of that plan worked out). We had put together a little slide show about the 11 mostly-subconscious "decisions" that had steered the course of our blog, so we basically just got up there and talked about everything that we think got us to where we are today – from deciding how often to post to how we accidentally became a business. And every time I looked out at the crowd expecting someone to be yawning or texting I was greeted with a smile. Seriously, we felt the love in that room and it was awesome. I think it's why John and I felt so comfortable and a little fart or two slipped out. Wait, that sounded wrong. Of my mouth. A mouth fart. This isn't getting better.
I totally could not have done this without John. It was actually kind of fun to go up there with him because we could just be dorks together and sort of chat and keep each other feeling comfortable. And apparently from certain angles I enjoyed hiding behind him.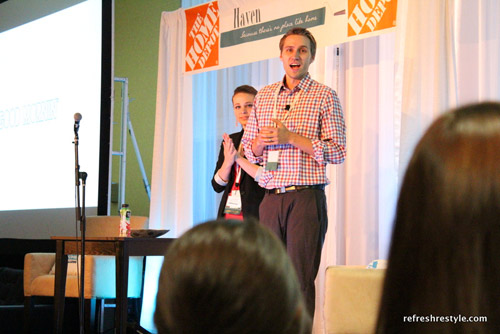 Pic above from Debbie.
I definitely did that thing where I locked eyes on a few people throughout the entire chat and sort of smiled at them/creeped them out. So thanks to you guys, for not crying or getting up and leaving when I gave you my crazy too-long gaze.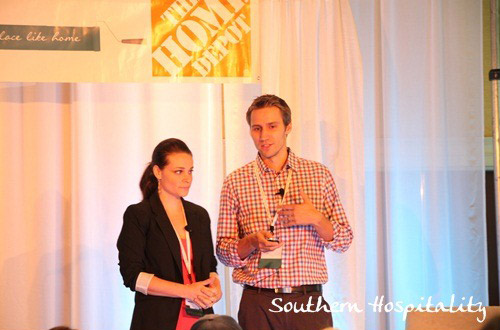 Pic above from Rhoda.
And as you probably saw over on Katie's blog, she hung out with my bean and her tinkler up in our hotel room while we got our chat on. Are they not the cutest couple ever? Not that I'm biased.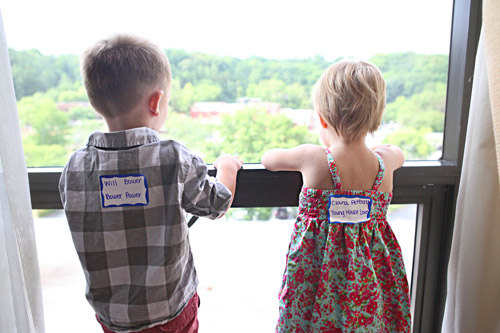 Pic above from Katie.
Then we all came downstairs and mingled. Weird things like this scene from an eight grade dance ensued (that's Dusty from All Things G & D, my new real-life friend – she's hilarious and amazing and Katie and I just let it all hang out with her).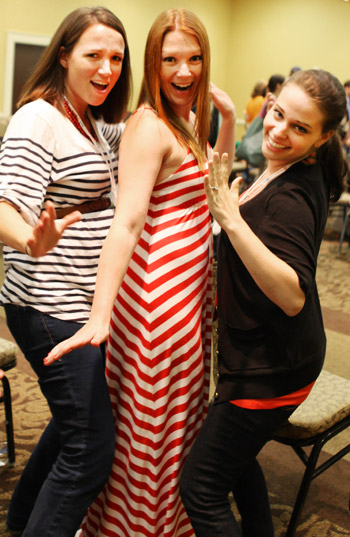 Pic above from Katie.
There were really awesome and inspiring sessions, like one from Builder/Temptress Ana White (she was so nice in person, I couldn't stop giggling around her). Let me just tell you, that girl knows her way around a drill and a pair of stilettos. Consider me impressed (and substantially less coordinated). We also checked out Layla and Kevin's photography/styling session and I learned a ton.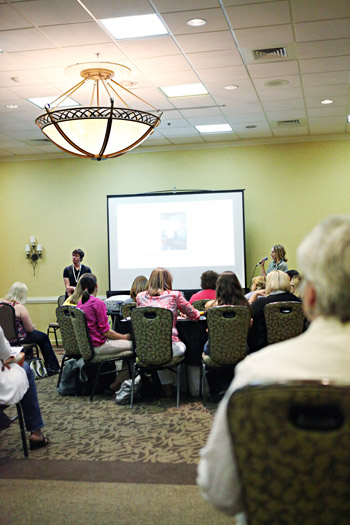 Pic above from Katie.
We also got to meet people that we feel like we've known forever- like the lovely and super sweet Kate from Centsational Girl.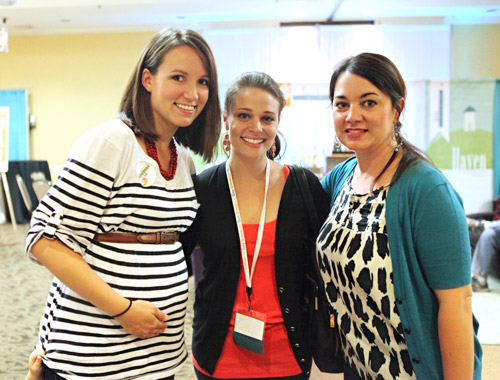 Pic above from Katie.
The guys (John and Katie's husband Jeremy) took off with the kiddos so we could attend those sessions, just because two crazy toddlers and an eight pound chihuahua (yes Burger came with us too) weren't exactly easy to wrangle in the crowds. And something happened to me and Katie when the kiddos and spouses left. It started feeling like ladies night out. Which explains that picture of us gyrating against Dusty two photos up.
There was a pretty sweet cocktail hour at the end of the day, complete with shrimp, brie, and those little triangular pastries that taste like croissants. Good times. This is when I got to meet a ton of people and just chatted and hung out and laughed and my mouth hurt at the end from smiling.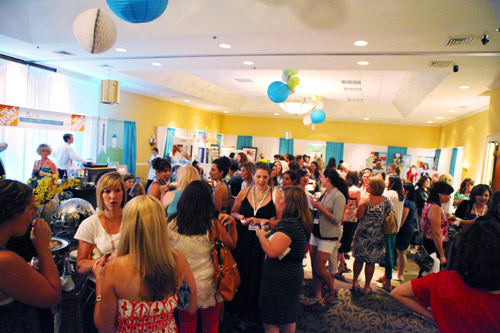 Pic above from Katie.
Now I'll admit something to the internet that I didn't think I was going to: I worried people would be haughty. Or standoffish. Or sort of like Mean Girls but grown up. I don't know, I'm a nerd, so I just went into it worrying people would be clique-y and closed off. SO NOT THE CASE. I don't know what I thought conferences were like, but this was nothing but eating, drinking, and being merry.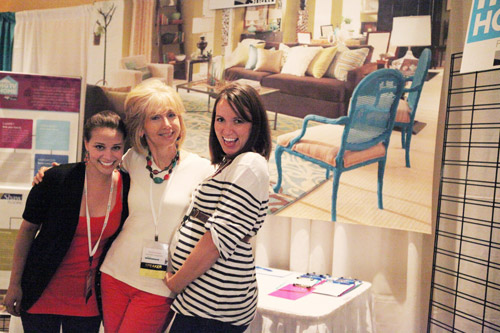 Pic above from Katie.
And at the end of the night, we somehow ended up shutting down a restaurant with four other awesome Haven chicks that had us at wanna-go-to-dinner-together? (Dusty from All Things G&D, Beth from Unskinny Boppy, Kent of Peachy Keen Designs, and Colleen from The Restarter Home). Apparently the place closed at 9 but the waiter didn't even tell us until after 11.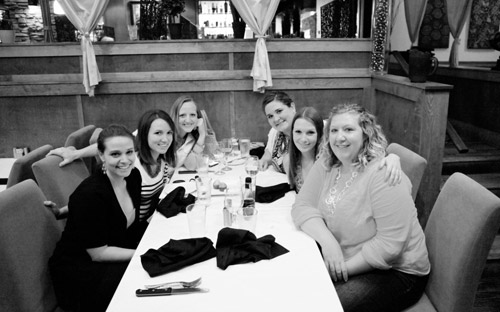 Pic above from Katie.
Can I just tell you the last time I shut down a restaurant. Never. And after a little dancing outside of the hotel to Low by Flo Rida (yes, $herdog was in the hizouse) we somehow found ourselves in another teenage pose. This time, of the prom variety. I like how we're all holding each other and Katie's holding her baby.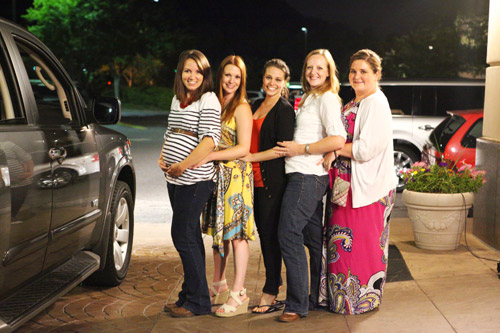 Pic above from Katie.
As for what our children were doing while we were being completely responsible and not at all embarrassing parents, John kept me posted by sending little iPhone pics like this: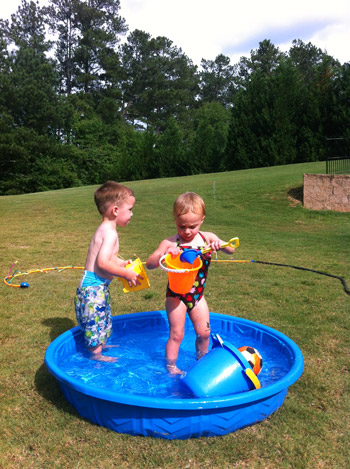 And then the next day Katie ended up taking us all to a really fun public pool with all sorts of suped up stuff (lazy river? check. water slides? check). It was awesome. And it was fun to spend time with the kiddos/family after a day of "business and lady-bonding" at Haven.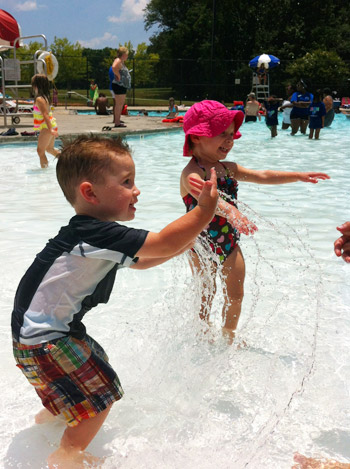 I missed mah man the day before, so it was nice to be reunited. Oh yes, cheesy but true. I guess when you work together all the time, you notice when your other half is gone. Thank goodness I had Katie B as my wifey-for-the-day at Haven.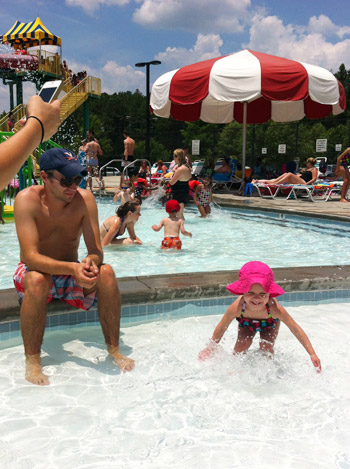 Speaking of Katie… dude, the girl has a waterproof case for her Flip camera. Consider me amazed. Apparently amazed enough to add a caption to this picture in third person. Totally normal, right?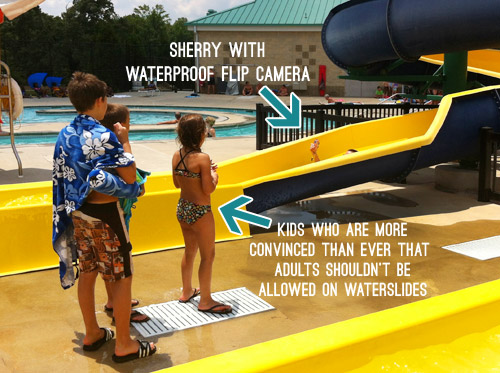 Yup, we all recorded ourselves going down the water slides. Except I was wearing shorts (yes, I have a fear of standing up with a giant swimsuit wedgie after many childhood experiences on water slides) so I went about one mile an hour down the slide thanks to my not-slippery-like-a-bathing-suit shorts. It was hilarious. I think people might have thought I was stuck at one point.
These next three photos are Katie's but they help demonstrate a few key things. For example, this one's the best we could do with our kids in our lap. In other words: our kids be wiggly.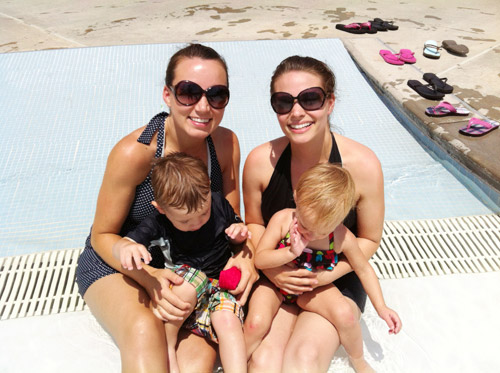 And this photo is to hopefully squash pregnancy rumors (I'm talking to you, Mom). They tend to start when I'm blocking my belly with something, like plywood or a kid (see above). I'm not gonna lie though – I'm totally sucking it in. Not an imaginary baby, just a leftover-from-Clara roll or two.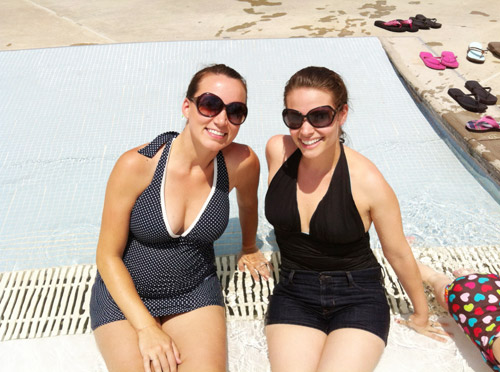 See, I told you I was the cool kid at the pool rocking jean shorts to block water slide wedgies.
This photo is just to demonstrate how ruggedly athletic I am. Never mind that I'm not actually swimming and am just resting my belly on the bottom of the shallow end of the pool.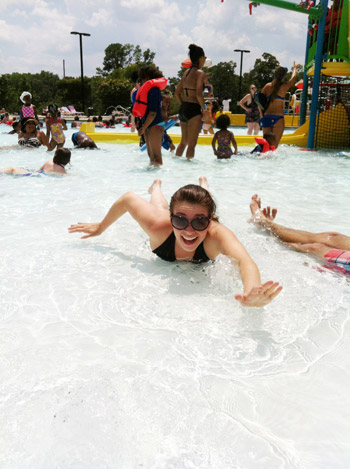 To keep the water theme going, Beansie had the best time down at the creek behind the Bower's house with Will. He was a little explorer and she followed behind him dutifully.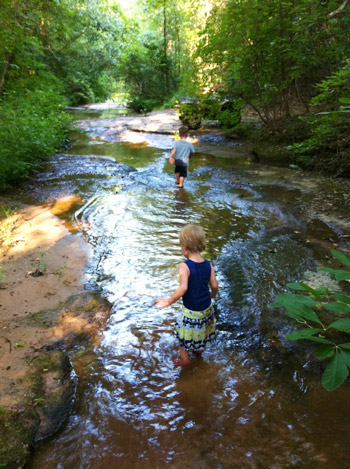 The next day we hit up Zoo Atlanta. It was the best. I feel like I'm saying everything was the best, but it was a series of fun days, so bear with me. Or lion with me. Hmm, that was a smoother pun in my head.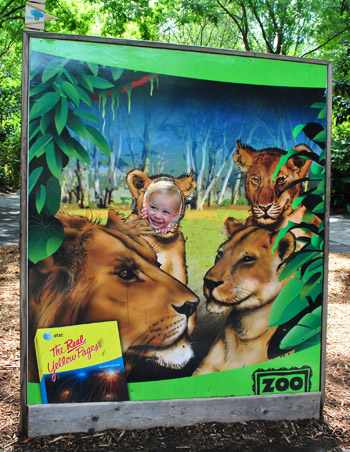 I love this picture. So I'm fighting my instincts to make an even more terrible pun like "my daughter likes to monkey around."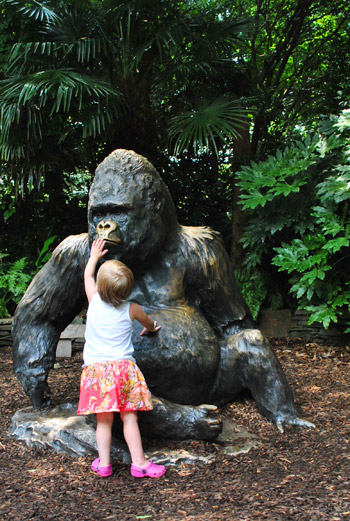 Oh and we went on the train at the zoo, which was easily Clara's favorite part- except for the "scary, scary tunnel." She made it through like a champ though. I think it helped to know she had her man behind her to defend her.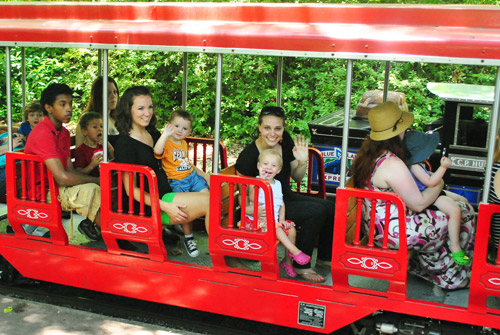 Then it was carousel time. Clara liked it, but I loved it. Nearly all the photos are of me with my mouth open too wide. What can I say? Too Excited is my middle name.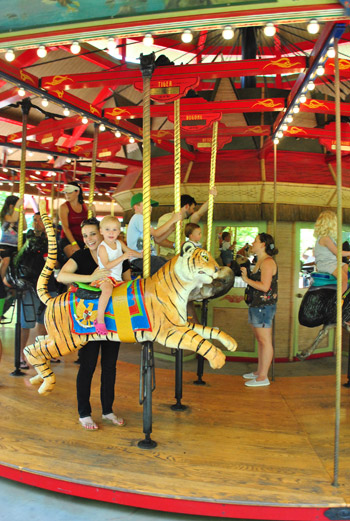 The next day it was Georgia Aquarium time. The whales? Awesome. I have no words. Except awesome apparently.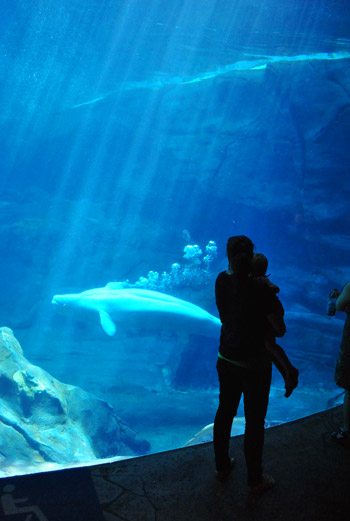 It's a really interactive place, so Clara had fun climbing into little nooks and bubbles to peer at all of the cool fish swimming around her.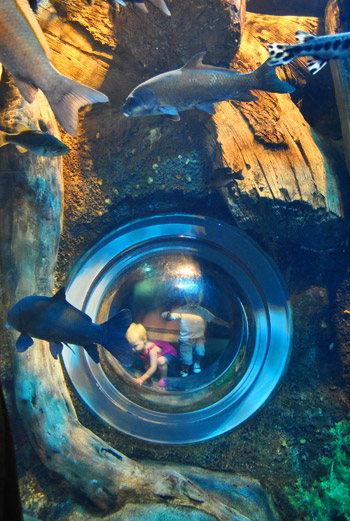 She especially liked spying on the penguins.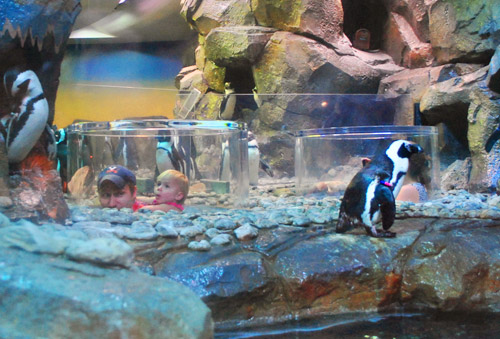 And peering up at the fish as they swam by overhead in the underwater tube where you could see creatures of all shapes and sizes on all sides.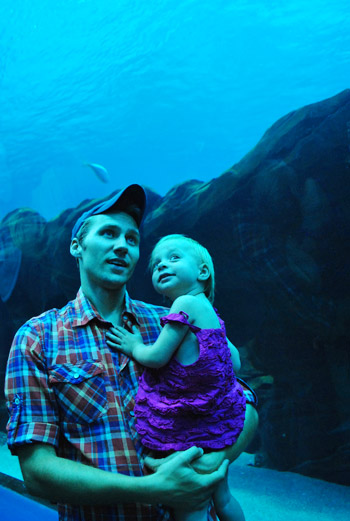 But her favorite specimen was still Will. Here she is inching over…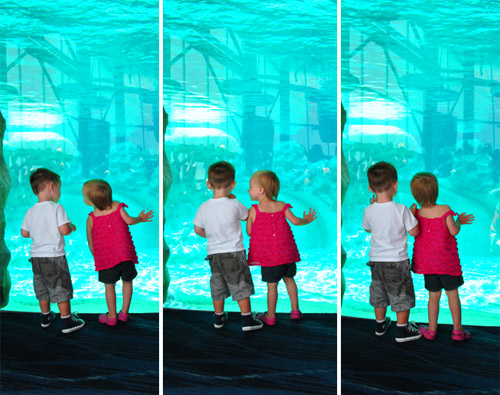 She's a close talker, just like her mom.
Oh my gosh, and this is my favorite room there: the giant tank with all the whale sharks. I think we stayed in there for a good half-hour, just staring.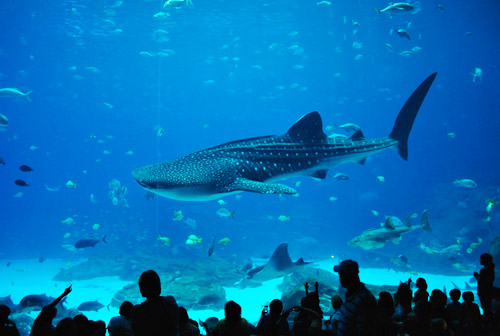 Oh and I guess the whole Clara-liked-all-the-nooks-and-bubbles-she-could-climb-into was a like-mother-like-daughter thing. Because this series of embarrassing photos was shot in plain sight of anyone walking by at the time. First there's me growling and trying to do some kind of water aerobics by incorporating a sexy side lunge: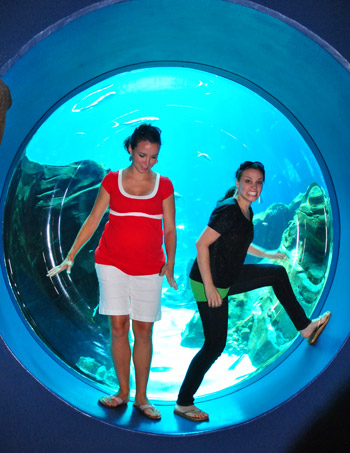 But then I inexplicably switched gears, stopped growling and made a completely nondescript face, and added jazz hands.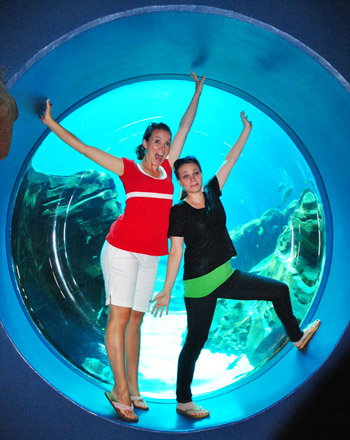 We thought it was pretty funny to see a Home Depot logo in the middle of the aquarium, so you know we all posed like the big DIY dorks that we are. Except for sweet Jeremy, who was happy to take the picture, wrangle Will, and pretend he didn't know us. Haha.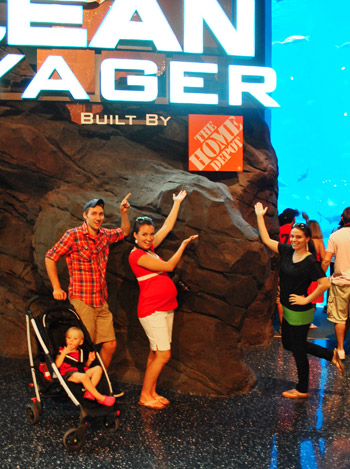 Check out the hair situation I have going on here. A giant chunk of hair shooting over my sunglasses like a wave = a sure sign of a good time.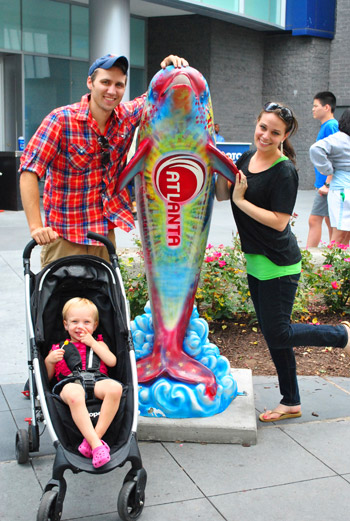 Oh and that night the Bowers took us to Stone Mountain to watch the fireworks and a laser show while Katie's mom and dad babysat for our already-sleeping kiddos. It was a glorious end to a glorious trip.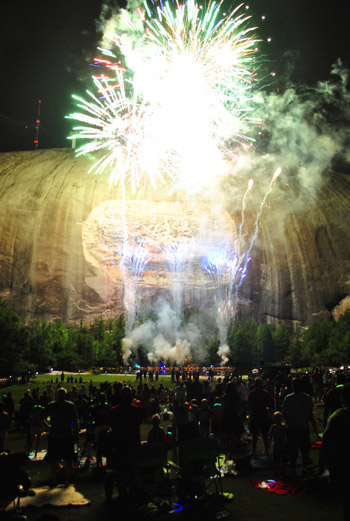 Of course it wasn't all fun and games bacon and Bower fun. We actually squeezed in more than a few house crashings. Woot! So here's a little taste for ya from two houses that couldn't have been more different (which is totally why we love house crashing – there are so many different rooms to snoop around, snap, and share):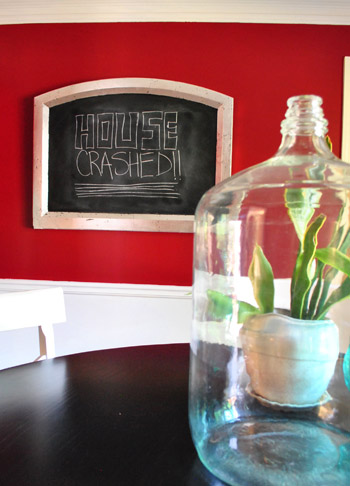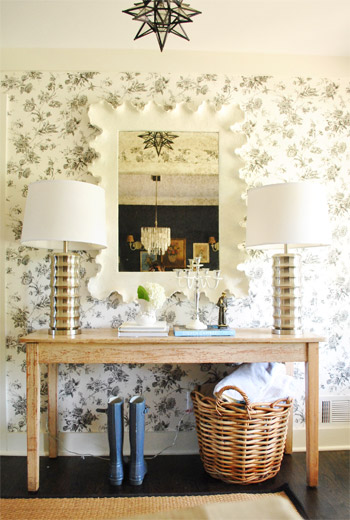 Just know there's more where that came from. Can't wait to get those images organized and uploaded.
Oh and we did a little window shopping too, first at the Pottery Barn Outlet in Gaffney, South Carolina…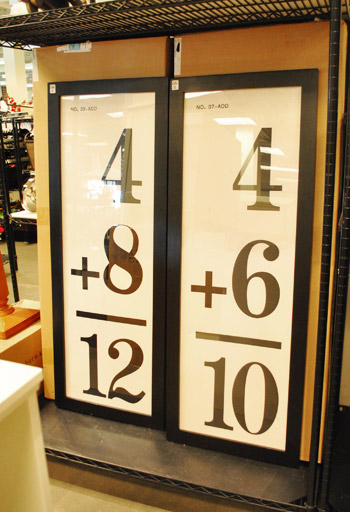 … and then at Mary Jo's Cloth Store right outside of Charlotte, NC. I actually got two yards of awesomeness, so I'll have to share more shopping details whenever we can throw together a window-shopping rundown.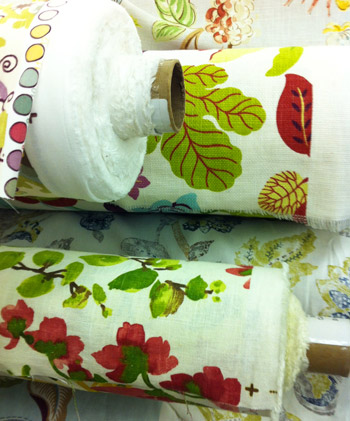 And we can't forget our little trip to Goodwill to record another annual thrift store video for ya (like this one of yore).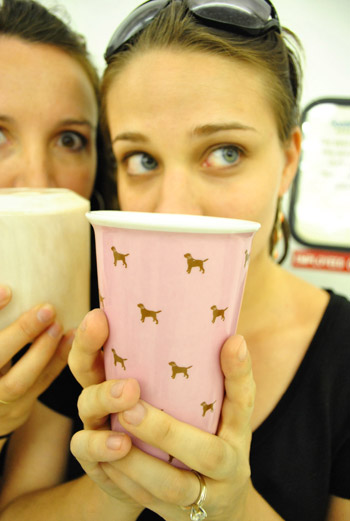 So between the current DIY projects and updates, we'll be sprinkling in some fun little ATL adventures over the next few weeks. Anyone else do anything fun this weekend? Any other Haven attendees with hilarious (slash highly embarrassing) photos to share? Any big road trips coming up for you guys? I gotta say, we dreaded 8.5 hours in the car each way with a toddler and a dog, but it wasn't that bad!
&nbsp&nbsp&nbsp