Deck progress drags on, so we'll be back with more details for you on Monday (wish we had more full days to devote to it, but it'll probably be a weekly update situation like our first house's bathroom reno and our kitchen redo since it's such a big undertaking). But I just couldn't resist sharing this in-progress picture of John and his dad telling the auger who's boss: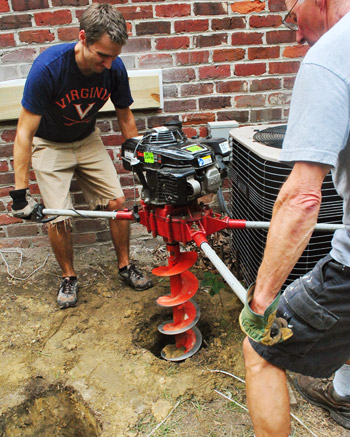 Oh but the time it's taking us to build this deck isn't what I meant by the title of "half a decade" (at least we hope it won't take us five years to get 'er done). That has to do with our five year wedding anniversary, which is coming up on July 7th. How crazy is that? We can't even grasp that it has been half of a decade since our little backyard wedding. And it means that seven years ago we shared our first kiss (we picked 7/7/07 as our wedding day because 7/7/05 was when we started dating – yes we kissed on the first date, haha).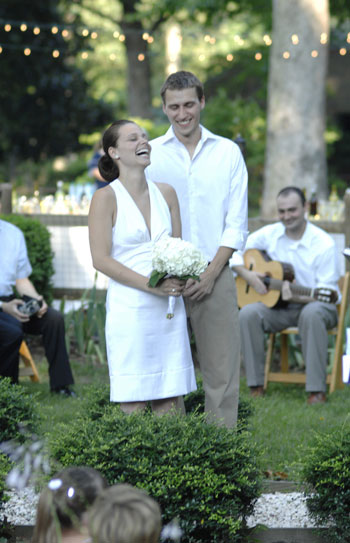 There are some parts of our wedding that we remember so vividly it easily could have been a month ago. So funny how time flies. And as some of you know, it has been a little tradition to take a picture of our family on July 7th in honor of our wedding day, like this: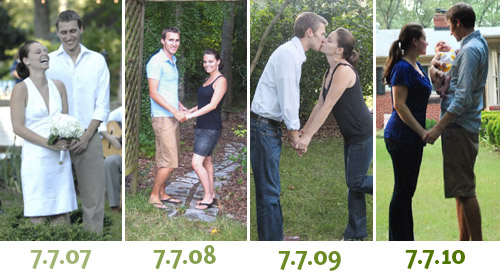 This was last year's picture, with just one wiggly kid…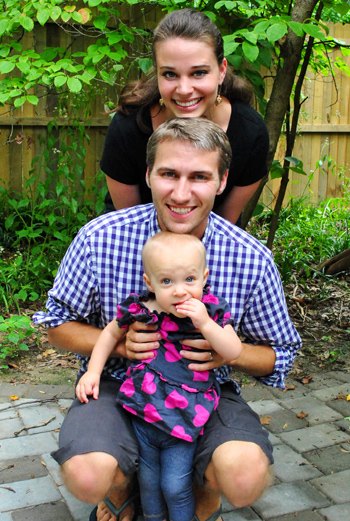 … and with both of them…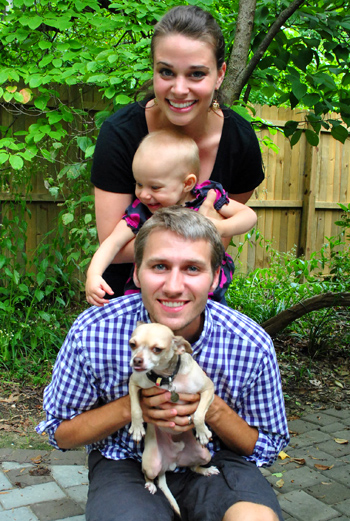 We like to frame each year's picture in small differently shaped capiz frames that we've found over time (from Target, thrift stores, Hobby Lobby, etc). But our sink was getting cluttered with four full frames and the latest empty one that we snagged from Target a few weeks back in anticipation of our fifth photo. So we decided to tackle a little photo-hanging project to get them off the sink and enjoy them in a nice little grouping on the wall next to it.
For some reason hanging frames seems to be something we get asked about the most, so we thought we'd break down the process for getting these guys on the wall without any oops holes. Either folks are just plain intimidated to hammer a nail into a pristine hole-less wall or they're not sure how to settle on "the right" arrangement. The good news is there are probably always at least ten arrangements that would look good, so we just like to put the frames on the floor and play around until we have a little grouping that we like. Like this: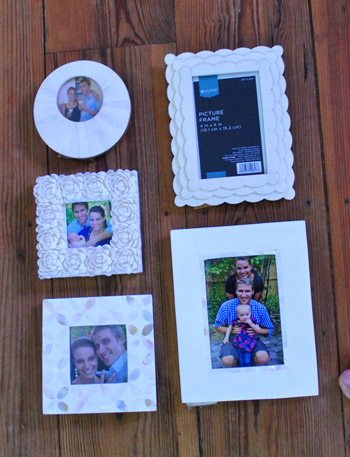 The next step is to make little paper templates for each frame, so you can map out where you want to place them (and only make one hole in the correct spot for each frame instead of ten bad ones). We just laid the frame on top of white printer paper, traced the outline, cut them out, and taped them to the wall, shifting things around until we liked what we saw: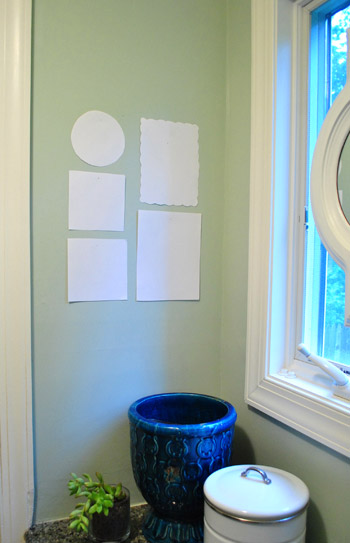 We had also taken a second to mark where the nail hole needed to be on each one by holding it up against the back of the frame before taping it up and pushing a nail through to rest on the hook on the back of the frame. So when we taped them up they already had these nail guide holes to completely take the guesswork out of things.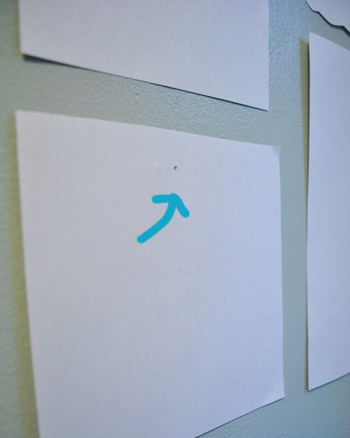 Some of our frames didn't come with hooks for hanging them on the wall (since they're meant to be tabletop frames) so we just picked up a pack of picture hanging hardware at JoAnn for 99 cents (for four of them). Then I crazy glued them to the back of the frame and pulled off the little flap that you use to stand them on the counter (since the flap would make them sit away from the wall more than we wanted them to).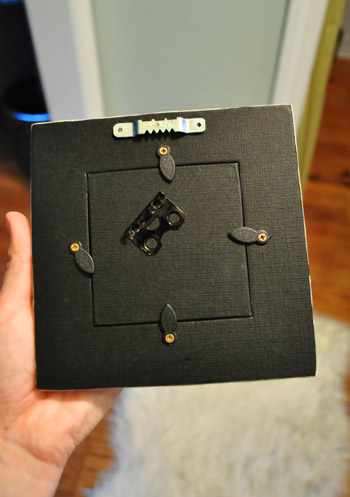 Next we just hammered through the pre-made hole in the paper template where we knew the nail should go for each one.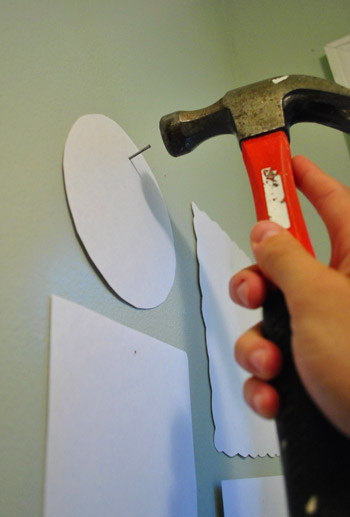 Which looked a little something like this: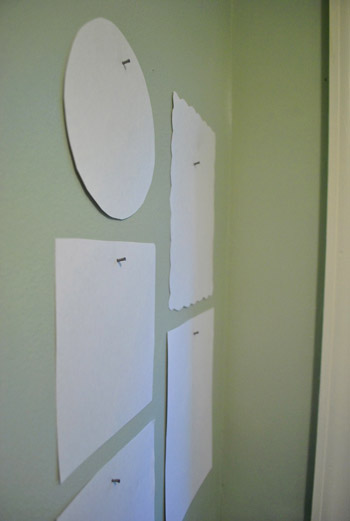 Then we left the nails in the wall and pulled the paper templates off. Less then a minute later we had everything hanging. And then I ran outside to grab some flowers, because I'm girly like that.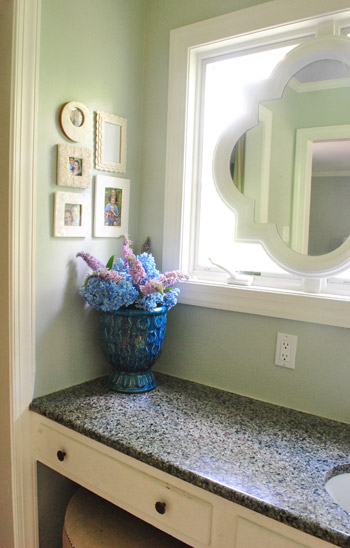 It's sweet to see four anniversary photos all together on the wall, with that blank fifth one just waiting for our latest family pic in a few weeks.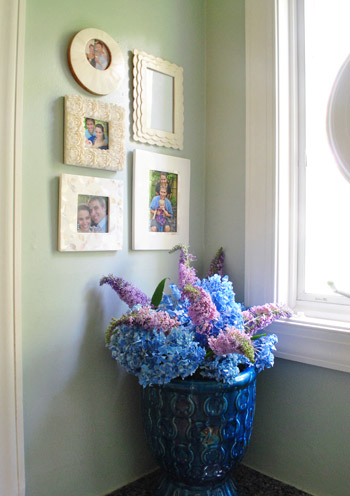 Think Clara and Burger are going to cooperate this year? Nah, me either. But that's half the fun.
Oh and we thought this could also double as a budget blooms post since we're woefully overdue for one of those. See all these flowers I mentioned running outside for? Yup, they're all free from the yard! They're clippings from the hydrangea bushes out by the patio, and a giant man-eating (not really, but it's huge) butterfly bush in the back yard.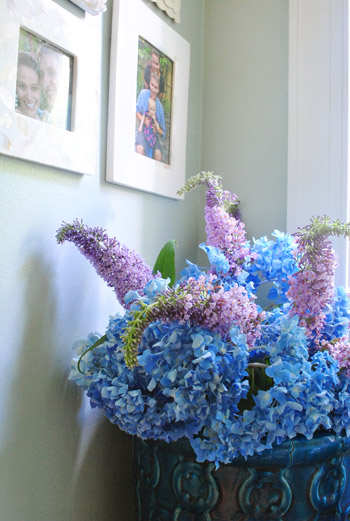 I just stuck a little glass vase full of water in the middle of this giant ceramic planter (from HomeGoods a while back) on top of a cardboard box to lift it up so the stems of everything didn't have to be impossibly long.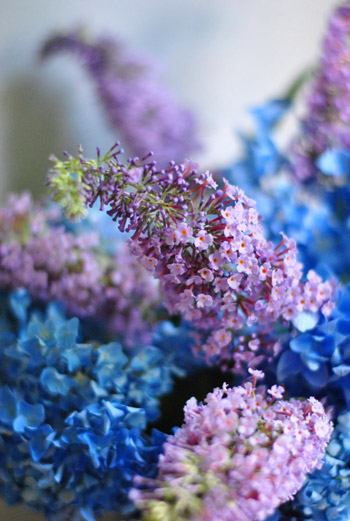 I love the little pointy butterfly bush clippings mixed in with the lace-like balls o' hydrangea. I wonder if they'll live long enough to see us put our next picture in the empty five-year-anniversary frame?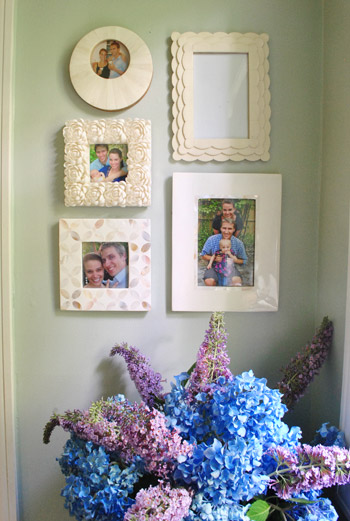 Probably not, but they sure are pretty for now.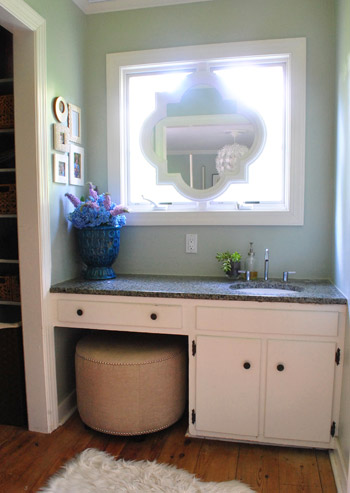 I especially love how you can appreciate all the different types of capiz frames since they're not all jumbled in front of each other on the counter anymore.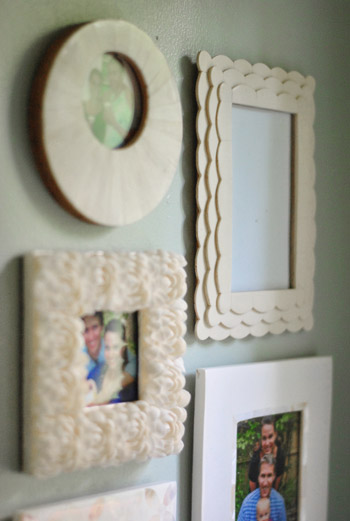 And come to think of it, hydrangeas are pretty fitting for that vase beneath them since they were in my little homemade wedding bouquet.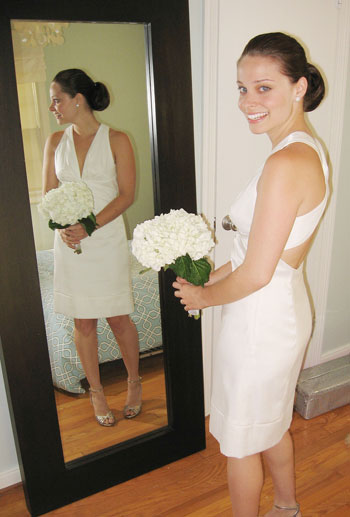 Oh my gosh, was that really five years ago? I'm in denial. Haha. Anyone else have any anniversary traditions or frame groupings you've been hanging up? Do you use paper templates to simplify things? Or do you have another easy hanging method? Share and share alike!
Psst- We announced this week's giveaway winner, so click here to see if it's you.