Archive for October, 2011
***This giveaway is no longer accepting entries – see who won!***
Hope everyone had a happy Halloween! The two folks getting an extra candy fix (thanks to random.org's choosing) are… Johanna (who loves Rolos) and Clare @ Fitting It All In (who's an M&M addict). And the winner of a pair of tickets to our local R.Home For the Holidays event on Nov 16th, featuring a presentation by Grace Bonney, is… Randa! Congrats everyone!
Since we can't giveaway goblins or ghosts, we're celebrating Halloween with a candy-tastic giveaway instead. No costume wearing or door knocking required. The prize comes from our favorite local candy shop, Sweet Spot. Their store is not only designed in a super fun way, but it's stocked with tons of goodies – including those classic childhood candies you just can't seem to find anymore. Along with (my personal favorite) over 50 flavors of soda.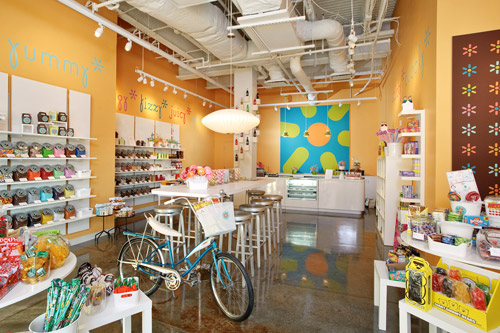 So the Sweet Spot folks put together three themed baskets for our winners to choose from. Below's just a sampling of the type of candies that you'll find in each basket, which are all stocked with $50 worth of yummy stuff.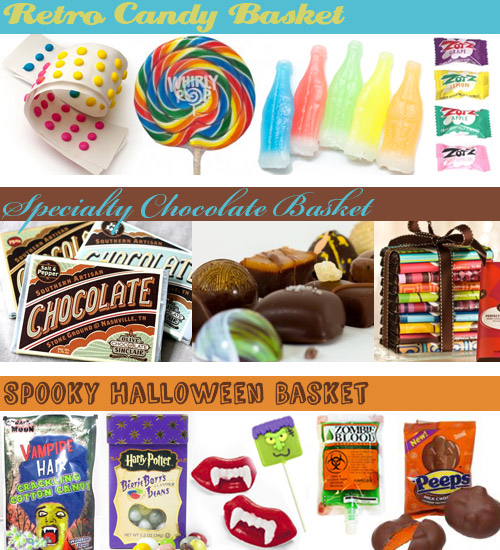 PRIZE: One candy basket of your choosing from Sweet Spot (the Retro Candy Basket, the Specialty Chocolate Basket, or the Spooky Halloween Basket).
TO ENTER: Comment on this post with the words "TRICK OR TREAT!" and tell us…
BONUS QUESTION: …what your all time favorite candy is. Reese's cups? Skittles? Starbursts? I could go on and on…. so I will. Butterfingers? Peanut M&Ms? Black licorice? Ring pops? Razzles? Nerds? York Peppermint Patties?
GIVEAWAY CLOSES: Wednesday, November 2 at 8pm EST
NUMBER OF WINNERS: Two
PRIZE SHIPS: The 48 contiguous United States
USUAL STUFF: One entry per e-mail address is permitted. The winners will be selected using random.org and announced on Thursday as an update to this post. That's right, come right back here on Thursday for the announcement of our winner. Good luck…
*************************
But wait, there's more! We've got an extra prize available to anyone in the Richmond area. Local shelter mag R.Home is again hosting their annual R.Home For the Holidays event in two weeks (Nov 16)  and we've got one pair of tickets to give away. This daytime event includes design seminars, lunch, and a talk by Design*Sponge founder (and Virginia native!) Grace Bonney. We're excited to finally meet her – and any of you that join us at the event!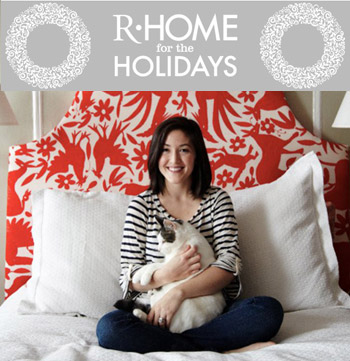 Please only enter this bonus contest if you are available to attend from 10am to 1:30pm on Wednesday, November 16th here in VA at Plant Zero (you win two tickets so you can bring a friend if you'd like). To enter, just include the phrase "TICKET ME" in your comment (yes, you can enter both contests in one comment). One winner will be selected from all of the entries containing "Ticket Me" along with two winners from any entries that say "Trick Or Treat" and all three lucky ladies or lads will be announced on Thursday.
Note: We aren't paid or perked for hosting these giveaways, we just do 'em to thank you awesome folks for stopping in. See our Giveaway FAQ page for more info. Pics courtesy of Sweet Spot, R Home Magazine and Design*Sponge.
&nbsp&nbsp&nbsp
We knew we weren't likely to find $1 cabinets again (like we did for the office built-ins) but we couldn't resist checking out the Habitat For Humanity ReStore for the four cabinets that we need to create the peninsula and build in the microwave/fridge (we're able to reuse the 36″ cabinet that used to live where the stove now sits, so that saved us some major money). The good news is that we found three out of the four we needed! And only spent $90 total.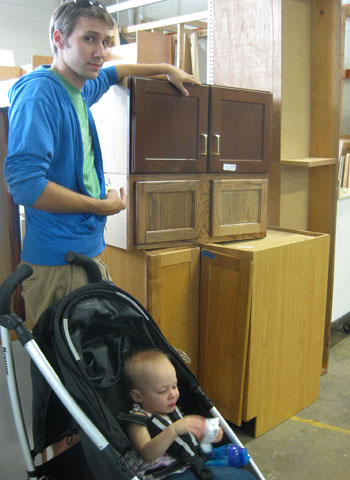 Yup, we got a corner base cabinet for the peninsula for $50 and two upper cabinets (one for over the fridge and one slightly taller one for over the microwave) for $19 each. And just for reference, to buy those cabinets new from Home Depot or Lowe's (in the stock, off-the-shelf department) they would have been $219, $96, and $89 respectively (for a grand total of $404). So we saved $314 by going secondhand. Which made complete sense since we'd be scrapping the doors anyway.
The issue with the doors? They don't match our existing ones (nothing that we hunted down both new or secondhand did since our doors are 30 years old). But to get the solid oak cabinet frames for that price is a steal and once they're all painted white with new or retrofitted matching doors (from other existing cabinets that we're not using), no one would ever guess they hailed from the ReStore.
We could only fit two of the three into our trunk. But thankfully they'll hold items for seven days at our ReStore, so we just came back for the giant corner cabinet with a bigger car borrowed from John's sister a few days later.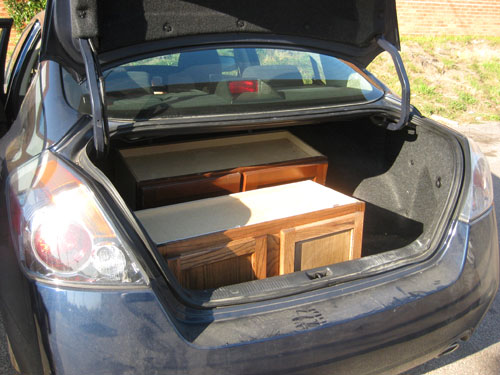 Now they're all at home, but not in their places yet (the carport and our sunroom are the holding area for lots of old cabinets and doors that we have removed and new ones that we'll be switching in).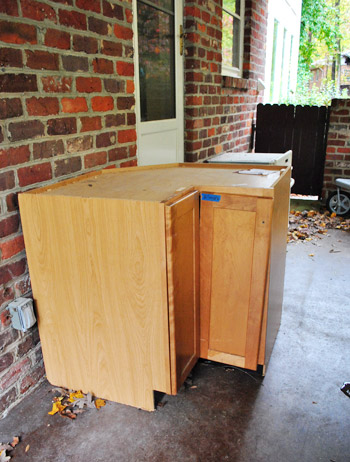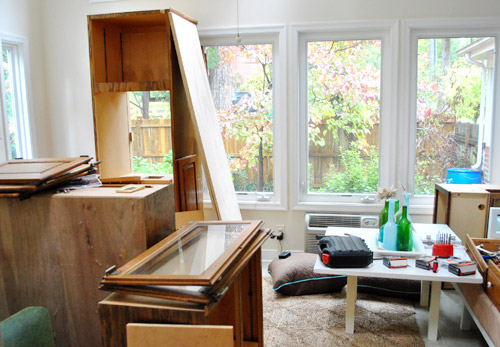 And yes, the sunroom looks especially crazy and smells like wood. Could be worse (wood isn't that bad of a smell, actually). Hopefully in the next few days we'll be back to share our freshly built-in fridge.
But wait- it's Halloween. Did you really think we'd let you go without sharing the kiddos in costume? Meet Mrs. Monkey & Mr. Banana: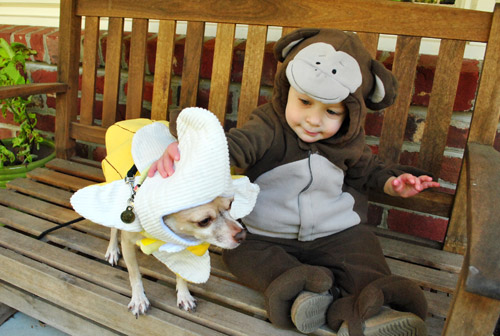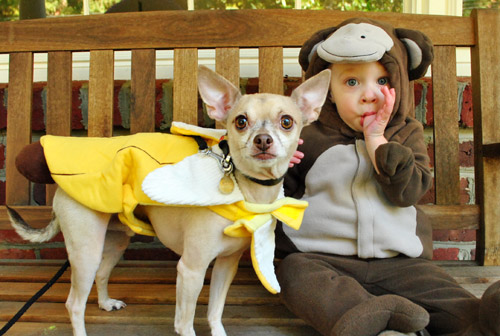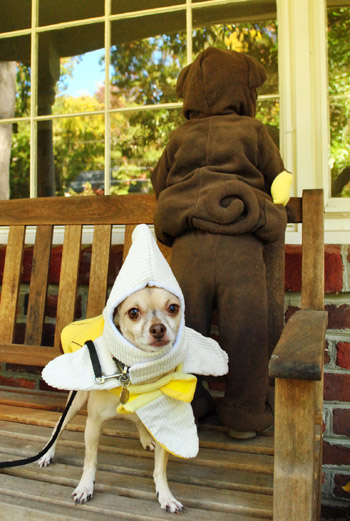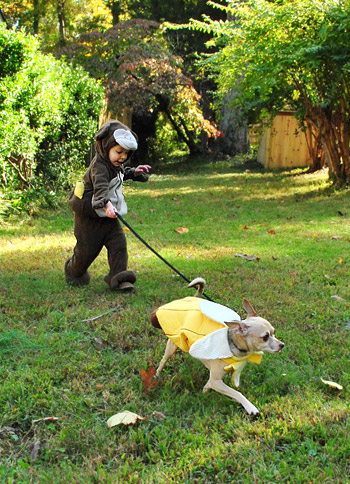 Clara liked doing her best monkey impression (saying "ooh ooh ah ah" and waving her arms) while Burger slinked around looking beyond embarrassed. The second we popped on the "hat" part of his banana, he just slumped down and half-closed his eyes as if to say "this is not ok." We freed the poor guy from his yellow prison within a few minutes of this photoshoot though. And gave the boy a bone. Actually his monkey friend handed one over. She's a very generous chimp indeed.
And Clara's cousin Emanuel (seen here turning two) even got in on the fun. He was a ferocious lion who requested candy corn throughout the photoshoot. Hilarious.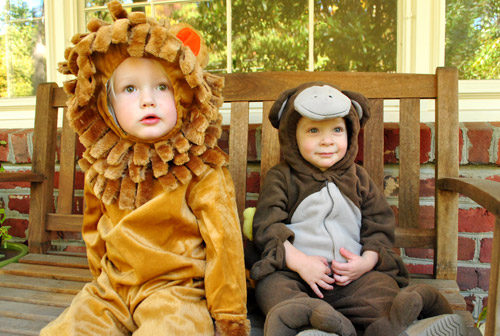 Of course the banana + monkey thing might not be as cute as one especially cute combo from last year…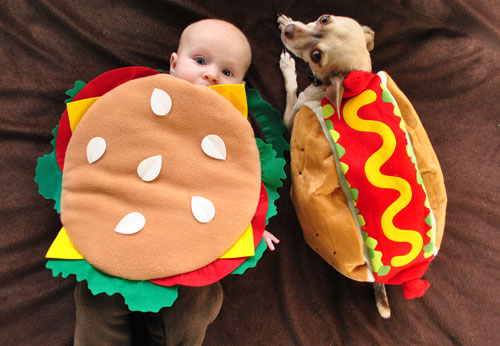 Hope you all have a very happy halloween! Oh and what were you guys up to this weekend? Any cabinet hunting or candy corn binging goin' on?
Psst- Check out our pumpkin patch adventures (including a family moon bounce and corn bin adventure) here.
&nbsp&nbsp&nbsp