We're back with a quick kitchen update since we promised to share every step of the process, just like we did 4+ years ago with our first kitchen makeover (which ended up taking 113 days from start to finish). So the latest news is that the electricians came by as we mentioned last week. We're definitely DIYers who aren't afraid to paint or demo or drywall or build furniture (we've even dabbled in a little bit of plumbing) but we're happy to call in the pros when it comes to risky things like electrical work in an older home that could lead to something major (aka: a house fire). So we hired a two-man electrician team who came highly recommended (two of our friends used and loved them) for a few quick switches to make our kitchen a lot more functional with the new layout. Here's what they did:
Solved the case of the mystery wire above the pantry. It was the dedicated line/outlet for the fridge which came out of the wall and went back in to be grounded (so strange, right?)
Got the mystery wire back behind the wall and rerouted it to be the plug for the built-in microwave that will hang next to the pantry
Converted the hardwired connection behind the cooktop to a plug for the new stove (more on that here)
Terminated the hardwired connection for the old wall oven (more on that here)
Added a dedicated line/outlet for the fridge's new location across the room (we were using an extension cord to power it up to that point)
The main takeaway of this process? We forgot that rooms sometimes have to get worse before they get better. Here's how the room looked before the electricians arrived (after we shuffled the fridge and the pantry around for a new layout – more on that here):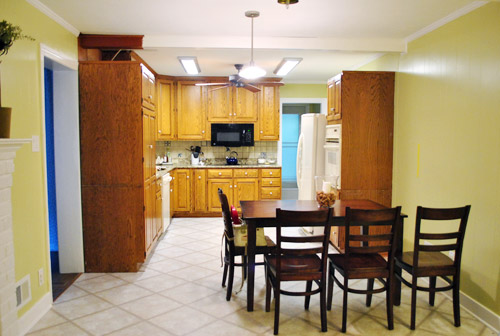 Well, actually we had our new counter depth fridge and oven in place (where the old cooktop and cabinet had been) and some missing granite counters, but we don't have a wide photo of that stage, so we just had these of the stove and fridge in place (more on that phase here):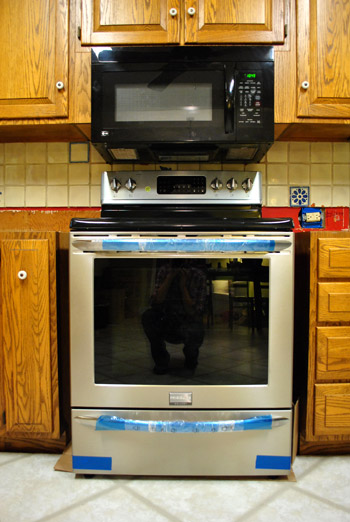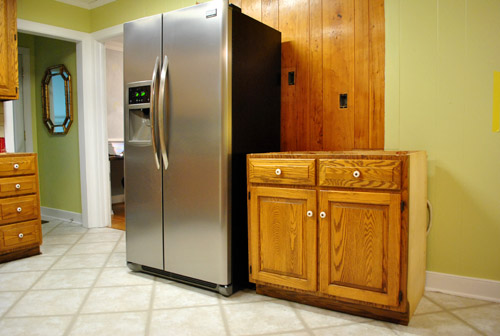 And here's how it looked while the electricians were here doing their thing: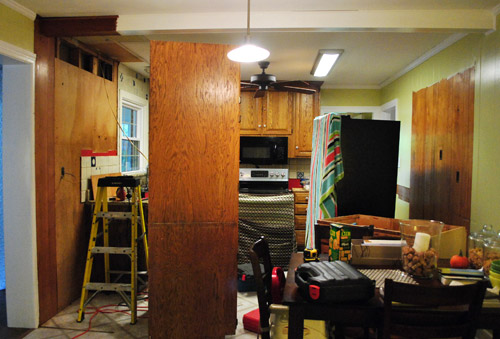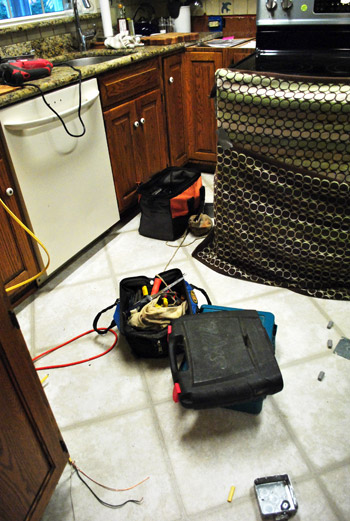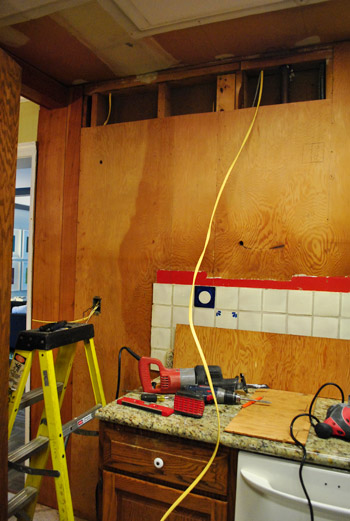 Insanity, right? But after they fixed all the wires and sealed up the wall they opened, everything got pushed back into place and the towels came back off the appliances. Voila, we were left with a working oven/stove, a plug for the microwave (so we can now start building that in), no more wire hanging out from the ceiling above the pantry, no more loose wires from the old wall oven to worry about, and a fridge that ran without an extension cord. Hazzah!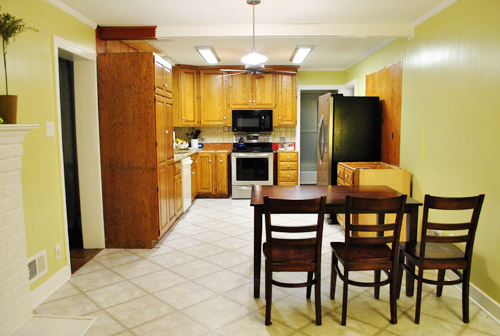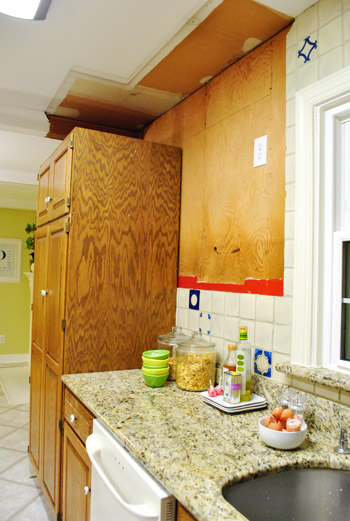 Totally worth the $80-ish an hour fee that we paid for a few hours of work with two guys on the job (first hour was $87, the following ones were $70). Oh and as for who we used for any interested locals, it was S.J. Ryan Electric. Good guys, fair prices, all that good stuff (they don't even know we're bloggers, so we didn't get paid or perked to mention them, we just like to shout out people who do good work).
Admittedly, the kitchen still looks completely crazy, but once the fridge is built in with white wood (no more bulky black sides) and the dingy exposed paneling (and edge of that beam) is painted we'll inch closer. And when the lighting is redone and the cabinets are painted and the new floors and counters and backsplash and peninsula go in we'll be well on our way…
We were lucky because all of the electrical in the kitchen was updated pretty recently by the previous owners (we have GFCI protected outlets and stuff). And because we live in a ranch it's pretty simple for someone to duck into the attic and pull things up and down (instead of dealing with drywall damage that can occur if there's a second story) – although the electricians did have a bit of a challenge with the mystery wire above the old fridge since that was an area of the attic that was extremely hard to access due to the pitch of the original roof before the addition). Hence having to open and close the wall above the pantry (which usually doesn't need to happen if there's attic access).
Next on the never-ending kitchen agenda (the order isn't finalized, this is just a running list that changes as we go):
build in the fridge
build in the microwave
demo out the old backsplash
install the new dishwasher and craigslist the old one
build in the new stove so it's flush with the cabinets
create the peninsula with built or bought cabinetry
demo out rest of old counters and install new ones
add an 8′ doorway between kitchen and dining room (with the help of a contractor)
buy & build in a vent hood for over the stove
remove upper cabinets along accent wall (the stove wall) and add new counter to ceiling backsplash
buy or build floating shelves for the accent wall (hanging them after tiling will make for less tile cuts & a more seamless look)
buy/build matching doors for the new cabinetry so they blend right in with the old ones
get new hinges/hardware
redo kitchen lighting (remove florescent lights & fan, add recessed lighting in work area & pendants over peninsula)
install cork floors
add crown molding to top of cabinets
prime and paint cabinets
create cozy corner by the fireplace (chair + rug + side table or ottoman + built in shelves?)
Breaking a huge project down into smaller bite sized pieces = the key for us. Sure, we can still feel a little overwhelmed at times (one of those times being while typing up the list above), but we know from experience that taking it one day and one small project at a time can keep ya sane. And that way we can course-correct as we go instead of rushing into a ton of decisions/projects at once. So slowly and steadily we'll inch closer to a finished room that we'll hopefully love for a nice long time.
What did you guys do this weekend? Any electrical updates? Or crazy-long to-do lists? Is anyone else ripping a room apart just in time for the holidays? We have no idea why, but every year around this time we tend to start something major (which usually isn't resolved until well after Christmas). At the end of 2007 we gutted our first home's kitchen, then we refinished over 50% of our hardwoods at the end of 2008. At the end of 2009 we gutted the bathroom, and at the end of 2010 we packed up and moved! More on that here. Maybe the reno dust reminds us of snow? How seasonally appropriate of us.
Psst- We were asked to be speakers at Haven (a huge DIY/blogging conference in Atlanta this coming June) and we couldn't be more excited – and nervous. Here's hoping we get to meet some of you guys there (and don't bite the big one on stage!).