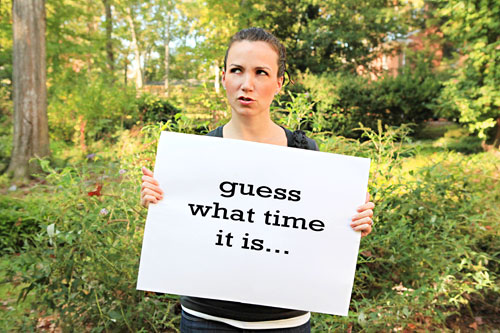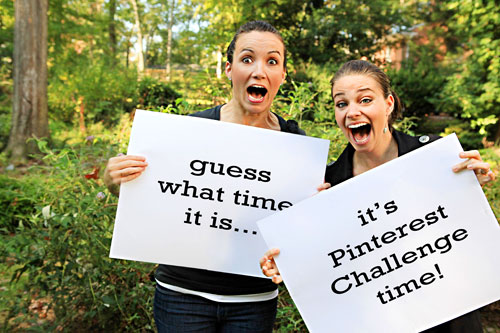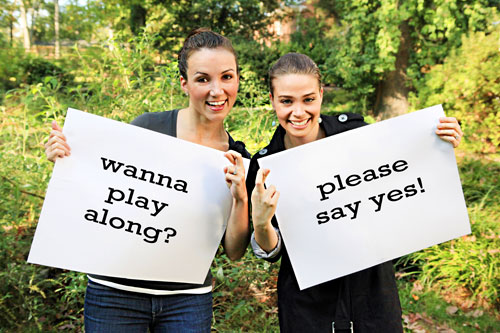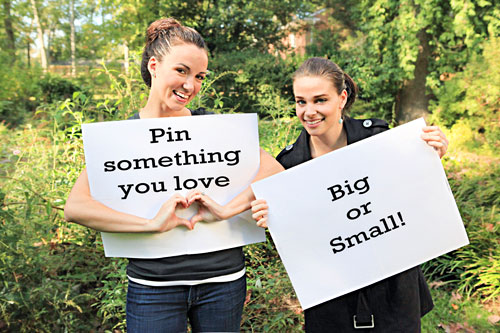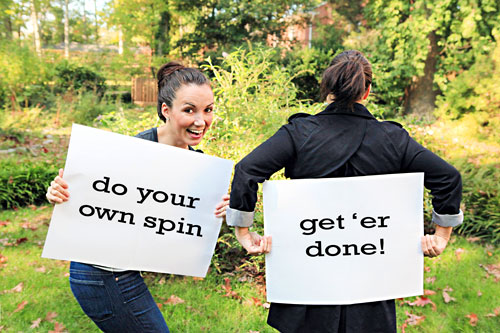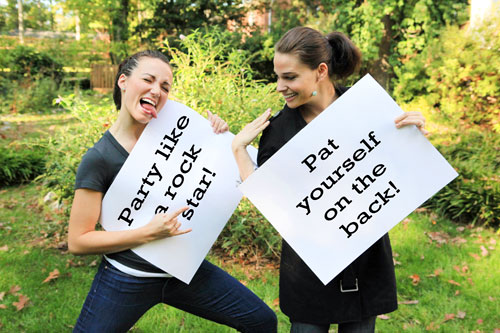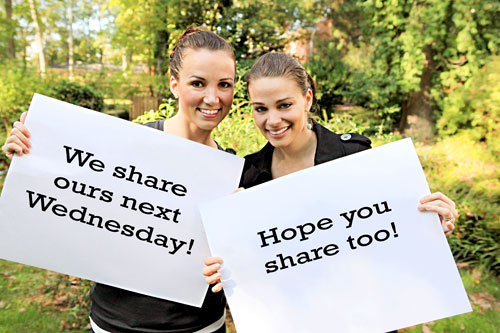 Yup, Katie B (and Will & Jeremy) drove up to VA to pay us a visit this past weekend. Sneaky little Bowers. And among other things, we posed in the yard holding big white signs. You know, the usual. We'll share more what-we-did details a little later in the week, but for now we're here to issue the second ever Pinterest Challenge (it's not actually sponsored or endorsed by Pinterest – we're just obsessed fans).
My Pinterest addiction runs deep (as you know from this heartfelt post of yore), so a few months back when Katie called me to say that she thought we should challenge ourselves to make one thing each season that's inspired by all the amazing stuff that we've pinned over there (and call it… wait for it… The Pinterest Challenge) I thought it sounded like fun. It's a welcome slap of stop-pinning-and-start-doing. Because I've pinned 1001 things and only done about 1% of them. We ended up having a great time with our first Pinterest Challenge this summer, so we're back with the fall edition.
The only rule is to do your take on something inspirational that you've pinned, so it can be anything- big or small (decor or sewing or cooking related – or beyond). Last time John and I made a clothespin light fixture for the laundry room, but this time we thought something seasonal could be fun (since the winter edition of the Pinterest Challenge won't roll around until January). So I thought I'd seize the opportunity to whip up a bunch of Pinterest-inspired ornaments for a (hopefully) charming "homemade for the holidays" effect.
I've already pinned about fifty ideas, but I'm not sure which ones John and I will end up doing (and what our riff on them will look like) – but we'll be back with all of those details when we complete the challenge next week. Oh and you're probably wondering who else is playing along with Katie Bower from Bower Power (aka: The Pinterest Challenge Founder – somebody get her a beard and a top hat). We thought it would be fun to ask different folks to "guest host" with us each time, so we're thrilled to have:

So here's the part where I extend my arm with an awkward smile and an uncoordinated curtsey and humbly invite you to join in… and do your own spin on something you pin! We figured we'd give everyone (and ourselves) the weekend to work on stuff and reconvene next Wednesday morning (the 2nd) to share our projects. We're hoping this'll turn into the same über fun share-fest that we soaked up this summer (check out all the amazing linked-up projects here). So just drop in next Wednesday to see what we've done – and to submit links to stuff that you've completed so we can all check it out. Maybe we'll even pin a few things. And so the vicious cycle continues…
One more time, for the people in the back: regardless of the fact that I say Pinterest ten million times (drinking game, anyone?) this wasn't paid or perked by them or anyone else. We're just eye-candy obsessed gals who love a good pin-fest. Sometimes while watching certain Beverly Hills Housewives.