Archive for May, 2009
Yessiree we have more mood board after pics for you! Can you hear how squeaky and excited my voice is about this development? No? Well, that's probably a good thing. Here's Sara's letter:
We love our home office after following ideas from your mood board. The green, white & brown combo is perfect and we can't thank you enough! And the closet, well, let's just say I don't dread anyone looking behind the curtain. Everything is in its place and if it isn't (note the white organization drawers sitting on top of desk) then no one is the wiser! This room has easily become my favorite in our house! Thanks again! And I must confess that this room has been finished for a couple of months. So, this is my note to all other design dilemma peeps out there: if I can overcome my laziness and send in my pics, so can you- I'm not above begging for some of yours! Keep up the great work you two!  -Sara
Let's fire up the ol' time machine and check out Sara's office before our little mood board makeover: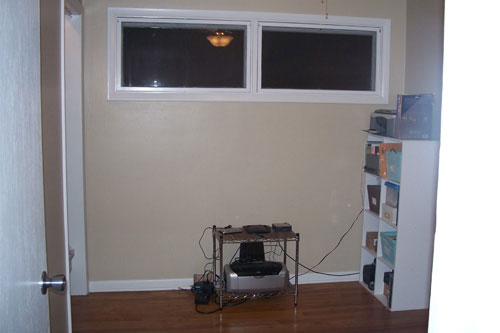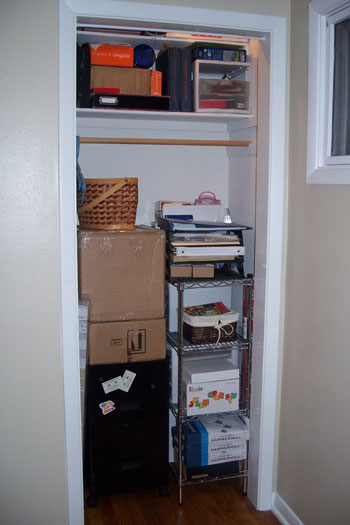 And now let's get back to the present day and feast our eyes on the oh so lovely after pics: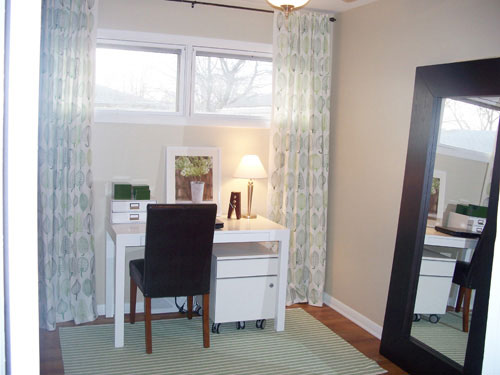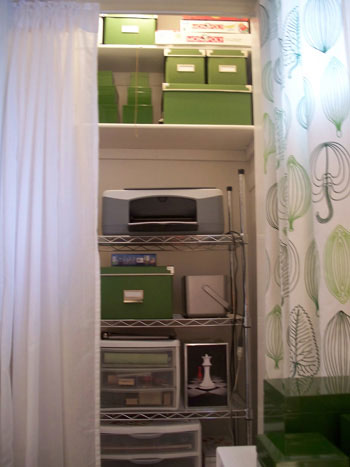 Didn't Sara do a fabulous job? We're so glad that her formerly empty office is now her favorite room in the house and we can totally see why. That organized closet is the stuff dreams are made of and that wide high-riding window looks balanced and welcoming with those lovely leafy curtains and the sleek white desk below. Thanks so much for sending the after pictures our way Sara!
Update: We sadly can no longer find the time to take on client commissioned mood boards (we now whip up general inspiration boards instead) but if we ever reinstate them we'll make a big announcement!
Not in my pants. The situation wasn't that dire. But about a week ago I awoke to find ants marching all over my kitchen counters and some of them even had the gall to traipse right across our lovely eco-friendly skillet that we had left on the stove to dry. Oh and speaking of our teflon-free/petroleum-free nonstick cookware set that we got this Christmas (a set of Greenware from Cuisinart cookware that we got from Bed Bath & Beyond), here's the update that many people have been clamoring for: we've been using them regularly and can't get over how awesome they are. Seriously, we love them and highly recommend them to anyone who's looking to green up their kitchen.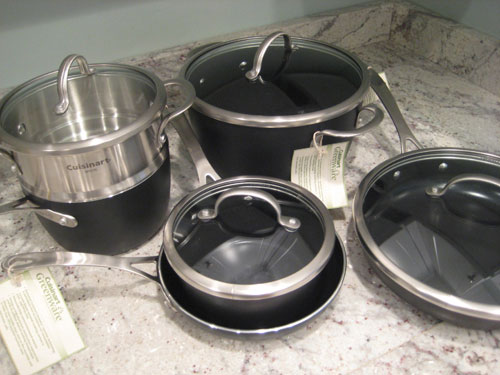 But enough about our pots and pans. Back to the ant problem. Can you believe the nerve of those little buggers invading our kitchen as if they were the ones who spent 113 days without a functioning sink or stove during the renovation? Being truly reluctant to bring any toxins or poisons into our home (and especially into our kitchen) we resisted the urge to snatch up a bunch of ant baits, and instead we made like ants and let our fingers do the walking, er, marching. We just googled "natural ant remedies" and learned that there were a slew of non-toxic everyday items that we could use instead. Here are a few of the all-natural anti ant solutions that we found here.
Sprinkle cinnamon where you see ants congregating to get them to back off speedily.
Fill a squirt bottle with plain white vinegar or 50% apple cider vinegar and 50% water and spray down surfaces where you see ants a few times a day.
Sprinkle black pepper wherever the ants are marching, taking care to find their entry/exit point and sprinkle pepper in that crack as well.
Shaklee's Basic H (a nontoxic soap made of soybeans) can be watered down and sprayed where ants are entering/exiting to keep them at bay (this formula may bubble paint so it's best to use it on counters and other soap & water friendly surfaces).
Placing bay leaves in corners and cracks where ants emerge can immediately run them off (and they can be left behind canisters and in corners for long-term ant repelling).
Substituting garlic cloves for bay leaves is also said to work.
So which options from the delightful non-toxic menu above did we choose?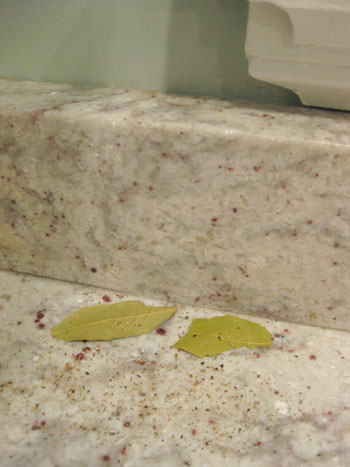 We went with a tasty black pepper and bay leaf recipe. We just sprinkled some black pepper around the counters and into the crack behind the counter where we clearly saw the ants emerging and then shoved a bit of bay leaf down the crack along with laying a few of them out on the counter. We loved that both of these dry ingredients wouldn't threaten to stain our granite counters or compromise the safety of our cooking surfaces in any way. And the best part? It worked like a charm. No more ants in my pans.
Do you guys have any all-natural remedies to share with the group? How do you avoid bringing chemicals and poisons into your home while keeping it pest free? We live for this stuff so spill the (green) beans.
Ok all you fakers- er, "I'll Fake It" contest enterers- it's time to announce the two winners in our Smart Candle giveaway, who will each be lucky enough to receive a 4-pack gift set of these lovely flameless and rechargable LED candles. Perhaps they'll come in handy for setting the mood during your next romantic dinner… which (based on everyone's comments) will be made using mainly store brand ingredients. Don't you just love how economical we all are these days?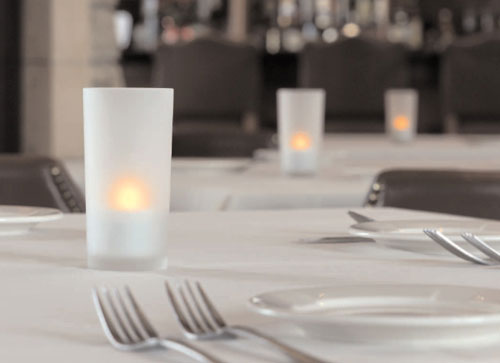 Anyways, on to the winners. The two individuals that random.org pushed to the top of the list this week are… Teresa (lover of milk substitutes) and Kendall (an equal-opportunity generic brand supporter). Congrats ladies! You're about to have quite a hot item on your hands (well, not literally hot- that would defeat the purpose of the LEDs). We hear that Smart Candles are so popular in restaurants and hotels around the world that they have a tendency to grow legs and walk out the door. Some companies have even started to put tracking devices in them! Congrats on winning them without having to slip them into your purses on the sly.
For everyone else, next week brings you not one, but two giveaways. One can be found right here on Monday as usual, and the other one can be found over on our Twitter page this Tuesday. Stay tuned…
Learn more about our freebies on our Giveaway FAQs page. Images courtesy of Smart Candle.