John and I had a blast on our secret trip to Savannah, and the ride from Katie Bower's lovely casa in Atlanta was somewhat uneventful except for this hysterical happening: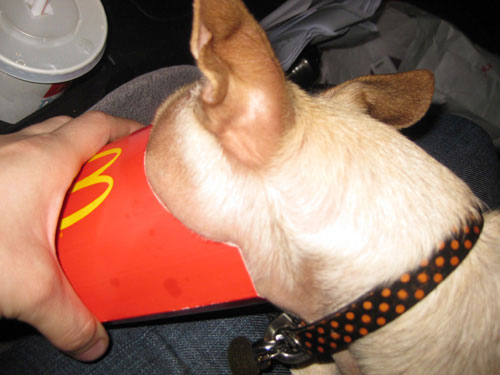 We try to eat fresh, local and organic for the most part when we're at home, but sometimes on vacation we can get a little lax… and before we know it the dog's head is in the french fries.
We stayed at the Comfort Suites hotel for three blissful days (great location, sweet deal on Expedia) and once we arrived we hit the ground running (although we must admit that we spent about 3 hours holed up in our hotel fixing the ZGallerie contest comment debacle since over 1000 entries in about an hour froze things up like you wouldn't believe). But other than attending to some bloggy business here and there, we spent every moment seeing the sights and eating our way through Savannah for all three glorious days. The weather was perfect and the moss-draped oaks, cobblestone streets and picture perfect trolleys made for some pretty charming scenery. There was also an abundance of horse drawn carriages, which reminded us of New York's Central Park minus the crowded streets and crazy taxis.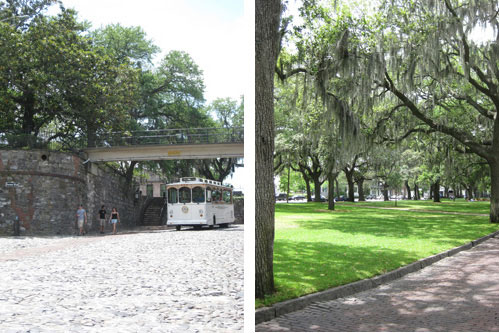 And speaking of Central Park, there's actually a huge park in the middle of Savannah called Forsyth Park where people walk their dogs, lay out, and do other parky things.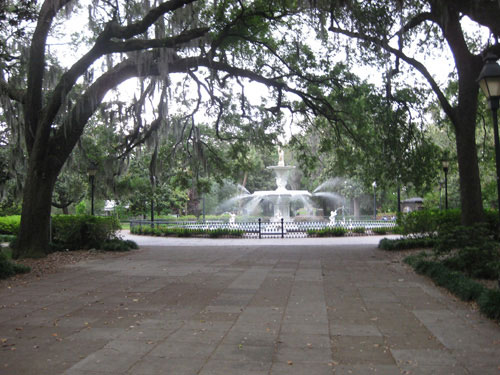 Burger had a blast sniffing his way through the entire park, and we had fun walking around the perimeter to snap photos of some pretty amazing houses that overlooked the luscious lawn. We were especially inspired by the soft cloud-like gray paint on the exterior of this lovely abode. Doesn't it look dreamy with the moss that drips off the towering oaks above?
We also loved this sage green house with black shutters and white porch and door trim (who knew black and white accents could come together so seamlessly with sage?):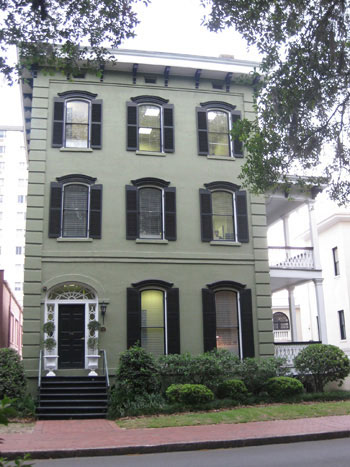 Then we ventured over to Desposito's Seafood, a famous dive known for bad lighting, peeling linoleum, newspaper covered tables and absolutely amazing fresh seafood. Here I am embracing the bad lighting and doing my best crab impression: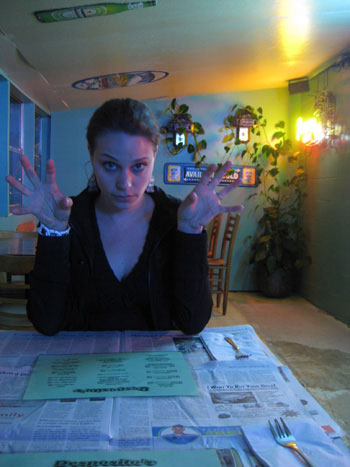 When it was John's turn to take on the roll of the crab, and he was quick to remind me that crabs have claws and poky things, so my impression was more octopus-ish than anything else.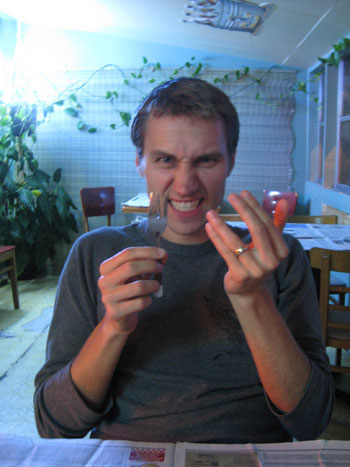 But enough terrible crustacean impressions. Here's the grub. We ordered a heaping portion of shrimp, sausage, potatoes and corn (called the Low Country Basket) and also got an order of steamed snow crab legs and potato salad. And true to neighborhood lore, the peeling paint, duct-taped windows, and Little Shop Of Horrors-esque plants fell away and we were in heaven as soon as we took a bite.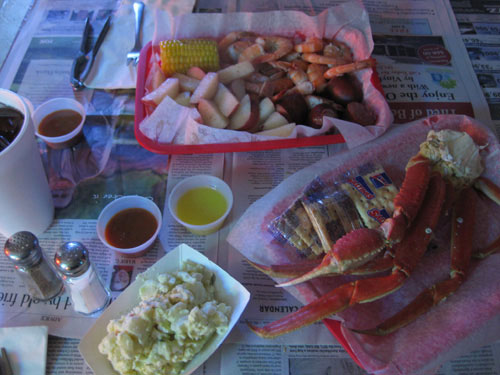 Savannah also had it in the bag when it came to dessert. There were so many drool-inducing candy shops with amazingly diverse offerings like monstrous candied apples and gargantuan peanut butter cups (yes, they're as big as the humongous apples). We also dropped in on LuLu's- a famous little dessert spot with a lounge-y atmosphere, live music, and magical peanut butter chocolate cake. Yeah, that baby didn't last long (but we did have to tip it over to eat it).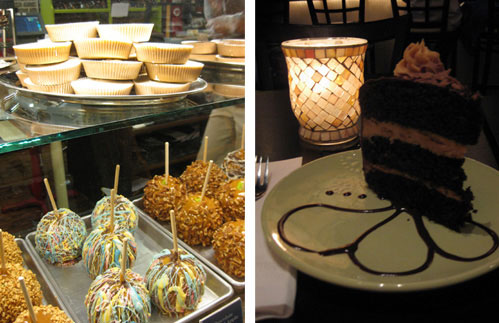 We also loved walking around the restaurants and shops in the Historic District at dusk. Savannah really is one of the most charming cities we've ever visited.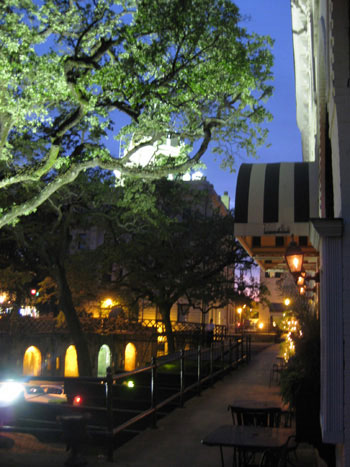 And on our last day there we took a quick twenty minute drive over to Tybee Island, a beachfront area just outside of Savannah where we perused these cute little shops at Tybee Oaks (stay tuned for more shopping photos to come).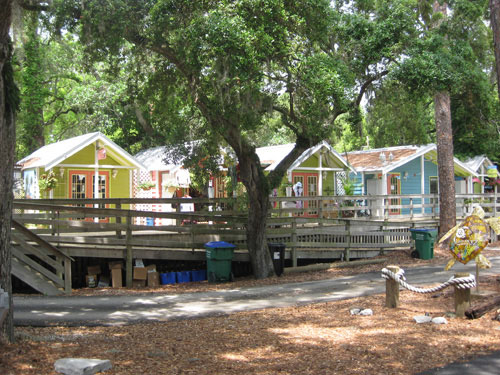 Our favorite place in Tybee Island was a quirky outdoor junk market with tons of diamonds in the rough. We loved this sweet little aluminum boat (wouldn't it make a cool sunroom coffee table topped with plexiglass or even wood?) and that awesome metal stool base (which would also make a killer accent table topped with a round of wood and painted black, white or anything in between).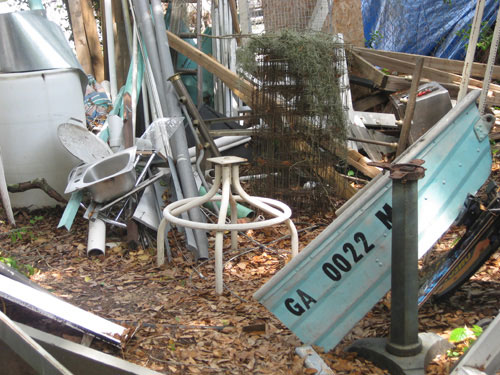 Then it was back in the car for our drive back home. Burger didn't fail to provide more entertainment along the way. In his defense, I would do this too if my head would fit.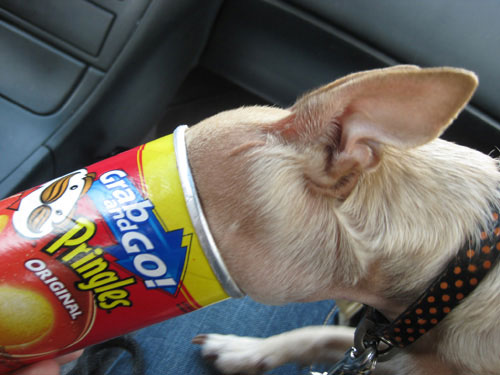 Oh and you know we did a lot more window shopping, right? Savannah had a slew of amazing decor stores and we raided them all, camera in hand. Stay tuned for all of our favorite shops and finds coming soon…