***This giveaway is no longer accepting entries***
This week's giveaway is très magnifique. Why? Because it's coming your way from Paris, France. And because it's beautiful, of course.

Home Addict creates beautiful textiles for your home using pure silk, ancient weaving techniques and fair trade practices. While each piece is designed in Paris, they're all hand-made in South East Asia over several days using the intricate ikat technique. The results are luxurious items for your home like table runners, room dividers, throws and wall hangings. And we're excited to announce that Home Addict has offered up one of the colorful wall hangings shown on this page (valued from $120+) to one lucky reader. And if you don't have the perfect wall for it, the beautiful silk fabric would look just as great reincarnated as a few pillows, a runner, or even a new seat cushion!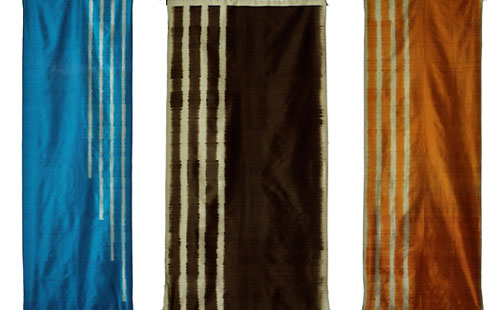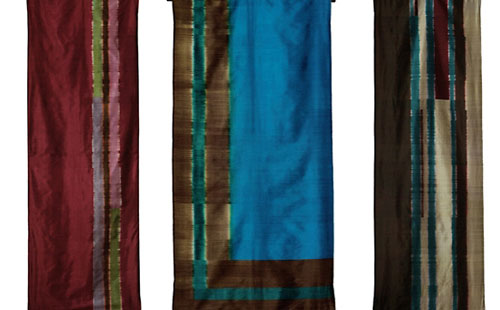 To enter just comment on this post with the words "I'M ADDICTED" by Wednesday, May 20th at 8pm EST. And, for fun, why not tell us what else you're addicted to – peanut M&Ms? gossip magazines? going a bit above the speed limit? (no need to admit anything more illegal than that, mind you). Only one entry per e-mail address is permitted as usual, and one lucky winner will be chosen using random.org and announced later in the week. Oh and the good news is that this is a worldwide contest- so they'll ship to every corner of the globe! Good luck…
Get the full scoop on our freebies in our Giveaway FAQs. Images courtesy of Home Addict.