Two weekends ago we stopped in Atlanta on our way to Savannah (sounds like the lyrics to a country song) to house crash Jeremy and Katie Bower's lovely home. And while we were there we whipped up a little decorating movie for all you lemme-see-you-in-3D peeps. Hope you enjoy the tour (and that you check out our table-setting video at the end of this post)!
First we have this adorable mini mud room that Katie whipped up with an ottoman and a few coat hooks. And since we're no stranger to this method, Burger felt right at home and made himself comfortable from the moment her scampered in the door.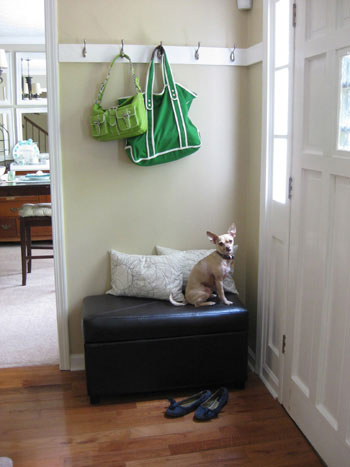 Beyond the entryway is the posh and elegant dining room full of soft blue accents, white china, and beachy accessories. Katie is a blackbelt sale shopper so everything I swooned over ended up being "oh this old thing, it was $1 at Goodwill" or "TJ Maxx, three bucks." Talk about having some serious decor envy.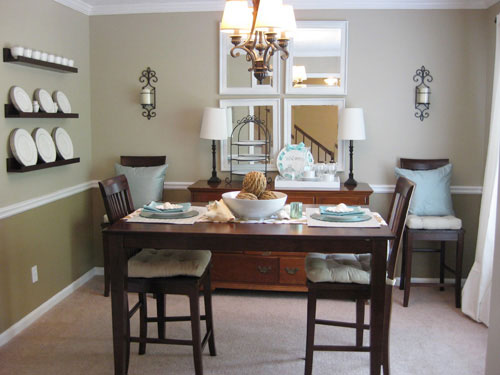 I also fell hard for this chic little hutch next to the door that leads to the kitchen, but I couldn't linger on it too long before the kitchen beyond beckoned me in…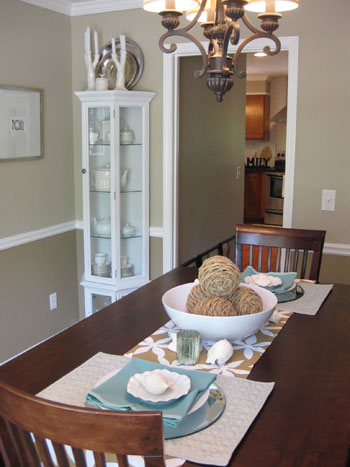 … yeah, this kitch' has some serious drawing power. The amazing thing is that Jeremy and Katie ripped down walls, learned how to run their own electrical, installed stock cabinetry, and even laid their own floors to turn this formerly closed off kitchen into an open and expansive masterpiece. Everything from the range hood (we actually have the same exact one!) to the backsplash was put in with their own four hands, and we must admit that we found ourselves gaping at their handiwork at every turn.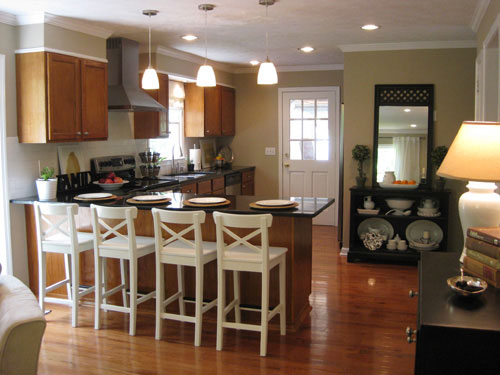 And no detail is too small for Katie. From the white china that she artfully arranged in her doorless hutch to the white dishtowel that she hand sewed (she added the pom poms!), not a smidge of style was sacrificed even though her accessories never broke the bank.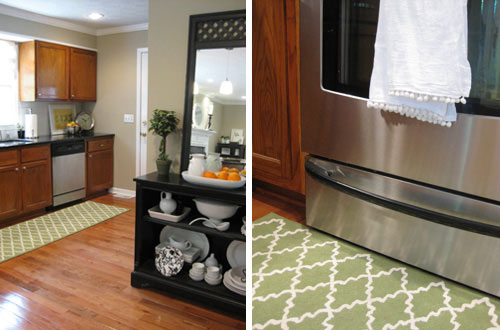 Thanks to tearing down a wall, the kitchen opens up to an inviting little den with a fireplace that they tiled themselves and a coffee table Katie found on Craigslist and completely reinvented (the power of white paint is a beautiful thing).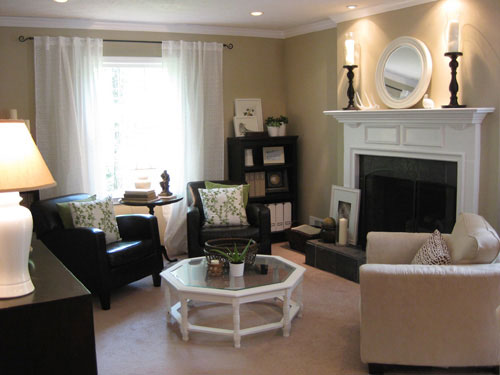 Katie also has a soft spot when it comes to clean white accessories, and everything from the Goodwill candlesticks to the DIY art made us feel right at home. And you know I was all over her adorable ceramic bird, right? I'm nothing if not consistent, and my penchant for white ceramic animals knows no bounds. The fact that this little guy was a cheep- er, cheap score (another Goodwill find) made me green with ceramic animal envy.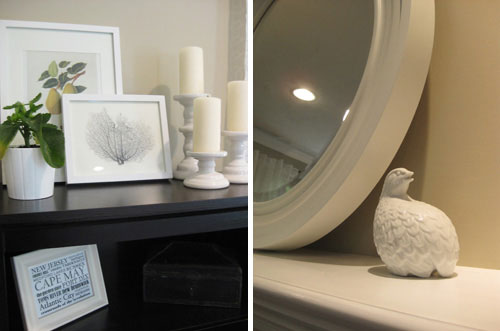 Katie and Jeremy also widened the passageway between the den and their living room so the entire first floor feels open and airy. And is that a white ceramic horse head that you see on the coffee table? The same one we have on our TV stand in the den? Yesireebob. Gotta love an equine bust from Tarjay.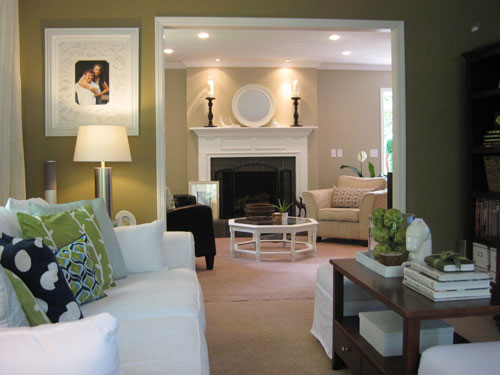 We also love the fresh pops of green throughout the space (in fact, one of those lovely pillows on Katie's couch was actually a Pottery Barn placemat that she ripped apart and stuffed with batting). She's lucky enough to live near a Pottery Barn outlet, so everything from the couch to those awesome white ottomans was snagged on the cheap (yeah, the whole trip was punctuated by envious gasps).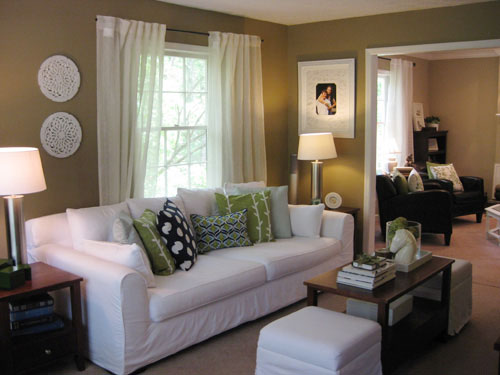 And just in case it's not painfully clear that Katie and Jeremy could easily flip houses for a living, here's a bathroom that Katie recently renovated for under 500 beans (yup, she worked a wet saw and installed her own molding with only a wee bit of husbandly assistance).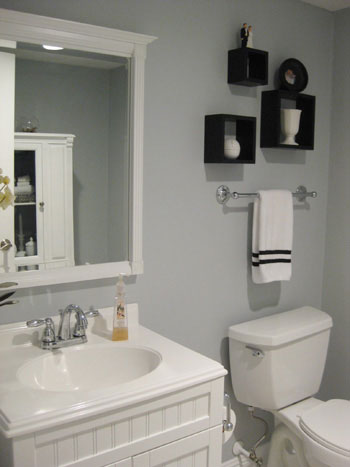 You might have seen mention of Katie's dressing room a few days ago when we crashed her closet. It turns out that while most people have a hanging bar and half a dresser of storage space, she has an entire third bedroom with a wall of wardrobes for clothing/jewelry/shoe storage- and the other side of the room serves as the most charming bonus space for settling down with a good book or sleeping an extra guest.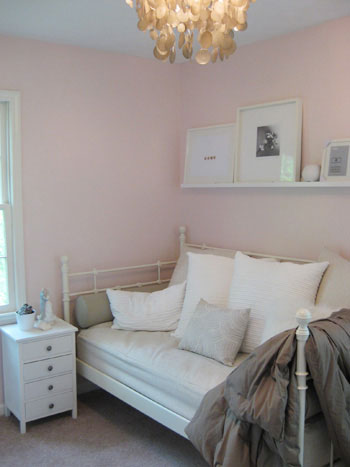 In another stroke of bathroom brilliance, Katie and Jeremy completely transformed their upstairs guest bath with some moody khaki paint and an amazing wood frame that they mounted around the room's original mirror for an updated and customized effect that's so ooh la la. They even distressed each piece of wood with nails, chains, and a hammer before staining and installing 'em.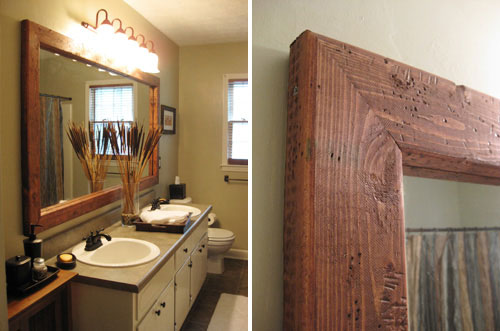 And last but not least is their peaceful bedroom and ensuite bath which actually bears a bit of a resemblance to ours. In fact we featured Katie's bedroom pics as a Reader Redesign last year after she sent pics our way to say that she modeled her curtained wall after our very own bedroom.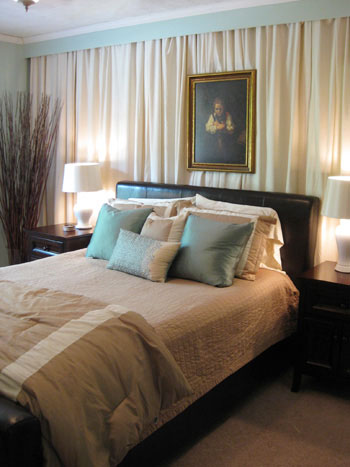 And now we'll leave you with our little table setting video extravaganza. At first we debated what to tape, but we both loved the idea of doing something in stages right in front of the camera in real time. Sure it took a while to sift through Katie's extensive servingware and accessory collection to create five different table settings and put 'em together on film (it took us about 20 takes total), but we're oh so proud of our little film-fest and we hope you enjoy our step by step table sprucing tutorial.
It bears mentioning that some of the settings are a bit more robust than others (we didn't add the leaf to Katie's table, so feel free to adapt some of our ideas on a bigger surface or remove a few elements to create more space for platters of food). Oh and there are a few other things that you may notice. Here's what to look out for:
We're both incredibly weird and nervous in the beginning.
We get progressively loopier, as if we're downing champagne off camera (we weren't).
I confuse apple trees with cherry trees.
Katie squeezes in some of her signature potty humor.
Lots of talking with our hands (our moms are Italian).
I mispronounce faux-bois like foi-gras. Twice.
Katie saying "pull" the southern way when she's making ribbon curls.
Thanks so much for devoting eleven minutes of your life to viewing our little flick! Here's a slightly lower quality one that might be easier to play on your computer if the one above is jumpy. I'd love to know which setting was your favorite. And if I'm louder/nerdier/shorter/scowlier/more awkward than you may have thought. Oh and a big thank you goes out to the Katie (and her main man Jeremy) for letting us take photos of their casa and helping us set the table a bunch of times. Be sure to check out her take on everything over on Bower Power– you know she'll tell you if we showed up with bad breath…
Itching for more table setting ideas? Here are seven other festive options and a holiday table setting post for your viewing pleasure.