We promised to share our Savannah shopping finds and we're back to deliver the goods. After dropping in on virtually every decor store in the city (with our camera in hand- we're such tourists) our favorite shop by far was The Paris Market & Brocante on Broughton Street. Their pieces were more inspiration than reality (we don't exactly have $1600 for a side table) but the sheer creativity of their displays and the diversity of their offerings kept us swooning (and dreaming up some DIY versions of our own). Here's what we loved…
This insanely gorgeous oyster shell chandelier had me ready to buy a bunch of oyster shells online to string up with wire and make my own. And the $1,800.00 price tag confirmed that the only way I'd get one of these babies would be to make it myself. But seriously, isn't it amazing?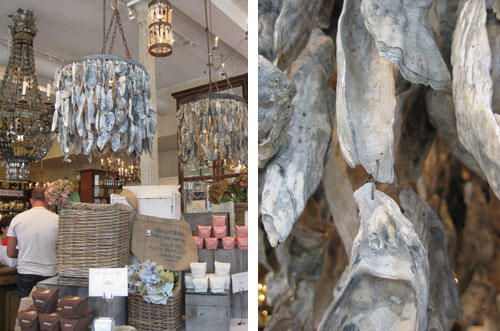 We felt another surge of DIY inspiration when we feasted our eyes on this lovely driftwood framed mirror and the amazing basket + casters + glass top = coffee table. I instantly added a humongous order of driftwood to the oyster shells on my mental gotta-find list.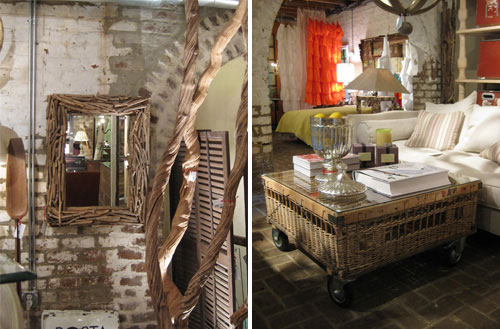 We also really adored this twig pendant drum shade. I don't even have to order a supply of twigs online- I can grab them from the backyard- and use either wire or Liquid Nails to hold them in place between two metal shade hoops to create a natural and oh so interesting DIY pendant. If only there were more hours in the day to execute all my new decor projects! Oh look, here I am pawing a few of my favorite beachy finds- a gorgeous huge nautilus shell and a giant ostrich egg (yes it's almost as big as my awkwardly small head). I felt like I was standing inside the coveted coffee table book The Cabinet of Natural Curiosities. Heaven.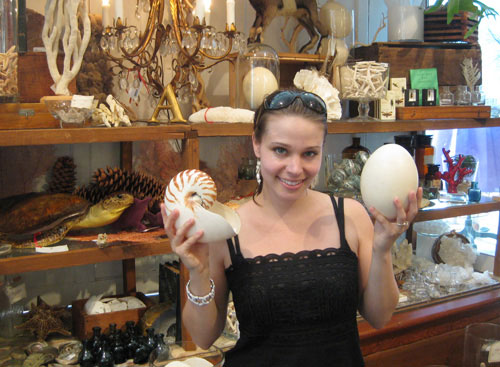 It was seriously devine intervention that I walked out without bags full of goodies and an empty wallet. But I took lots of photos and now have a ton of projects on my mind, so that must have tided me over for the time being. As we continued down Broughton Street we also ran into the most charming little specialty store: The Savannah Bee Company's Honey House.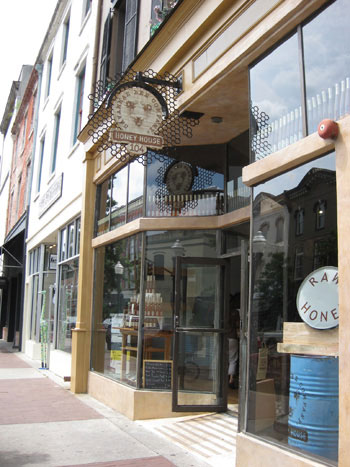 Inside we found row after row of gourmet honey in delicious flavors like orange blossom and tupelo. There was even a little honey bar where you could squirt samples into a spoon- and even try some raw honey comb with cheese and crackers. Needless to saw we left with sticky fingers.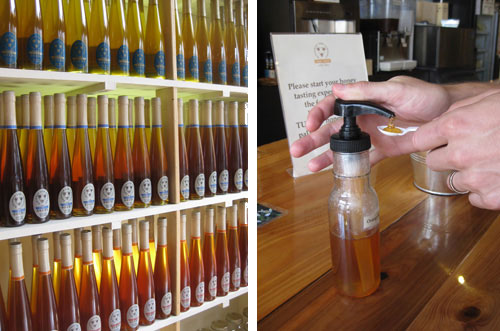 Probably one of the most intriguing places that we stumbled across was an amazing old shop called V & J Duncan crammed with old maps, botanicals, illustrations, and prints- many of which were guaranteed to be over 100 years old. There were some pretty great fern and orchid drawings and of course some fantastic antique world maps but probably our favorite thing to do was sift through the baskets, drawers, and shelves labeled with locations that meant something to us. It was so interesting to find ancient post cards with illustrations of Times Square and super old prints and photographs of the state capitol here in Richmond – and although we left empty handed we spent about an hour just poking around and meeting the owner's adorable Cocker Spaniels who stood guard by the door.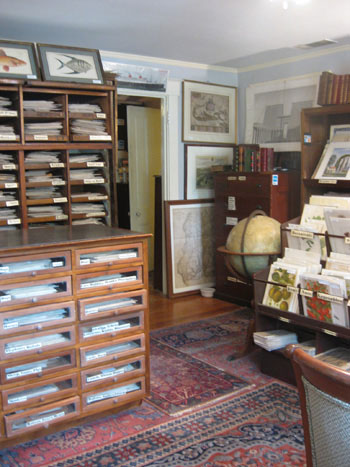 This fabulous souvenir shop discovery just had to be included in our little shopping roundup because it harkens back to this tongue-in-cheek post from April. We especially appreciated that someone took the time to put photos of cats inside the cat-themed frames (except for the dog picture in the frame with the feisty cat with his tongue out). Excellent attention to detail. And yes, we're kidding about them being some of our favorite finds, but they were certainly entertaining in their own right.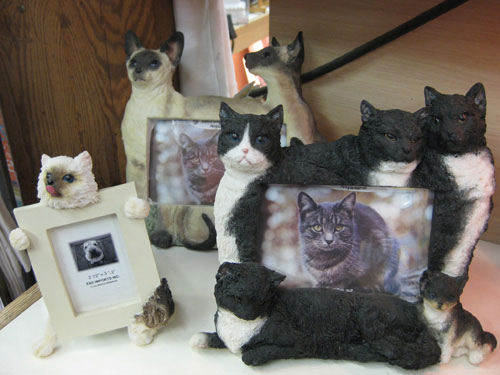 Then we hit up Whitaker Street (which was chock full of more furniture, accessory, lighting and antique shops), where we dropped in on One Fish Two Fish, an adorable boutique with an amazing wall of sunburst mirrors (it's such a great idea to collect various round mirrors and display them en masse) and gilded and hollowed out tree-trunk planters (which I totally want to make with some spray paint or even some gold leafing supplies and a few backyard stumps). So many projects, so little time.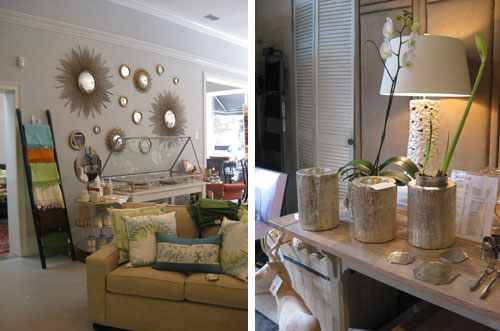 And speaking of projects, this oyster shell votive holder carried a hefty $225 price tag, but my immediate goal is to recreate it (I am ordering my weight in oyster shells, right?). I love the ruffled texture that it adds and of course natural objects like shells are some of my favorite accessories- especially when they're used in unexpcted ways. Here's hoping I find the time to take it on soon (and you know I'll take pictures every step of the way).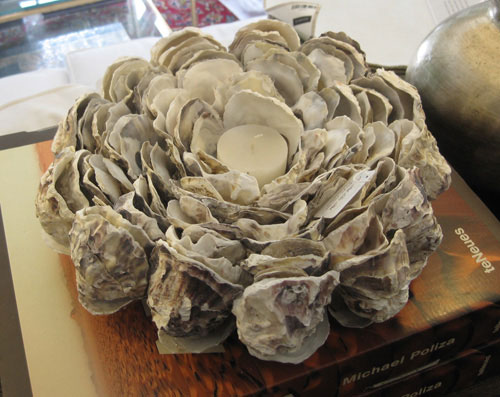 These are the items that almost got me to whip out my wallet. At forty bucks the round white ceramic palm leaf platter (bottom right) was hardly a steal, but even the next morning I woke up with pangs that I left without it. We'll just have to head back down to Savannah someday…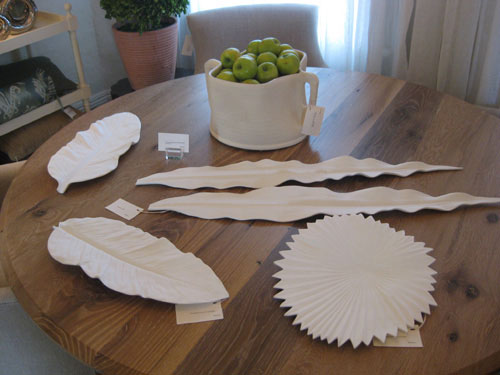 So that sums up our Savannah window shopping spree. We'd love to hear your favorite finds of the bunch and of course any and all Savannah shopping info or experiences that you'd like to share with the masses. We thoroughly enjoyed out little vacay and can't wait for our next big road trip.