We're not about to suggest that green camouflage is our new favorite pattern when it comes to pillows, curtains and duvet covers – we're just taking this opportunity to point out how a little bit of curbside camouflaging can go a long way. Here's what our house looked like after we did a little bush maintenance (aka: getting perfect strangers to dig up our old bushes for free).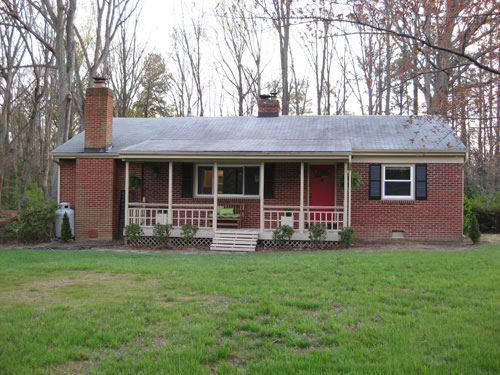 Yep, she was looking pretty naked thanks to all the overgrown and overcrowded hedges that we removed in favor of a less bulky and overpowering new landscape (more details on that project can be found here), but what's that you see on the left near the chimney? Why it's a huge unsightly propane tank that looked pretty darn terrible without all those overgrown hedges blocking the view.
You can see that we planted two dwarf alberta spruces (one in front of the the tank and one on the opposite side of the house for balance) that will fill in to be about 6 feet tall and 30″ wide (effectively blocking that ugly propane tank in the future). But we're a bit impatient when it comes to these things… and paint is such an easy option…
Do you see where I'm going with this? We realized that if we could paint the propane tank a dark brick red tone, it would blend right in with the facade of the house. So first I called our propane company (we don't actually own the tank, and since it's theirs we wanted to ask if we could take some deep red paint to the old gray tank). It must have been our lucky day because we got the green light. The funniest quote from the company: "don't paint it anything crazy like black, but red is ok." Doesn't red sound like the crazier color of the two? Anyway, we were beyond thrilled that we could get our paint on, so we snagged a quart of exterior red paint (we held paint chips right up to the brick for the closest match) and applied two coats with a brush. Here I am just getting started: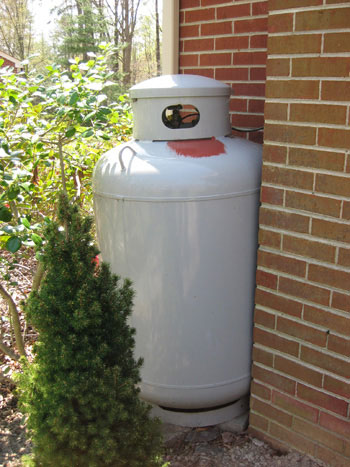 Here she is all purty and painted: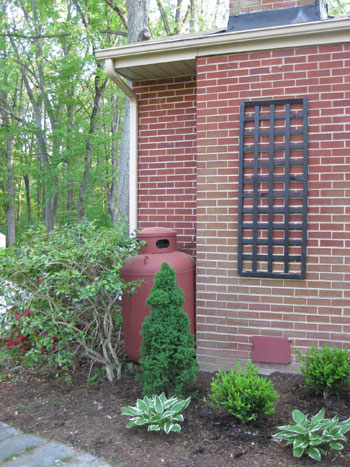 And here's the full effect from the front of the house from the street, this time with the tank artfully camouflaged- all for about $14 worth of paint: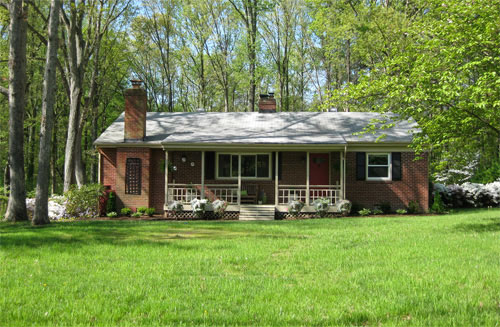 And I didn't stop there (I'm kind of a crazy person once I have a paintbrush in my hand). I also called our power company to confirm that I could paint the annoying gray utility boxes on the back of our house (they confirmed that anything installed on our house is ours to paint). Here they are mid-project (I told you I'm a crazy person, I was so excited to get painting I forgot to take before pictures):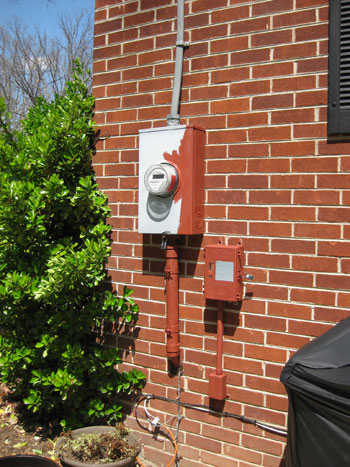 And here they are after a quick coat of brick red paint. They're hardly invisible but they're a lot less jarring, especially from afar.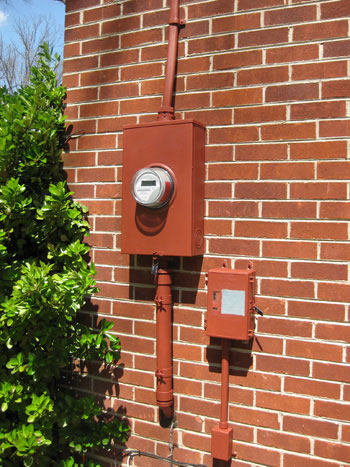 So that's the story of a quart of brick red paint (Sherwin Williams Red Barn to be exact) and an indescribable passion to camouflage the ugly gray eyesores that had our house surrounded. Do you guys have any quick painting projects on the agenda? And are you at all surprised that I'm still finding things to paint? It's a sickness, people.
An Additional Disguise Trick
Want to see another way we disguised ugly exterior eyesores? Check out this simple outdoor shelf we built to use plants to hide our electrical boxes.