Roeshel's bathroom went from caterpillar to butterfly thanks to her spot-on eye for elegance and her handy hubby Russ. Here's her letter:
I'm a big fan of your blog (I'm a daily reader) and wanted to share my before/after pics of our powder room because a lot of times, you're my inspiration. I think you'd approve! Haha.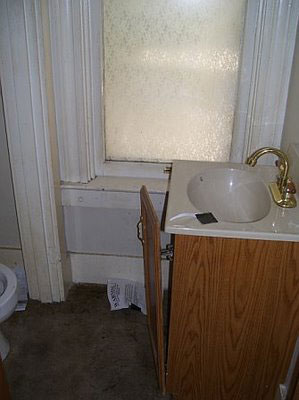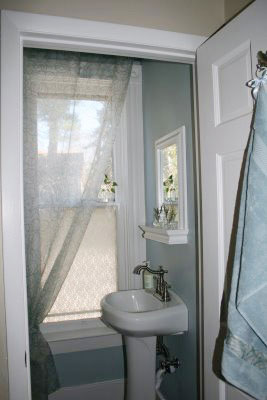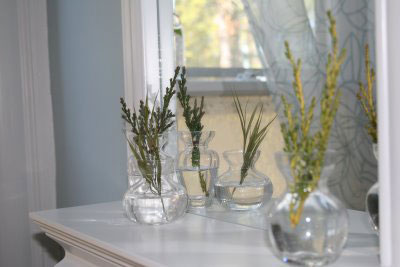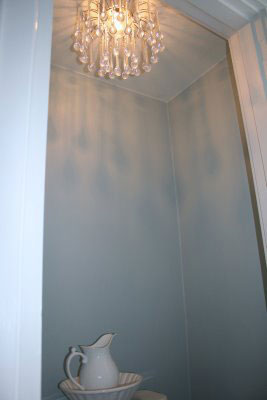 Here's a list of sources for you:
Wall Color: Benjamin Moore Smoke
Trim Color: BM Designer White
Tile: Shore/bocachica
Pedestal Sink: Glacier Bay (Home Depot)
Faucet: Pegasus 9000 (Home Depot)
Light Fixture: Tear Drop Chandelier (Urban Outfitters)
Curtain: Abstract Floral/mist (Brocade Home)
Vanity Mirror: Kingston Wall Mirror Shelf (Overstock.com)
One Tough Chick Wall Hook: (One of my favorite shopping sites) Modcloth.com
Pitcher/Basin: Homegoods/TJ Maxx
Caldrea Liquid Hand Soap: Organize.com
Bud Vases: Organize.com (no longer available)
I'm so proud of Russ for all of his hard work! Thank you so much! -Roeshel
We're all over this gorgeous makeover, and we just had to laugh because we actually have the same teardrop chandelier from Urban Outfitters in our very own half bathroom. It's a small world (full of glittering bathroom chandys). Gorgeous work Roeshel and Russ! To learn more about their fabulous transformation, drop in on Roeshel's blog. Thanks so much for sending the delicious pictures our way guys!