When we proclaimed that 2009 was The Year Of The Curb Appeal, we meant it. And although our header paints a quaint little picture of our exterior (I know, I know- we have to reshoot it with the new porch), the gruesome truth was that our bushes were crowded, overgrown, diseased, and completely dwarfing our short and stout little house.
Plus we knew our impending front porch makeover would do that thing that most new things do… make everything around it look a little less gorgeous by comparison. So it was time to start fresh and plant things (correctly sized things, at the right distance apart) that would enhance and not uglify our home sweet home. It was pretty intense work (that involved shovels and even a sledgehammer) and we'll be back to share the full monty of before and after pictures in a bit. But for now we'll leave you with this odd mid-point shot (yes, giant bushes were planted within AND in front of that strange little brick ledge). And that's just the tip of the metaphorical landscaping iceberg.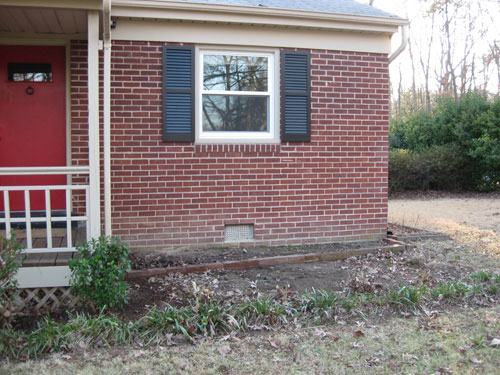 So as we say so often around these parts, stay tuned. And we'd love to hear about any and all curb appeal projects that you have on your to-do list these days. What's the situation in your front yard?