Ok, I'll admit it: we've been shamelessly entering to the win the 2009 HGTV Green Home on a daily basis lately. As much as we love our own home, we can't pass up the chance at winning a beautiful, eco-friendly abode in sunny Florida (and the shiny new hybrid car that comes with it). Plus, think of all the things we could blog about if it were our names that they announced on June 28th.
So it was with Green Homes on the brain that we took a little detour last week while on our secret trip to Georgia. Thanks to our Florida vacation last Spring, we remembered that the 2008 HGTV Green Home was just about 5 minutes off of I-95 in South Carolina. We didn't tour it last year (it carried a hefty $25 admission fee!) so we figured we'd swing through Tradition, SC again this year and see if last year's winner was home and might invite us in for a free tour (you know, all southern hospitality-like). Well, that didn't happen (surprise). There were no glasses of organic lemonade waiting for us on a recycled bamboo tray. In fact, it didn't even look like anyone was home…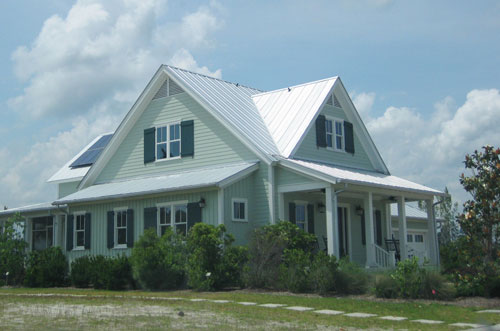 And our guess as to why no one was home? Because it did look like anyone had moved in yet. There was even a key-box on the door like a house that's on the market…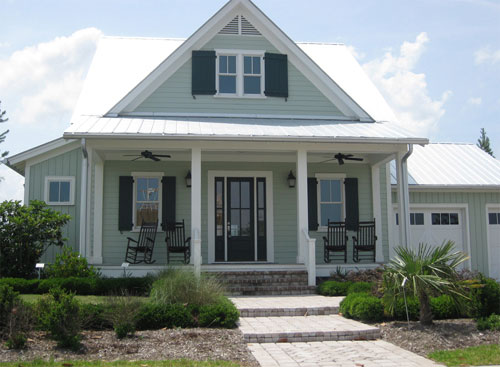 …and why do we think no one has moved in? Because they're just about the only house in the neighborhood so far.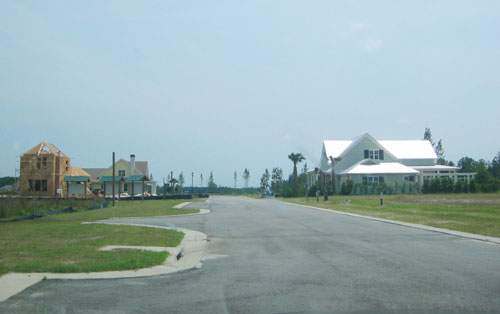 I guess the little golf community of Tradition needs a bit more time to get off the ground. Then again, can we really be surprised in this real estate market? It did look like it was shaping up to be a beautiful place (the four or five other in-progress homes were in the same beachy cottage style that we love). But we can't say our visit didn't alter our utopian daydream a little bit.
So, moral of the story: don't bother entering to win the 2009 Green Home (you'd just be hurting our chances anyway). Just kidding. Enter away. She's a beaut this year. Just check out their virtual online tours for plenty of green eye candy. Update: check out the comments for some interesting revelations!