Archive for March, 2009
Another white ceramic thing came to live at Casa Petersik. I know, I know. We're nothing if not consistent. But this time it's not shaped like an animal. Don't dismay, it's still quite fun. Why look, it's a little ceramic garden stool: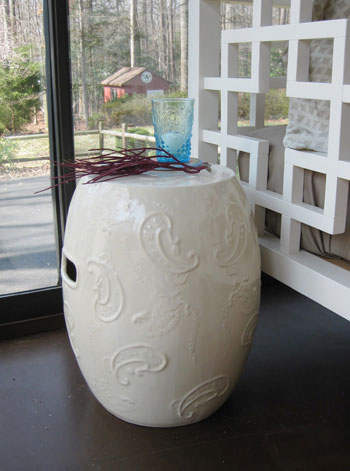 Some people might declare that these little stools are too trendy, or even (gasp) over. But we don't really subscribe to the notion that the world at large can decide when it's uncool to like something (perhaps it's why I wore bodysuits and stirrup pants far beyond the bounds of 5th grade, but I make no apologies and only blush profusely at the memory). Anyway, the truth is that we would have purchased this white ceramic guy ten years ago and we're sure we'd still enthusiastically snatch him up in ten years to come, so to us that spells classic with a capital C. Really, it can live in any room of the house and work effortlessly with all of our decor. In other words, it had us at hello.
Of course we've seen these babies everywhere from Domino to Pottery Barn, but the normal $100+ price tag is always a bit of a drag (here's one that's currently selling at PB for $160). The truth is, we rarely spend over $75 on a small side table (thanks mostly to Victoria Hagan's collection for Target). So we kept our eyes peeled for something a little less expensive- praying to the ceramic stool gods that a deal would come our way. Enter this lovely little lady, stage right. See the sweet paisley detailing?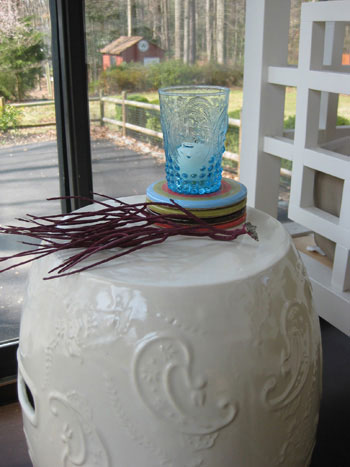 And get a load of that price tag: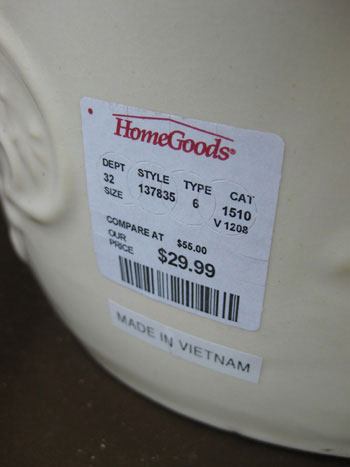 It says take me home immediately. Do not pass go. Do not collect $200. Do not stop to browse the exotic chocolate offerings near the checkout. Well, mission accomplished.
HomeGoods is a great place (check it out if you haven't been!) for thrifty little finds like this. And we pored over fifteen garden stools to find the best deal of the bunch. They actually had a slew of them in different colors and patterns, but this white paisley guy was the only one that was $29 (while most of the others were $39-$59). It was meant to be!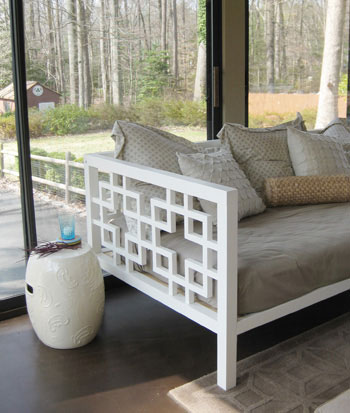 So that concludes our ceramic stool love-fest. What do you guys think? Are there any items out there that you guys love but just can't bring yourselves to shell out the big bucks for? Tell us what you're coveting and we'll send some good sale karma your way!
When Liz sent us her stunningly spectacular before and after photos we did a major double take. Here's her letter:
Ever since I discovered your website a few weeks ago, I have been totally hooked!! Truth be told, your website was partially the inspiration for the blog that I started. After seeing all of the amazing transformations on your Reader Redesigns, I couldn't wait to send you a few pics of my own redesign! My hubby and I bought a sad little ranch in Dallas, TX last September and spent a few months renovating every square inch, from the linoleum to the fuzzy gold wallpaper to the Astroturf on the patio – it all had to go! We are finally all moved in, and I'm extremely proud of the transformations. No longer a blast from the past, our rooms now perfectly fit our lifestyle and style in general. I'd love to hear what you think!! Keep up the great work! ~ Liz
Here's the living area looking into the kitchen before…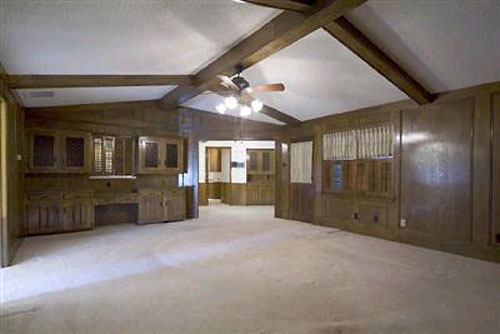 … and after: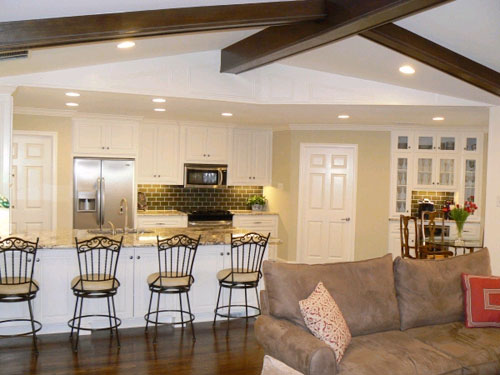 Here's the living area before: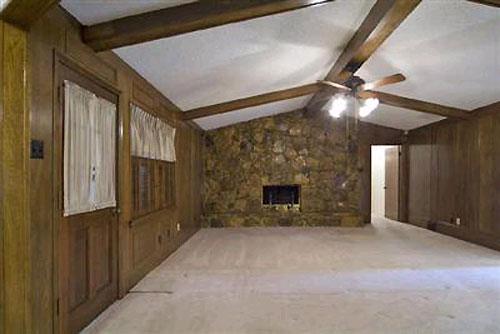 And the same space after the renovation: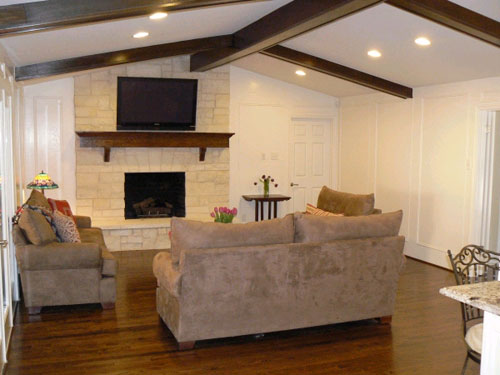 Gorgeous! Stunning! Fantastic! Thanks so much for the pictures Liz- and we wish you all the best in your beautiful "new" home.
This open floor plan is primed for a major makeover and we're all too happy to help. Here's Samantha's letter:
Is there a way to make the living room and office into ONE cohesive room to make the house appear larger? We would also like to make the living room work as a multifunction space, since there will be a dining area placed right outside the kitchen (how can we define each area?). I am open to getting rid of EVERYTHING and starting over (our Ikea sofa/chairs are beginning to feel a little too modern but we're open to new slipcovers if you think you can make them work and to replacing them if you can't). We'd also like new colors for all the walls (in the front door hallway, the living room, the office and even the fireplace that's currently painted white). We're putting in new wood-panel flooring in about 2 weeks and need to repaint before they're in. We like colors that will give the room a warm and cozy feel. We have a huge TV that doesn't seem to work with the room. We're not big fans of large armoires or entertainment ctrs, but if you think you can make it work… (or we'll just move it to the bedroom and save up for a flat screen). The styles that most appeal to me are modern meets traditional with LOTS of comfort and nothing that's too sleek or cold. Also, if you can suggest pieces with storage that can help hide toys and still look good, please do (although it's not a priority). Once we complete this space, we will definitely send you pictures and will probably begin enlisting your help for other rooms in the house in the near future! Thanks! -Samantha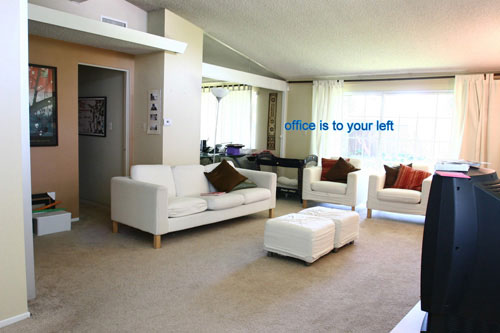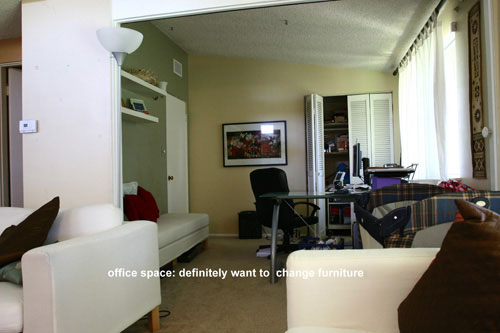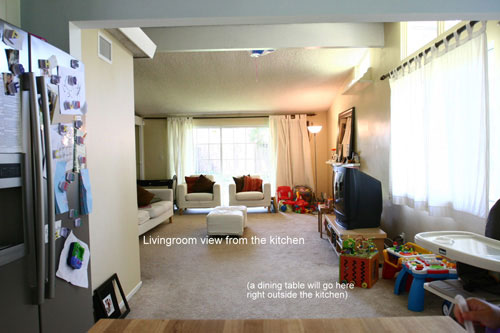 This open and airy space is bursting with potential. Here's the plan:
And now for the mood board breakdown.

Read the rest of this entry »