Archive for March, 2009
***This giveaway is no longer accepting entries***
This week's freebie's gonna be a colorful one. 3,700 colors to be exact, because it comes from the fine people at Behr paint. And we'll have not one, not two, but three winners who will each get a free gallon of Behr paint along with a complimentary Behr paint fan deck. How's that for kick starting a few of your spring makeover projects?
We all know that the hardest part of transforming a room with paint is painstakingly picking the perfect color. But Behr has gone and made it easier thanks to their new Paint Your Place tool. This free, online resource lets you virtually paint your very own rooms with a few clicks of the mouse (it's a great way to waste an entire afternoon). For instance, we uploaded a picture of our third bedroom to see if a bright color might work when it eventually (key word) becomes a nursery (in a looong time, no baby rumors please). What do you think of Thermal Spring? Sherry thinks it makes the small room look like a little jewel box.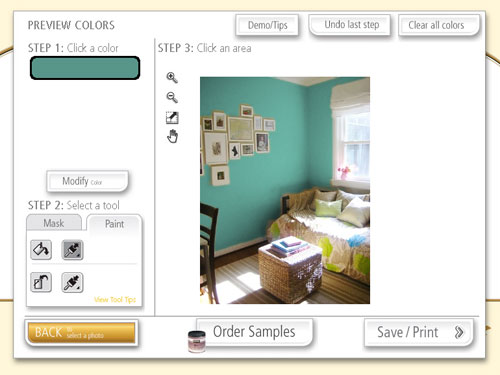 We were really impressed by how the program smoothly integrated the existing shadows and sun spots in the photo that we uploaded, giving the room a pretty realistic look (all without having to pick up a paint brush). Plus, with the color selector tool it was really easy to adjust the color, no matter if we decided it needed to be lighter, darker or even more green.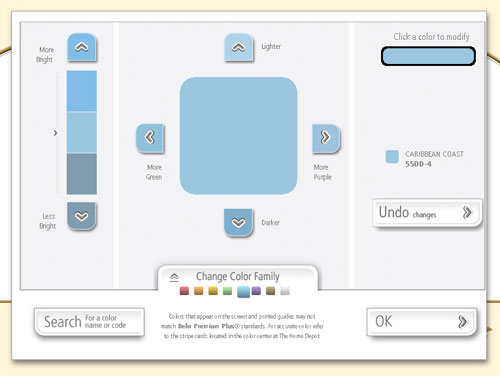 So if you wanna win one of these free gallons of paint, just leave a comment on this post with the words "BEHR WITH ME" by Wednesday, April 1st at 8pm EST. While you're at it, we'd love to know if there's a room in your home that you've been planning to repaint (and what color you might be considering). This contest is open to residents of the US and Canada and as usual only one entry per e-mail address is permitted. Good luck…
Full details about our freebies are available at our Giveaway FAQs. Screenshots courtesy of Behr.
&nbsp&nbsp&nbsp
Another white ceramic thing came to live at Casa Petersik. I know, I know. We're nothing if not consistent. But this time it's not shaped like an animal. Don't dismay, it's still quite fun. Why look, it's a little ceramic garden stool: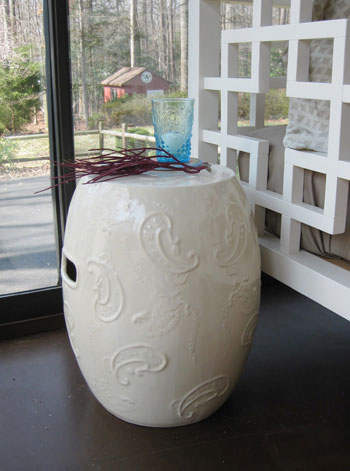 Some people might declare that these little stools are too trendy, or even (gasp) over. But we don't really subscribe to the notion that the world at large can decide when it's uncool to like something (perhaps it's why I wore bodysuits and stirrup pants far beyond the bounds of 5th grade, but I make no apologies and only blush profusely at the memory). Anyway, the truth is that we would have purchased this white ceramic guy ten years ago and we're sure we'd still enthusiastically snatch him up in ten years to come, so to us that spells classic with a capital C. Really, it can live in any room of the house and work effortlessly with all of our decor. In other words, it had us at hello.
Of course we've seen these babies everywhere from Domino to Pottery Barn, but the normal $100+ price tag is always a bit of a drag (here's one that's currently selling at PB for $160). The truth is, we rarely spend over $75 on a small side table (thanks mostly to Victoria Hagan's collection for Target). So we kept our eyes peeled for something a little less expensive- praying to the ceramic stool gods that a deal would come our way. Enter this lovely little lady, stage right. See the sweet paisley detailing?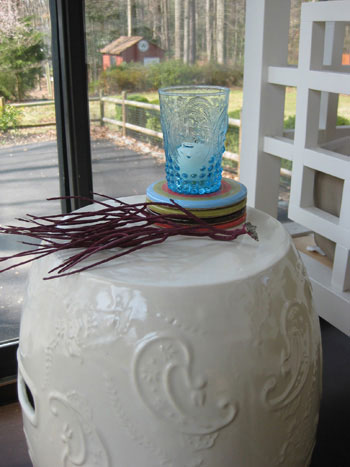 And get a load of that price tag: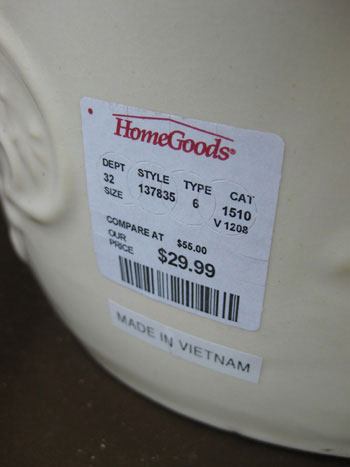 It says take me home immediately. Do not pass go. Do not collect $200. Do not stop to browse the exotic chocolate offerings near the checkout. Well, mission accomplished.
HomeGoods is a great place (check it out if you haven't been!) for thrifty little finds like this. And we pored over fifteen garden stools to find the best deal of the bunch. They actually had a slew of them in different colors and patterns, but this white paisley guy was the only one that was $29 (while most of the others were $39-$59). It was meant to be!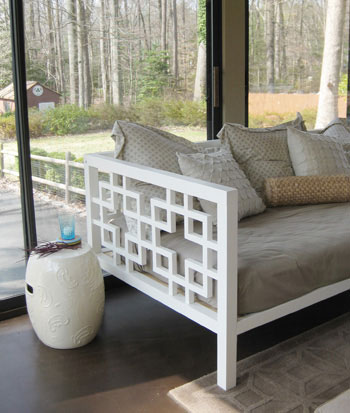 So that concludes our ceramic stool love-fest. What do you guys think? Are there any items out there that you guys love but just can't bring yourselves to shell out the big bucks for? Tell us what you're coveting and we'll send some good sale karma your way!
&nbsp&nbsp&nbsp