This redesign comes from two very special readers. Tom and Kathy bought their Northern Virginian home 30 years ago as a new construction. Over those three decades, four children grew up and eventually left the nest, just recently leaving the couple with lots of spare bedrooms and decisions about what to do once Kathy joins Tom in retirement. One potential plan includes selling their home and moving to Richmond to be closer to their favorite/only son – me! That's right, this is my parent's bathroom redesign.
In preparation for selling the house I grew up in, my mom and dad realized they'd need to update their bathroom. And because it's hard for bathrooms of the '70s to compare not only to cheap bathroom suites but of course to the monster new bathroom of today in terms of square footage, they at least wanted it to boast modern features like fresh new ceramic tiles and a granite topped sink. So my dad seized the opportunity to wrack up a slew of new DIY skills, my mom got to flex her decorating muscles, and Sherry and I managed to snag a few before & after pictures to show off their handiwork.
Like this before shot of the sink side of the room: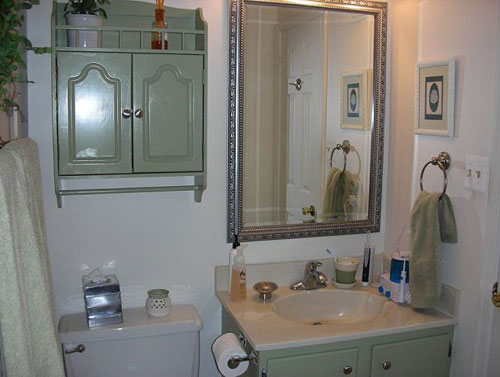 One of the biggest overhauls was re-tiling the entire floor and shower surround so here's a picture of the old hex-tile floor before (sorry, we don't have a picture of the original fiberglass shower surround as my dad enthusiastically demo-ed it out before we could take one).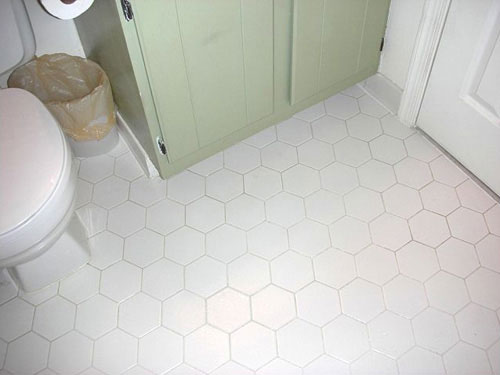 And here's their bathroom after a whole lot of renovating, retiling and redecorating: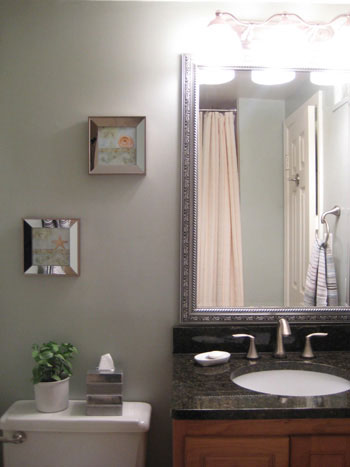 One of the biggest updates was replacing that basic, fiberglass builder-grade shower stall with floor-to-ceiling ceramic tile. They chose a crowd-pleasing neutral tile accented by a stone border for a bit of added wow-factor. The little river rock pattern of the border is very spa-like, indeed. My dad cut, laid and grouted all of the tile by himself (his first DIY tile job, mind you) and learned valuable lessons like "measure twice, cut once" along the way. Similarly, he highly advises planning out your tile pattern so you don't end up with small, impossible-to-cut slivers when you get to the edge of a row. By finding your center line and laying out your tiles before cutting and grouting, you'll end up with something balanced and intentional, instead of something that looks lopsided and unplanned. Good tip, dad!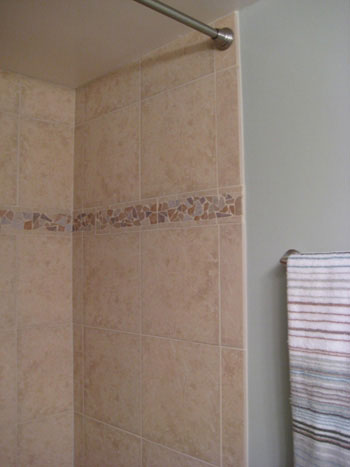 Sherry helped my mom find an extra long shower curtain so they could hang the rod as close to the ceiling as possible to complement the fully tiled wall and give the bathroom the illusion of added height.
My parents also chose a ceramic floor tile in a complimentary earth-tone that my dad laid on a diagonal to help it pop against the horizontally placed wall tiles for extra interest and an open and expansive feeling (diagonal tiles are said to make a space feel bigger).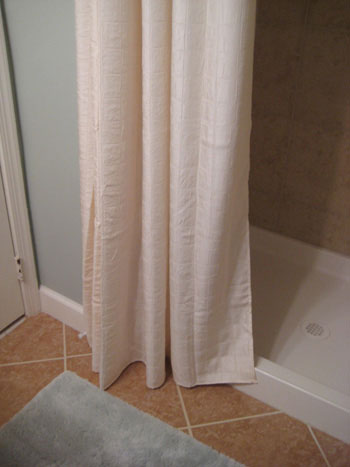 To balance the warm tones in the tile and new maple vanity, my mom (with the help of Sherry and her trusty paint swatches) picked out a cooler gray-green tone for the walls (Comfort Gray by Duron). And while the girls were picking out paint and accessories (note my mom's Target towel score that managed to capture just about every color in the room's palette), the boys were in charge of re-installing the toilet. It was my dad's first toilet replacement, so it was kinda fun to lend my toilet-installation expertise to my old man.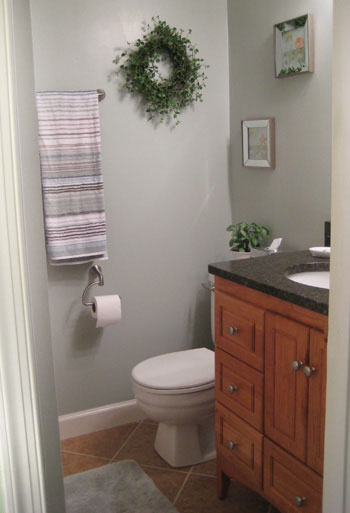 To help the small bathroom feel even larger, my parents also chose a vanity that sits up off the ground which allows the eye to see more floor space (in turn making the room feel bigger).
And check out how the cool gray-green wall color even complements the new brushed nickel fixtures along with the rich new granite counters. It certainly doesn't feel like a bathroom from 1979 anymore…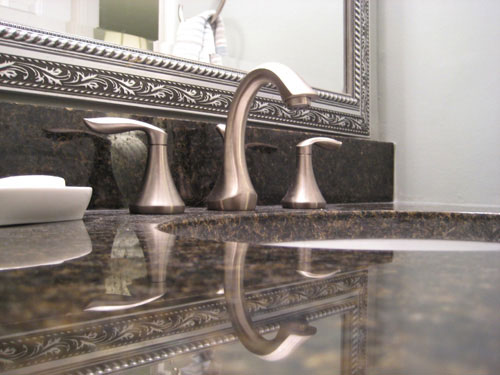 So we're sending a big virtual pat on the back to my parents and their new DIYed bathroom. It's certainly, to borrow HGTV's language, designed to sell! So let's hope that the real estate market recovers soon so they can pack their bags for sunny and scenic Richmond sooner rather than later. And assuming my dad brings his new tile saw with him, just think of possibilities for our bathrooms…
I feel like I should end this post with something like "paid for by the committee to get John's parents to move to Richmond." Love you mom & dad!