This amazing niche makeover sent by Mike and McGee is proof that looking carefully at every nook and cranny in your house can result in added function and eye candy. Here's their letter:
We wanted to share a recent renovation we did in our Austin, Texas home. We ripped out an ugly and awkwardly shaped art niche and recessed light fixture and replaced it with a custom built-in bookcase and new wall sconce. Total cost: about $50. The only downside to this project is that we realized once it was finished that we had more books than shelves. I had originally planned to artfully arrange some books on the shelves, adding a few interesting items here and there. However, once we started loading books onto the shelves, we realized that we needed all of that space just for books. With the addition of some Ikea expedit bookcases in our breakfast room (recently re-purposed as my office – I work from home), we finally have all the books off the floor. Yay! – Mike & McGee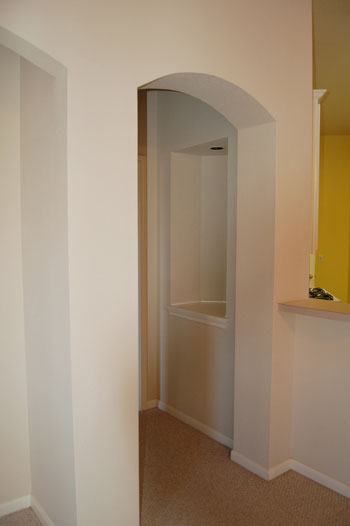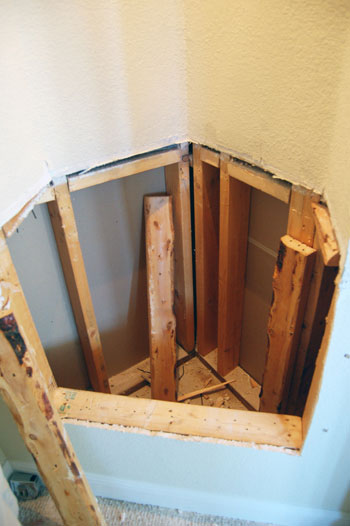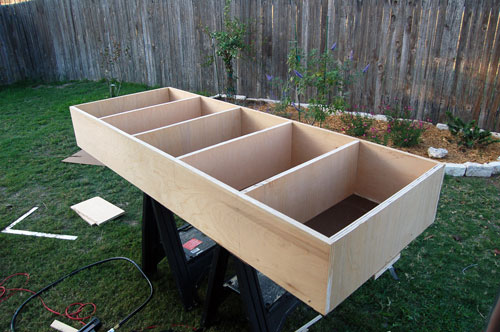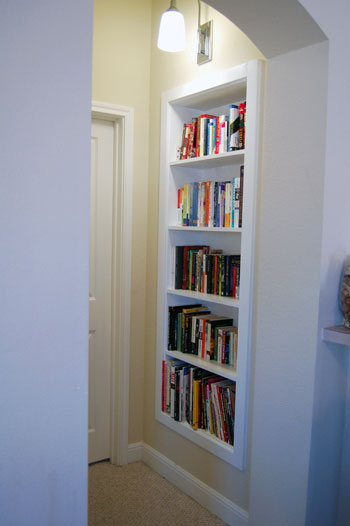 Isn't that a great transformation? I love the crisp white trim and the clean-lined sconce… and the fact that they did it with their own four hands! You can check out their blog for more details and information. Thanks so much for sending along your amazing transformation Mike & McGee! Sherry is seriously poking around the house for a place to add a bookcase at this very moment.