Leigh and her man did some pretty amazing work as they rehabbed their Baltimore rowhouse from the ground up. Here's her letter:
I'm a frequent reader of your blog, and I wanted to share part of our before/after transformation in our Baltimore rowhouse. Over a year ago we started renovations on our house after paying a contractor way too much to redo our kitchen. After that we tackled (almost) everything else ourselves. We have yet to take pictures of the whole house, but here's the main living area's transformation. Everything from the recessed lighting to the wood floors, framing, drywall, and even the exposing of the brick we did ourselves. I can definitely say I don't want to have to live through a renovation like that ever again, but I am immensely proud of the hard work my boyfriend and I did. We also learned a lot of valuable skills – I, for one, never thought I would be able to install wood floors! – Leigh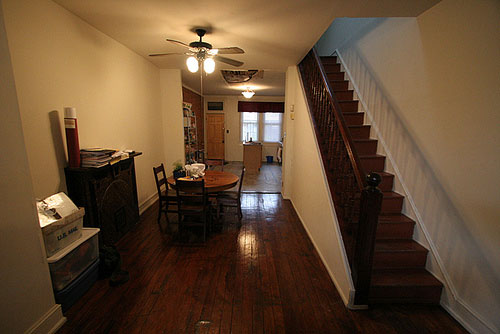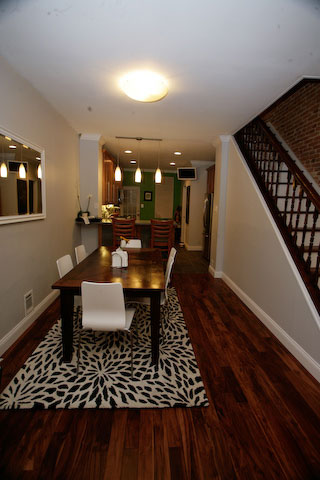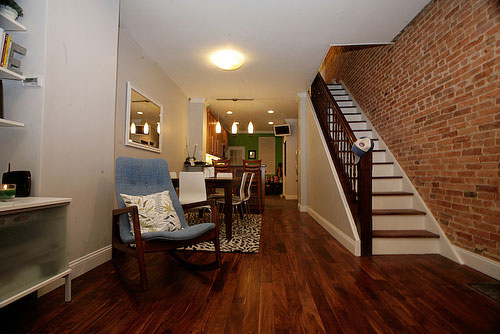 How amazing is that? And you gotta love that Leigh and her boyfriend took matters into their own hands and learned a slew of new home improvement skills (love that exposed brick along the stairs). Thanks so much for the pictures Leigh! Click here to see more of her fabulous rowhouse makeover. And if anyone else out there has some amazing before and after photos- share the love!