With a lot of renovating and redecorating complete inside our brick rancher, curb appeal is the name of the game this spring. We're all about adding charm, color, and classic style to take our humble home's exterior from blah to booyah. And we started with the front porch where we were set one goal: spend a little, get a lot. Here's a glorious after shot, but let's rewind and explain what we did to get there…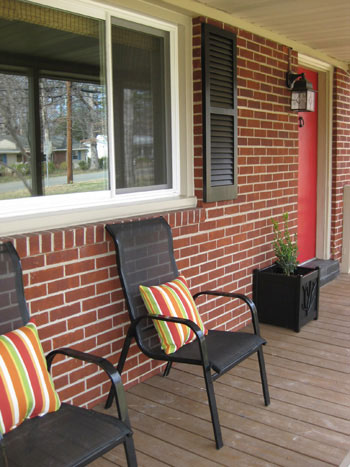 We had our hearts set on two big square black planters for either side of the porch after finding a few gorgeous options like this one from Smith & Hawken– but two large planters for $300? Not really in our budget! So we went to Home Depot and came home with these large 18×18″ planters for just $30 each- a super good deal for their generous size and sturdy construction (it's hard to find anything that's not plastic for that price- score!):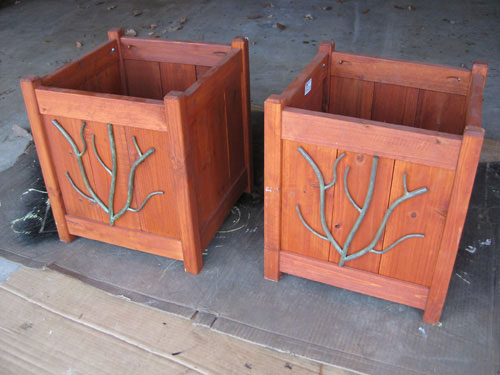 And although the wood tone didn't really match our desired color scheme, it was nothing some exterior semi-gloss paint couldn't solve. Even the random metal branch pattern looks chic in black on black- almost like an abstract sea coral. And you know we love anything natural…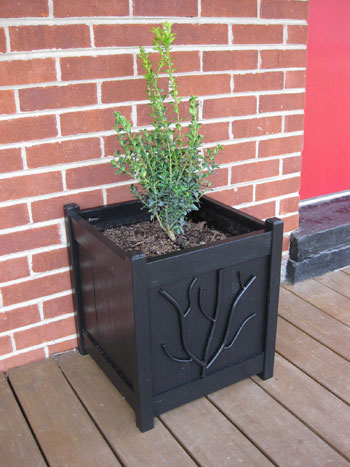 We also jumped at the opportunity to use some of our free homemade compost (thanks to our super simple backyard compost bin) along with some potting soil for a yummy little mix for our $6 boxwoods- who will slowly grow into their new homes on either side of the porch. We're also planning to add some cheerful annuals around them to fill things out until the boxwoods bulk up a bit.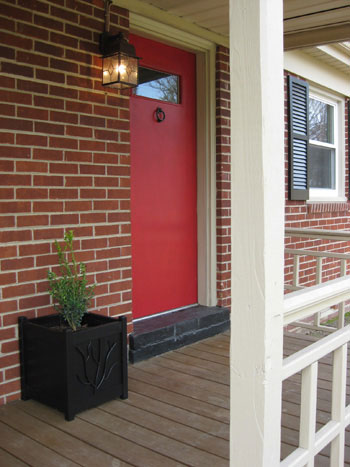 Oh and we took a tip from our horticulturist friend and broke a few chipped old terra cotta pots with a hammer and tossed them into the bottom of each planter before adding soil (which helps to facilitate drainage without allowing dirt to slowly slip out of the drainage holes on the bottom of the planter):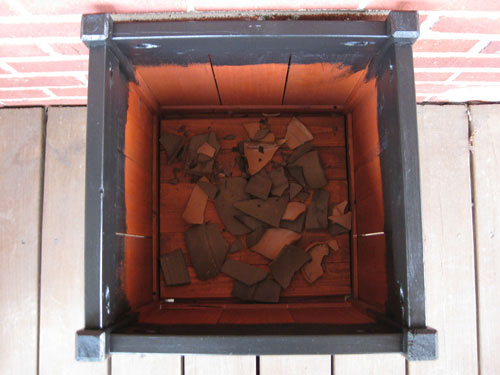 We also picked up a few inexpensive outdoor pillows while at Home Depot. For just $12 each we came home with two colorful accents that tie in with our punchy red front door: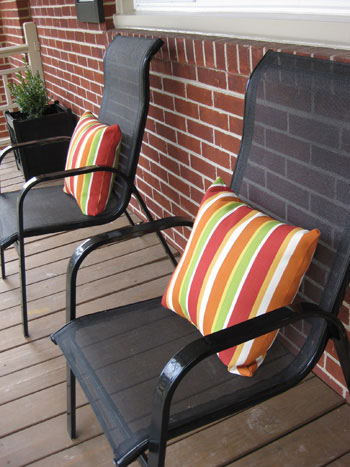 We paired the pillows with our old inexpensive Target porch chairs (which used to be yellow before we spray painted them last summer). Gotta love two old chairs spruced up with some classic paint and some happy stripes. Note: You might notice the wooden chair on the porch in our blog header- but we actually borrowed that guy from the sunroom (and a pillow from the bedroom) so we needed something that could really weather the elements full-time on the porch… which is where the spray painted outdoor chairs and pillows came in.
Of course we'd still love a long outdoor runner and a side table to stick between our chairs to cozy up the little front porch seating area. But until then we're happy to save our pennies and wait for our boxwoods to grow. May you live long and prosper little guys.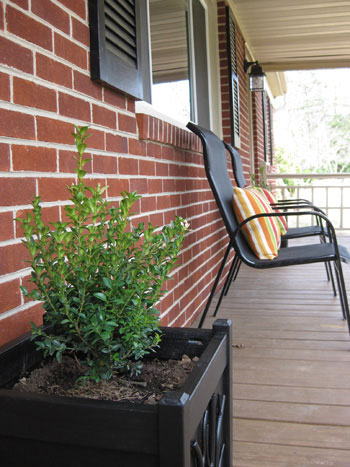 What about you? Any curb appeal projects on the agenda for spring? Tell us all about it.