Archive for October, 2008
Ok, prepare to be wowed. Because when Lindsay sent her kitchen makeover pics our way we almost couldn't believe our eyes. Here's her letter:
Okay, okay. I've read your pleas to send in more before and afters! Admittedly, I am nervous to send anything your way because I feel it just won't measure up to the stellar work you two have done. However, I am super proud of our low-budget kitchen makeover and wanted to share. This is our first house and we've never done anything remotely "handy" before. We learned a lot along the way (never knew what 1/4-round was before!), and if we had to do it again we would make a few changes. But overall, we are pleased. Just like your first kitchen re-do, we hope this one holds us over until we can make big changes. :)
We ripped out the linoleum and installed new 20″ tiles throughout the entire 1st floor, replaced the refrigerator and the microwave (and plan to replace the stove soon), primed and painted the cabinets a glossy white color, and replaced all the cabinet hardware with a much more updated pull. Overall, we are really satisfied with our budget makeover. We spent about $50 on primer and paint, $60 on hardware, $50 on hinges, $14 for laminate flooring that we used as a wipeable (and durable) shelf liner, and about two weekends worth of labor. Anyway, hope you enjoy our makeover in our first home. -Lindsay
Here's the builder-grade before: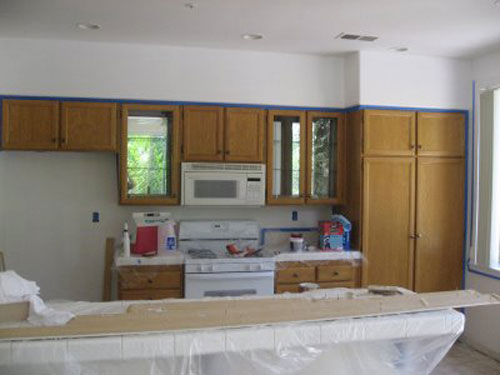 And the stunning and fresh after (thanks to some paint, new hardware, new appliances, and a few adorable accessories- love those green glasses and the rotating spice rack on the counter):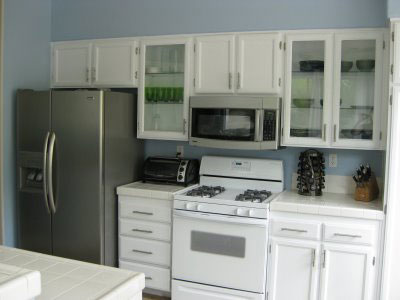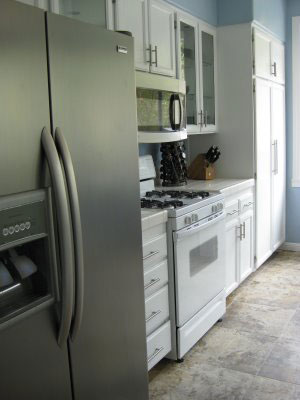 Thanks for sharing your mouthwatering kitchen makeover with us, Kelly! And if anyone out there is holding back their fabulous makeover pictures, let this be a gentle reminder that we have a serious before and after dependence. So please oh please oh please send 'em our way!
Oh and stick around for a step by step tutorial about painting your cabinets in a snap. If you can paint a wall you can paint your cabinets so stay tuned…
When we heard that Robin was in desperate need of some exterior color advice, we whipped out our paint chips and got right to work. Here's her letter:
I'm in need of some color guidance! I will be closing next week on a new-to-me home. The new hardi-board siding on both sides and the back needs to be painted and I'd decided to paint it a light gray (and paint the accents near the garage a darker gray) but now that the time has come, I can't seem to make a decision! The roof is a light blue/gray color, and the painter will be painting the soffit and fascia along with the walls of the house. I really like the idea of painting the front door a different color and was thinking of something in a reddish, purple-gray, or burgundy. Then there's my indecision about whether I should paint the garage door. I found two color combos that I like, but I am not sure how dark or light they will look on a whole house. The house is only about 1100 square feet, so I'm afraid of making it look smaller. This led me to think that maybe I should stick with white as the main color, which would mean I wouldn't necessarily have to repaint the garage door or the window frame, and then I could have the front door color pretty much any color I want. As you can see, I really could use your help!! Thanks a bunch! – Robin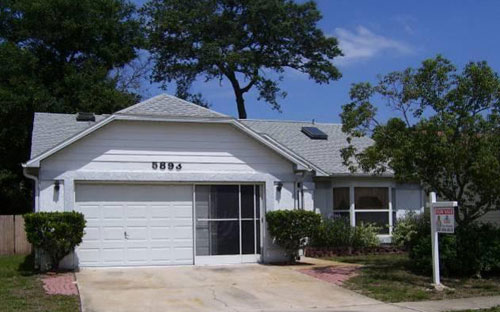 We love Robin's charming new home already, and a bit of color is just what the doctor ordered to add some curb appeal and look-at-me style to spare. So without further ado, three paint palettes that we painstakingly selected to turn Robin's new home into home sweet home: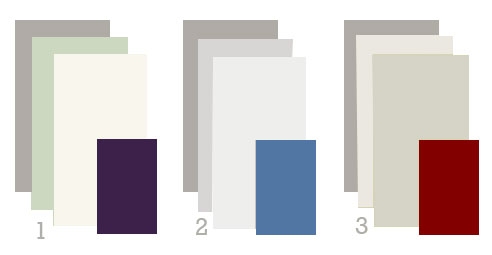 Here's the color scheme breakdown.

Read the rest of this entry »
Actually, we got two of them but they're for the birds. Literally. We picked up two cheap ol' $3 birdhouses at Michael's after learning that now is the time to put them out to hopefully catch the eye of some feathered friends (who will someday repay you by catching their fair share of mosquitoes in the spring). But they weren't much to look at, and didn't seem built to weather the elements, so of course we whipped out our tools for a little home makeover. Here's they are before the renovation, with their porous and rickety balsa wood frames and their woven (and therefore not at all rain proof) roofs: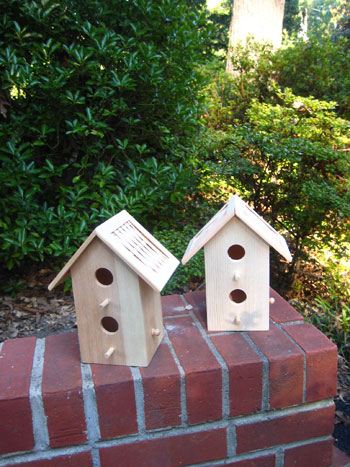 Zero dollars later (thanks to some leftover all-weather deck paint from the sunroom floor project and a few extra roofing tiles that we had lying around) we whipped up something a bit sturdier and a lot more rain-friendly. We just reinforced the rickety wood frames and attached the roofing tiles (cut to size) with good ol' Liquid Nails, and drilled a small hole in the back of each house to allow them to hang on a tiny nail hammered directly into the tree. Voila: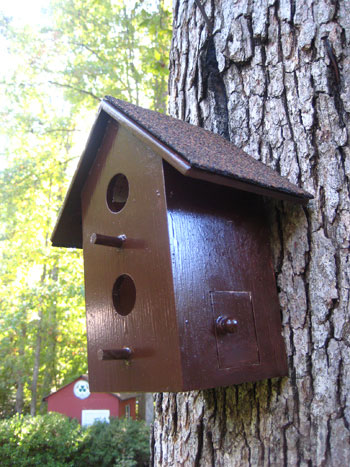 Something sturdy and sweet to come home to. Times two.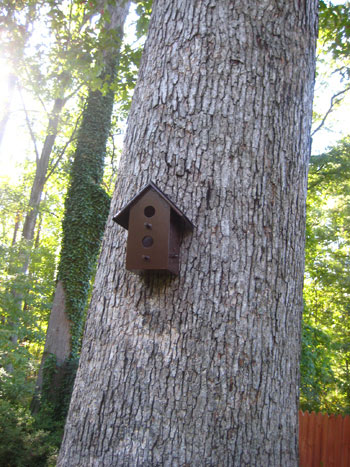 So what do you think about our two new homes? Any tips to get some fabulous mosquito eating birdies to come to roost? We can't wait to see who comes to feather our little nests…