When we saw Liv's amazing bathroom transformation, we were super psyched to share her hubby's handiwork. Here's her letter:
I love your site. Love love love. My hubs and I are in the process of remodeling our Pink House (PH) in Utah and it's been a slow and arduous project. My hubs has single-handedly learned so much about everything home-remodel-related that I had to brag and show off his handiwork to you guys. He read a fantastic plumbing book and then redid EVERY SINGLE PIPE in the entire house. The original ones (and I do mean original– 1924) were rusted out, leaky, clogged… blah. So he read about PEX plumbing and degrees of drainage and things I shudder to consider and slaved away in a tiny crawlspace to create a beautiful bathroom for me. It's not finished yet, but it is practically fully-functional at this stage. There's just a small leak in the sinks so they're not running yet. But it's still amazing!! I can't believe he did all this and did it so well. While I still get frustrated at times living in a construction site, I'm so grateful for all that's happening in my little PH.
Thanks for showing your projects and the projects of others. It reminds me to take it slow and that the end of all my remodeling will someday be upon me (I hope!!). Regardless of how long my house takes, I'm always happy to see the progress of others via your site. I need all the inspiration and motivation I can get!! -Liv
Here is the doozie of a before: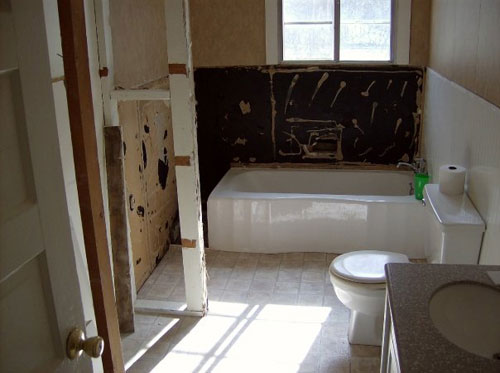 And the fun and fabulous after: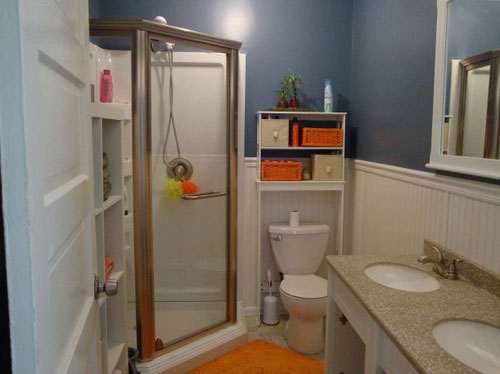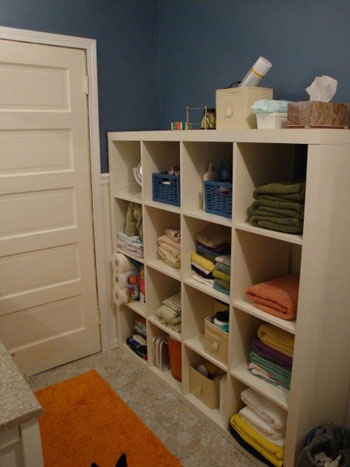 We bow down to Liv's hubby for his amazing work. And Liv, we're pretty sure you were involved with the cute decor so we bow down to you as well. Thanks so much for sharing. And if any of you readers have some fresh and fabulous before and afters of your own- don't forget to send 'em our way. We eat that stuff for breakfast.