When Carol sent us an email about her budget friendly bathroom project, we were excited to share the simple ways that she went about updating her yellow fixtured guest bath. Here's her letter:
Love your website and your design boards. Your links to quality value furnishings and accessories at places like Target, Walmart and (my favorite) JC Penney are awesome! Here's what I did to my guest bathroom that I lived with for TOO long. The before pics show the fishing theme with the plaid yellow and green curtain we used to try and pull in the aged yellow floor tile and yellow sinks. It was fairly inexpensive to have a handyman switch out the old yellow sinks for classic white ones and add new nickel faucets from Lowe's. And some peel n stick tiles from Lowe's made a world of difference right over the existing yellow tile. BM Philadelphia Cream added some warmth to the walls and a simple bamboo shade added some texture. Fluffy cream towels and rugs and a white waffle weave curtain from Target added to the spa like neutral look I was going for. I removed a sliding shower enclosure from the tub and a new curved shower curtain rod from Lowe's gives the shower extra roominess (and the white curtain hides the yellow tub which still needs to be reglazed). We are so glad we made this update while keeping within our limited budget. Down the road, we'd love to loose the full length mirror, but are saving our pennies for now. – Carol

Here's the bathroom before, complete with dingy yellow floor tile, yellow sinks, and dark accessories: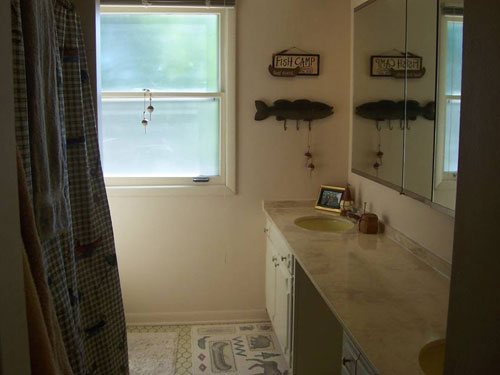 And the crisp and neutral after with new vinyl floor tiles, white sinks, and fresh accessories: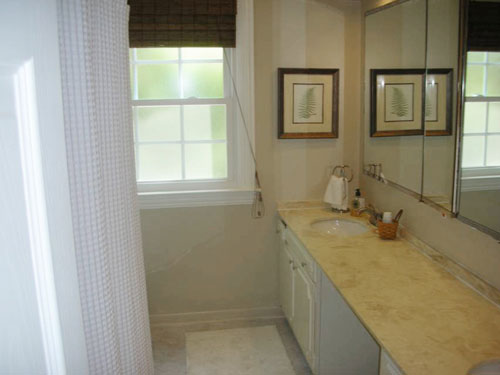 Thanks for sharing Carol! Everything from the curved shower bar to the new floor tile and the bright white sinks are a super huge improvement, and we love that you were able to make things over on such a modest budget. Anyone else out there holding back? We welcome any and all before and afters so be sure to send 'em our way so we can share your handiwork with the world!