Nothing says come on up to our door and get some candy like two silly little pretend pumpkins. Err, not so much. See last year we were in a bit of a pickle. Mere hours before Halloween we realized our house didn't look at all ready for the slew of adorable little trick or treaters passing through, and all the real pumpkins left in the bins at the grocery store were busted and rotten. So we went with Plan B and hit up Michael's in hopes of scoring some spooky holiday decor. We walked away with, you guessed it, two fake pumpkins (for something like two bucks on sale thanks to our last-minute approach to Halloween decor) and popped them on the porch just in time to dish out some sweets.
But this year instead of tossing our corny faux pumpkins (in the name of recycling!) I wondered if a free mini-makeover could take them from geek to chic. Their bright orange tone (although convincing from the curb) clashed with our brick exterior and red front door…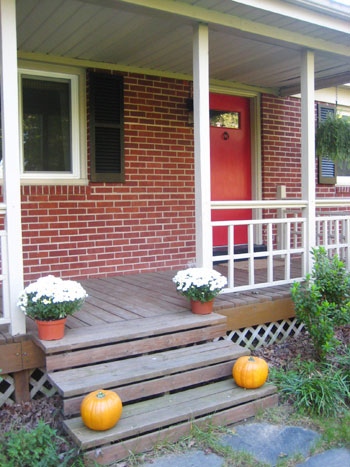 …and white pumpkins are all the rage these days (see 'em here and here). So I just used some leftover exterior paint to turn 'em white (well, cream- white would be too blinding and unconvincing) for a more subtle look that's still festive enough to say come get yer candy: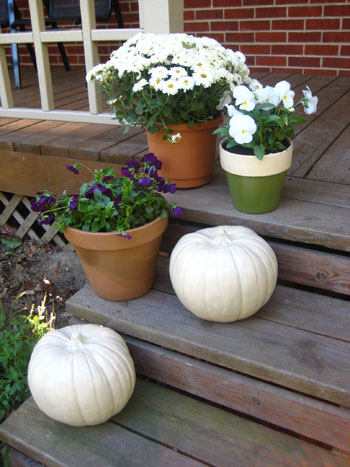 Thanks to some super discounted flowers paired with some pretty little ceramic pots in different colors & sizes, we successfully completed Project Pumpkin on the cheap (for less than $10) and in a snap (the pumpkins only needed one coat of paint so I was finished in a flash).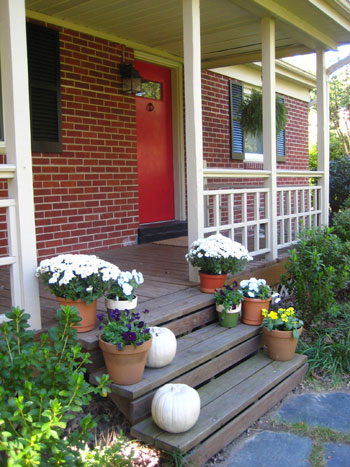 And while we still might snag a few real pumpkins for carving and cooking (we love love love pumpkin seeds!) I think we'll stick with the white varieties for a cute and clean look that works a lot better with our big red door. What say you guys? Do you have any budget Halloween ideas to share? Are there any items that you like to purchase right before the holidays to score a super deal? Dish the dish.