For those who requested more info about our recent family vacation, here it goes (and you can check out all of our past road trip and vacation posts here). We decided to take our week-long summer vacation in Destin, Florida this year. Since my family wasn't doing a beach week like usual, and we were already going to be in Atlanta for the Haven conference, it felt like a no brainer to accept the Bowers' invite to join them for week on the Florida panhandle.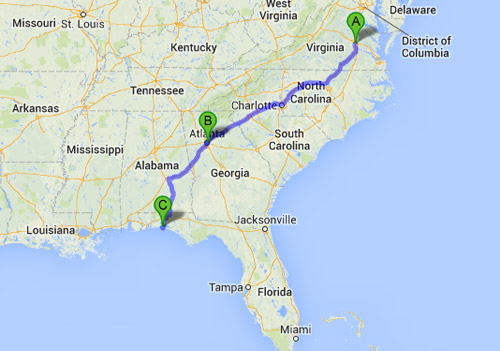 Katie Bower's husband Jeremy did the hard work of finding a house to rent for the week (finger snaps for him, everybody). Since their extended family rents frequently in the area and finding vacancies can sometimes be tough, they like to keep it as their little family secret – but for anyone looking for a place, we were near Miramar Beach and you can use sites like VRBO.com to hunt something down and read reviews. Our place wasn't beach-front but we could easily walk to the beach, which was more cost effective than splurging for a beach-front one – plus it even had a little pool. Suffice it to say it was exactly what our rag tag group of four adults, three children, and a chihuahua needed. And how fun are these bunk beds?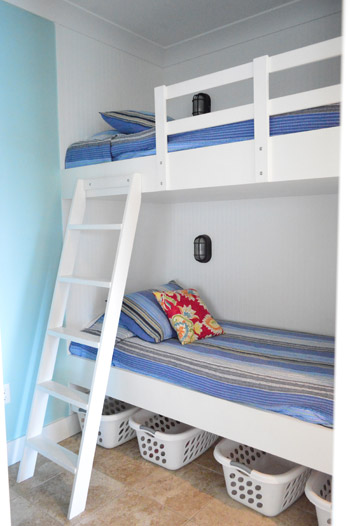 If anything, we were most impressed with the outside. There were these great arbors with vines all around them and a nice little courtyard patio to insulate us from the road and the bike path on the other side.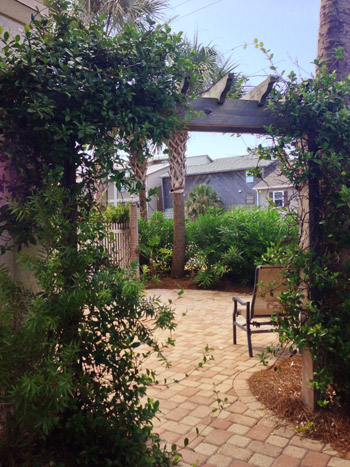 Right beyond the courtyard was a little pool that ended up being our second home, only to the ocean. It wasn't big enough for hosting swim meets or anything, but it was plenty of room for a few kids, a few adults, and the occasional doll.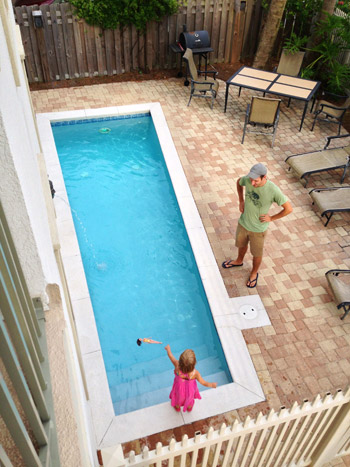 In fact, it doubled as a synchronized swimming practice on one particularly odd afternoon (I think the sun was starting to get to us by this point). #claralovedit
But mostly the pool served as a nice place for Clara to practice her kicks and slowly get braver about putting her head under the water. Or at least under the daddy bridge.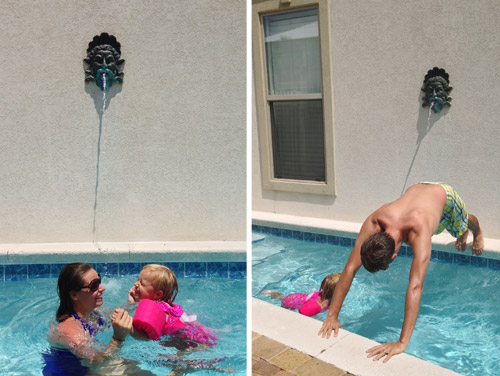 But enough about the pool. Let's talk about the real star of this vacation. THE BEACH.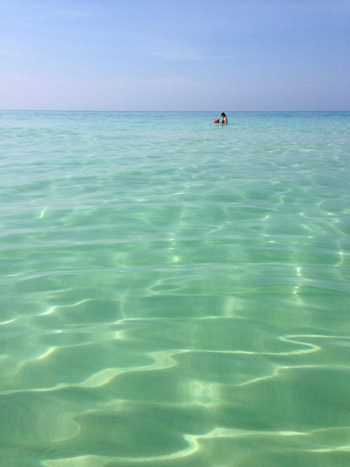 We've vacationed on Florida's Gulf Coast before, but I don't remember sand this white or water this clear. And forget clear, the best part about the water was how warm and calm it was. Something I especially appreciate because it meant Clara embraced the ocean more than she ever has before.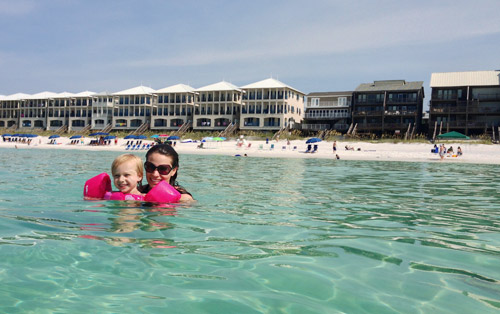 The water was so calm after the first few days that we took it as a sign that we should rent stand-up paddleboards (from a place on the beach called La Dolce Vida). We got two (one for each family) and once we got the hang of it ourselves, we took the kids for a bit of a spin too.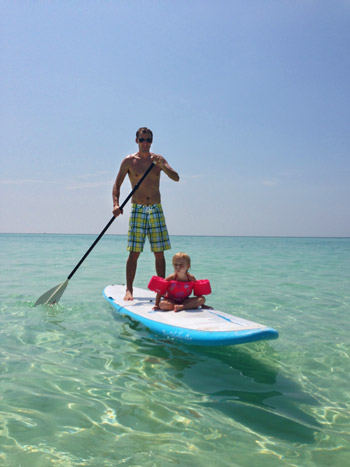 The paddleboards were pretty easy to use (thanks calm water!) but I think everyone but Jeremy managed to fall off at some point. I missed catching Katie's spill on camera by a split second (that's her in the background of this shot). She's probably happy about that.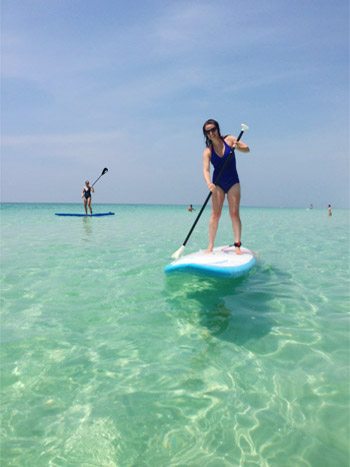 We did realize it was easier to ride the kids around when we adults were either sitting or kneeling. Our balance was much better that way, plus the kids seemed to feel better being closer to us. Heck, Katie even took both of them out at one point.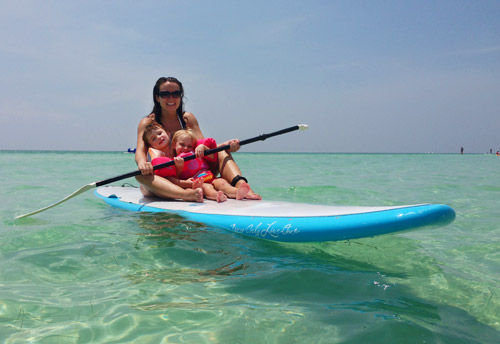 As fun as the paddleboards were, most of our beach time was spent just playing in the water or building sand castles. But usually around lunch time we'd get the kids fed and then try to squeeze in another activity before their nap times, like going for a spin on the bikes that were provided by our rental house (the trailer carrying Will and Weston is theirs, though).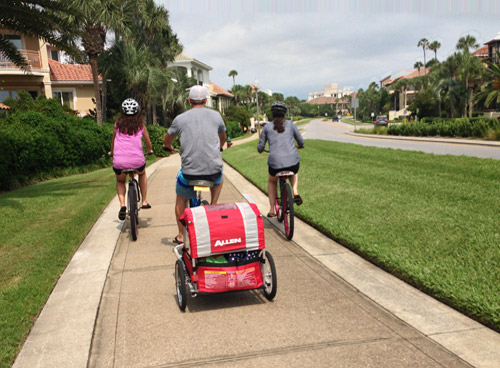 Clara rode with me on her iBert, which I always love. Our game of choice this time around was guessing what color the collars of dogs that we spotted up ahead on the path would be.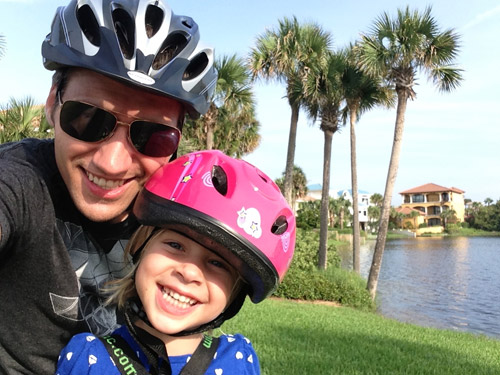 But perhaps the cutest biking couple of the trip goes to these lovebirds. Get a room, ladies.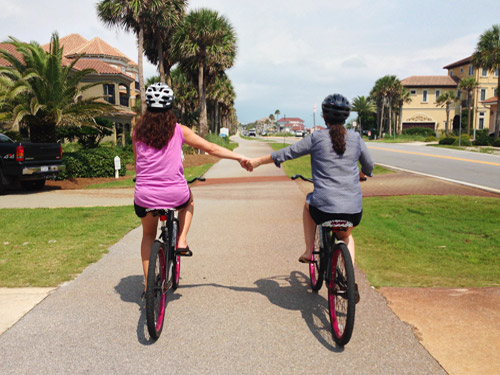 Speaking of a cute pair, Clara and Will had a great time together. I'm not gonna lie and say it was all pinwheels and skipping (they're both three, and sharing is not necessarily a mastered skill yet) but it certainly was fun to have another kid on the trip to play with. Though I should say kids, since Clara was pretty enamored with Weston too. And Sherry and I appreciated having other parents there to back us up or at least help us smile through a tantrum.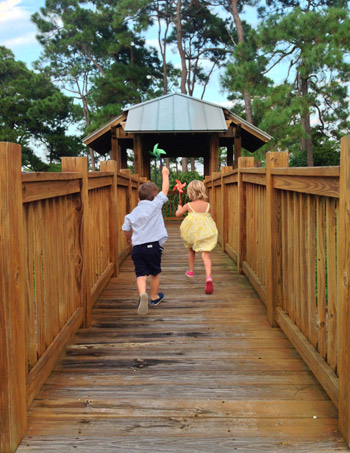 We did brave eating out a few times (it is vacation after all) and between the recommendations from you guys and the Bowers, there were great eats to be had. My favorite meal was probably at The Red Bar (not shown because the picture came out, well, too red) but Sherry declared her extra spicy shrimp at Stinky's Fish Camp (bottom left) her favorite.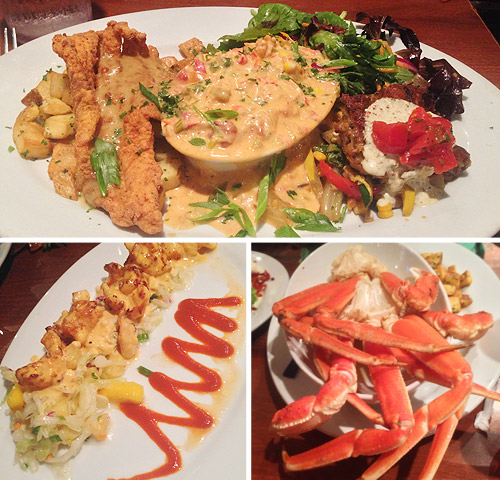 I also really liked the coconut shrimp lunch I got at Pompano Joe's one day during a bike ride. It was right on the beach and it kinda made me wish more buildings could get away with a color scheme like this.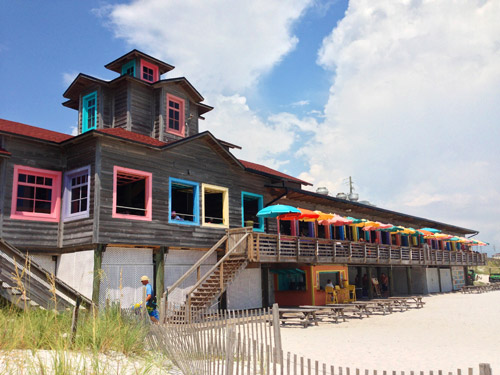 A few of you reported having bad weather in Destin the week before we arrived, which made us nervous. But aside from some quick evening thunderstorms we only got one dreary afternoon, which gave us a good excuse to try out some non beach fun – like outlet shopping (for the girls) and go-kart rides (for the dads and big kids). How we didn't end up with the #7 car I'll never know.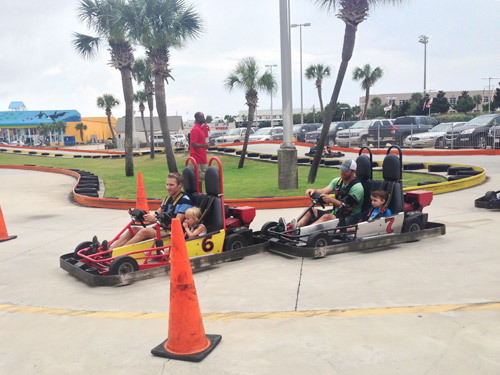 Like any vacation, the last day came all too quickly. We realized there were all sorts of things we hadn't gotten to do – like going sea kayaking, hit up thrift shops, and taking some family pictures on the beach. But by some miracle we managed to make all of that happen in the final day. Sherry shared their thrifting adventures yesterday, but sadly there aren't any photos of Jeremy and I braving the (suddenly quite choppy) seas in our kayaks. But I did get some of Katie doing her pro photographer thing though.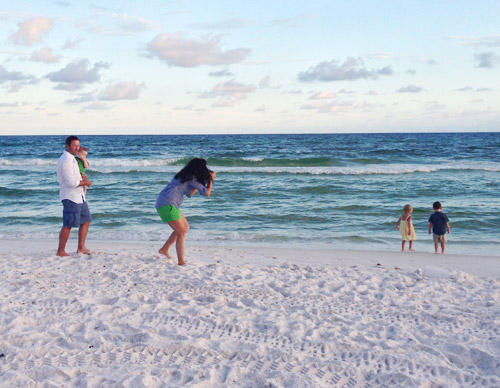 It was just about the perfect evening to end our trip.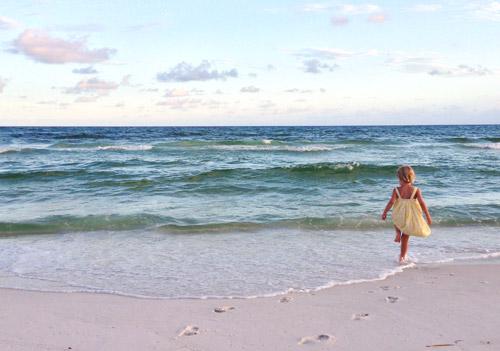 It was almost cruel how much it made us not want to leave.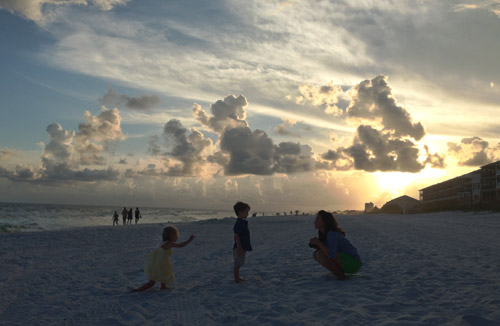 But alas, all good things come to an end. So the next morning we packed up and headed back to Atlanta for a quick overnight at the Bowers before completing the other half of the 14 hour trip the next day. Clara, thank goodness, is actually quite the road trip warrior – thanks mostly to the fact that we've done long drives with her since she was four weeks old (our current tips for long rides with a three year old are: lots of books, lots of toys, lots of snacks, and a few iPad games when you get desperate). Somewhere around hour 11 we all started to get a little stir crazy, but we made it home.
So a big thanks again to the Bowers for the invitation and for making it such a fun and memorable trip. After 12 days away from home (thanks to the conference beforehand) we were pretty excited to sleep in our own beds again… and to hit the ground running when it came to projects (dude, we're demoing something today!).
**********************************
As a little Friday bonus, here are four fun projects, chats, or questions going on over on the Forums. We also announced this week's giveaway winners, so you can click here (and scroll down to the Rafflecopter box) to see if it's you.
| | | | | | | |
| --- | --- | --- | --- | --- | --- | --- |
| | | | | | | |
| by Hello | | by michelelouise | | by DesertDomicile | | by lovekismet |