We have so many good things to say about our family vacation to Costa Rica, and we were excited to hear from so many of you who were interested in a giant blog rundown about it. Do you know me at all? Of course I'm happy to write – at length, sparing no detail. Let's get into it. But first I wanted to mention that no part of this trip was sponsored and we paid for all of the flights, lodging, and activities ourselves (thanks in part to a lot of saved credit card points that covered all but $219 of our flights and lodging!).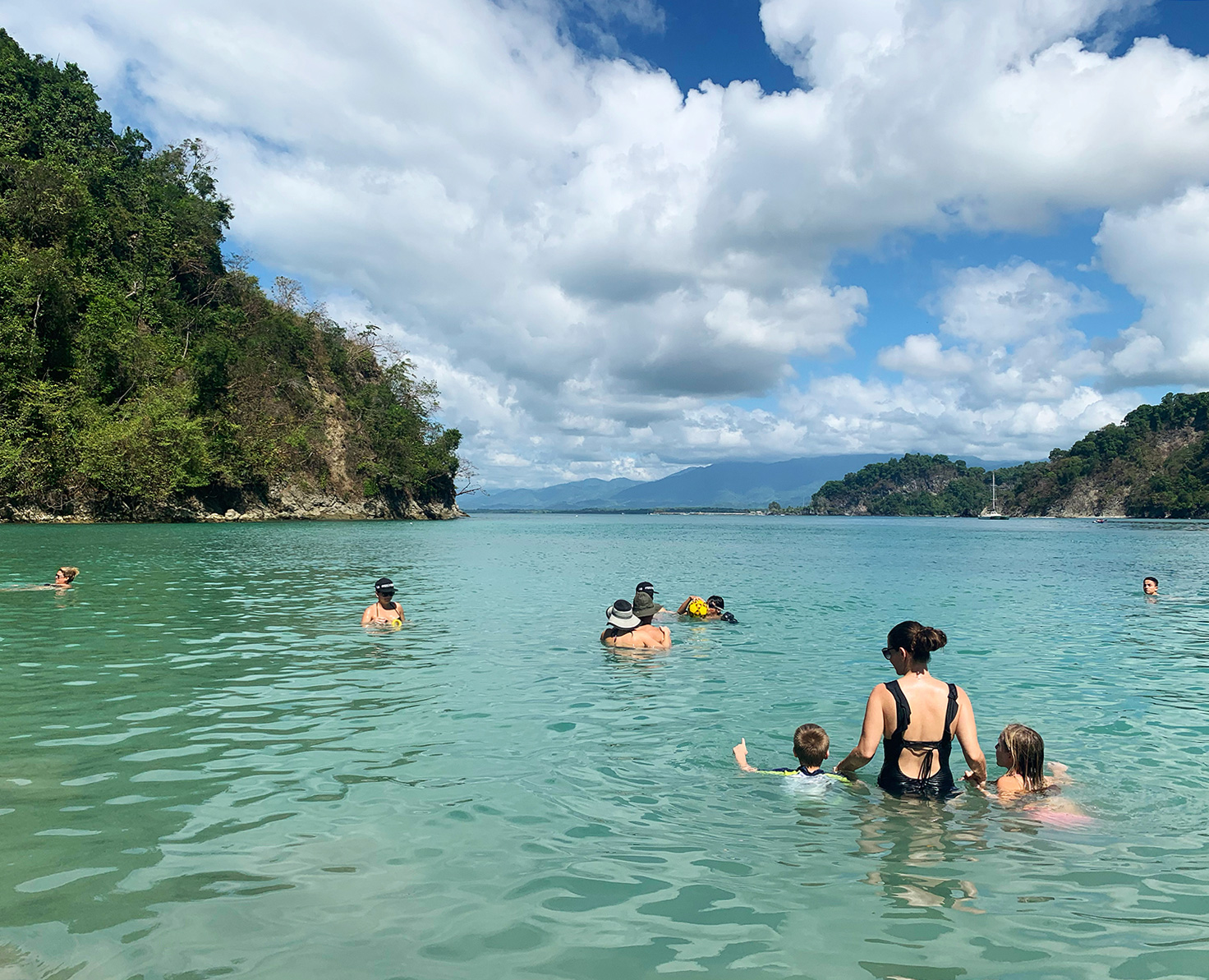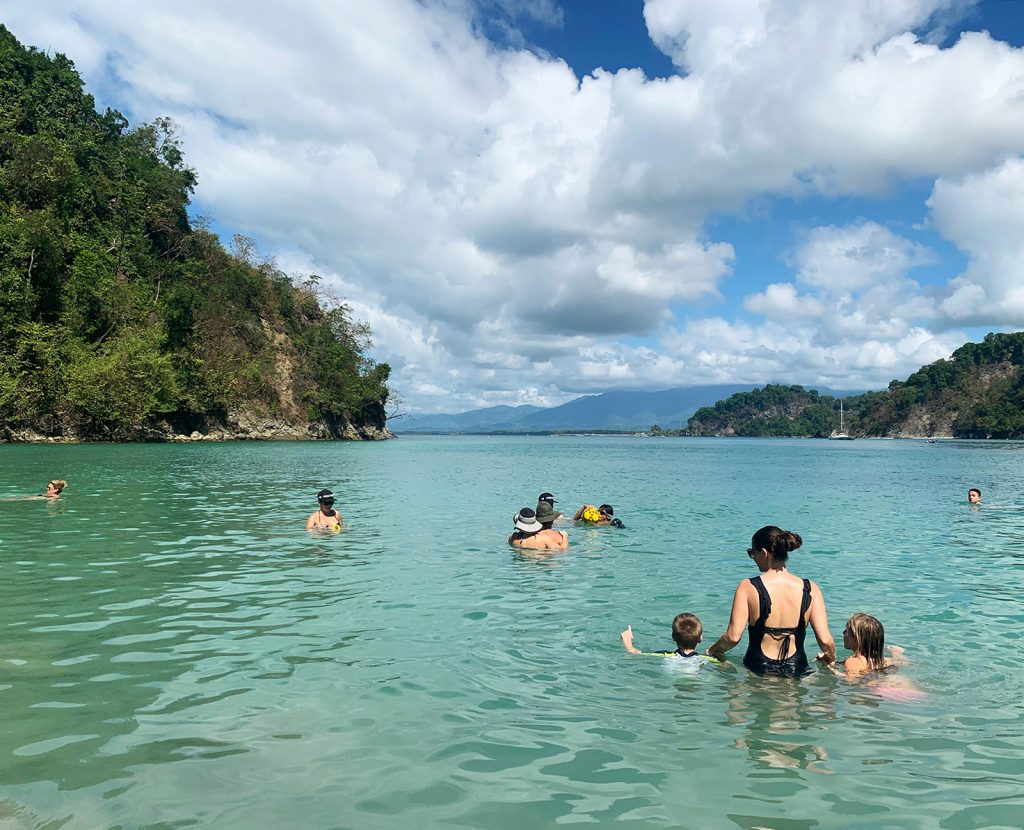 Not only are we going to cover some basics like "where did you stay?" and "what did you do?" – we're also going to answer some of your broader curiosities about traveling internationally with kids for the first time (boy did we get questions from you guys on Instagram and Facebook!). Part of our goal with this trip was to step outside of our travel comfort zone, which can obviously leave you feeling a little uncertain at times since you've never been to that area – how can you really know what to expect? You've heard this podcast about how I agonized while planning this trip, right?
Well, it was all WELL WORTH IT. We loved this trip so much (the kids were actively campaigning for a return trip while we were still on our initial trip – ha!). So for the folks asking about everything from language barriers and bugs to food concerns and more – we are going to address every last question that was sent our way. The short answer to pretty much all of them is: Costa Rica was awesome with kids. In fact, we're convinced that it was the best possible place to go on our first international family trip. So hopefully you'll see why as we jump into some of your burning questions.
Why Did We Choose Costa Rica?
We initially zeroed in on Costa Rica because (a) we wanted somewhere that would be nice and warm in January when we'd be traveling so we could swim and soak up the sun since it's typically cold and dark at home during that time of the year (b) we suddenly heard from 2 different friends/family members who had all planned trips there and really loved it. That was enough to feel like it kept popping into our lives for a reason – so we dug a little deeper about everything that Costa Rica has to offer, and the more we learned, the better and better it seemed as an option.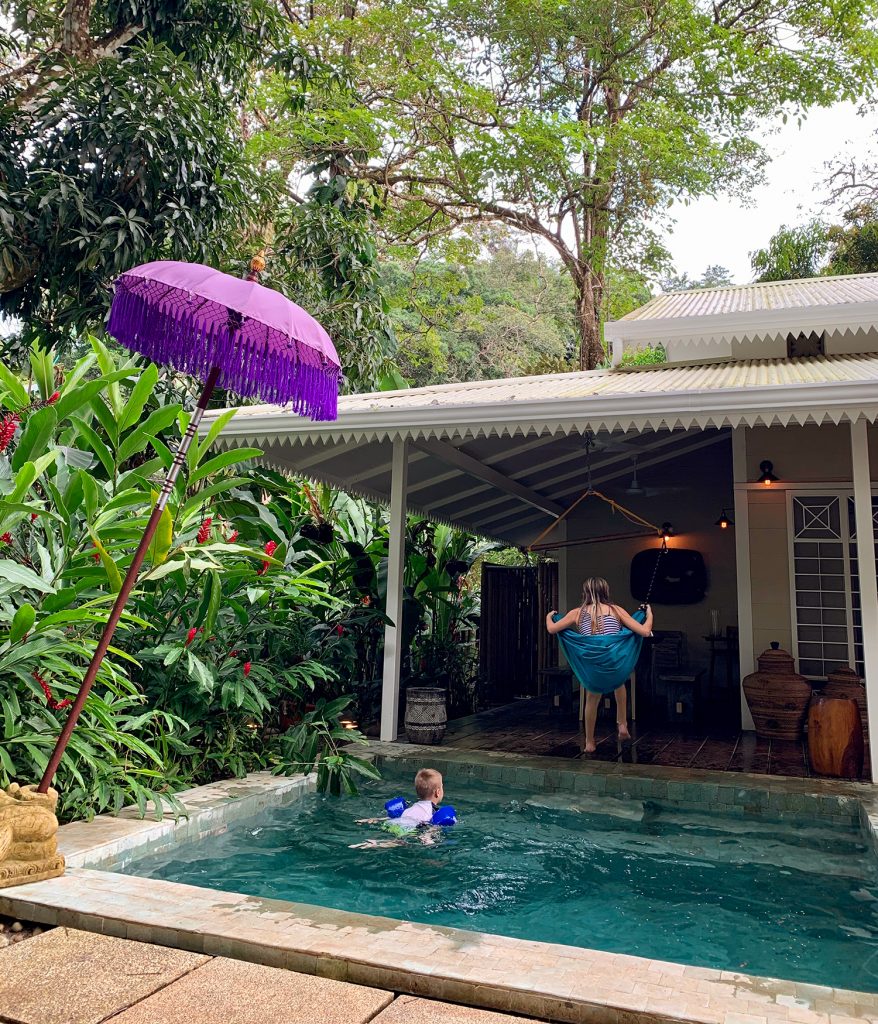 The more we leaned into the Costa Rica idea, the more we realized that it had lots of great lodging and activity options. Like some really cool wildlife that excited the kids, like monkeys and sloths (heck it excited us too). And the deal-sealer was that it was also a relatively easy/quick flight – at least compared to a lot of other international options.
Our kids are 5 and 9 and they've both been on several 2-hour-ish flights to Florida, so we knew they could handle something a little longer… but we didn't want to push it to some 8-hour transatlantic flight quite yet. We couldn't fly direct from our hometown of Richmond, Virginia… so our 6 hours of flying time each way was broken up into two shorter (and more manageable) flights. For us, it was just about perfect.
Where Did You Go In Costa Rica?
We spent 6 nights in Costa Rica, splitting our time between two different Airbnbs (each for 3 nights). This wasn't our original intent, we just couldn't find one Airbnb we liked that was available for all 6 nights that we'd be there. But it did feel nice to book two places because we figured if we didn't end up loving one of them, at least there was another one that we got to experience too. Have I mentioned that I agonized over the planning part of this trip? I have. Ok, anyway. The whole two Airbnbs thing ended up being GREAT because we got to experience two different areas and that added even more to our adventure (two different areas to explore, many more restaurant options to enjoy, more beaches to find, different activities to try, etc).
Our first Airbnb was in a town called Esterillos Oeste, which was about 2 hours from the airport in San José. It's a small beach town on the Pacific Coast that felt more like where locals came for a beach day, not American tourists (it didn't feel very "touristy" at all). Our second Airbnb was about an hour away from the first one in Manuel Antonio (which is also the name of the uber-popular National Park that is there). It was definitely denser with restaurants, shops, and tourist activities. More on the Airbnbs and the towns in a moment.
As for WHY we chose these two towns, it was mostly driven by the lodging availability and some googling around to see what we could do in each area. We wanted places that weren't too far from the airport and also weren't too far from each other.
So there are certainly plenty of other places to go in Costa Rica (it's about the size of West Virginia, btw) – especially if you really want a specific experience – like the hot springs near the volcano in Arenal or the rope bridges in the Monteverde Cloud Forest. Those are both north of San José, closer to the airport in Liberia, so for us it would've just meant more driving and/or coordinating travel through multiple airports. But definitely build your trip around the activities that sound like the most fun for your family.
How Long Did It Take To Get There?
You may think I just answered that earlier – about 6 hours of flying each way, remember? But any traveler knows that your "in air" time is hardly a full picture of what it takes to actually get to your destination. So despite the flights being very manageable, I'd be lying if I said the full door-to-door travel time didn't feel somewhat long when it was all added up. Part of this was because we had a very early flight on the way out (had to wake up at 4am) and that, combined with the fact that the towns we stayed in were about 2 hours from the airport in San José, meant we basically also had a short road trip tacked on to all of our flying time.
So all told, each way involved about 12 hours of travel and effectively ate up 1 whole day on each end of our week. I do think it was actually easier on everyone that it was broken up so much (driving, flying, layover-ing, flying, driving, etc) but we still armed ourselves with markers, notebooks, activity books, and fully charged iPads with a few favorite movies downloaded on them to make it easier on the kids (which makes it easier on everyone).
Did You Rent A Car? What Was Driving Like?
Yes! While it seemed like lots of hotels/resorts/tourist companies offered shuttles from the airport (and we also heard Uber is available, as well as clearly marked red taxis with yellow triangles) we chose to rent a car because of (a) the flexibility it would give us to explore and (b) the need for car seats for our children. We brought our own booster in our checked duffle bag for our 9-year-old and we rented a car seat for our five year old along with the vehicle through a company called Payless (we just booked it through Expedia).
We had heard you should get something with 4-wheel drive because some roads in Costa Rica are unpaved, steep, and/or rocky. We definitely experienced some of those (like the neighborhood roads leading to our first Airbnb, seen below) but we never actually needed to engage the 4WD in our little rented SUV.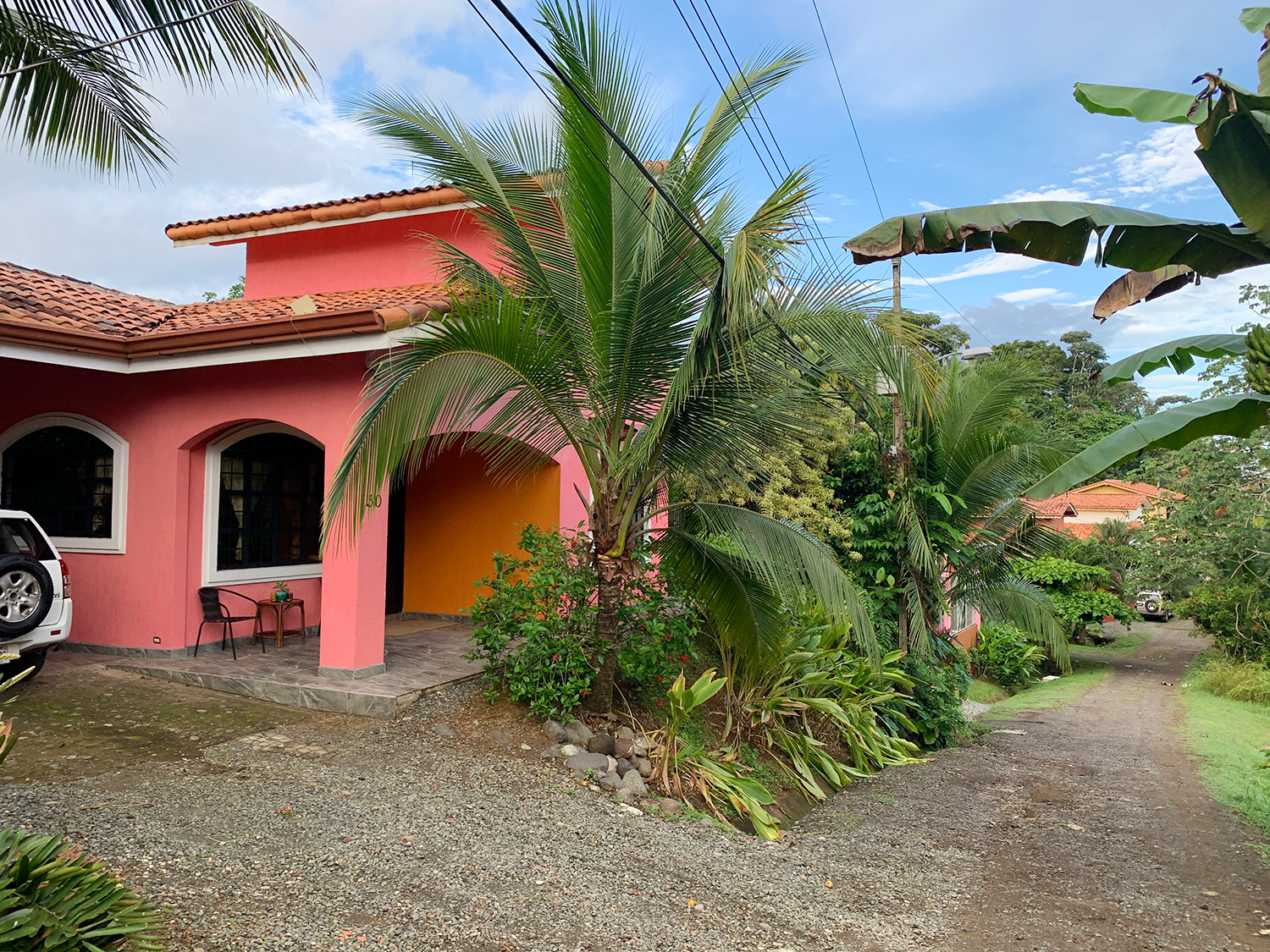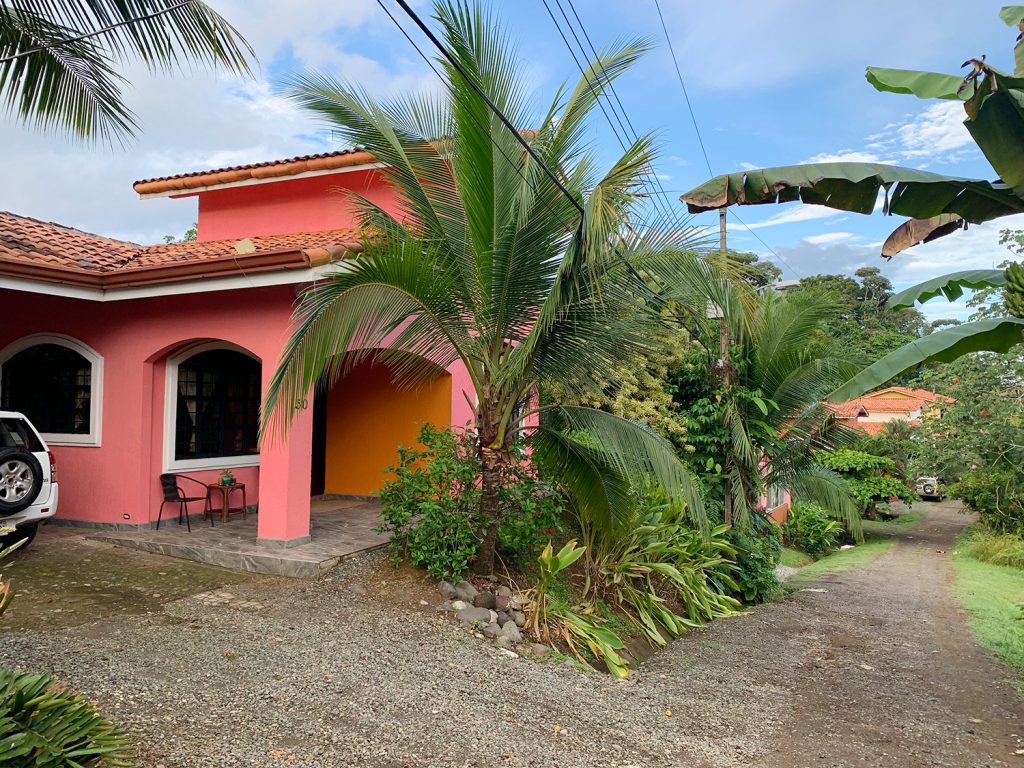 Driving in Costa Rica was generally A LOT easier than I anticipated. Overall we felt like people were pretty relaxed, polite, and slow drivers (even on highways the max speed limit was only about 80 kmh which is about 50 mph). You still drive on the right side of the road too, like we're used to. The only "challenges" were road signage and parking. Streets were often unmarked, so we had to rely heavily on watching our Google Maps navigation to make sure we were turning at the right places (I may have gone around a traffic circle a couple of extra times). And if there was signage, it was in Spanish so we had to make some educated guesses at moments. But again – driving was easier than we anticipated overall.
One word about parking – because it was super easy in our first Airbnb location, but it was admittedly tough in the Manuel Antonio area because it's a more congested area with narrow, winding streets (it's fairly mountainous there). We had to pass up a couple of restaurants that people had recommended because their very few, very cramped spots right off the road were all full. We actually ended up walking to a lot of our meals in Manuel Antonio because the parking was so sparse. But again, overall it felt no harder to drive in Costa Rica than it does here in the United States, so we'd definitely do it again.
Just be warned that everything takes a bit longer to get to than you might expect because the speed limits are low and the highways we experienced were only one lane each way, so it's easy to get stuck behind a slow vehicle for a little while. We actually liked the leisurely driving pace though – it never felt stressful and rushed like people were angry about you, a tourist, trying to figure things out. The locals seemed to drive just as slow as people like us trying to figure out where we were going.
Was The Language Barrier An Issue?
Nope! Costa Rica is a Spanish-speaking country but I'd say we could communicate in English with about 75% of the people we encountered – and in the other 25% of cases, we would use hand gestures and everyone would have a big smile on their faces as we all tried to interpret each other. Nobody seemed frustrated, in fact in general the locals that we met seemed to genuinely love visitors and often asked us things like "is it your first trip? Do you love it here? Have you seen any sloths yet?!"
So overall speaking a different language wasn't an issue AT ALL (I have a very rudimentary understanding leftover from my college days) and there were actually plenty of instances of signage or menus being printed in both Spanish and English, or simply just English.
And in the few moments where we didn't understand quickly spoken Spanish – like when our kids couldn't understand the little girl that wanted to play with them on the beach – it was a helpful reminder that we can't always expect to rely on others knowing our language in the world. The kids came home with an interest in learning more Spanish, along with some new words in their repertoire, and so did we.
What About Currency?
Costa Rica uses the colón (plural: colones) but we found that SO many places/people happily accept the US dollar (USD). In fact, a few restaurants we went to had their prices listed in USD instead of colones and one grocery store even asked me which currency I wanted to be rung up in (I had the option of paying with USD or a Visa or colones). Also, the toll booths we went through on the highway accepted my USD and then gave me colones in change. Overall, paying for things there was pretty simple because there were so many choices.
For the first few days at least, the quick in-our-heads math conversion from USD to colones was a little tricky to do on the spot, but we eventually got the hang of it. For example, $1 USD is equal to about 570 colones, meaning most prices in Costa Rica are in the THOUSANDS of colones. That can cause some sticker shock, like when your restaurant bill arrives with "25,000" listed as the total (but then you do the math and realize that's $43 USD). So that wasn't the tricky part, because we quickly got used to big numbers not being huge amounts.
On the other hand, trying to translate and convert money when someone was quickly reciting a total to us, like at a grocery checkout – that was where it could momentarily get complicated. I'm good with single- and double-digit numbers in Spanish, but when you're rattling off 16,475 in rapid Spanish, I get a little lost. And that's even before I have a chance to try to calculate what that means in USD.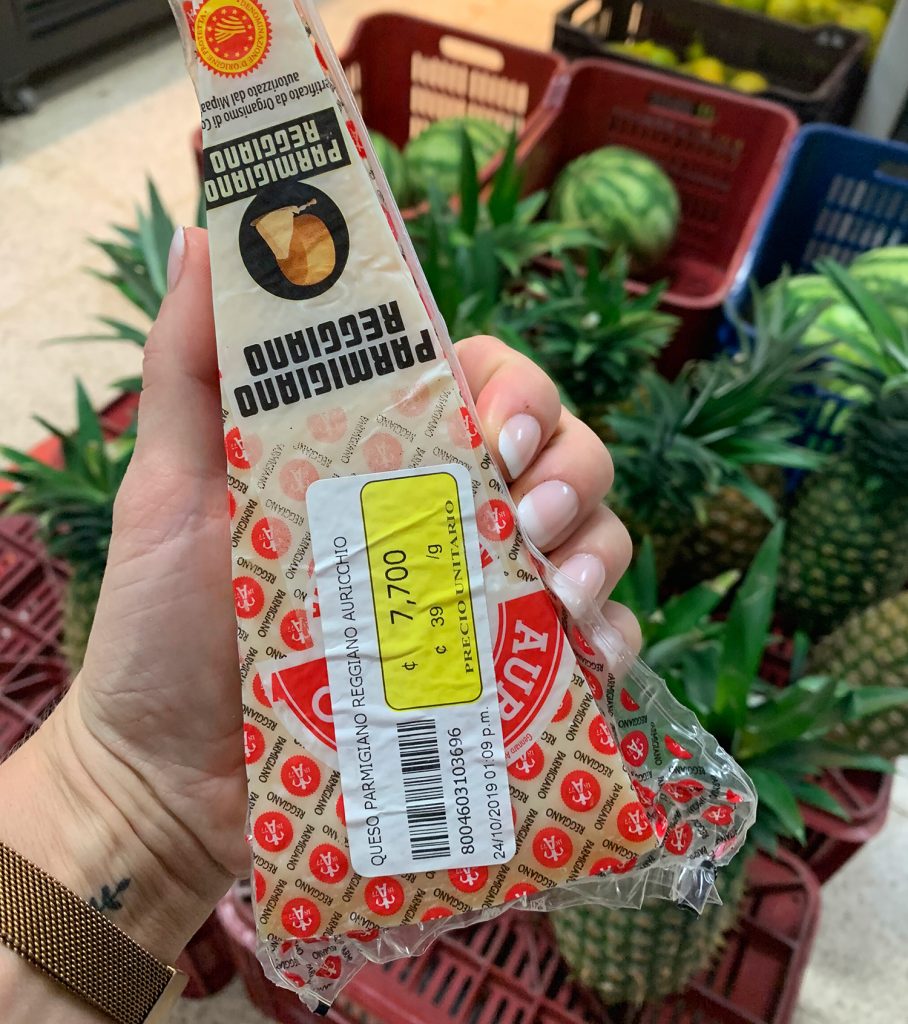 So, for better or worse, we used our regular ol' bank-issued Visa card for most of our in-store or in-restaurant purchases. We did incur about $40 in "international transaction fees" over the course of our weeklong trip, but frankly it was well worth it to not have to worry about currency conversions or hold up the line while we tried to frantically work out math equations in another language. We did travel with a bunch of cash in USD and about $15 worth of colones too, which we were glad we had, but we would've been just fine without any colones at all – as long as we had plenty of small USD bills (again, most places took that, as well as Visa).
Did You Feel Safe?
We got this question a lot. Yes, we did! We can confidently say that we never felt unsafe during our time in Costa Rica. We took common-sense measures that you'd take in any popular tourist area (locking doors at night, not leaving valuables in the car, keeping tabs on bags/wallets/kids, etc) but that was never because of any specific "threat" – except for the warning that monkeys like to rifle through bags at some of the beaches. Ha!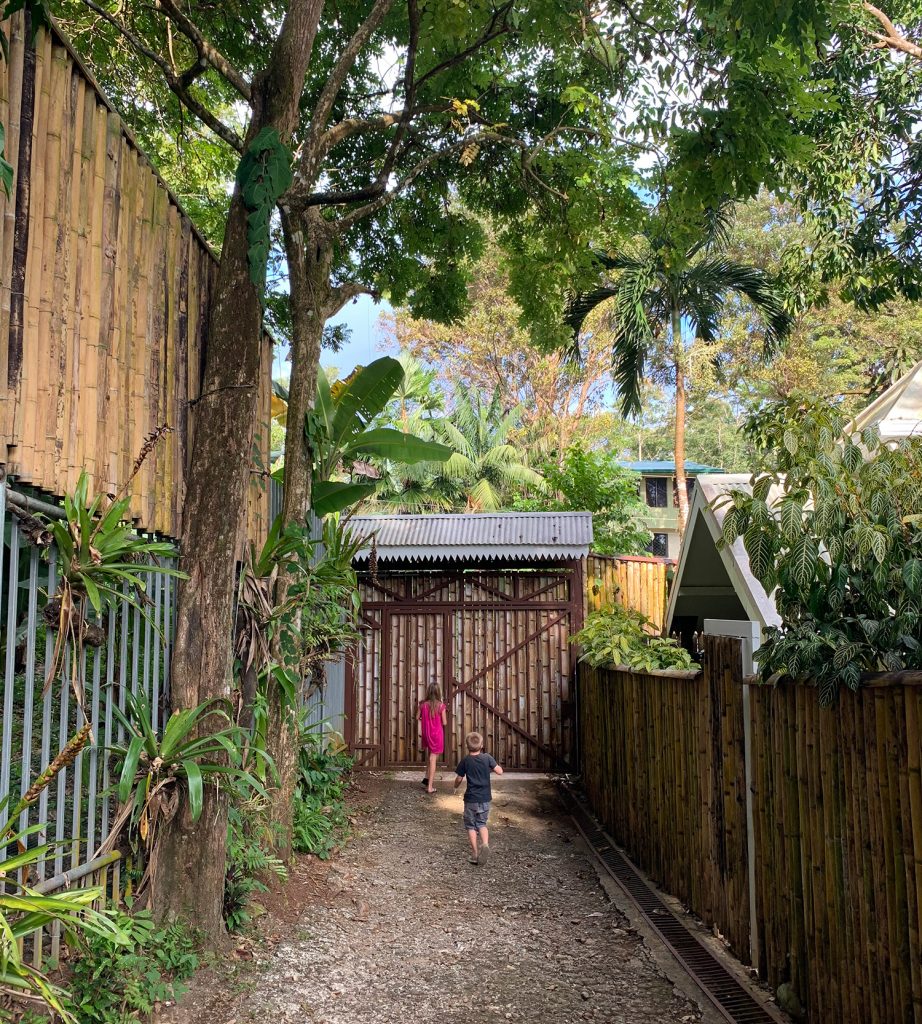 And speaking of monkeys, we never felt unsafe due to animals or other critters either. People asked us if we feared things like snakes or scorpions or supersized bugs and those weren't an issue or a concern for us either. We spotted zero snakes, zero scorpions, and honestly zero scary or big bugs. Wait, scratch that, there was a big spider one night – but he was more fascinating than scary and he was outside. Didn't bother us at all. Long story short, we personally didn't encounter any creature, person, or situation that made us feel unsafe in Costa Rica. Honestly the bugs in Florida are bigger and we've gotten more mosquito bites nearly everywhere else we've traveled (we didn't get a single one in Costa Rica).
Tell Me More About Your Airbnbs!
I really feel like we hit the Airbnb jackpot because the two places we rented were some of the most amazing places we've ever stayed, anywhere. Again, we ended up in two different places because we couldn't find one place that was available all six nights that we would be there. We considered doing a hotel or resort, but we typically find that a vacation rental offers us more space & more privacy (read: the kids sleep a lot better than in a hotel where you hear other doors opening and closing or the elevator dinging).
The good thing about our Airbnb preference is that they don't tend to be much more expensive than a single room at a hotel (which doesn't usually have a kitchen, multiple bedrooms, or a private pool!). Having access to a stocked kitchen when you want to prepare some meals at home to save money is always a nice bonus. Plus you can play weird games at the pool without worrying that you're bothering other people.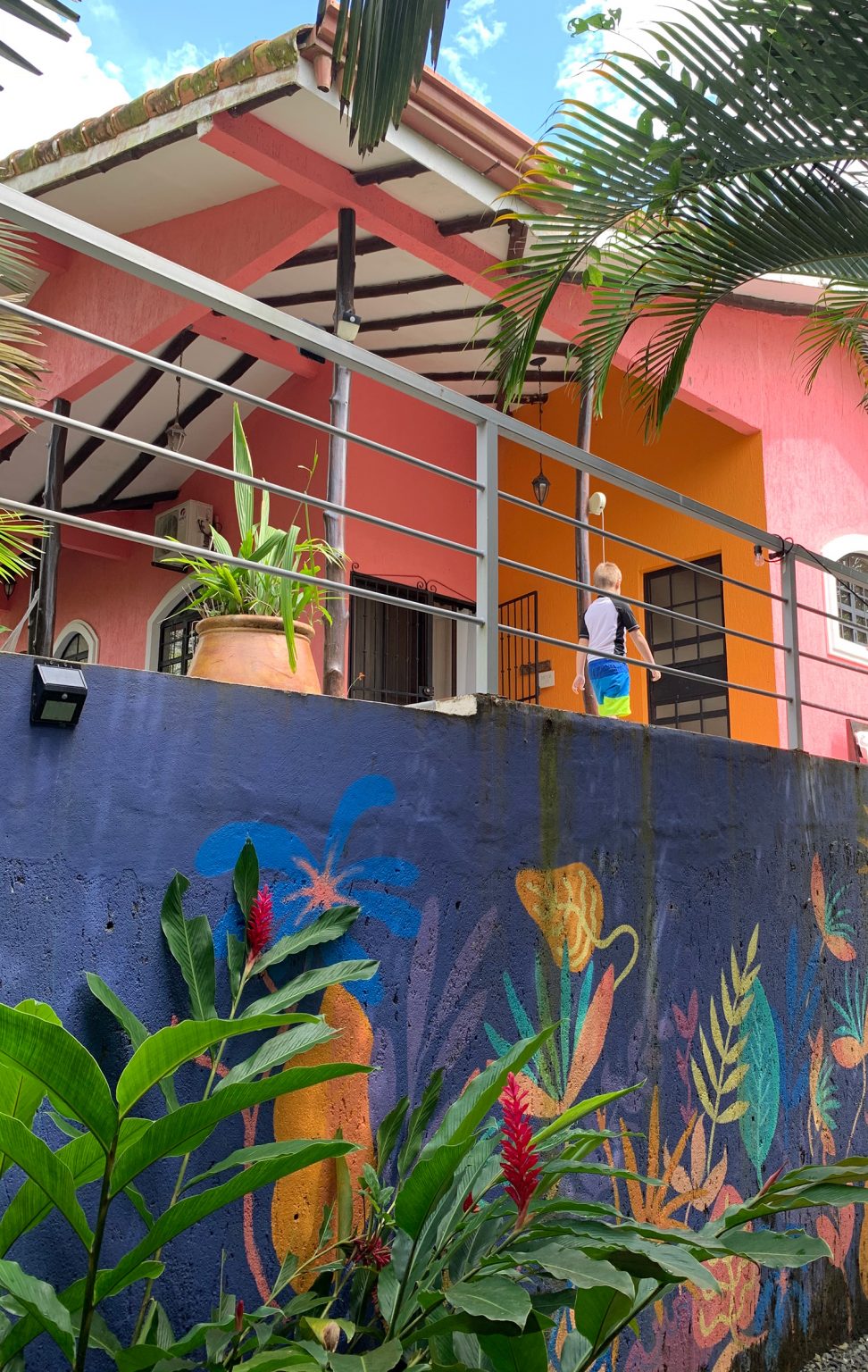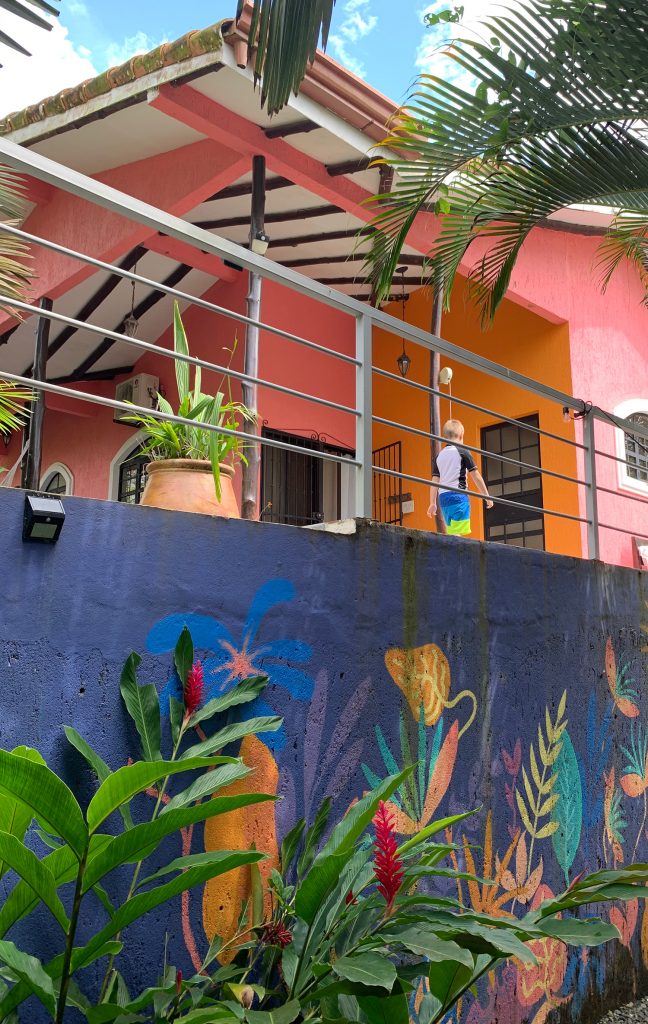 Our first Airbnb in Esterillos Oeste had two bedrooms in the main house (we stayed in the king bedroom and our kids happily shared the other bedroom with both a twin and full sized bed). There was also a third bedroom with its own private entrance on the lower level (the "Casita") which is where the colorful mural was painted above.
The casita was such a serene, secluded little space that would've been great had we traveled with the grandparents or another couple with a baby or something. But since we wanted to sleep under the same roof as our kids, we didn't use the Casita at all. If six people rented this house it would be great though – and it would make it even cheaper per night that way too.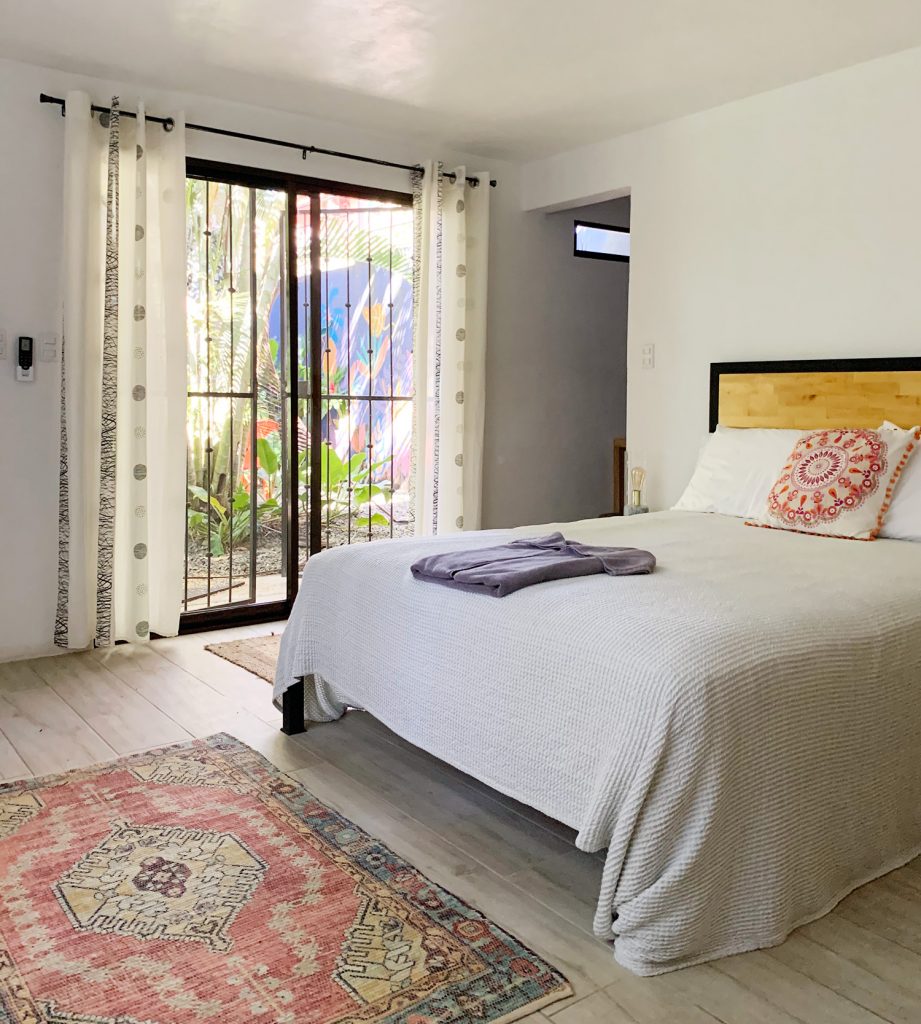 The outdoor space of this house was so relaxed, playful, and private feeling that we spent HOURS out there (there were houses on either side, but the lush landscaping made the yard feel so secluded – like it was our own little oasis).
The raised deck that the pool was inset into made you feel like you were swimming in the jungle canopy and we literally had iguanas and monkeys visit us right there in the backyard. That's not a typo. Iguanas would come sun themselves on the deck, and around 10 monkeys swung by one afternoon – walking along the railing right in front of us! Macaws even flew by overhead. It was like getting the quintessential Costa Rica experience without even leaving the house.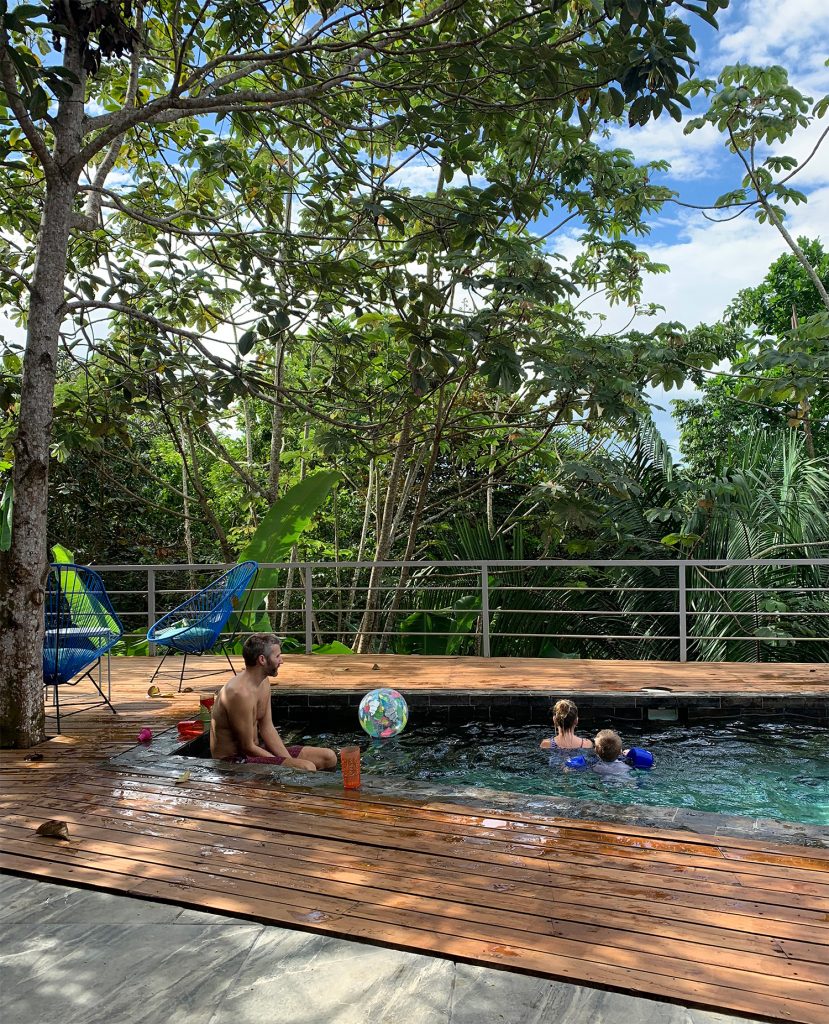 In case you want to see the ENTIRE space, we shot a quick video right before we checked out so you could see everything. Again, here's the Airbnb listing for it. It really was such a beautiful place!
You can also watch it here on YouTube.
The second Airbnb in Manuel Antonio was extremely sleek and decorated like it was fresh out of a home magazine (like, a photographer needs to get over there pronto). It had 3 bedrooms in the main house and, again, a separate Casita (that's it in the picture below). Once again, we didn't sleep in there because we all wanted to stay under one roof, but with older kids or a second couple, the casita would have been awesome.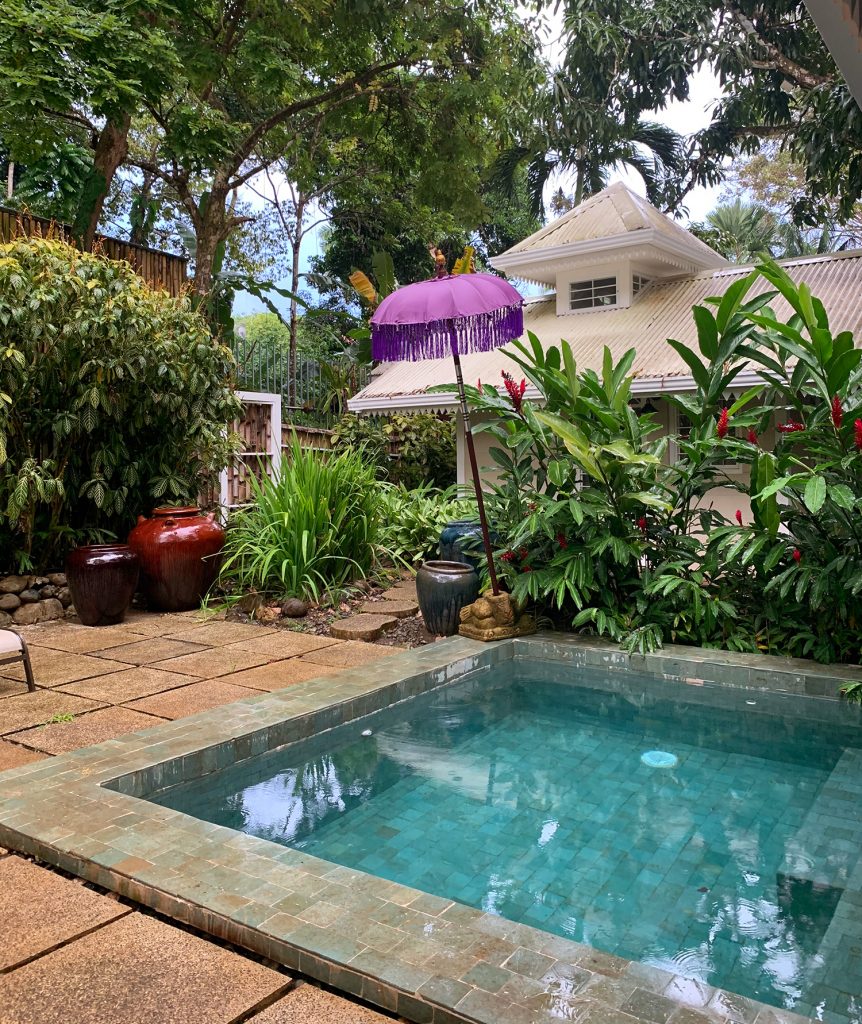 One of the 3 bedrooms in the main house was an un-air-conditioned loft which was just slightly too warm for us to sleep in overnight, but we did have a couple of pre-bedtime movies nights up there all together, which the kids thought were magical (ok, we did too – we even watched Zootopia in honor of seeing some sloths). We also spent some time reading and hanging out up there while the kids played below. But the two downstairs bedrooms with the air conditioning were the most comfortable places to sleep, so that's what we did. Sherry & I took the air-conditioned bedroom downstairs with a queen bed and our kids shared the second air conditioned bedroom that was also down there on the main floor.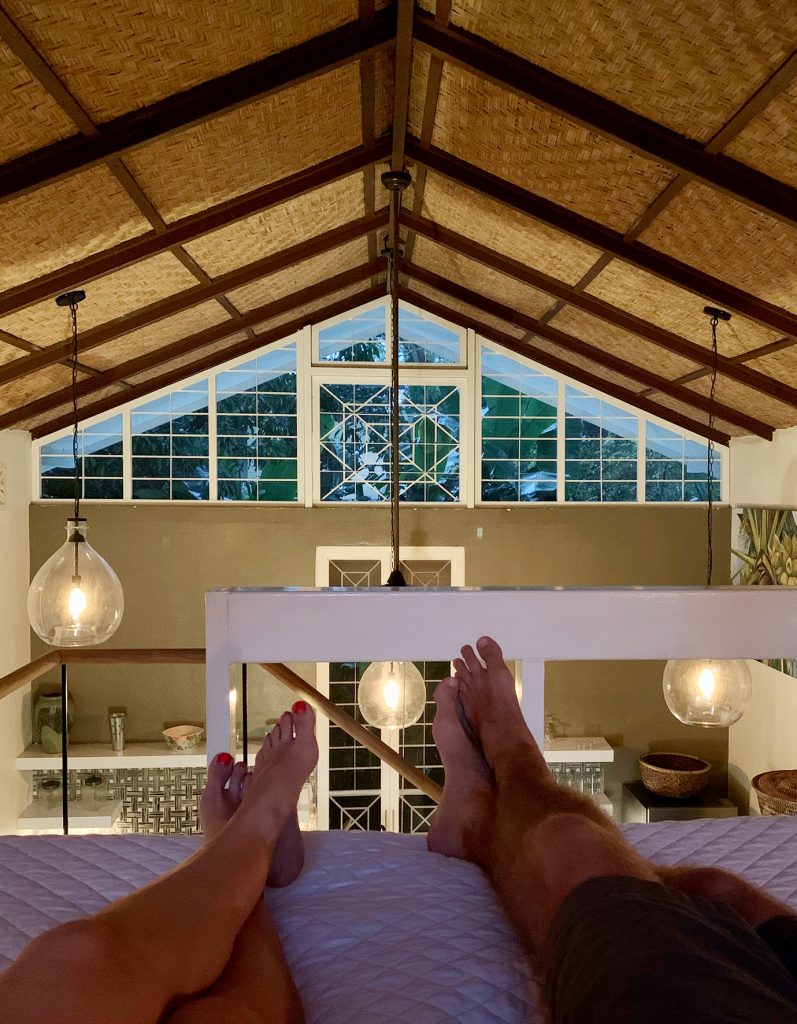 This house also had INCREDIBLE outdoor spaces, all inspired by and decorated with items from the owners' trips to Bali. There was a big outdoor dining table, a hammock swing that our kids were obsessed with, and a hanging daybed that has Sherry on a full scale won't-take-no-for-an-answer mission to build one for our house's back porch. The pool was beautiful and slightly shaded which was nice. Just as we did in the first Airbnb, we ended up in the pool every single day – usually morning and evening. It was great.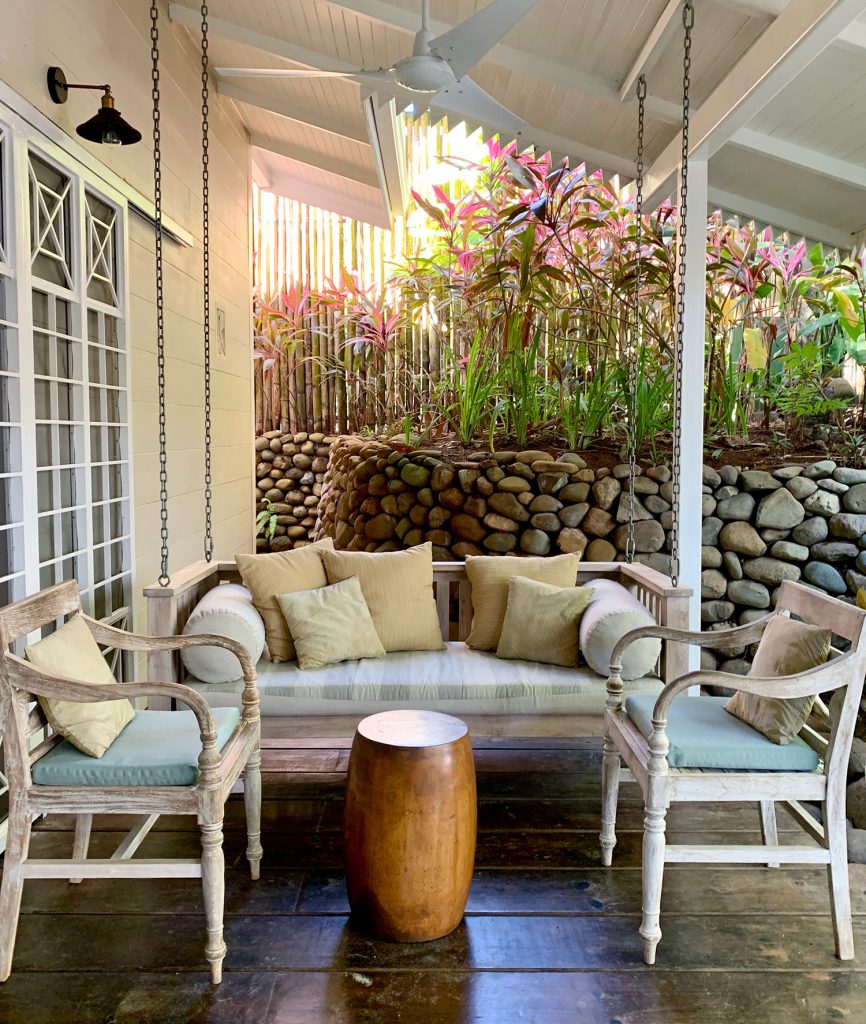 We also shot a quick little walk-through of this Airbnb right as we arrived so you could see everything. Although we somehow managed to forget to pop into the bedroom where we slept – although you can see it on the right before I turn left into the big bathroom with the tub. If you're truly curious, you can see it in the Airbnb listing.
You can also watch it here on YouTube.
I should also add that in addition to both places being beautiful and amazing, the hosts of both were incredibly nice! Within hours of booking they each had messaged us with long lists of activity suggestions (snorkeling! ziplining! boat tours!) and offers to help book anything we'd like. We ultimately only used them to arrange two activities, but they were crazy helpful in answering our general questions about our trip.
The first Airbnb is operated by a Canadian couple (who now lives full time in Esterillos Oeste – we got to meet the husband during our stay) and the second is managed by a local rental company, and the woman who greeted us with the key grew up in the same exact county that I did (Fairfax, Virginia) and has since moved full time to Costa Rica. Such a small world.
What Activities Did You Do In Costa Rica?
Costa Rica is often known as a destination for outdoor adventurers and thrill-seekers. So I'll preface this by saying that our kids are VERY into animals and wildlife and hikes and swimming and exploring but zero into heights/things that go fast (aka: ziplines or rope bridges or ATVs/whitewater rafting). Given their ages (5 and 9) that could all change down the line, and we had such a good time exploring – even without being high up in the air or whizzing around on fast vehicles or boats.
If those those thrill-seeking options are more your speed, they're certainly available – and there are signs and billboards at just about every turn for them, along with night tours for bugs & scorpions, etc. So be sure to google around for more info on those activities if you're planning to try them out. And if you too are vacationing with younger kids or more-chill-seeking-and-less-thrill-seeking travelers, here are some of the activities/destinations we enjoyed:
Esterillos Oeste Beach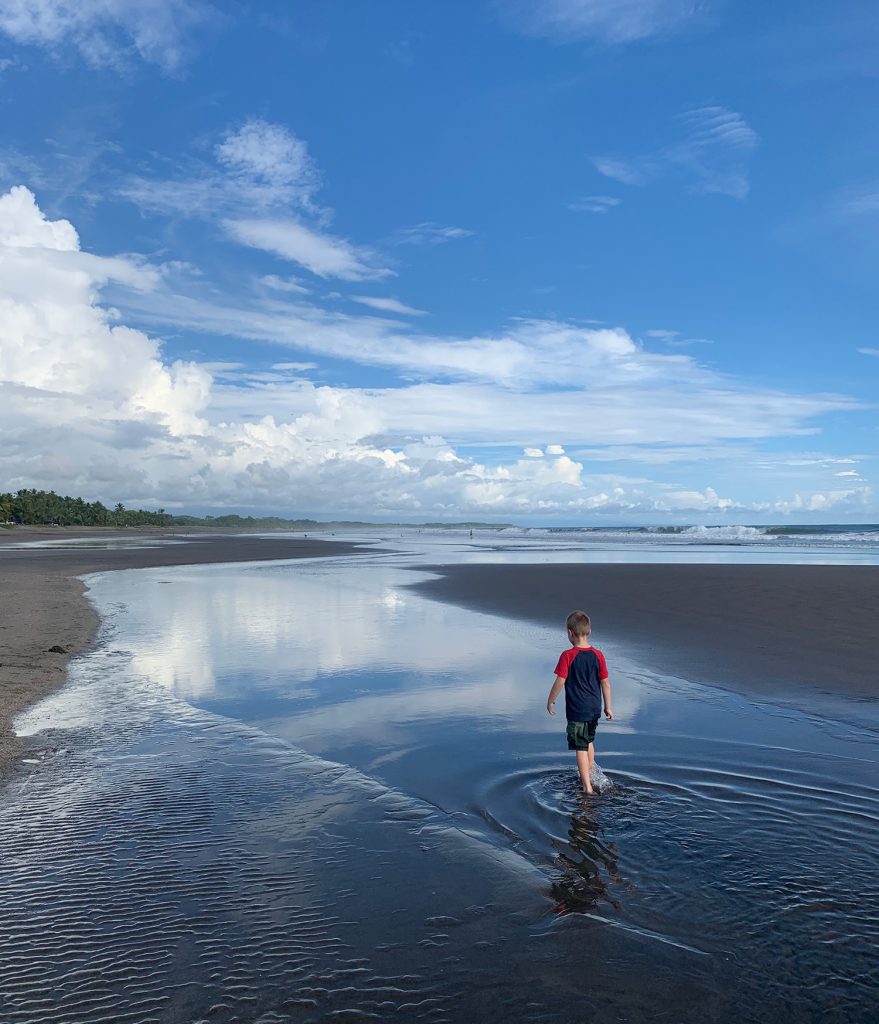 This was just about a 5-minute drive from our first Airbnb and there was easy and free parking right on the dirt roads that parallel the beach. We just went for a walk here one day after eating lunch nearby (above – hence no bathing suits) and then came back the next day with bathing suits, towels, and a cooler full of snacks to soak up the beach for a while longer. The Pacific Ocean can be kind of rough, but at low tide there were tons of shallow tidepools that the kids played in (and they met some other local kids who were doing the same thing!). It was also fun just walking up and down the beach & hunting for shells and other little treasures.
Royal Butterflies
This is a farm / butterfly sanctuary near Jaco Beach operated by an American family now living in Costa Rica and it was recommended by our first Airbnb host so we couldn't wait to check it out. One of the family members, Donna, greeted us at our car as soon as we pulled in, and gave us the friendliest one-on-one tour of the butterfly enclosure and surrounding farm we could ever have hoped for. She let our kids pick starfruit off a tree to eat later, run through the shallow river that ran through the property, and they even took us on a tour of the treehouse Airbnb that they're currently constructing (see the picture below – it's not listed on Airbnb yet or I'd link it for you here).
We still can't get over how nice they were and it was a perfect low-key activity for kids our age. It was only $10 for everyone who was 6 and up, so $30 total for the four of us.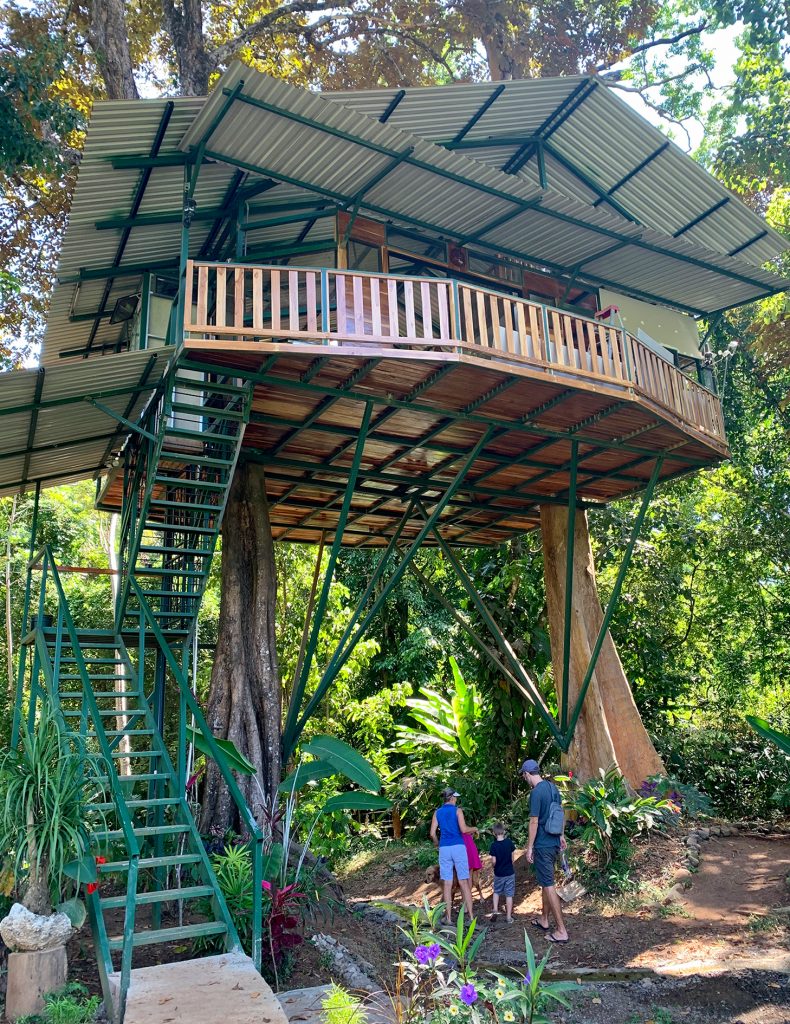 Manuel Antonio Guided Tour
This was the only "excursion" that we officially booked/scheduled during our trip – and we're SO glad we did (we tend to go with the flow when traveling, rather than booking lots of activities beforehand). Manuel Antonio is Costa Rica's smallest but most popular national park – and it's known for all of the animals that call it home… including sloths! You can certainly go without a guide, but if your goal is to see animals then we would definitely scream: GET A GUIDE! More on why in a second.
We booked our guide ahead of time through our Airbnb host (she exclusively books him, so we can't directly link him right here – which is a bummer because he was awesome), but we hear that they're all awesome. Literally everyone who does this park with a guide loves it and sees so many awesome things. We were told you can usually also pay one at the entrance of the park and just find one that way – and there are also several on Airbnb Experiences.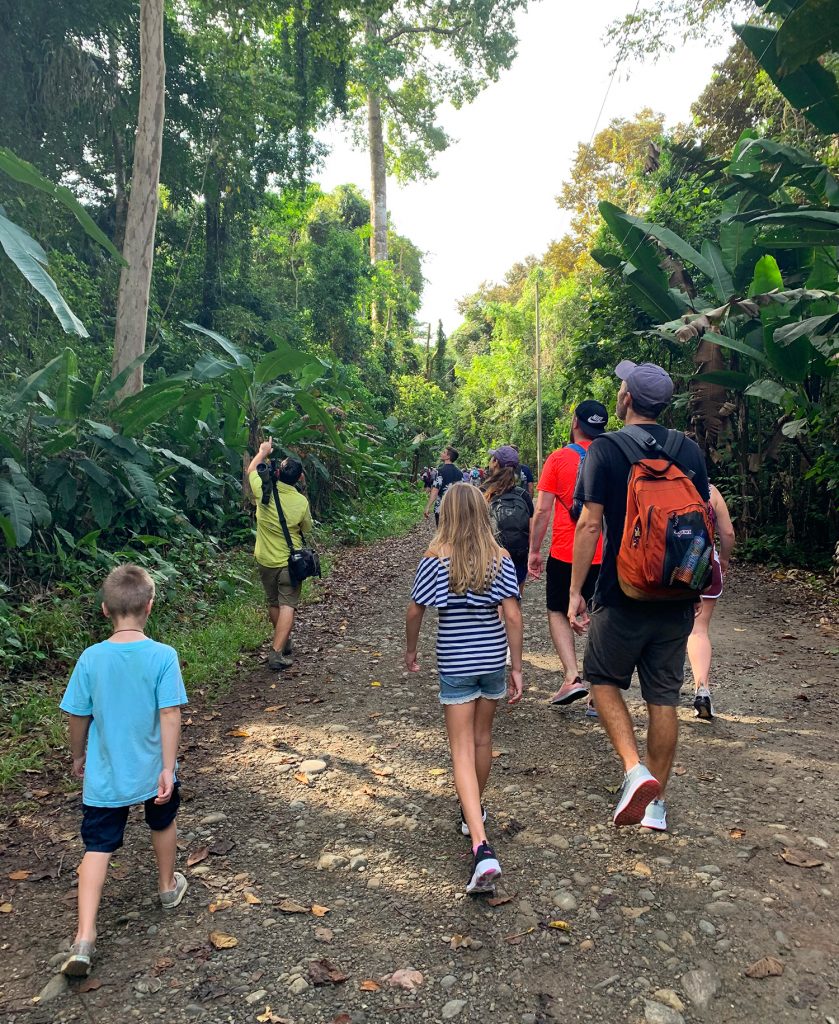 A guide is important because most of the animals are high up in the canopy or otherwise hidden in the jungle. The guide not only uses his expertise to spot them, but they bring a telescopic lens that allows you to get a close-up look at them. Our guide even used his lens to take photos of the animals on our phones so we all got to come home with some seriously amazing photos of everything from a mom & baby sloth (!!!) to monkeys galore, and even the most beautiful "rainbow grasshopper" (not a sentence I ever expected to type). Oh and a bat and a raccoon and a red & blue crab. So much to see.
The best moment was definitely the baby sloth who was hanging out with her mom. We stood there and watched them for a solid five minutes. It was amazing.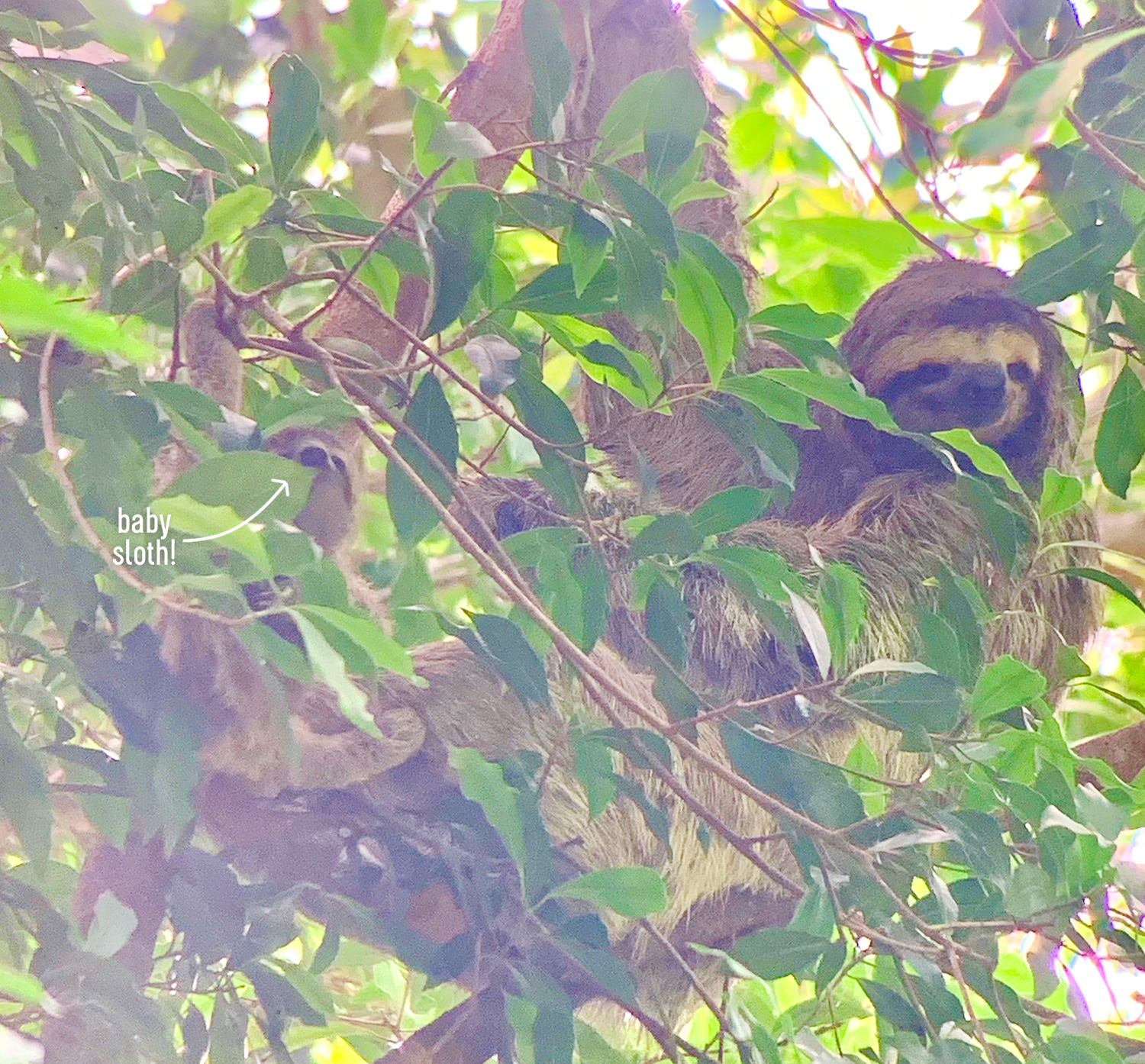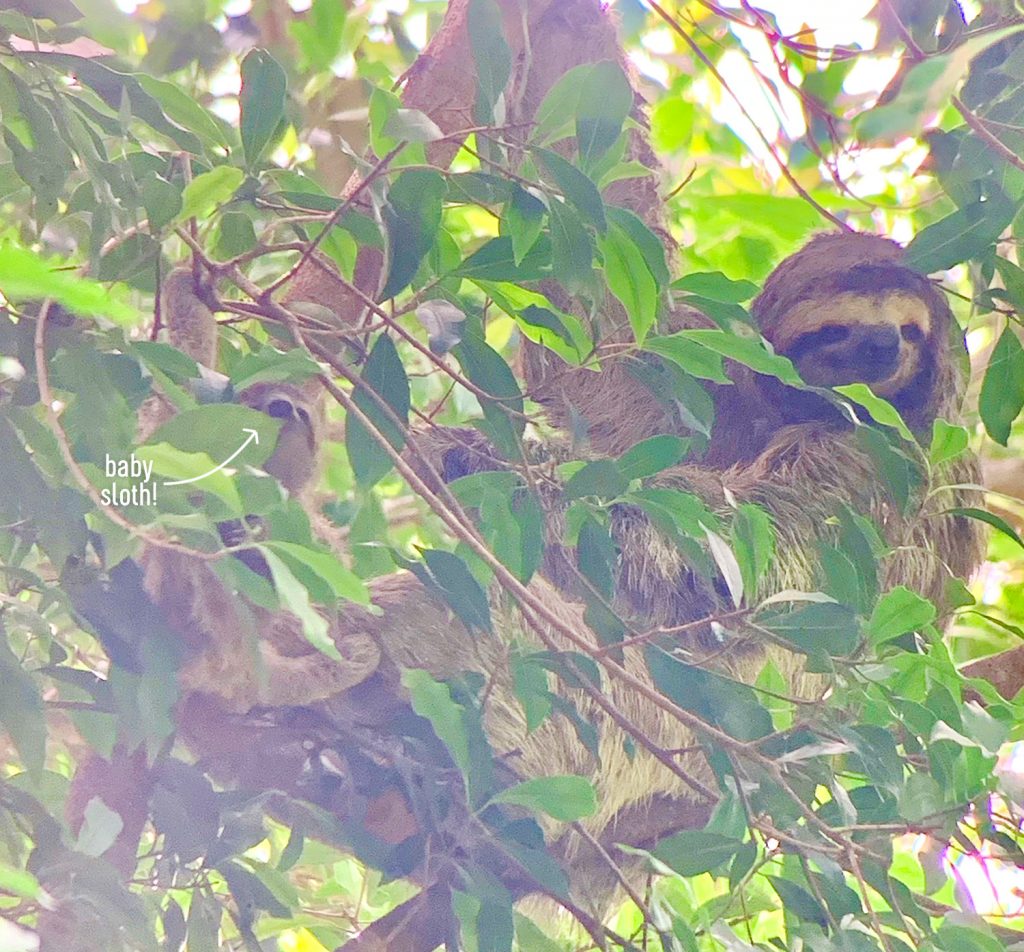 Our tour was about $140 total (for two adults and two children, which also included the park entrance fee and parking at a hotel near the front gate). They only accepted cash, so we're glad we had lots of USD with us. The guided portion was about 2 hours, which might be a stretch for some five year olds, but we were treated to a spontaneous show by some playful monkeys towards the end, which boosted our son's energy. Both of our kids name it as one of the coolest things we did during our trip.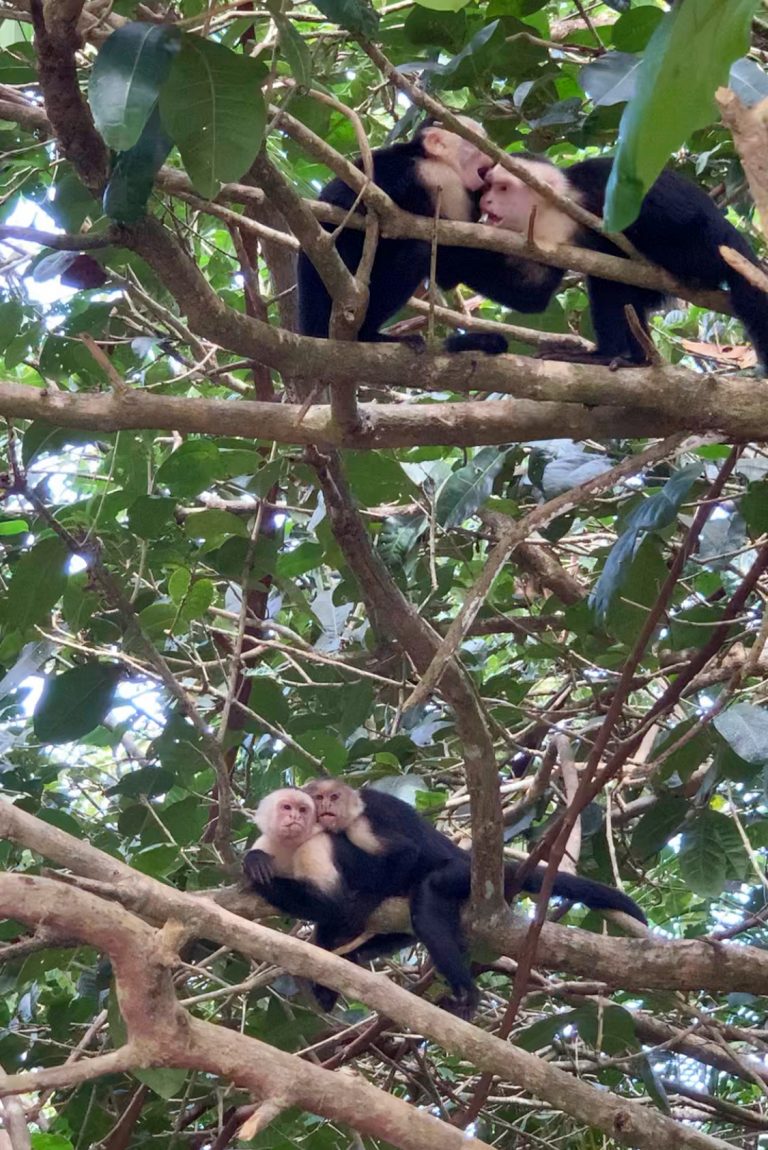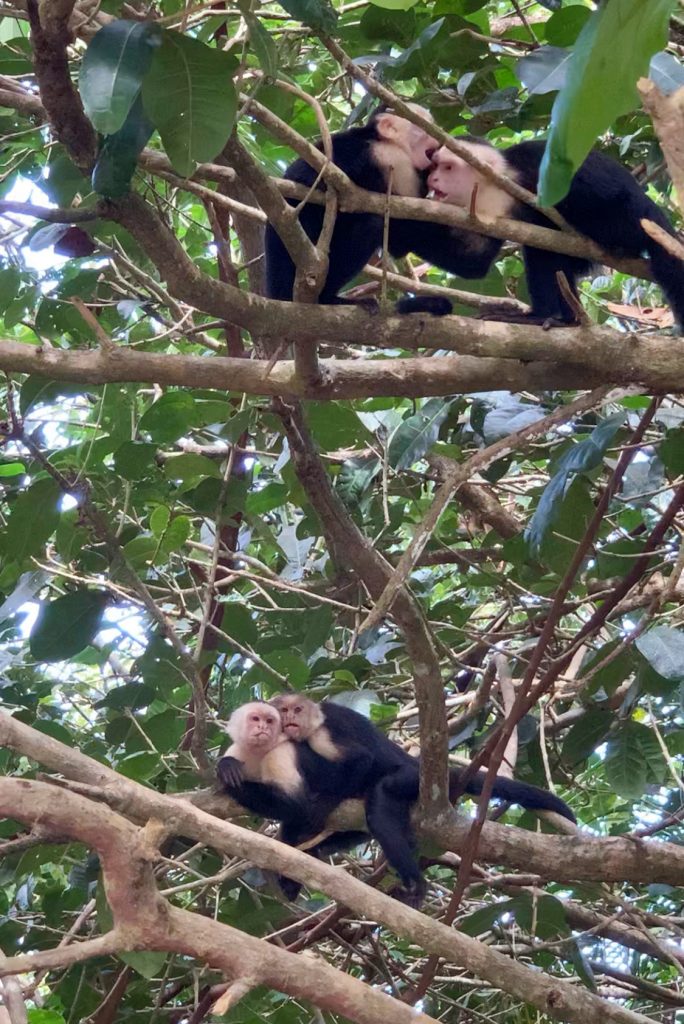 That's the photo I took with my phone zoomed in above, and this is the photo our guide took through his lens – just to give you a sense of how much better of a view we got of things thanks to the guide. Quite the handsome couple, eh?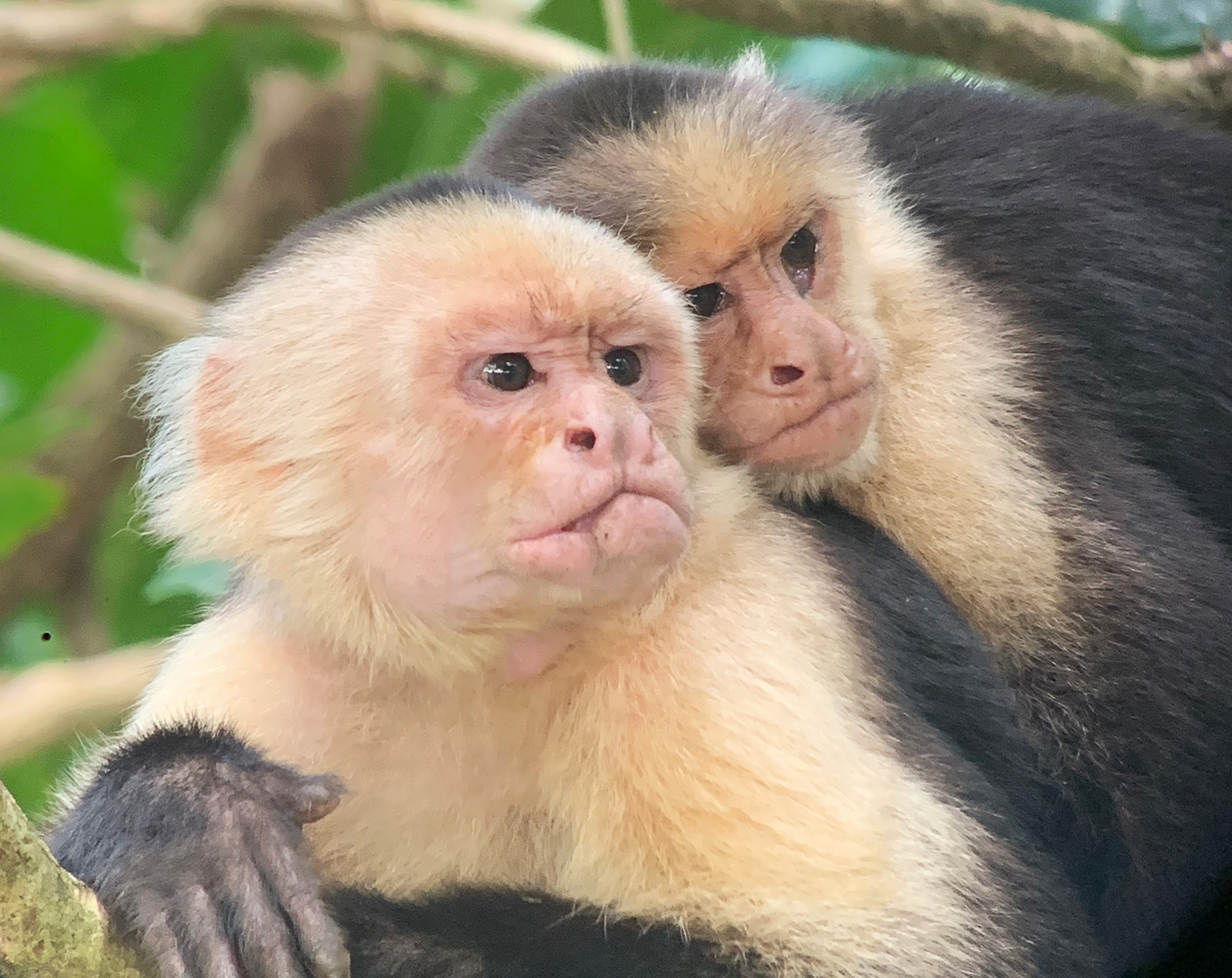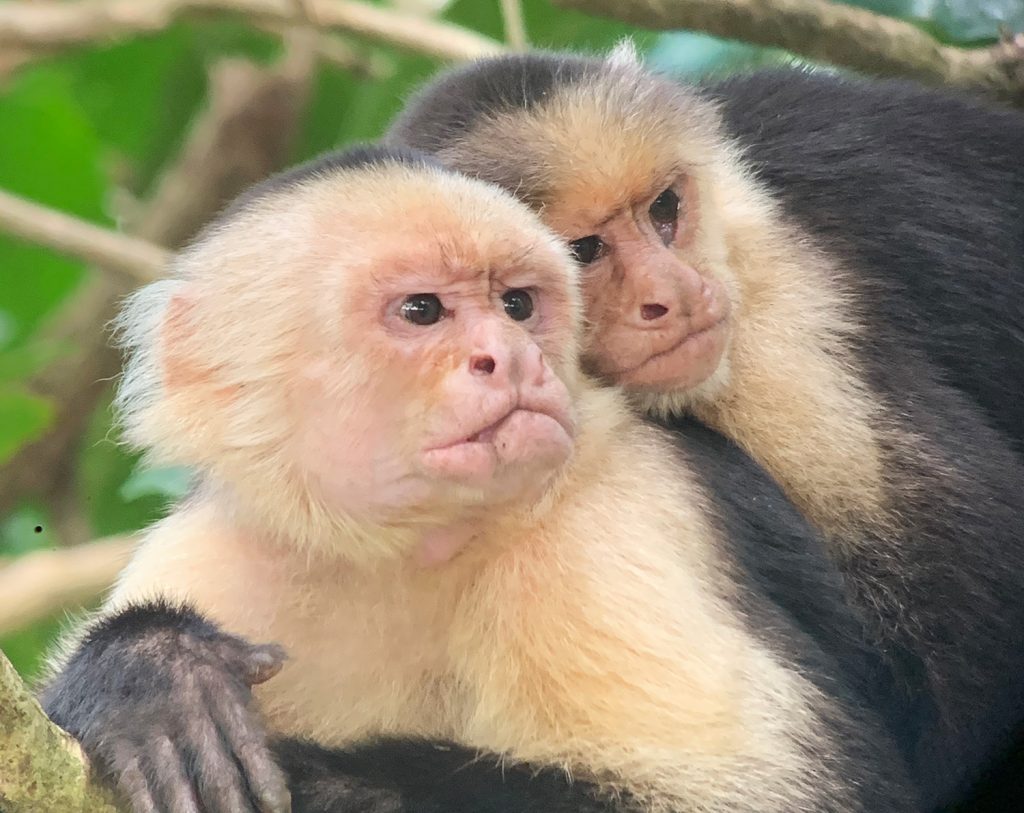 Manuel Antonio Beach
After the guided portion, we stayed in the park to swim at one of the park beaches (it has a few!). We had paid admission already, so why not – and many people told us the beaches in the park are less crowded than the public ones outside the park. Our guide pointed us towards the beach with the calmest water and it was one of the prettiest beaches I've ever been to in my life (we'll get to THE prettiest one in a moment).
We didn't stay super long because everyone was getting hungry and the park has strict rules about what you can bring in and the park cafeteria seemed to be mostly pizza and pastries. But the kids LOVED swimming here because it was warm, clear, and just the right amount of wave action. We almost came back the next day…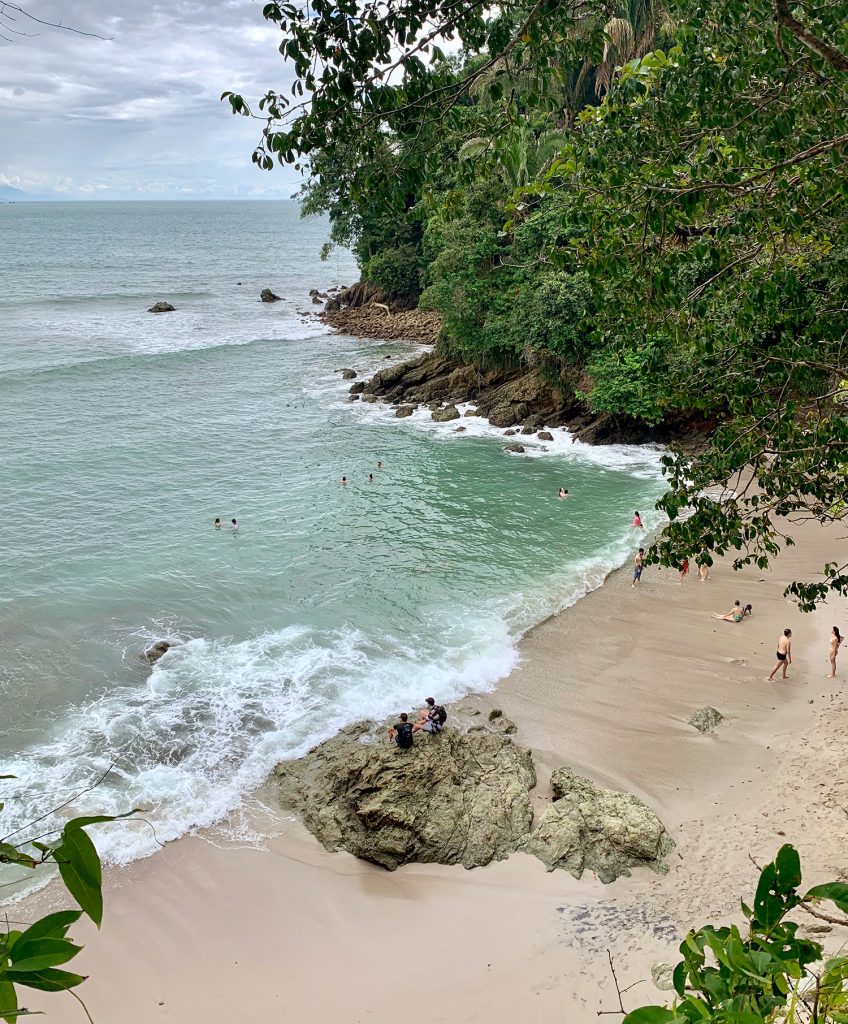 Playa Biesanz
Instead of returning to the park beach, we ended up reading about Playa Biesanz on Google and were intrigued by its description as Manuel Antonio's "secret" beach. It sounded a bit off the beaten path, but by this point it was our last full day and we were feeling a bit more adventurous. We navigated to the right place thanks to Google Maps and spotted the "break in the fence" someone had described online.
Several locals were helping people park along the narrow road and holding hand-written signs that said they'd "watch your car" for 2000 colones (about $3.50). It felt a little like a tourist trap, but for $3.50 I didn't really care (and I did appreciate their help parking since you have to hop two wheels over the curb). We then followed another family through the break in the fence, down a hill for about a 10-minute hike (we easily did it in flip flops although it was a little rocky and somewhat steep in some parts) to what is easily the most beautiful beach I've ever been to in my life.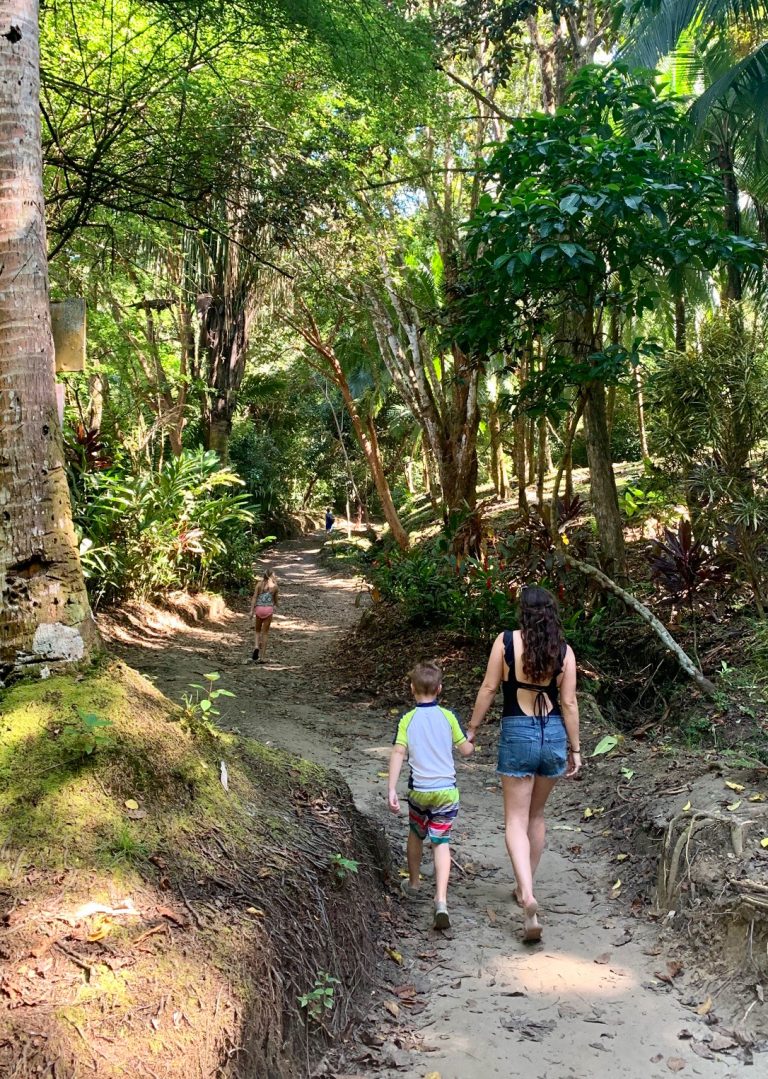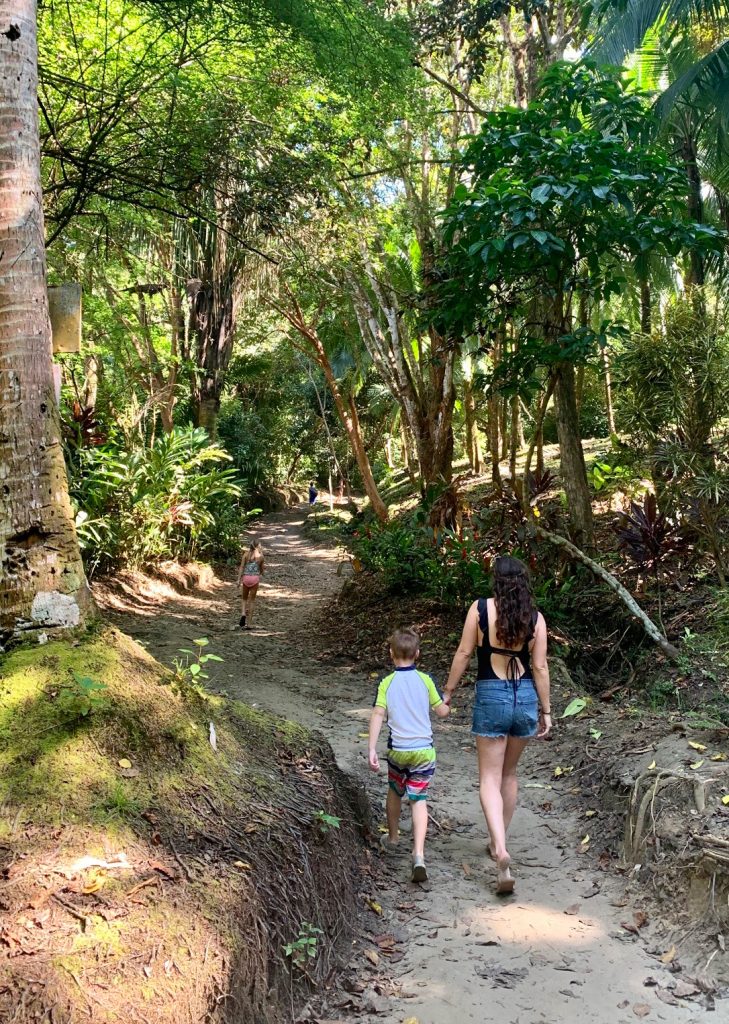 The water was clear and calm. The sand was white and clean. Several locals had set up stands along the tree line selling ceviche, cocktails, coconuts with straws poked in them, and even kayaks and paddle boards to rent. We paid $10 (again, in USD) to rent two lounge chairs and an umbrella and had the most perfect last morning in Costa Rica there.
It certainly wasn't a true secret (there were locals and other tourists there – and the locals were happily selling things like food & drinks & rental chairs to the tourists) but probably due to that 10 minute hike, it wasn't nearly as populated as the other beaches we had been to. It was really nice and well worth that ten minute hike. None of our photos capture how picturesque the whole thing was. It was one of those trip memories that we'll still be talking about when we're ninety.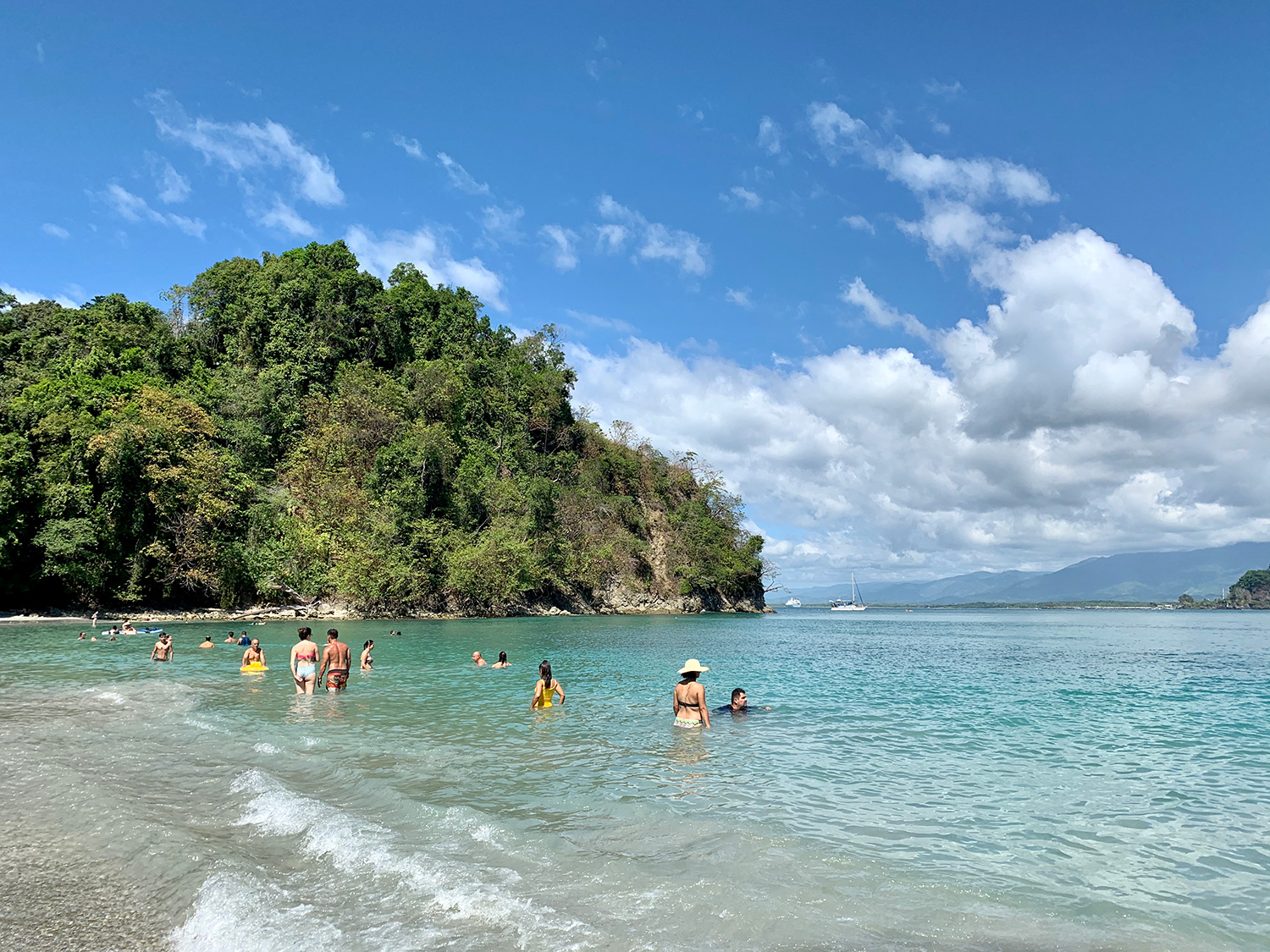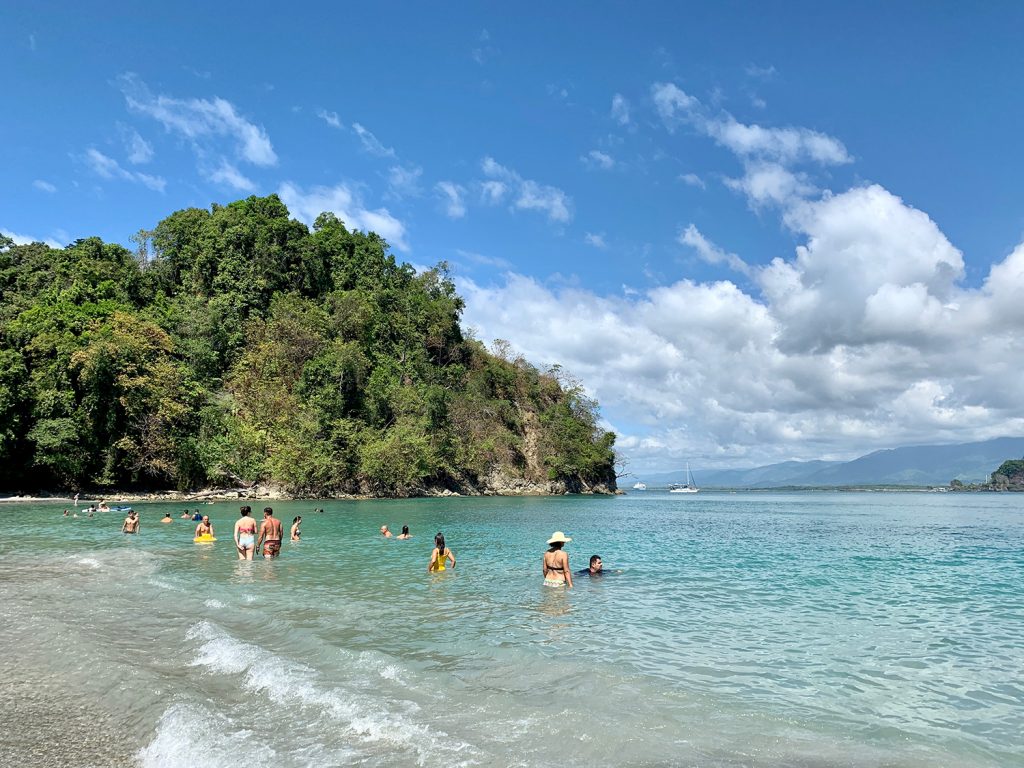 Besides those few "excursions," we mostly spent our time exploring the little towns we were in, trying out different restaurants, going on little hikes or walks, stopping into local shops, and just relaxing at our Airbnbs (remember those am and pm swims we all loved so much).
We also really enjoyed shopping at the markets with the locals. There was tons of fresh food (picture Sherry screaming "THIS GORGEOUS FRUIT!!!!!!" while unpacking our bags from the market). And we loved cooking breakfast at our Airbnb and watching the kids change from their pjs into their bathing suits before breakfast. Also noteworthy: we ordered smoothies everywhere we went. And speaking of meals…
Where Did You Eat?
A surprising amount of people were curious about where we stuffed our faces, so I'll oblige the best we can. We don't even remember the names of some of the places – like the restaurant we pulled off of the highway to eat dinner at during our first night. We were hungry and it was there. Plus it had a waterfall out front and a friendly white goose in the backyard that entertained us the whole time. Wish we remembered the name. But onto the ones we remember – many of which you guys recommended to us, and we can see why!
Tacobar (Jaco Beach): About 20 minutes from our first Airbnb, this was a fun place with a wide-ranging taco menu. Many people recommended that we try it, so try it we did! The kids also loved it because the bar area had swinging seats they could sit on. The food was great and the smoothies were even better.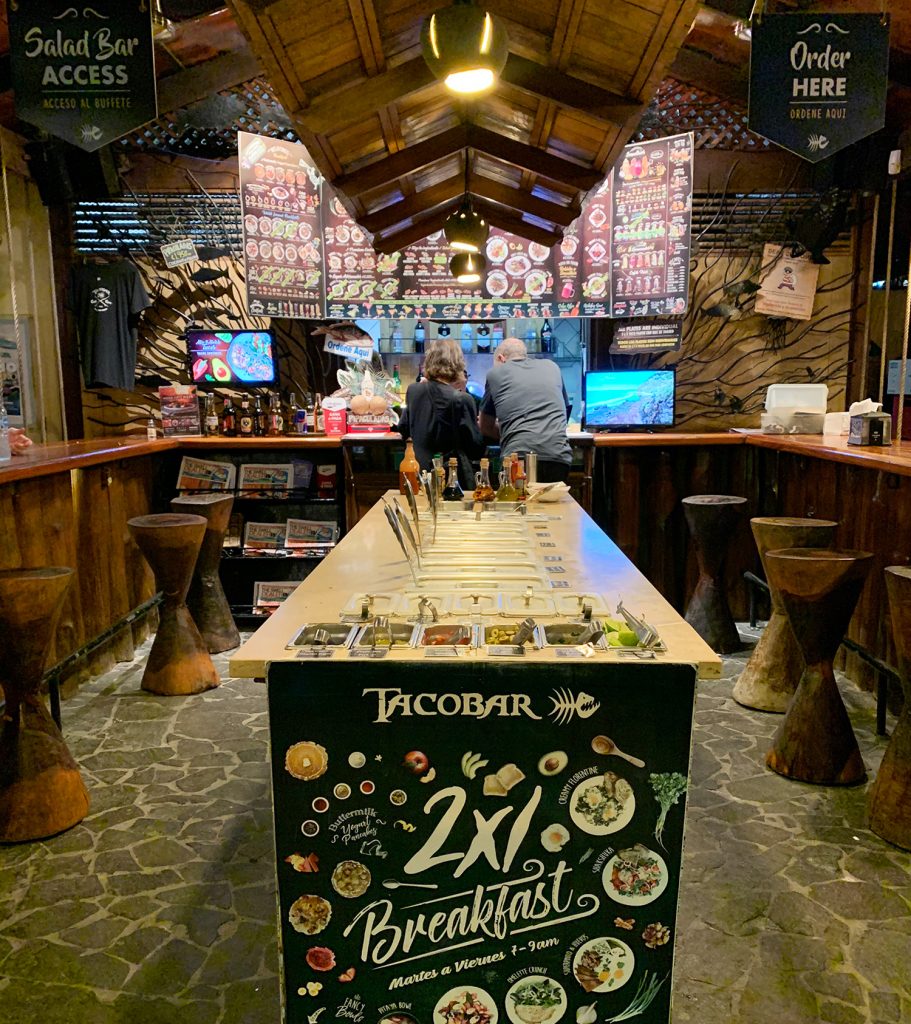 Hotel Racho Coral (Esterillos Oeste): Located on the beach, this was a cool outdoor eatery that was part of one of the local hotels. The only tip would be to go for dinner, not lunch like we did. They're known for their wood-fired pizzas but they apparently don't fire up the grill until after 2pm. But we ate some good seafood and went for a nice walk on the beach afterwards.
El Mana (Esterillos Towne Center): We promised our son pizza one night (after our misfire at Hotel Rancho Coral) and this was a fun spot to grab it. We got the "Americana" pizza which was inexplicably a cheese pizza with one slice of mozzarella cheese and basil in the middle of each slice (kinda like a caprese salad). Sherry also got a shrimp ceviche that made her only want to eat shrimp ceviche the rest of the trip. Delicious. Also get a smoothie. Are you noticing a pattern?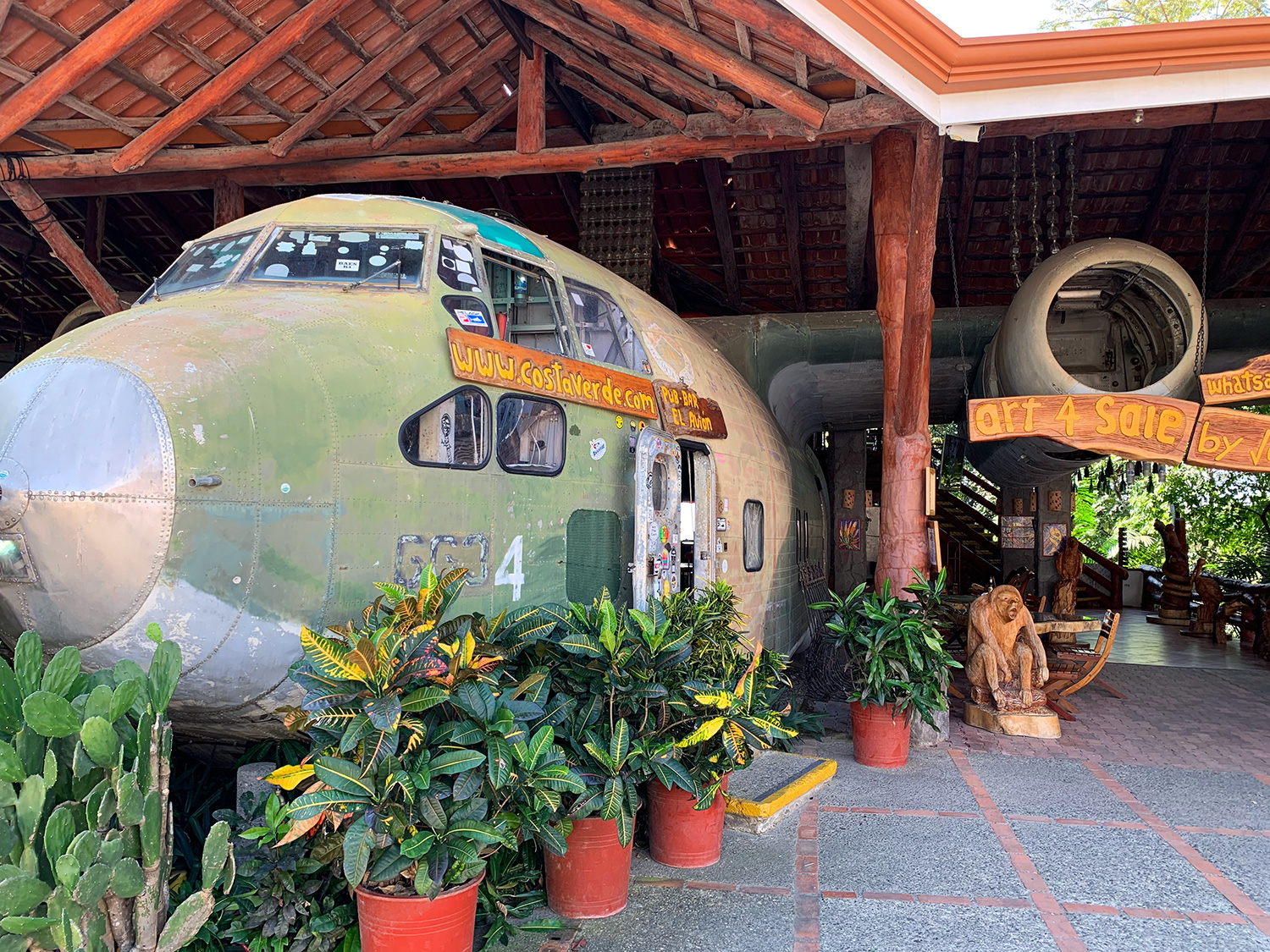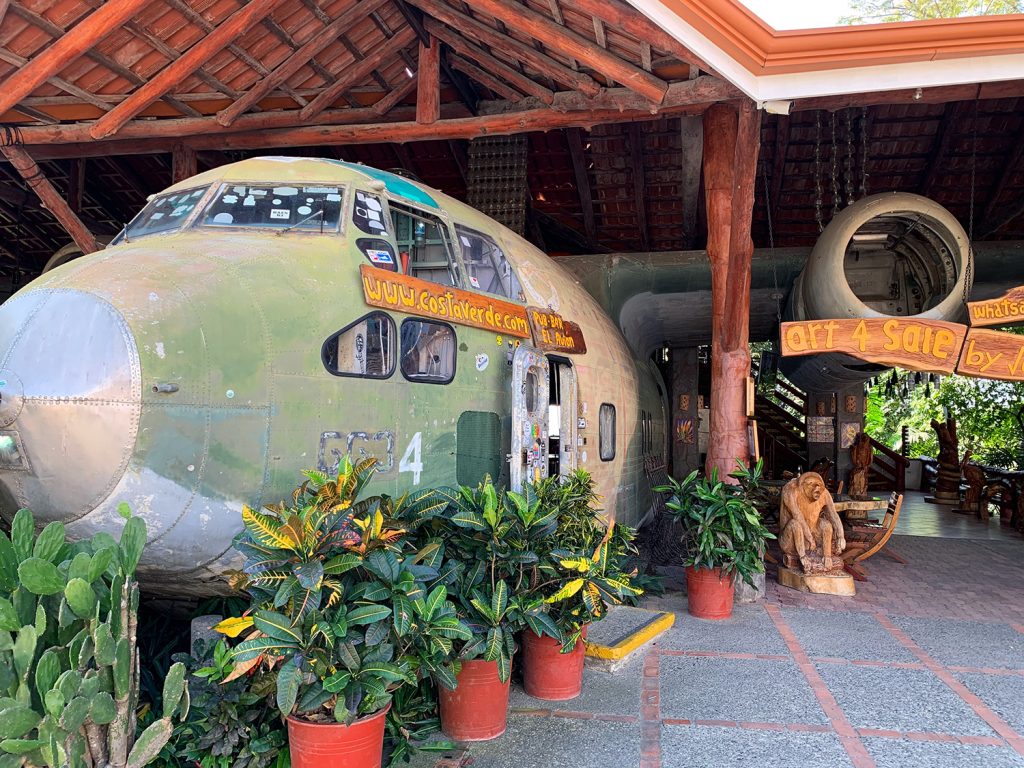 El Avion (Manuel Antonio): This was the restaurant you guys recommended most to us because it's built around a real old airplane on the side of the mountain. Beyond the novelty of a plane that you can walk through and eat in, the views from the upper level looking over the ocean were also spectacular. The food was good too. Get a smoothie.
Hotel Mariposa (Manuel Antonio): This is another spot you all recommended to us that again has incredible views. We went for lunch but probably would do dinner there next time because I'm sure the sunset is breathtaking. Food was delicious and fresh.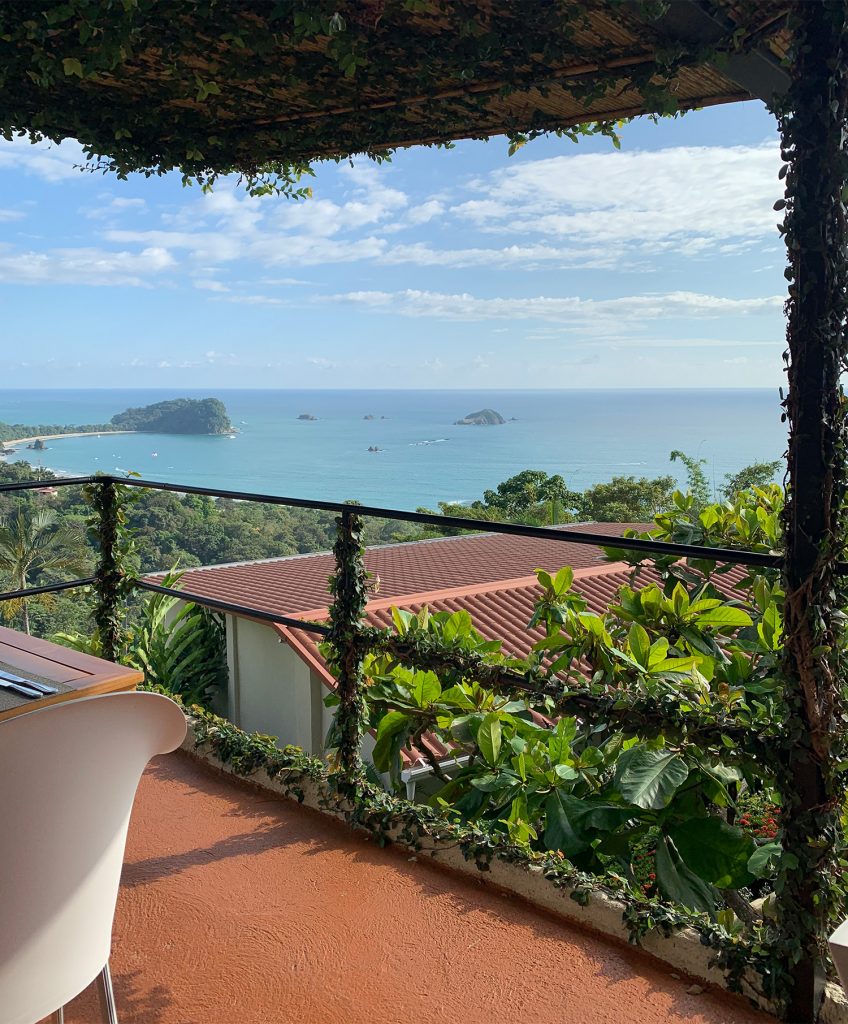 We also grabbed meals at some of the smaller eateries along the main road in Manuel Antonio, like the Falafel Bar and a hamburger place that promised "The Best F-ing Hamburger in Costa Rica" (it was pretty darn good). We also shopped at the local grocery stores so we could cook breakfast at home every day (mostly eggs and fresh fruit and occasionally we even went whole hog and made pancakes and bacon).
What Did Your Kids Eat?
We heard a lot of concern from people about finding things for their kids to eat when traveling abroad and I'll say that we had no issue with it in Costa Rica. Obviously every kid is different, but at basically every place we went we found kid-friendly staples like chicken, quesadillas, hamburgers or some sort of beef option, along with pasta and even pizza. It was easier to find something they loved to eat than it is at some restaurants at home. This also meant that we could get them to sample some of the more local or "adventurous" items that we were ordering for ourselves, but still rely on serving them something within in their comfort zone to make sure they left the restaurant with a full stomach.
Anything Else We Should Know?
Honestly, the only thing that caught us by surprise was the toilet paper situation. In both areas we stayed we were warned, as the sign in one of our Airbnbs said, that the jungle plumbing systems couldn't handle toilet paper. So instead of flushing toilet paper, it had to be disposed of in a tiny lidded trash can next to the toilet. This was true at stores, restaurants, everywhere – not just our rentals. I'd be lying if I said it didn't feel unusual at first, but by the end of the trip we were oddly used to it. That's probably TMI – but I figure I'd give you guys the heads up! We literally got home and it felt weird to flush it, so you adjust surprisingly fast.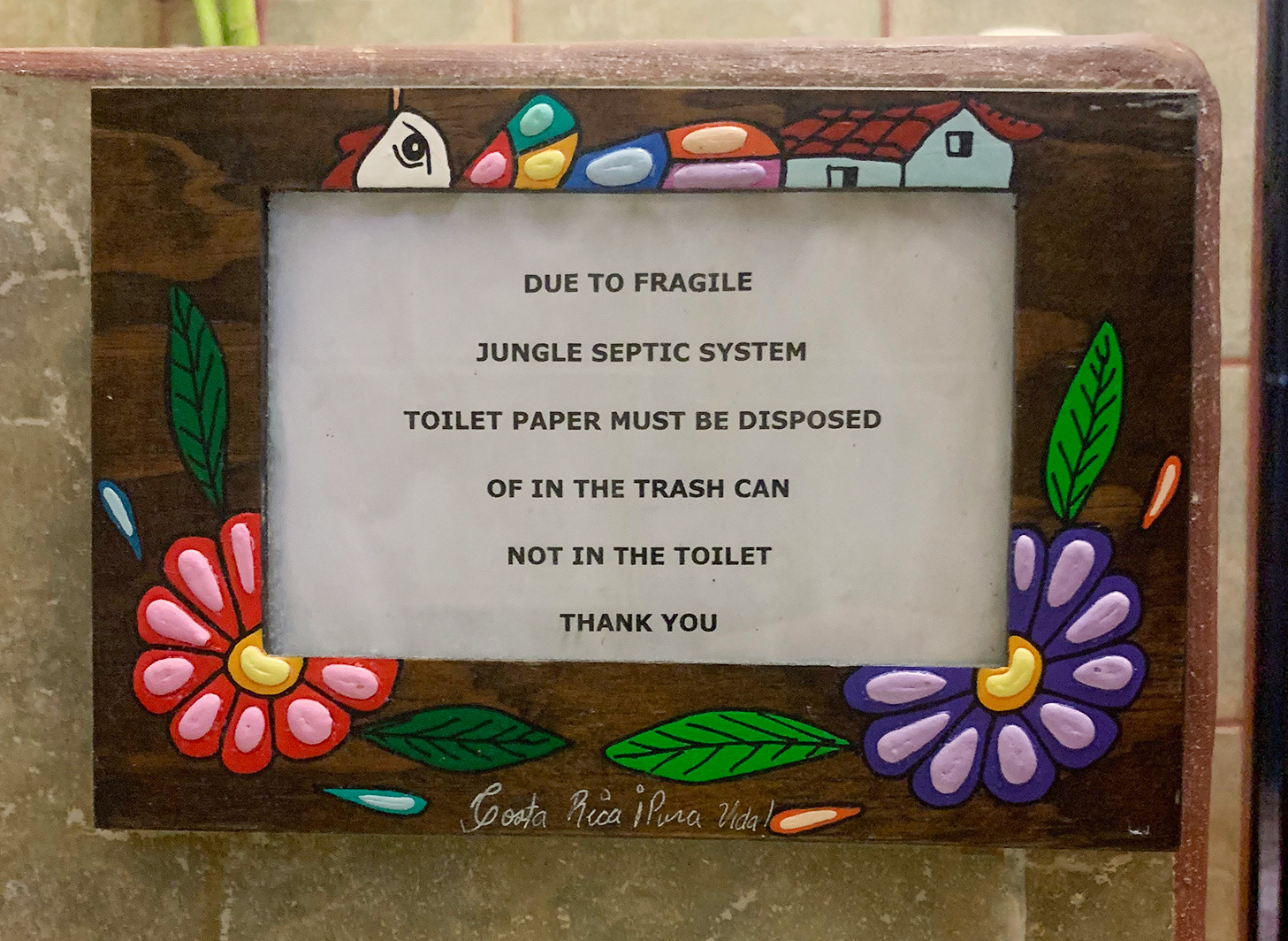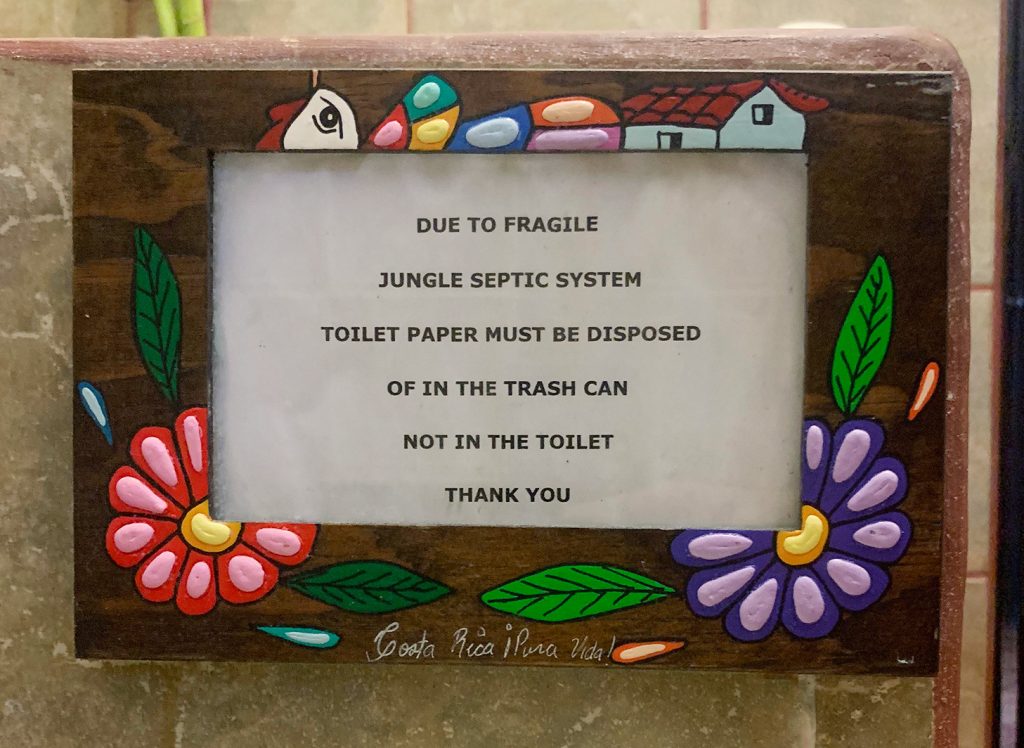 Aaaaaaaand on that note, I'll wrap up this monster post by saying once again that Costa Rica turned out to be the perfect place for our first international trip with kids. Everyone there was so friendly. The weather was great. The food was delicious. Please go and enjoy at least ten smoothies. Pura Vida!*
*that's what the locals say allll the time, sort of like saying "cheers!" When we got home Sherry kept almost saying it to checkout clerks as we walked away. Costa Rica will worm its way into your heart, I'm telling you.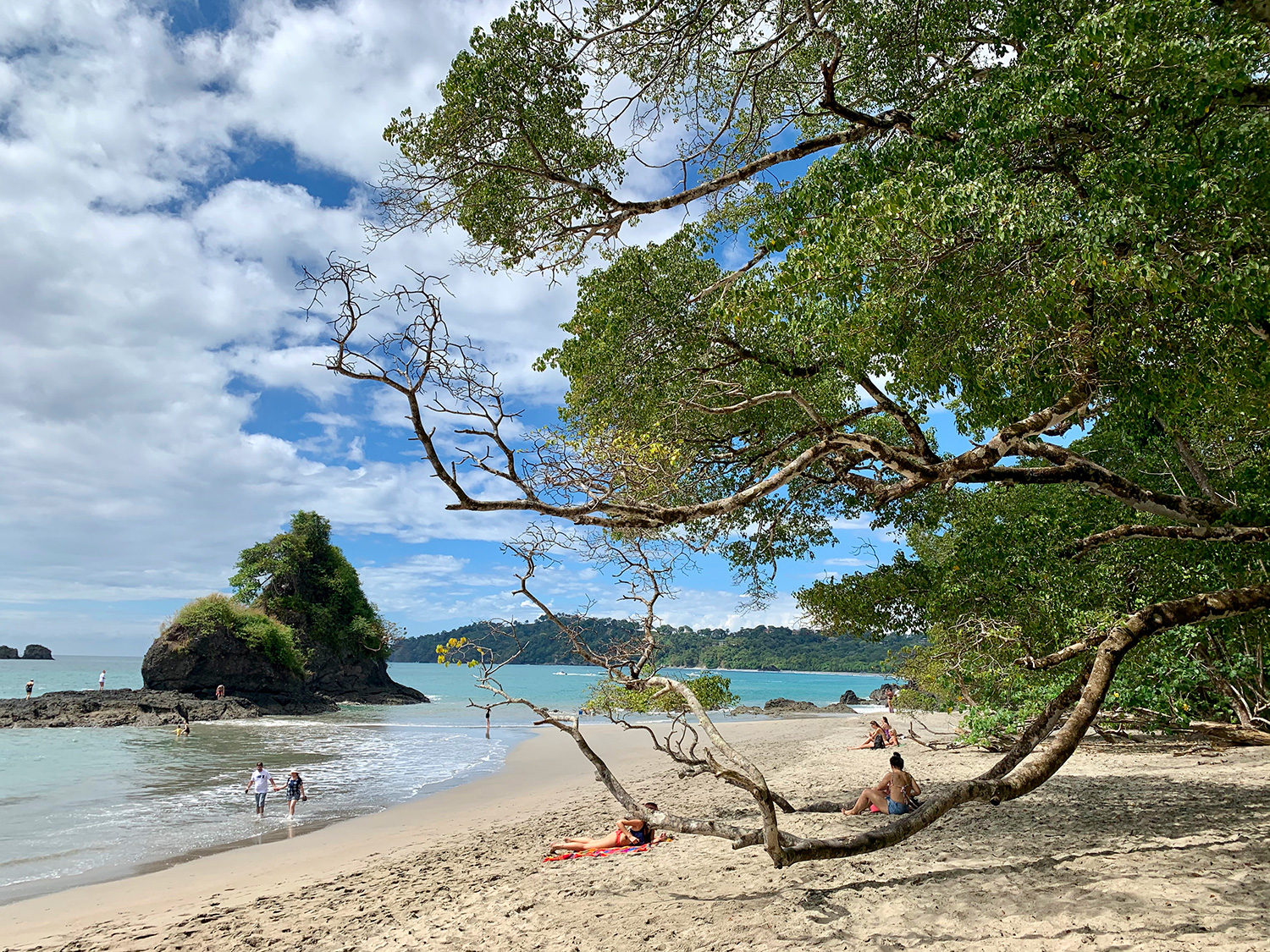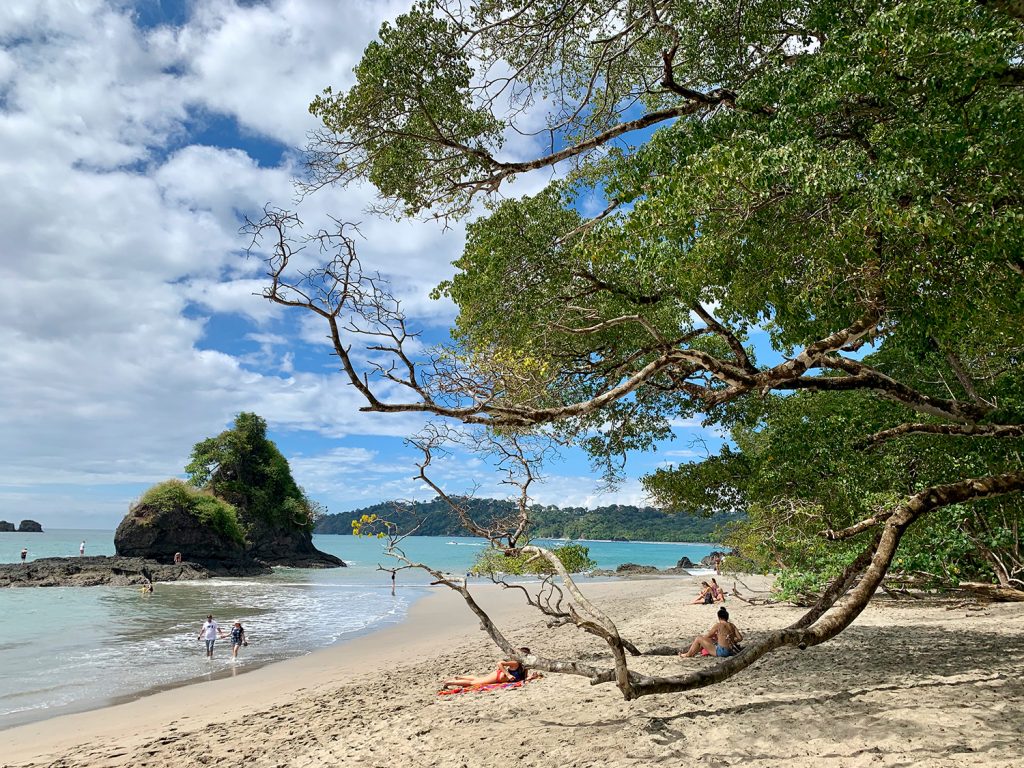 P.S. Want even more photos, details, and info about our trip. You can see a bunch of highlights from our Costa Rica vacation right here on IG Stories