That's how many yards I knew I'd need to make eight living room curtains. It generally breaks down to five yards of fabric per window (or sliding door) for two floor-length curtains that I can hang high and wide over each one. So five yards times four windows/sliders = eight panels (two for the big back window, two for each of the two sliding doors to the right as you face the window, and two for the sliding door to the left (that leads out onto this balcony to nowhere). So that's where the whole 20 yards thing came from. And yeah for those who can't picture it, that's a lot of fabric (60 feet of it to be exact). Even at a great price of oh let's say seven dollars a yard it would have been $140 (not including curtain rods, etc). And it's hard to find extra wide upholstery fabric for under $15 or so a yard (which is what we usually like to use), and that would add up to a heart-stopping $300 price tag).
Eeeks, eh? (<– that's my Canadian impression). Anyway, so that's probably the reason our living room sliders have sat around naked for over six months.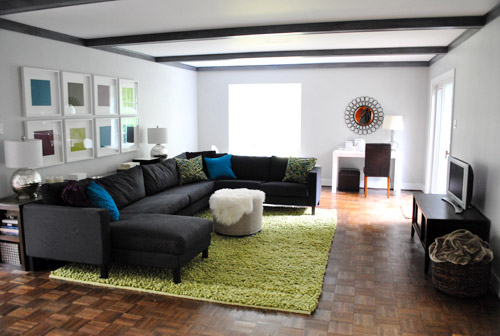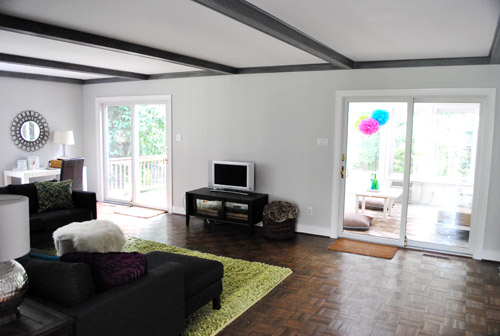 Oh yeah, and those pom-poms from Clara's party hung around in the sunroom until this weekend when we finally decided to retire them to the playroom. Anyway, back to the curtains (or lack there-of). Originally we thought we wanted something bright and bold for the fabric. Just because we're having so much fun with color in this house and also because the walls are soft gray, the beams are darker gray, and the sofa is also dark gray. We had a whole lotta gray going on so we thought some bold textile might break things up. But then we tossed up some bright place-holder $5 art (made here) and got Kermit (our big green cushy wool shag) and mixed in some brightly colored pillows, and brought in two big gleaming silver lamps on the back of the console that we built, and – can you see where I'm going with this? – we stepped back and realized we no longer wanted bright curtains.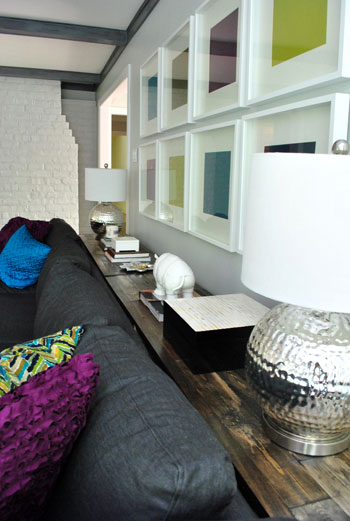 Our big bright green rug was enough pop o' color for us (and the bright art might get adapted but the tones will probably stay) so after our little course correction when it came to our fabric hunt we landed here: something with tone on tone texture. Not too bright. And not too expensive.
Then we realized that we had grabbed some fun tone on tone leafy guys from Ikea a few months back (they were on sale for $29 a pair, down from $49, so we tossed two packs into our cart with intentions of hanging them in the playroom someday). So since we already had four out of eight (and they worked out to be just $15 a panel) if we hung the four that we owned and liked them, we figured we could just head back to Ikea and grab two more packs and be done-zo. No more nekkid windows. So we grabbed some oil-rubbed bronze curtains and ring hooks from Target and hung our four panels on the two sliding doors on that right wall. And we liked it. Obviously they needed to be ironed and hemmed, but we loved the sweet and soft leafy sophistication that they layered in. Especially at $15 a panel. Sold. Just needed two more two-packs.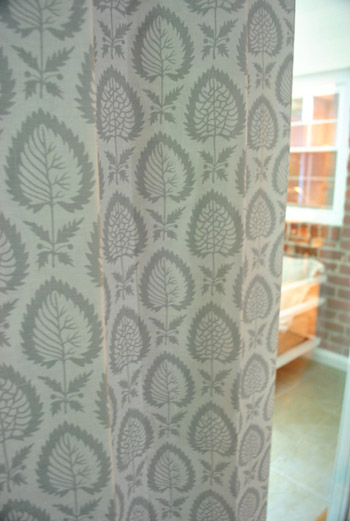 We miraculously heard that John's mom would be up near Ikea the next day so we begged her to stop in and pick up two more packs for us. Before she left I popped over to ikea.com to find out their names for her. I like to play a game where I make up an Ikea-ish sounding product name to see how close I am to the actual product name (I'm never even close but it keeps me entertained) so I came up with Vika Lund and Skiv Rast as I searched. And searched. And that was the first sign that something tragic was about to happen. They weren't online anymore. Nowhere to be found. That little know-it-all voice in the back of my head whispered: "They stopped selling them- you almost solved the naked living room window problem but you didn't buy enough packs and now they're gone. You lose." But I've seen other things in the store that aren't online (a bunch of rugs and mirrors for example) so I tried to convince myself that they were just were among the other in-store-but-not-online items.
About twenty four hours later we got the call I had been dreading. John's mom was standing in the curtain aisle after asking a sweet guy about them and he confirmed they had in fact been discontinued. Hadn't been sold since April. As the Brits say: majah bummah.
Of course that spurred on a marathon ebay/craigslist/google hunt for any and all available identical curtain packs. I turned up a few two paneled packs for around $75 a pop, but that hardly seemed reasonable when we paid $29 (they're called Alvine Kottar by the way). So I gave myself permission to mope around and drown my sorrows in Oreos after throwing myself on the floor and telling John that the living room curtains would be the death of me. You know, totally normal behavior for a 29 year old.
Then as I was sitting on the sofa with Oreo crumbs all over my chest and lap (you're welcome for that mental image), my eyes kept wandering over to the four panels that we had already hung. My one beef with them was that they were too bunchy. Too wide. All ganked up. See? Note: This is a terribly lit shot – sorry. I was too depressed to check my settings.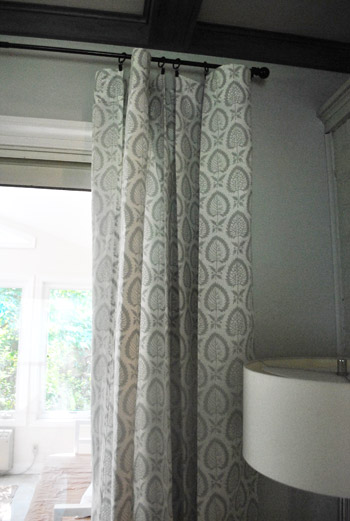 Yup, slowly it dawned on me. They were waaaay too wide. Especially since we're not curtain closers so we always have them thrown open to let in maximum light (that area of our house is wooded and fenced so there's not a privacy issue anyway). This next thought had me getting a wee bit excited. Picture my pace quickening and my chest rising and falling a little faster (just enough to make those Orea cookie crumbs do a little happy dance). What if I cut them down the middle thereby creating eight curtain panels from my four too-wide ones? Oh man, that would be sweet. The excitement was quickly followed by my good ol' inner Debbie Downer voice saying: "But what if they look too skinny and you ruin them? Then you can't even use them in the playroom because they'd be lame little slivers of fabric. Don't do anything stupid."
Darn that evil inner voice. She was right about Ikea no longer selling my curtains. Cue more Oreo eating. Then it dawned on me that I could test-drive the half-width by just unclipping them from my ring hooks and folding them in half and rehanging them. That would "simulate" the width that they'd be if I snipped and hemmed them without picking up the scissors (give or take an inch for the new hem). So I ate brushed the crumbs off of myself and gingerly got off the sofa to try it. Lo and behold, they looked pretty darn good. Not super full and mondo wide, but I didn't like them that way to begin with (remember the word ganked came to mind?). And since they'd never be drawn and would always be smashed all the way open to let in light (and facilitate sliding door function) it was the perfect solution for us because we wouldn't want anything much fuller anyway (which would just get in the way). And you'd see more of the pretty leafy pattern instead of ten million folds. Done deal.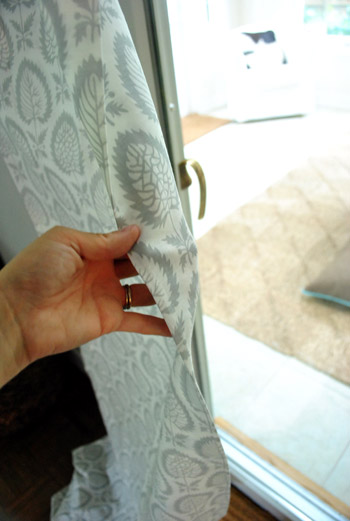 Out came my neurotic "no John cuts" fabric scissors (more on those here) and I snipped those babies right up the middle. The best thing about the cutting-in-half process was that they had been perfectly folded in the packaging right down the middle, so they still had a center fold that I could just follow down with the scissors to end up with two exactly-the-same-size panels. Then I just hemmed them with my trusty iron + sewing machine technique (no pins required – yay Team Lazy). More on that here. Oh and this time I actually folded over and ironed the hem twice before sewing the hem (last time I folded it over once with the iron and then folded it again on the sewing machine as I stitched).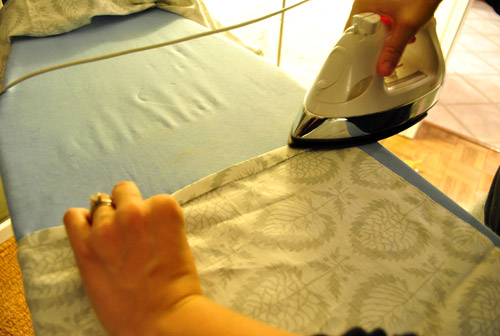 I must admit that ironing down that second fold made it even easier to slide through my sewing machine. So hemming the sides of all eight panels probably took twenty minutes (once they were all prepped with the iron, which probably took thirty).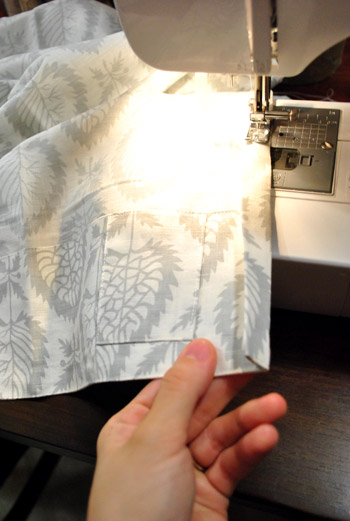 Then after stitching that 1/2″ side hem (which looked exactly the same as the Ikea-made hem on the other side of each panel – thank goodness they didn't do anything too fancy that I couldn't replicate) I tossed them into the wash on cold (and then tumble dry lowed them) to pre-shrink 'em before hanging & pinning the bottoms.
I grabbed them right out of the dryer (they were still a little damp, but hanging them that way kept them from getting even more wrinkly from sitting in the dryer) and clipped them all up on the four oil-rubbed curtain rods (from Target, along with the ring clips) which we hung 14″ wider than the trim around the sliding doors and the window. Except for the sliders leading to the balcony to nowhere (there wasn't as much wall space to go as wide on those, so we went 8″ wide on each of those). As for the distance down from the crown molding, we went with three inches so all of the rods would hang at the same height. That felt high enough to draw the eye up without completely crowding the dark beams above. You know I love a good oil-rubbed bronze rod hung high and wide like dark eyeliner on a window. Me-ow.
Then I pinned the bottoms of each panel so they'd just graze the floor…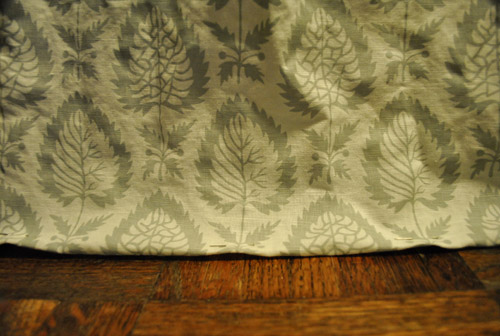 … and hemmed those bottoms pretty quickly (I gave them a longer base hem since a few folks told us that nice drapes have 3-4″ base hems – yay Team Fancy). Oh but I used iron-on hem tape for the bottoms because I was tired and wanted the thick 4″ hem on each one to be uninterrupted by thread that you can see from the front (I'm still very very not-sewing-machine wise, so I couldn't figure out how to get such a thick hem without seeing a telltale line of stitching 4″ off the bottom of the panel which I thought would interrupt the flow of the panel). I guess I could have tried to hand stitch them from the back so you couldn't see it from the front, but I'm not so good at that whole thing. But the hem tape worked like a charm and I ended up with nice extra wide bottom hems in around a half an hour. I even hemmed them right from the rod (as they hung there after pinning them). Didn't even unclip them and rehang 'em. Yay Team Lazy.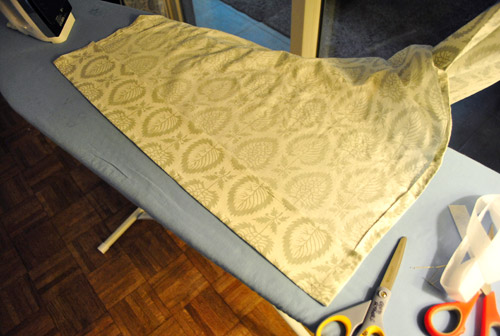 As for the curtain length, we definitely didn't want our panels extra long and puddled since two of the three sliders are used often and we didn't want the fabric to get all grungy (even though they hang to the side and aren't in the path of anyone walking, we worried if they were too long they could drift underfoot).
Anyway, enough chitchat. Here they be: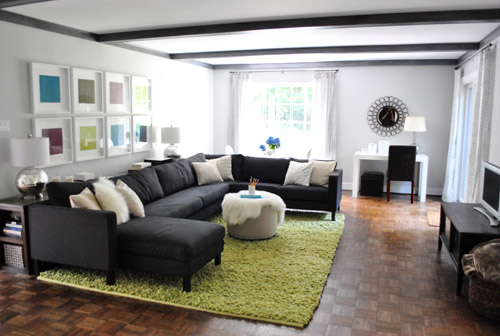 I should mention that sometimes bright sun + window = blown out curtains. Oops. But in person you can see the leafy goodness from across the room, even on a sunny day. And as that over the top dude on Million Dollar Decorators says in his intro: it's delicious.
Like this: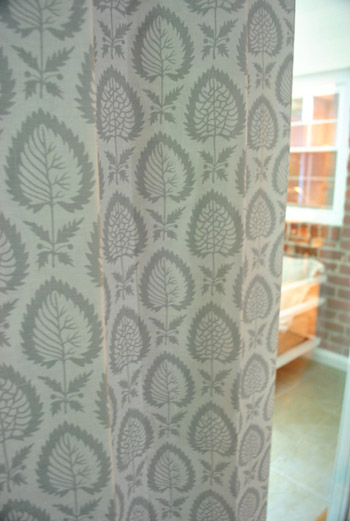 Only further away (so the leaves look smaller). Ok, now I'm giving you a little primer on perspective. Somebody slap me.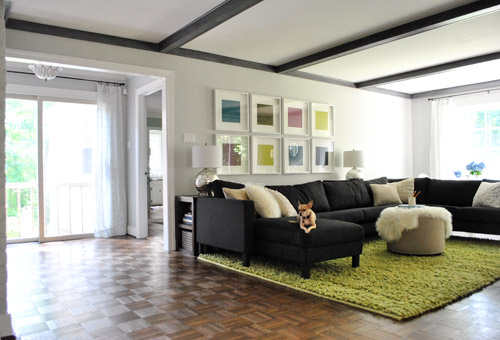 Oh but you can see the lesser-pictured sliders on the left side in the photo above (the ones that lead out to that odd patio that we someday want to revamp).
Who noticed that Burger literally gets up and repositions himself to face the camera? Diva much?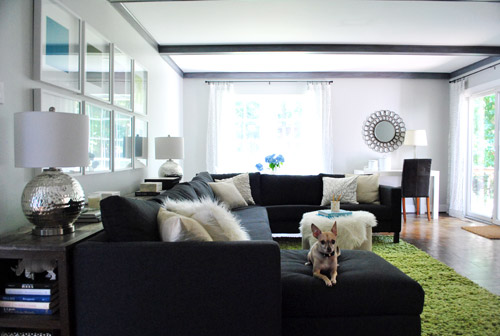 We love how the sweetness of the almost sheer-like curtains contrast the big chunky rustic-ish wood console we built: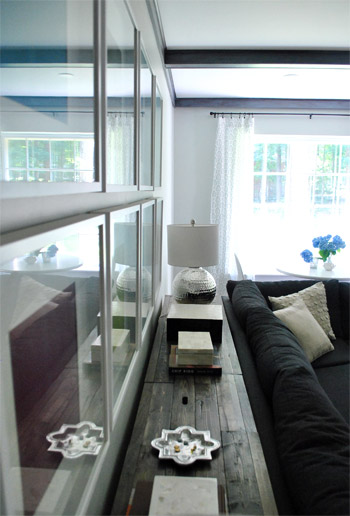 And they play so nicely with the big round mirror too: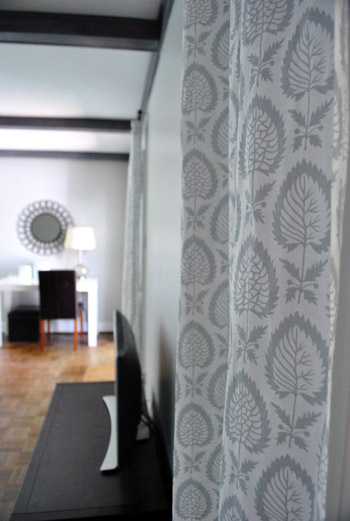 It was fun to add in a few pops of blue thanks to the hydrangeas from our patio and two awesome blue decorating books that I love: Domino and Decorate (the latter of which is Holly Becker's new book that I got on Amazon – it's great).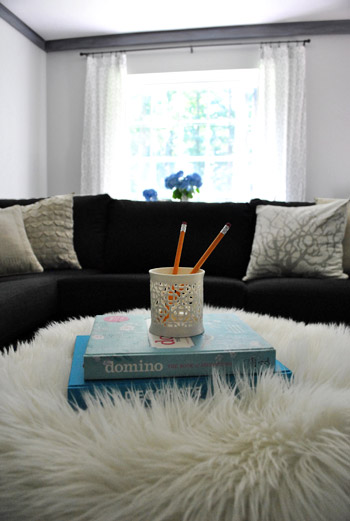 Hydrangeas = so pretty. But also pretty quick to wilt. I clipped these guys five days ago and some of them already look kind of… spent. Oh well. At least they were free.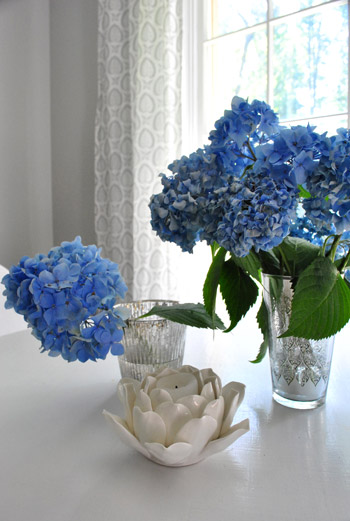 See the curtains in the background of the pic above? That's pretty much how they look from across the room in real life (the sunlight just blows them out in photos so they're harder to read in the wide shots in this post).
Oooh artsy. Hydrangeas in the mirror: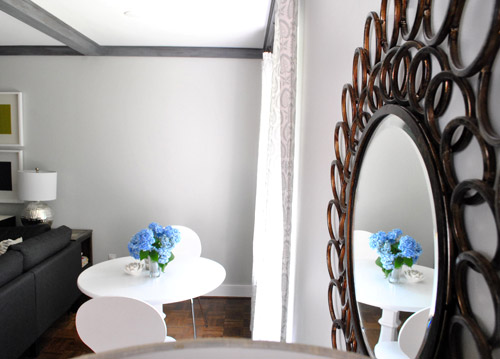 Here's Burg-dorf Goodman posing again. And here's another shot of the lesser-pictured slider across from the two that lead out to the patio/sunroom on the other side of the living room. I love how the soft tone-on-tone curtains don't steal too much attention from the frame wall nearby. They play well with others.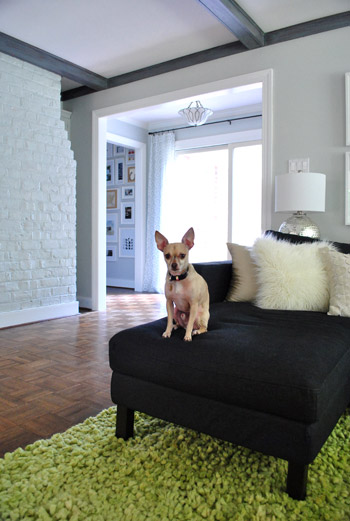 Oh and did you notice I had some fun switching up the pillows. Zero dollars spent (and proof that I have too many pillows). Pillows are like nomads in our house – they never live in one spot for long. These guys were all in the playroom and the sunroom (originally from Bed Bath & Beyond on clearance) except for the floofy one in the middle (which was originally from Target but has lived in our bedroom for a while) so I brought them out for more of that fun texture-y, layered, tone-on-tone thing.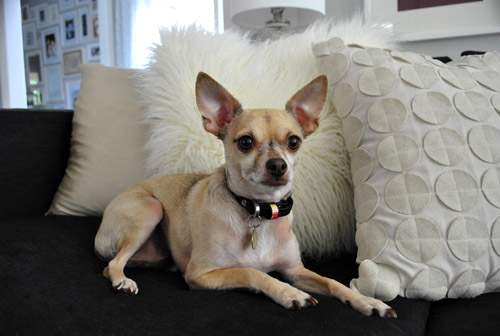 Now the room is a nice little blend of happy (the shaggy green rug and the bright art that we might just switch up soon) + contrast (the dark sofa, the gray-washed beams, the chunky console, and the oil-rubbed bronze mirror) + softness (the faux sheepskin, the white frames, the white desk, the patterned curtains, the lighter toned pillows). Although I'm pretty sure those pillows will continue to get swapped around (Sue the Pillow and her bright friends are now living in the adjoined sunroom, so I can still see them from the sofa). And when we get around to building/refurbishing a media cabinet and refinishing the floors we'll really be in business in here. Someday…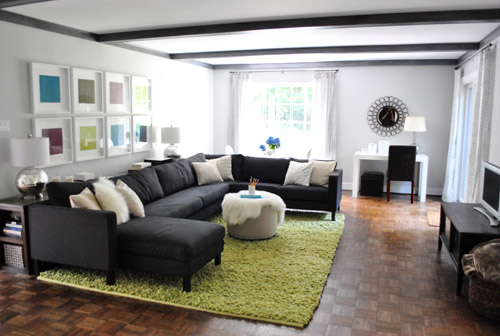 Let's wrap this baby up. We love them. They're our cup of tea. They add come-on-in-and-flop-down-on-the-sofa-and-eat-Oreos ambiance. And they were just $58 for four curtain panels (that we sliced up the middle to make eight). Which breaks down to $7.25 a panel. Which would mean that we'd have to find fabric that was $1.45 per yard to get this good of a deal if we were to make them from scratch. Pretty crazy how things work out, huh? Wait, I guess if we knew we could have cut our fabric in half (we wouldn't recommend doing that unless it's a really wide bolt, like 60″ or more, and you're certain you won't want to draw them for privacy) we only would have needed to find $2.90 a yard fabric. That's still pretty tough though.
One thing's for sure. This room has definitely evolved over the past six months. Here's what it looked like when we moved in: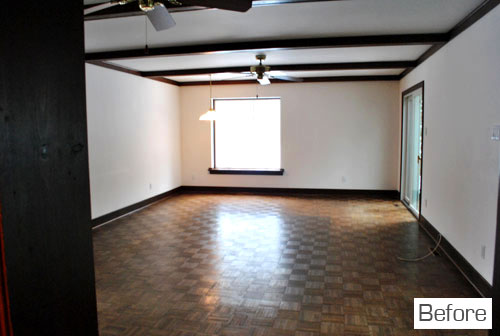 Yowsa. So yeah, we're thanking the curtain powers that be. The only real bummer is the fact that cutting, ironing, hemming, and hanging my curtains probably only burned about one tenth of the calories from the curtain-drama-related cookie binge that ensued. Oh yeah, and it's impossible to photograph how cozy this room feels (maybe because it's so big it looks less inviting than it feels in real life?). Annoying. Anyway, here she blows at night. All glow-y thanks to the lamps: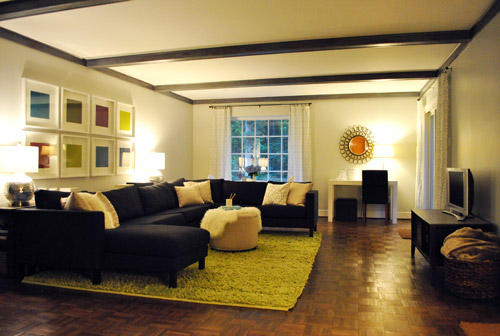 And that brings us to 2,762 words on our living room curtains. Who do I think I am? I'm calling it. Have you guys ever split curtains up the middle or added extra length to them with banding at the bottom or top? Ever heard of Ikea selling out of things in April? Seems like a random month to decide not to bring stuff back, right? But maybe that's why the panels we grabbed were on sale for $29 in the first place…