Duuuuude. I got back on the proverbial sewing machine horse. What? You haven't heard that expression. Whatever. The point is: Sue the Napkin is now Sue the Pillow! Or more accurately Sue The Pillows (yup, I made two of them).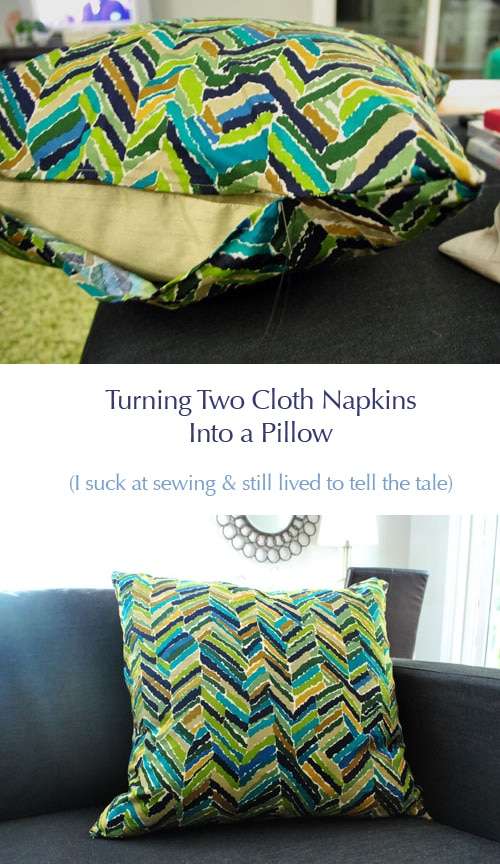 Here are my materials:
Four Sue The Napkins (I originally got ten when we found them on clearance at Crate & Barrel, but I picked up four more so I could make two pillows using four of them and still have ten leftover to use as dinner napkins).
Oh Brother (my trusty sewing machine, more on him here)
Two old pillows to use as the "inside" of my new Sue pillow covers
A needle and some brown thread to sew one edge of the pillow shut by hand (that way I can easily seam rip that last portion to free the pillow inside and make a different cover down the line if I'd like).
I'll spare you every detail, but I basically just stacked two napkins on top of each other with the good printed side touching (and the back of the fabric showing on the top and the bottom of the stack) and used my sewing machine to sew three of the four sides completely shut while it was all inside out like that. I even turned the corner and did about an inch or two on each end of the remaining fourth side while they were still inside out on the machine. Then I removed the napkins and turned them right side in, stuffed a pillow inside my little napkin envelope (which now had the printed side facing out), and stitched the remaining expanse of about 10″ closed by hand with my brown thread (which blends in surprisingly well).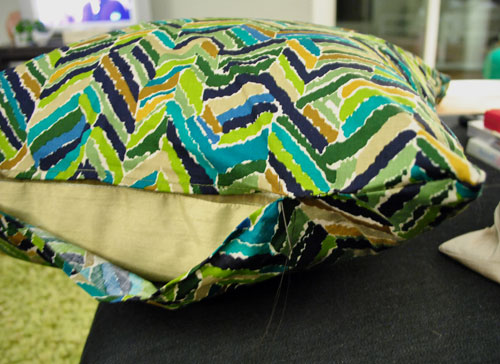 As I've mentioned complained about before, I've ironically never had an issue with sewing by hand (it's like painting by hand or demo-ing by hand, both of which I can do – I only have issues when I rely on a maniacal robot sewing machine). But as much as I whine about the ol' new sewing machine, it did me right for my little pillow party. Am I a professional seamstress? No. Can I sew three straight lines without ending up with a birdsnest-looking-pile-o'-thread? I did this time. Strike up the band! Cue the fireworks!
And on the surprisingly-not-as-annoying-as-I-thought-it-would-be side of things, it only took me about four commercial breaks during Modern Family to whip up both pillows (so maybe about 12 minutes total? I was watching last week's episode by the way, so don't ruin this week's for me).
Then I just stitched them closed during Bethenny Ever After (this took me much longer than it should have because I kept stopping to stare at the screen and guffaw at my imaginary BFF). But all in all, they look a lot less demented much better than I expected. Actually – dare I say it? – like real pillows.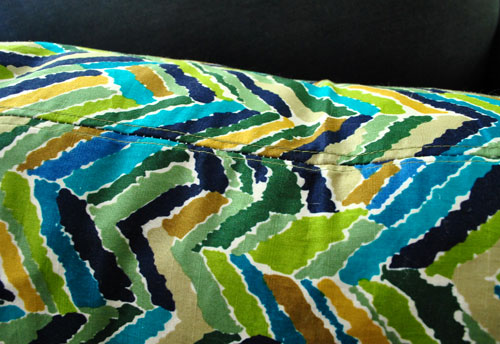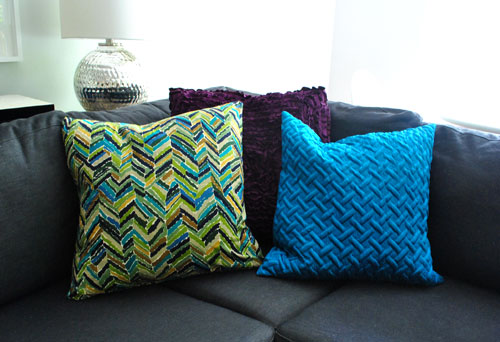 Oh and as pretty as the pillows look when they're all fluffed and photographed for the blog, more often than not they really look like this. Because Burger makes it a personal goal of his to squish every pillow in the house into an ugly little blob. But he's cute so we deal with it.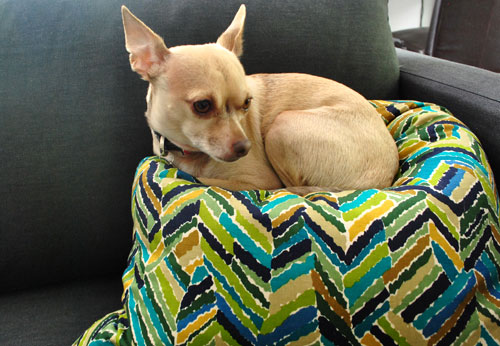 Sometimes he even stops to nuzzle Sue, as if to say "you're my favorite napkin-turned-pillow too." It's always nice to get pillow validation from an eight pound chihuahua.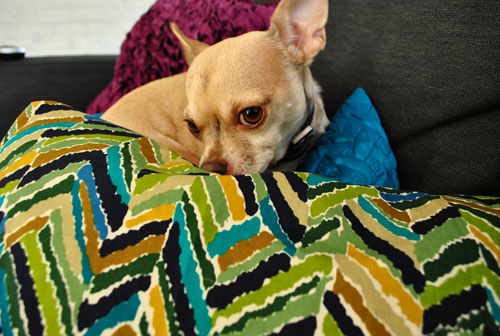 So that's the tale of Sue The Pillow(s). Have you guys sewn any napkin pillows lately? Did you die over the whole Gloria hair-rings/earrings thing on Modern Family last week? Me too. Can't wait to watch this week's episode tonight.