Yup, that's how I'd describe our new living room rug. We have a case of happy feet. It's even more plush and amazing than expected. But before we get to all the juicy rug pics we need to tell you guys how much we love you. The overwhelming support, kindness, and hilarity that you bring into our lives – not only on this morning's big announcement post, but on the regular – is humbling, inspiring, and completely and utterly amazing. So smooch. I just virtually kissed your face. Oh snap.
Now back to Big Green (since it is St. Patrick's Day)…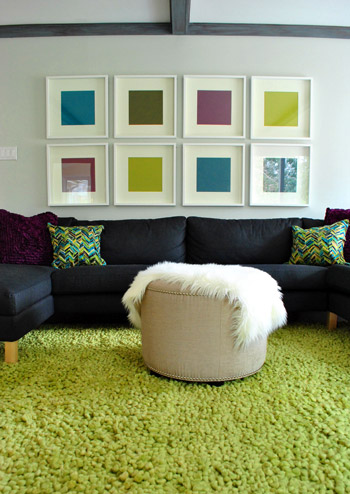 Although it's so thick that you'd think tumbleweeds of green fuzz would be rolling around the house, we vacuumed it when it arrived and again the next day (just to grab any of those loose fibers that might have pulled out from shipping) and so far so good. No issues with green fluff everywhere or pulled tufts from the vacuum suction. Whew.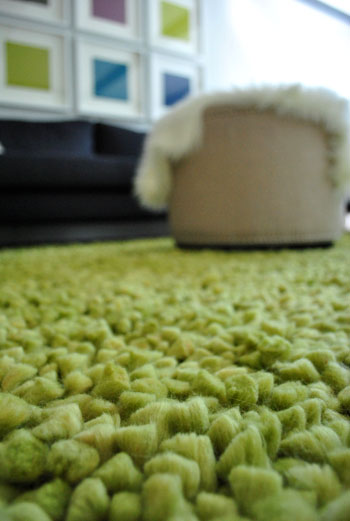 At 8 x 11′, it's definitely a more appropriate size for our giant 25 x 15′ living room (as opposed to our old 5 x 8′ rug that now lives in the guest room). And once we build a big long console table for the back of the sofa (and the sofa comes forward about a foot more onto the rug) it'll look even more proportionate. In other words, not quite as much rug will show since the sofa will move forward on the rug for a more balanced look once we have that console table built.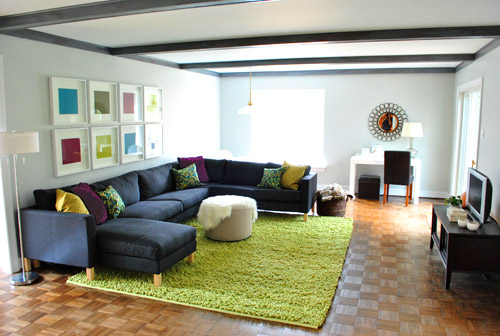 And of course once we upgrade to a deeper/bigger media cabinet, hang curtains, and bring in more art, the room will hopefully start to feel more cohesive and make a lot more sense. Because right now it's just a big gray box with a fuzzy green rectangle on the floor. Haha. But it'll be fun to see how thing evolve as we layer in all sorts of other stuff over time. Hopefully it'll fill in nicely. Just think of the rug as a big furry grass-like foundation that we're laying- er, planting.
Speaking of the fun green color, we're so psyched about the happy-go-lucky tone. It's just perfect with the gray sectional, pewter walls, and dark beams. All of a sudden it feels chipper and a lot less cold in there. Like a space that we want to kick off our shoes and settle into. It's definitely not your mother's persian rug (or your father's neutral one) but we're having a lot more fun taking risks in this house. Even if it means doing things that might not have mass appeal – as long as something speaks strongly to us, we're in. There's actually freedom in letting go of the notion that your house should please everyone who walks in the door. It allows you be more true to yourself and your place starts to feel more special. Plus it means that your rooms won't be in danger of looking like everyone else's, which isn't a bad thing either.
We loooved our first house for how soothing and serene it was, but in all honesty, we smile bigger here. Cheesy but true. It's just such a fun and happy house – even though we're just getting started and every room is about 80% incomplete. We definitely think Clara has inspired this whole Benjamin Button-ization of our style (read more about that here). Basically we're loving the looser and less serious approach to making this house a home – and we're quickly learning that playful pops of color, texture, and pattern can definitely happy up any room. Especially when mixed with neutrals like gray walls/furnishings/beams or white furnishings & a jute rug. Because if everything is a color and a pattern it might get cray-zay.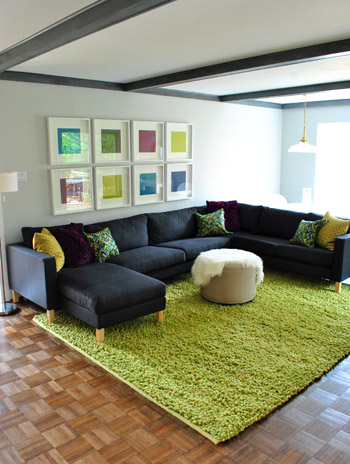 To tie into this big furry rug baby we'd love to add eight green parson's chairs to our giant wooden dining room table for some nice whole house cohesion (there's that "neutral + color = love" combination again). We'll find those perfect chairs someday…
Oh and when it comes to keeping Kermit clean (we're loving that reader recommended rug name – don't Karl & Kermit sound perfect together?), as we mentioned in the post about ordering it, a friend of ours with three kiddos and a big hairy dog has a similar shag rug in her house and she swears it holds up to stains and kids like nobody's business since crumbs/dust come out with a quick vacuum and you can actually subtly trim the long hairy tufts if anything catastrophic happens to "lift" the stain. So far it's been amazing (but we obviously haven't dropped anything major on it yet) so we'll tell you the truth if we hate it in a month.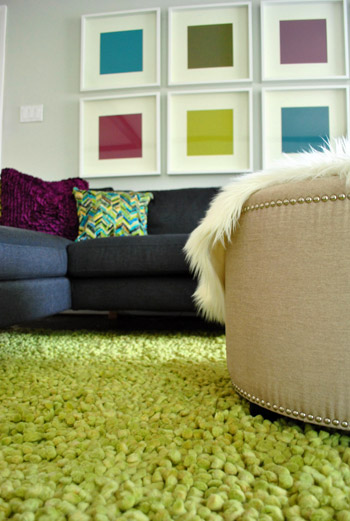 You might also notice some new pillows on Karl. We got two of those ruffled purple guys for $16 at HomeGoods. We also brought in our two green pillows from the bedroom just to see how something like that might work with the rug (we think they're a little too yellow, but not terrible), and tossed three Sue The Napkins over other pillows that we had lying around to see what real Sue The Napkin pillow covers might look like when I get down to business and sew some. The pillow situation will definitely evolve over time though (I love those teal tones in Sue, so blue pillows might make an appearance someday, perhaps in lieu of green ones).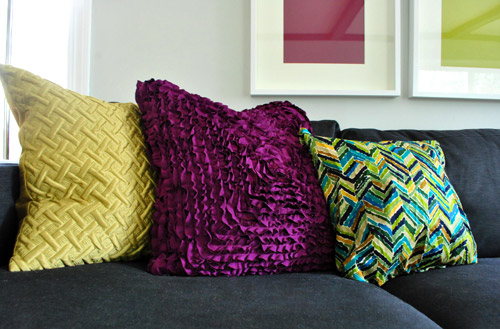 But back to the purple ruffle pillows for a second. The ruffle detail is really fun, but isn't it amazing that John didn't veto them? He's usually so not on The Ruffle Train. I think he likes the idea of spicing things up with bright colors like navy and plum and deep teal so he just did one of those "sure, why not?" things. Love that man. Or maybe he's just finally catching on that a happy wife = a happy life. Haha.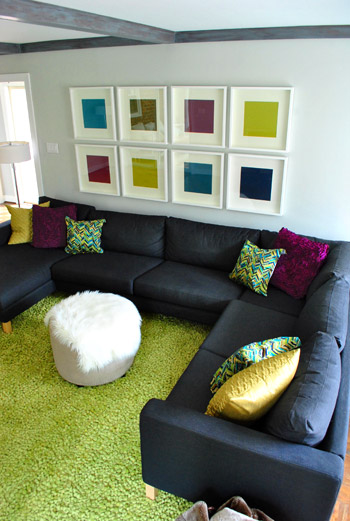 Now we just have to plan our big console table build because we can't wait to see Karl scooched out (that's a technical term) about a foot away from the wall. A little less rug should look perfect, plus it means there will finally be a place to put drinks (namely my hot tea every night) and two table lamps for reading (which means no more floor lamp in the doorway). Yipppppeeeeeeeeee! Yes I just wrote that. And yes it has ten "e"s on the end. Can you tell I'm excited? Oh yeah and Karl's embarrassingly pale legs have got to go. So creepy.
She whips her cellphone back and forth. She whips her cellphone back and forth.
Psst- John's parents just gave us their old leggy antique dresser which is perfect for our bedroom (it's been in the family for years and John's dad actually bought it from a cousin for $100 decades ago). It needs some love but it's going to look awesome. And it's f-r-e-e. More pics soon (you can see a "they-scooped-us" pic of it here thanks to the Washington Post).