Just can't get enough of them these days. I think it's because of all the rectangles and squares that abound (from windows, doors, and beams, to things like beds, cribs, and fireplaces with right angles galore). It's just nice to add some curves to break up the square-fest.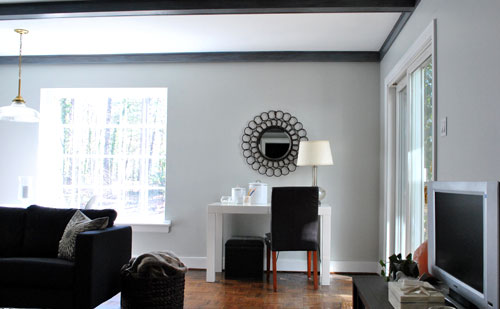 We got this guy at Hobby Lobby on sale (they were offering 50% off all wall hanging items, yesssss) for $65 – down from $130. Not bad for an ornate 30″ oil-rubbed bronze beauty, right?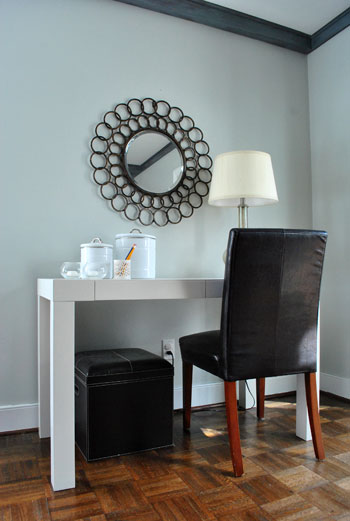 We know it looks a smidge small for that big expanse of wall (see first pic), but once we hang curtains high and wide on the giant picture window – and scooch the mirror over a bit afterwards – it'll hopefully be perfect.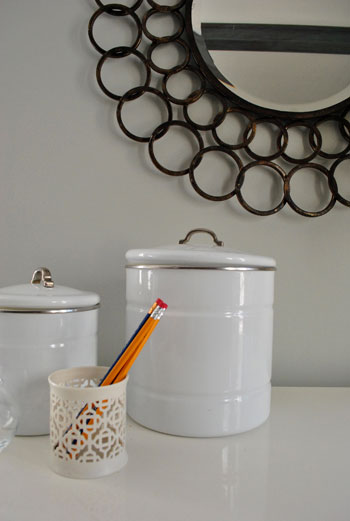 Not sure if we'll paint it down the line or leave it oil-rubbed bronze. Once we hang curtains we'll make a final decision since the room is definitely still in progress and adding in some oil-rubbed bronze curtain rods might be a game changer. Can you handle the suspense? Haha. Although something fun like deep plum might be sweet. Or even white to tie in with the white frames over Karl – especially since this similar mirror (except for the fact that it's $495 and the links are more oblong than circular) is pretty gorgeous in glossy white.