First things first. We have a furniture name change to attend to. Our giant 70″ dining table arrived (you know, the one we blathered on and on about here), and he just can't be called Woody. Because he's obviously not a he, he's a she. Given her elegant lines and curvy figure, I don't know how we ever could have made that mistake. We finally landed on Stella as her new moniker because she's definitely a stellar addition to the future dining room. Har har. And since we already have Ed (the bed) and Karl (the sectional), I felt like I needed a lady-friend to balance things out.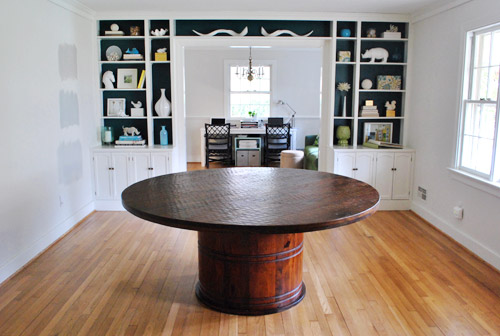 Update: Everyone's asking about the paint swatches in the background – but they're actually really old. Here's that post for ya.
And here's the varied carved top that I described more here. It'll be great for hiding those dings and dents that happen when you live with kiddos. And when you yourself aren't known to be the most coordinated person in the world. I may have had one or two incidents involving flying salad tongs in the past.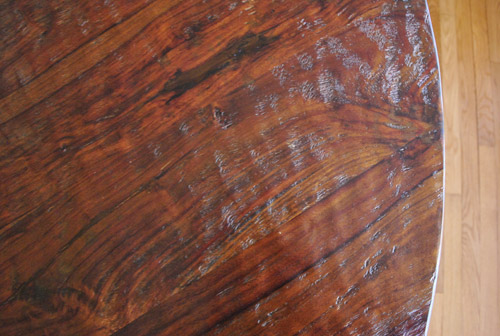 The great thing is that although the top has a nice rough texture – and it's made of super durable (and sustainable) sheesham wood – that gorgeous hand-carved look isn't so "dented" (for lack of a better word) that you can't balance a glass on it or you worry that crumbs will get stuck in the crevices. We'd best describe 'em as nice mild waves.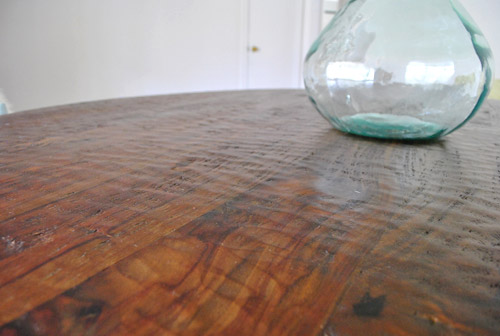 We also love that the base isn't as invasive as something with legs (or even a leggy-pedestal) could have been. So once we pull eight apple green upholstered chairs around it, no one will end up straddling a leg throughout the meal. Nice.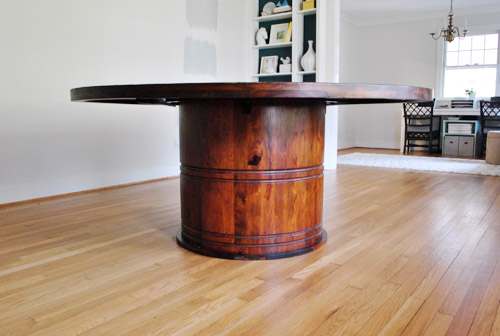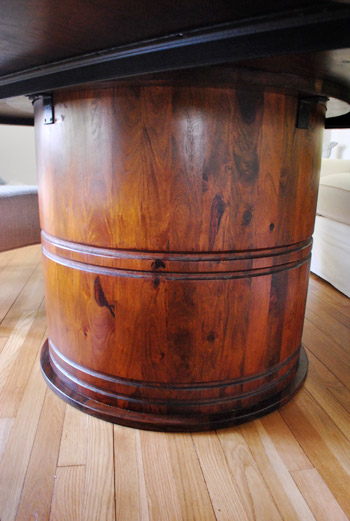 Yup, Stella is nothing if not balanced and poised. She instantly created that casual and inviting vibe that we were going for in the future dining room. We centered her right on the giant picture window, which still leaves some room on the other side of the room to create a nice defined entryway so it doesn't feel like you're walking right into the middle of a dining room. And once we add our 6′ opening between the kitchen and the future dining room (which we plan to line up with the picture window for some nice balance) and drop a chandelier or pendant over the table we think it'll really be a huge improvement.
But back to Stella. Her welcoming round shape isn't too stuffy, but it's still classic and even luxe looking thanks to the rich-toned wood (we really really wanted a wood toned table over something painted so it could get weathered and loved over the years while wipeable chairs and colorful art and curtains could add some punch and interest around our big round table). And speaking of those chairs, I'm convinced that Stella will look endlessly more fab when we pair her with some fun apple green leather (or faux leather) parsons chairs down the line. I may have mentioned them, oh, seven or eight times. I'm thinking something like this after we build up the ol' bank balance. I just love the idea of mixed and matched dining furniture so it feels casual and kind of library-esque (thanks to upholstery instead of lots of wooden chairs paired with a similarly toned wood table). Because let's face it. This room will definitely multitask as a big surface where kids will do crafts and school projects and all that good stuff. At least if we're lucky, because I painted that quaint little picture in my head and I want it to actually happen.
Anyway, enough soul baring and dream sharing for now. Until we get those green chairs, Stella will just be hanging out in the middle of our future dining room alone. That is once we figure out where those slipper chairs that used to be in the living room will end up. And after we finally craigslist the white slipcovered sofa (we'll share the link over to our craigslist ad for any interested locals when that day comes). Yes, this is what the room actually looks like these days: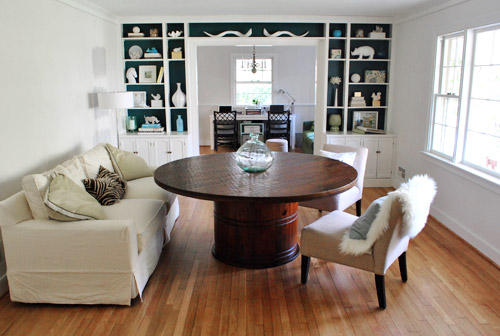 Feel free to have a little caption contest with this awkward setup. My entry would be: "Gary was such a couch potato that he preferred to eat his potatoes on the couch." Um, yeah I suck at captions. Please come up with something better.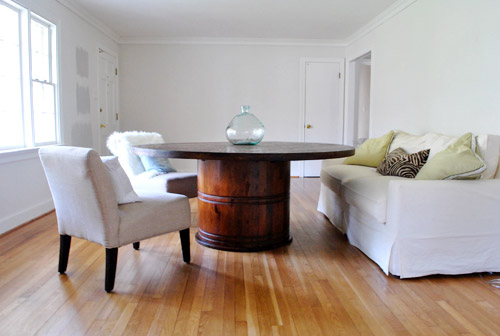 The point is that we'll get our little furniture smorgasbord straightened up sooner or later. And then our girl Stella will be the true star of the room. Cause she'll be the only thing in the room. Hah. But somehow I don't think she'll mind living it up in there alone. She's all woman. And she can totally hold her own. Do you know how heavy that chunky wood tabletop is? Let's just say it took two muscled men about 30 minutes to wrestle it into place. Gotta love a strong (& sexy) femme fatale. Go on with your bad self, Stella.
Psst- Our babyproofing adventures have begun over on BabyCenter. Let's just say we're taking baby steps, so you can check out some riveting outlet cover chatter here. Oh and feel free to share your babyproofing tips – we're total novices to the point of hilarity.