Please tell me you sung that title to the tune of the Brady Bunch? If not I'll give you a minute to get to it.
Now that we have that out of the way, I thought I'd share our inspiration command center when it comes to the new house. It's this napkin that we scored on clearance from Crate & Barrel (which you might recognize from this post of yore).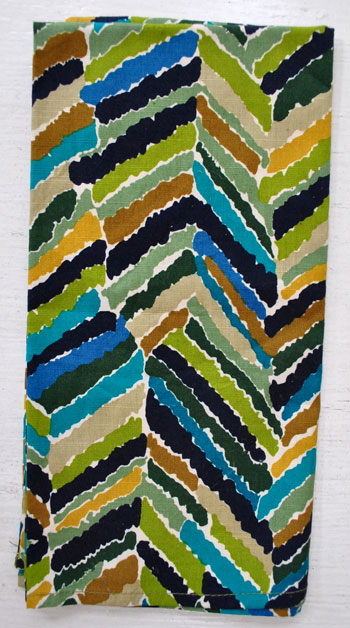 I kid you not. That napkin is like the Sue Sylvester of Casa Petersik when it comes to picking colors and pinning down that ever elusive whole-house-color-scheme. She's loud. She's totally in charge. And she's fun to watch. Thankfully no bullhorn though. That wouldn't go over well with Burger.
When it came time to choose a color for the back of the built-in bookcases, Ms. Napkin was the inspiration. Same with our bedroom walls and the artichokey green color that we're thinking about in the kitchen. We literally pull swatches, hang them on the wall in each room to see what we like, decide on a favorite, and then make sure that they look nice next to El Napkin before running to the store to get paint. We definitely haven't been holding swatches up to the napkin to find a perfect match to every color or anything (we're picking based on what looks best on the wall in each room, and then just making sure it "goes" with Sue). Look, here we have some of our favorite swatches with her: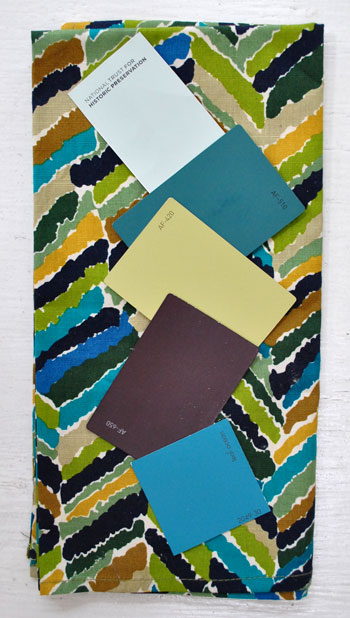 Not all of the swatches are reading exactly as they look on the wall (which of course is par for the course, so always hold something up to the wall in your space to see how it looks depending on the lighting sitch), but the top swatch is our blue-green-gray bedroom swatch (looking quite tame next to all that color and pattern): Catalina Crescent Roll Carolina Inn Club Aqua by Valspar (get that joke here). The second swatch (which is reading less dark and moody in this pic) is the color that we used on the back of the bookcases (Dragonfly from Benjamin Moore's Affinity line). The third one is the color we're contemplating for the kitchen walls… when we finally work up the momentum to tackle that room (Agave from Benjamin Moore's Affinity line). The fourth one is a deep aubergine plummy tone with chocolate undertones (Caponata from Benjamin Moore's Affinity line) that we'd love to work in somewhere when I put on my big girl pants and grow some cojones). And the bottom swatch is a super layered and moody deep teal (the photo does its depth of color no justice) that I'm working up the guts to use in the hall bathroom (Benjamin Moore's Teal Ocean). Yeah, it should be interesting to say the least…
What is it about that napkin that speaks to us? We have no idea. Other than the fact that we like the colors and we like how they look together. So if they can work on a square of fabric why shouldn't they work in a house? It might be a foolish plan of attack, but we intend to see it through either way. And it's so easy to pop Sue in my purse and keep her with us when we're out shopping. Because even though our colors don't match her to a T, they definitely "go." So if we see something that goes with El Napkin, it probably will go with our house. Look, it even looks good with my Christmas teapot from the hubs. Nicely done Mr. Petersik.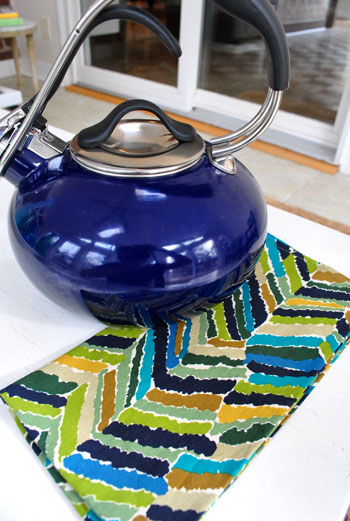 Who really knows where we'll end up. We're just taking things one day at a time and are definitely dedicated to taking more risks with bold color and pattern than we did in our first house. Especially with the bambino around. We're just feeling the more-playful-splashes-of-color approach over the whole beachy-airy-neutral thing that we did last time. Should be fun.