Yes, it's yet another rambling rug post. What can I say- our old hardwood floors give us splinters (remember this episode when I got one in the badonkadonk while painting?). And rugs are definitely great building blocks for a room – so we lean towards introducing them on the early end whenever possible. And after dragging the ol' 5 x 8′ yellow rug back out from the guest room for Clara to play on until we got a more appropriate sized rug for large & in charge Karl the Sectional, we finally found something that made us excited enough to whip out our credit card. Yup, we ordered this amazingly textured & bright rug for our living room from The O (yes I mean Overstock – I try to support those strange marketing campaigns where brands like Radio Shack try to relabel themselves as The Shack).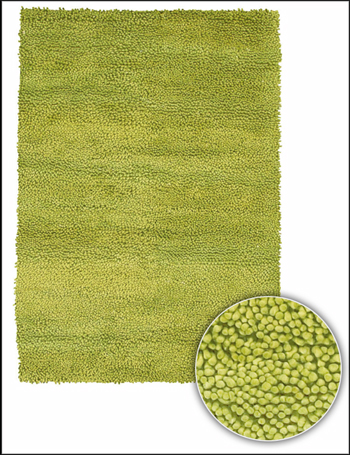 It's cushy and bold and happy-go-lucky and supersized (just like Big Karl). And it's family friendly thanks to pure wool materials and the nice soft surface that it'll create for crawling and sprawling out. The description actually cracks me up. Here's part of it verbatim: "Trip out on pure, green hand-spun felted New Zealand wool." Hilarious. We can't wait to trip out on it. Plus the 5 star reviews about everything from how great the color is to how plush the shag texture is had me at hello (each tuft is apparently as thick as a crayon or a stalk of celery- yes please).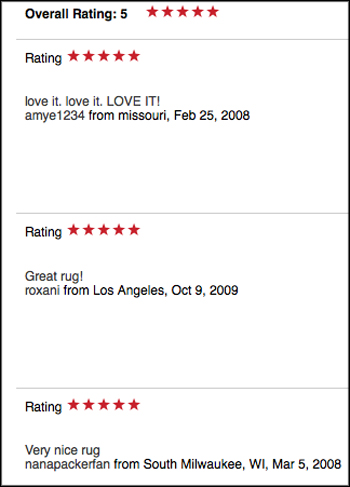 At $424.99 it's not cheap. At all. At least by our standards. But most things that we hunted down in that large of a size (it's 8 x 11′) in pure super-thick wool (which is always what we prefer in a casual used-all-the-time living room for reasons of softness, quality, and no nasty off-gassing) were usually in the $600-$1200 range. Like this similar shag from West Elm that's smaller for $700. So something in the low 400's with $2.95 shipping (can't beat Overstock shipping) was actually pretty appealing. Especially since we recently sold our slipcovered sofa from our last living room on craigslist for $600. Our grand total for El Rug came to $427.95.
In the end we just didn't want to spend $300 on a cheaper rug that we felt "meh" about instead of investing a bit more into something we'd – fingers crossed – love and use for a long time (the color seems like the perfect balance of brightness without being too light and stain-show-off-y). Plus we're still embarrassingly giddy to have snagged an 8 x 10′ jute rug for the bedroom at under $250 so that sort of created a little imaginary rug credit towards this one in our heads. Psst- Weird. The O must have just raised the price. Here's a link to the rug now on sale for $499.99, but you can see from our screengrab below that it was $424.99 when we ordered it.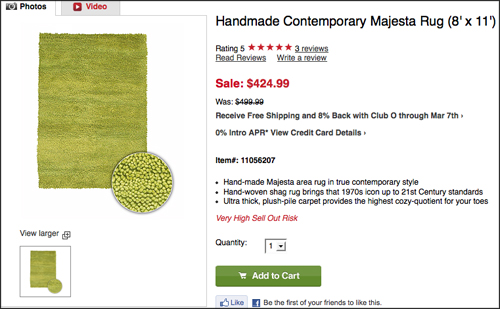 Now for the cleaning plan. Because we're so not into high maintenance rugs. A friend of mine with three kids and a (giant) dog has a similar shaggy wool rug and she swears it holds up to stains and kiddos like nobody's business. Crumbs, dirt, and dust supposedly come out with a quick vacuum so that's definitely doable. And apparently you can subtly trim the long hairy tufts to "lift" a stain if anything catastrophic – like grape juice – happens. And it's seemingly impossible to detect because I've stared at hers in search of the trimmed parts and can't ever find anything.
As for how we chose the size, we just used green painters tape to tape out the dimensions on the floor of our 25 x 15′ living room to make sure it worked (should've snapped a pic of that- boo). And as for the color choice, it just felt like our dark sectional, pewter walls, and gray beams needed a nice bright rug to take the room for Cold Gray City to a Warmer And More Fun City. But we didn't want something too light that would show off every "oops" moment that's sure to occur over the next decade plus (thanks to one baby, one dog, and dreams of at least one more wee one of the human kind in a few years).
Now before we get any further I must declare that we'll probably forever miss our too-small-for-the-sectional Favorite Rug Ever In The History Of The Universe (our old Moorish Tile Rug from Pottery Barn). Gray and yellow is such a sweet combination. We looked for other yellow rugs but they all seemed too thin or too light (or too expensive, therefore too precious for use) and we feared they just wouldn't hold up to all that impending abuse.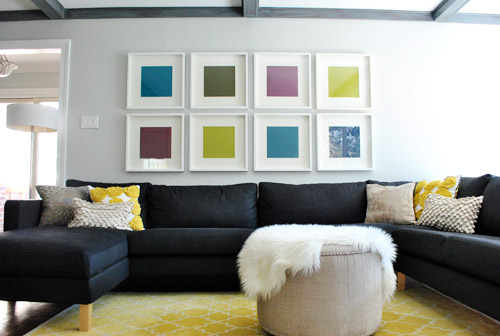 But Old Yeller isn't dying or anything. Because I totally couldn't take that. Seriously. I love that rug like family. It'll just be found hanging out in the guest room where it's much more appropriately sized (a 5 x 8′ rug paired with a giant sectional like Karl in a cavernous 25′ long room just isn't the best solution). Anyway, we can't wait to meet Señor Shag-o when he arrives. Overstock is famous for fast shipping so we hope to share pics in a jiffy (wow, even typing that made me feel like my mom, who also says things like neato and dungarees).
Anyway, now that we have our living room rug pinned down (which will tie into our $5 art) we can start thinking about curtains and lamps for the console table that we're planning to build for behind Karl. Plenty of light & dark gray + bold color + lots of texture + some pattern sounds like a good time to us. Have you guys ordered from The O lately?