I have officially hatched my evil egg chair plan (mwah-hah-hah).
Sorry, couldn't resist an ovum-related pun. Anyway the $30 thrift store can't-believe-it's-mine egg chair that I mentioned late last week got cleaned up, first with a nice liquid deglosser wipe down, and then with some spray primer + spray paint. About ten minutes after I snapped this grody before photo with the old cushion on it in our sunroom…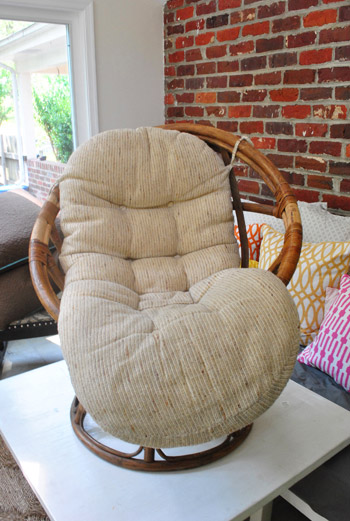 … I had him out in the yard ready for a little somethin-somethin.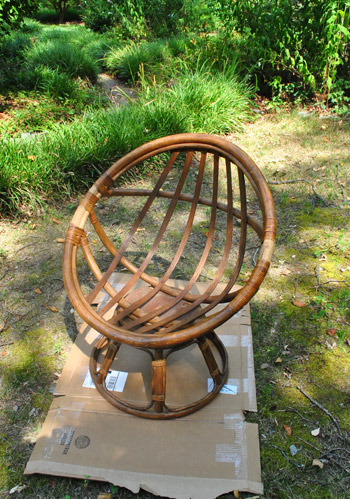 Although the orangey-wood tone above doesn't actually look bad in the picture, in person he just looked dated and a bit dilapidated (thanks to the caning that was missing on both sides of the frame) so a fresh coat of love – in the form of paint – was my solution. And we can always paint it another color down the road to work with our ever-changing minds (ex: glossy black, soft mocha, cheerful yellow). I think after painting our happy green office chairs I've completely tossed any painted-chair reservations out the window since they're one of our favorite furnishings in the entire house…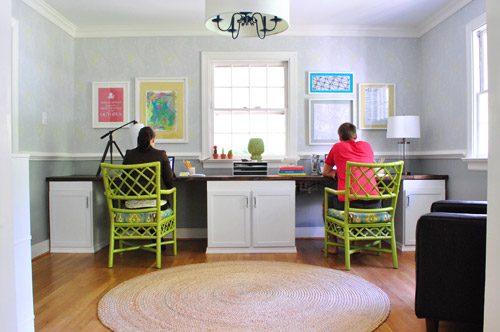 … so we want to love Eggy just as much.
An hour or two later he looked like this. All dressed up in his Sunday best (he's one of those smooth guys who can pull of a white suit). I used white Rustoleum Universal in a satin finish. And the reason we didn't go with a super bright color for him (her?) was because I'm planning to park it in the corner of the living room, which has a giant colorful rug and a bunch of bright pillows (unlike the office which has a large neutral rug) so I thought it would slip into the room better with a nice clean white color (I can always add color with different cushions whenever the mood strikes).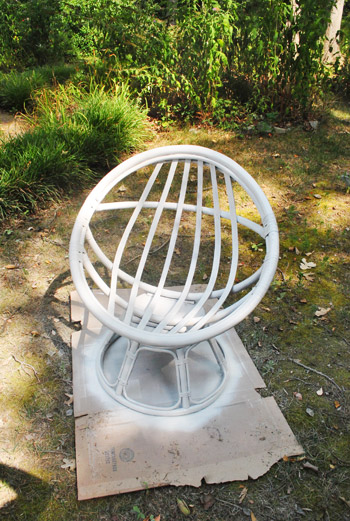 You can check out a ton of spray painting tips in this post to see how I got it done, but let's just fast forward to him living it up in the corner of our living room after a few days of drying in the sun outside followed by sitting in the sunroom (so there's not any fuminess by the time he comes inside). Oh but ignore these frumpy pillows – they're just old seat cushions I had on hand from our first house's office/playroom chairs that I covered with white towels. Yes, white towels. Just to envision it with white cushions. And then I tossed a pig pillow into the mix.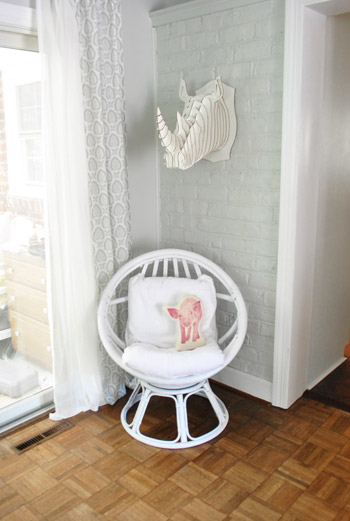 Because I'm crazy like that.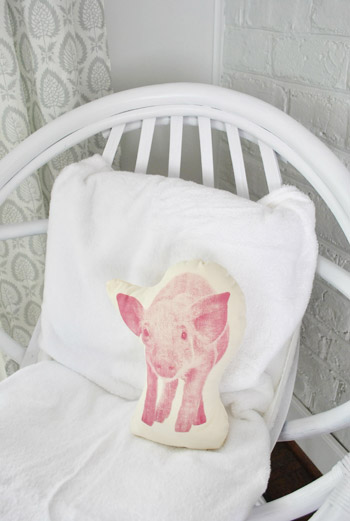 Then I tried one of our faux sheepskins over those cushions instead of the placeholder towels. And before I could even step back to take a photo of my latest tweak, Burger was all up in my egg chair's area.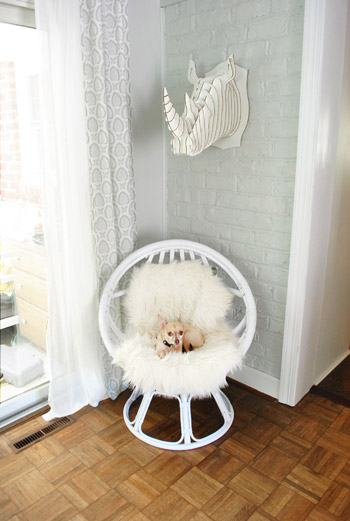 Seriously, in point zero seconds he had settled in.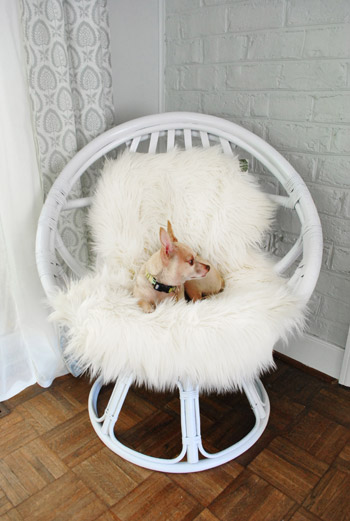 But although the faux sheepskin earned Burger's approval, after sitting in it myself (on a hothothot day) it was a little… uh… shaggy. I just sort of felt like I was overheating. So maybe we'll bring back the faux sheepskin for our egg chair's winter look, but in the meantime here's what he's sporting as his just-for-now summer outfit. It definitely won't stay forever, but it works for the moment (we're just working with what we already have):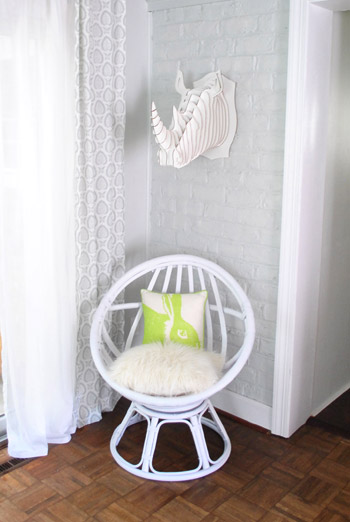 It's a little faux fur pillow on the bottom and a bunny pillow on the back. He's cute, eh?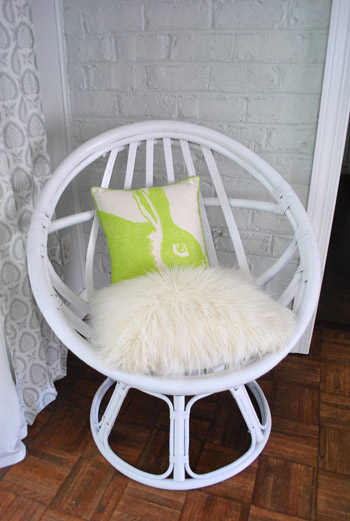 And thankfully, Burger doesn't seem to mind sharing the chair with a furry friend of the rabbit kind.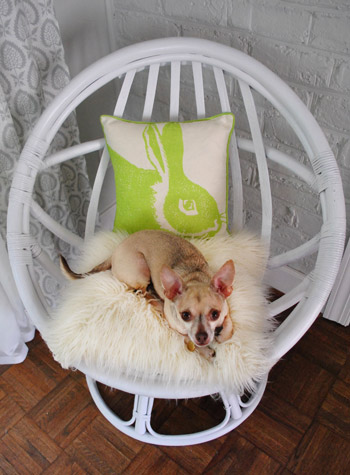 And here's Clara giving things a go. She likes the chair, but isn't 100% obsessed (toys = more fun than mom's weird egg chair), which I like because I plan to monopolize this baby. Haha.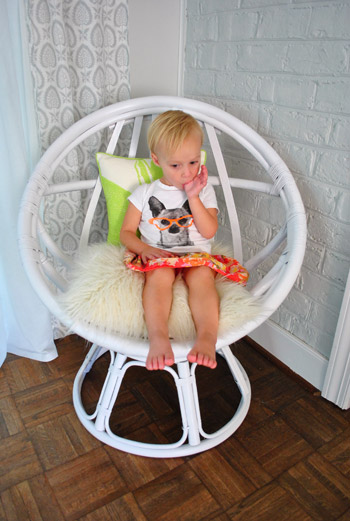 She did have some fun reading her animal book in the chair "with the rabbit and the dog" (one of which was on the pillow and one of which was on her shirt).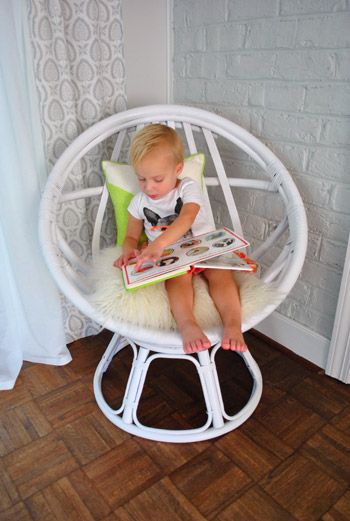 Then I got artsy and snapped this from above. Isn't the chair's strappy shape sweet? It's sort of like a hammock but way less saggy/precarious feeling. You're sort of enveloped in this guy without feeling like you might fall at any second (and I love that he swivels). I guess I can liken the slats to a park bench. You know how those are slatted sometimes but you don't feel like you'll fall through because they're thick and dense enough? That's how it is in this chair too.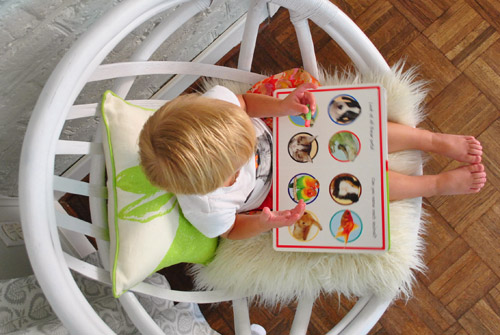 And a few folks asked about Clara's head getting stuck between the slats, but they're either way too close for her to fit her head inside or so wide that she could fit her whole body through (which of course isn't something we're encouraging). I guess it's like the metal bucket full of blocks that she has in her room, she can put her head in it if she really wants to but so far, so good. Haha.
The next day I asked John to snap a picture of me in the chair for "adult scale" (it goes to your shoulder blades, so it's a nice cozy chair with good back support) but sure enough, Clara wanted to ham it up too. So here we are snuggling in.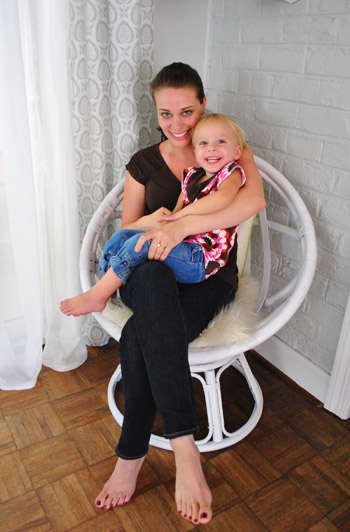 As for my long-term plans, I'll probably eventually grab a white seat cushion from a place like World Market for the bottom and possibly another one for the back – although the bunny pillow might stick around a while. He's my idea of a good time. And thankfully my egg chair's new look is an undeniable upgrade compared to our good ol' before pic. And the total price for the chair and this upgrade was $37. Not bad for a new-looking chair that swivels and doubles as sculpture thanks to those strappy curves. Although I'm not sure I've seen a chair that looks more like it's sticking its tongue out more than the before shot below. Maybe I should name him Odie…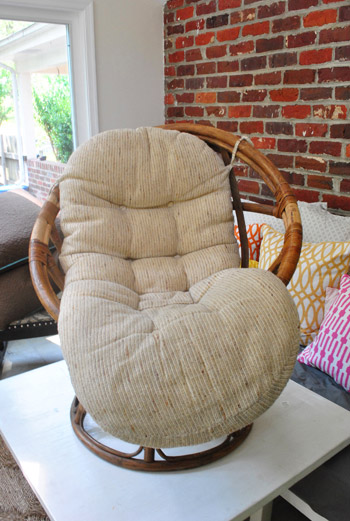 Have you guys been rescuing any secondhand chairs lately? Finding new uses for small rugs or faux sheepskins? Or wondering why your dog is obsessed with said small rugs or faux sheepskins? Me too.
Psst- The latest version of Clara Conversations is up over on Young House Life. She's definitely earning her comedy chops…