*** This giveaway is closed – see who won below!***
The randomly-selected-and-very-lucky lady in this week's giveaways is… BeccaK (who wishes "I could trust the lube & oil folks when I go for an oil change – is a radiator flush REALLY necessary?") I'm with ya on that one Becca. Congrats!
As much as we love a good looking home, we also like ours to be as good for the Bean and the Burger as possible. So this week we're dishing out $500 worth of products from The Honest Company to keep your casa clean and green. You may know this family-friendly company thanks of their familiar-faced co-founder, the lovely Jessica Alba. And when you check out their online shop – which spans baby & body care to cleaning products – you'll see words like organic, non-toxic, reusable, and plant-based peppered throughout… and they also donate time, money, and product to charity. So this week's winner can go to town on their site with a $500 credit (might we suggest treating yourself to a year's worth of their family bundle subscription?).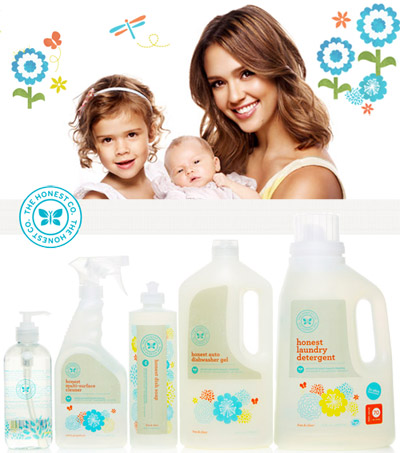 PRIZE: $500 of product from The Honest Company
TO ENTER: Comment on this post with the words "I'LL BE HONEST!" and tell us…
BONUS QUESTION: … something you wish people had to be honest about answering (think Jim Carrey in Liar Liar). Do you wish people couldn't sugarcoat the answer to "does this make me look fat?" Do you wish repairmen (or women) had to give you a straight answer about when they'll actually show up? Do you wish you could finally get your parents to fess up to who their favorite child is?
GIVEAWAY CLOSES: Wednesday, Aug 15th at 8pm EST or at 10,000 entries (whichever comes first)
NUMBER OF WINNERS: One
PRIZE SHIPS: The United States (although we do try to wrangle as many international giveaways as possible)
DISCOUNT: $10 off orders of $50 or more with code YHL10off50 (good through Aug 20th, valid on first purchase for new members)
USUAL STUFF: One entry per e-mail address is permitted. The winner will be selected using random.org and announced on Thursday as an update to this post. That's right, come right back here on Thursday for the announcement of our winner. Good luck…
Note: We aren't paid or perked for hosting these giveaways, we just do 'em to thank you awesome folks for stopping in. See our Giveaway FAQ page for more info. Pics courtesy of The Honest Company.