I love surprises, and John's an expert at pulling them off. He's done everything from arranging for my best friend to fly in for my birthday to pretending to go to work and retuning home 5 minutes later to say that we're going on a trip to the beach. So from time to time I like to stage a little sneak attack of my own. And when I saw an amazing leather arm chair at Target.com, I just had to order it for him asap. It's usually scary to buy furniture without actually seeing it (or sitting in it, in this case) but the 5 star rating accompanied by a bunch of rave reviews made it a no-brainer.
And when it arrived two short days later it was everything I hoped for and more. It's big and super comfortable, the leather is soft and supple, the coloring is a rich brown tone- it even arrived almost completely assembled. And it looks great in the corner of our bedroom (since our room's similar in size to the guest bedroom, we're always looking for ways to make it seem more master-y). Here's a picture that does it absolutely no justice.
But what I really wish you could see was John's reaction when he got home. There were a lot of excited outbursts followed by what can only be described as a Tony Soprano moment. John sauntered up to the chair, took a load off, and pretended to smoke an imaginary cigar. The only thing missing was his club jacket. Absolutely priceless.
And when I mentioned that I scored the chair (which was originally around $500 with shipping) for a mere $230 thanks to a few promotions, he raised his imaginary cigar in my honor.
(Half of a post by Sherry)
John here. Ok, so I've pulled myself out of my new chair long enough to write the second half of this post. One the best parts of getting that surprise yesterday was not only the fact that my lady scored another great deal, but the fact that I already had a little surprise in store for her.
Mine wasn't quite as creative, but it went right along with the tradition I set back when we first got the house. And how can you go wrong with flowers?
This little bouquet I bought from ProFlowers.com arrived on our doorstep today (afterwards, I told Sherry not to read into the fact that it was called a "baby bouquet"). I had attempted to order an arrangement short enough to fit on the kitchen counters, but no luck. So, here it is in the living room instead: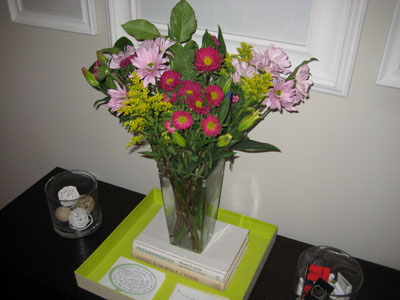 Sherry says it'll look even better once the lilies and irises bloom – just in time for our company this weekend (see, I was thinking ahead!). But the best part, if I do say so myself, was the sweet note that came along with it… but it's private so you'll just have to trust me.
(Other half of a post by John)