In the words of Eminem… I'm cleaning out my closet. But first a closet-themed dance break for the Marshall Mathers fans out there (I can actually do a mean Eminem impression):
Ok, now that we have that out of the way, I'll get to the meat and potatoes of this post. I'm actually not currently cleaning out my closet, the deed has already been done. And it's not just my closet, it's both of ours. We've mentioned a few times that before we got a proper dresser we were living for over three months with piles of socks and pajamas on the floor of our bedroom closet. Yeah, it was a disaster, and we just couldn't seem to get it together until we brought in a permanent dresser (with functional drawers since the old one had a busted one that threw off our organization mojo). So with the new dresser in our midst, we had no more excuses when it came to all of the skeletons piles of clothes in our closet. So of course we put it off for a few more weeks and finally forced ourselves to get organized. Here are a few before shots (that we actually semi-cleaned up for, you know so my underwear and John's boxers weren't front and center):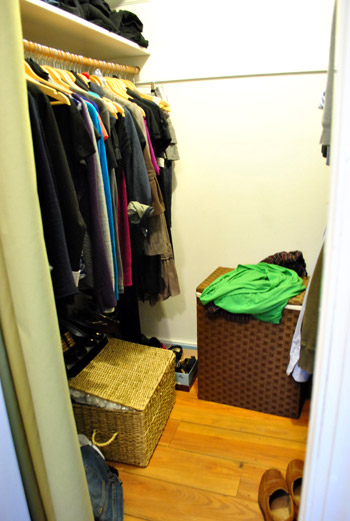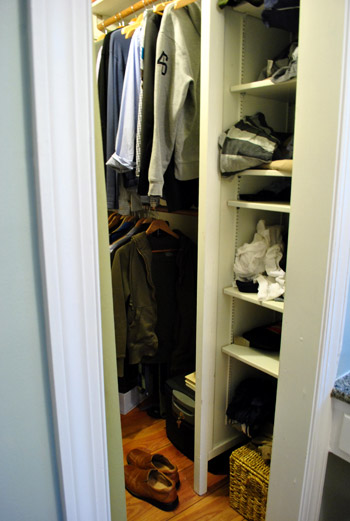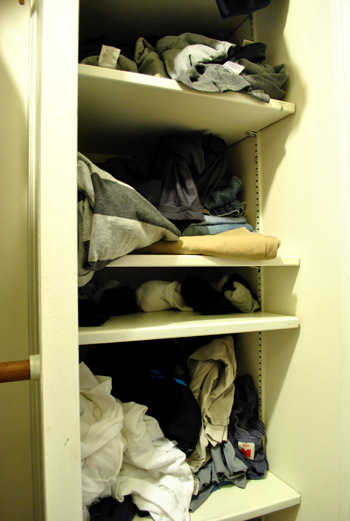 The first order of business was trying to sort out those cubbies in that middle pic that were stuffed with things for no rhyme or reason and to decide what would be stored in those cubbies and what would come live in our dresser.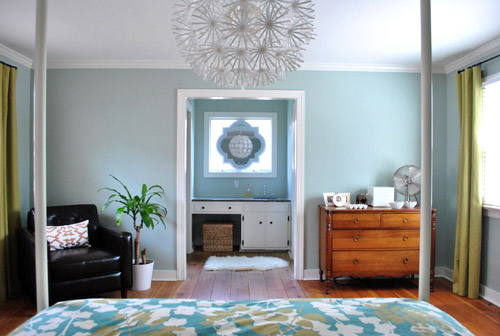 We decided that all of the cubbies in the closet would be John's and the top two and middle drawer in the dresser would be mine. My socks and underwear went in the top left drawer, bathing suits went into the top right one, and pajamas and bras went into the middle one. This freed up the bottom drawer for John's running clothes while his pajamas, underwear, jeans, swimsuits, and shorts got organized into those cubbies in the closet thanks to some old baskets we've had forever (originally from our wedding registry at Linens N' Things) that serve as fake-o drawers to keep things like socks and underwear from runneth-ing over. Oh and we moved the cluttered looking hamper into the bottom opening in the cubbies where we can easily toss clothes without needing to crack the lid anymore (we just screwed it off and left it open for easier access).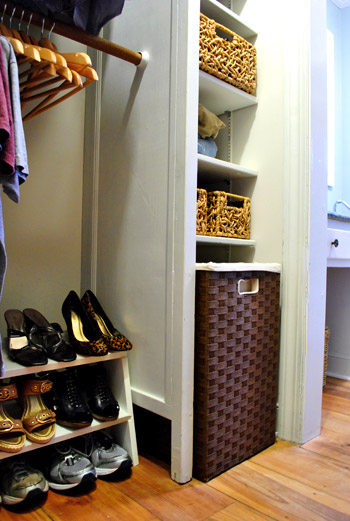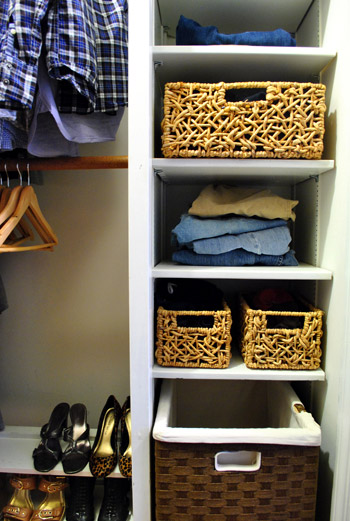 Then John pared down all of his clothes and we started a big donation bag. He surprised me and decided that hanging his t-shirts was actually the smartest use of space for us since we didn't have room for all of them in the cubbies or our new dresser (I think he realized that keeping more shirts hinged on hanging them so they were all in one spot, or I might just start questioning why he needed to keep so many t-shirts to begin with, haha, smart guy).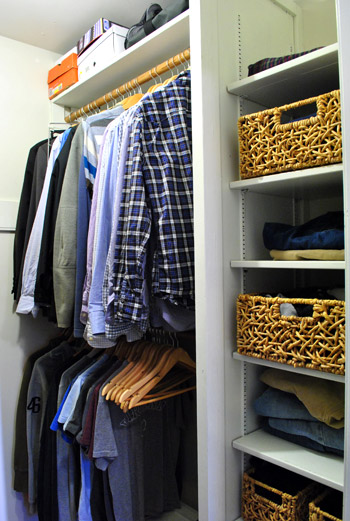 Here's my side. I also pulled out stuff that I never wear for our big donation bag (other "transitional" things from right after I had Clara got stuffed into my maternity clothing bin in the attic) so here are all of my t-shirts, tops, sweaters, cardigans, scarves, jackets, pants, dresses, suits, blazers, skirts, etc (since we don't keep any of those things folded in our drawers and we don't store out of season clothes anywhere else). Aside from pajamas (which are in my dresser) and winter coats (which are in the coat closet) this is every item of clothing I own.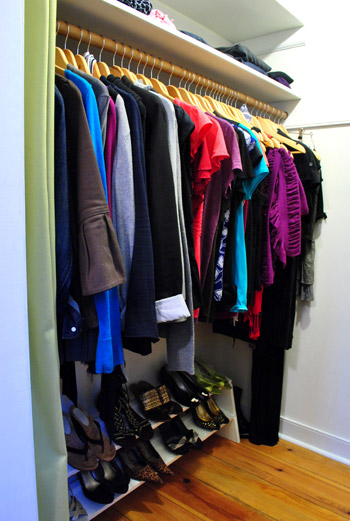 It's hard to tell in the pics above (since the closet is so small it's impossible to take wide shots) but the shelf above the hanging bar on my side got some major organization. Three pairs of I-wear-them-now jeans are all that remain (all of my maternity ones finally got put away) and two sweaters that I wear all the time are folded in the corner (as opposed to ten that I never wore).
Pardon the yellow glare in this pic (forgot to white balance again, and I'm too lazy for Photoshop fixing) but this shot was meant to demonstrate how much space we still have to "grow" in there now that there's a completely empty top shelf on my side and only a few items on the shelf below it.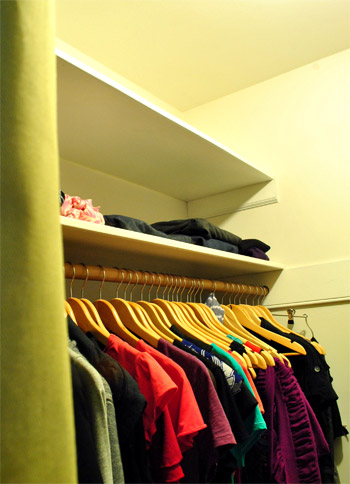 And just for fun, here are my shoes (well most of them, some are over on John's shoe shelf because he's sweet like that – and only has about five pairs for himself). I love shoes. They're my weakness and I get nearly all of my shoes for less than $20 at places like DSW (those studded heels on the bottom right were $7 from a consignment store in never-worn condition) so I allow myself to "hoard" when it comes to the amount of "special occasion" footwear that I have going on. Because I'll be honest, things like lime sandals or red wedges aren't everyday occurrences. But when they do come out to play they make me happy (yes, shoes can make my day). And yes I do have two (count them, two) pairs of leopard heels. Maybe they're like ceramic animals to me, I just like to have them around to "cuddle."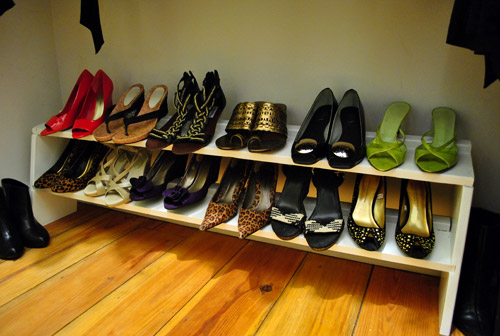 And now that this has turned into a fashion blog here's a shot of the other side of the shelf on top of my hanging bar with a few favorite scarves, a wide black belt, a few clutches, and two out of rotation purses.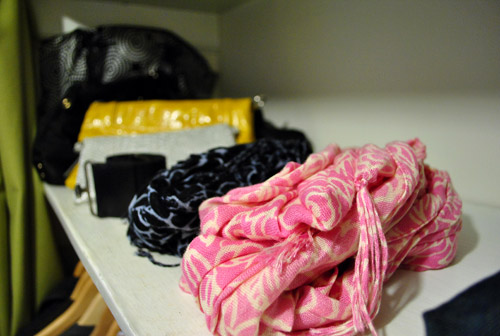 Ok, one more gratuitous shoe shot, just because I'm giddy for footwear.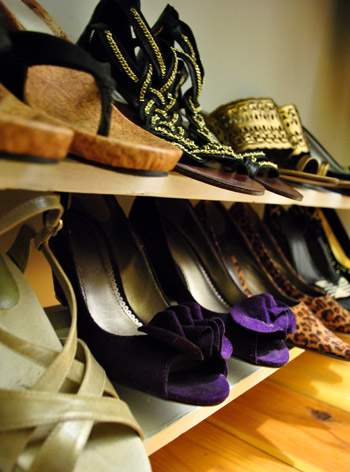 The closet definitely looks a lot more organized with so much floor showing (stashing the hamper within those cubbies on the side really makes it a lot roomier in there too).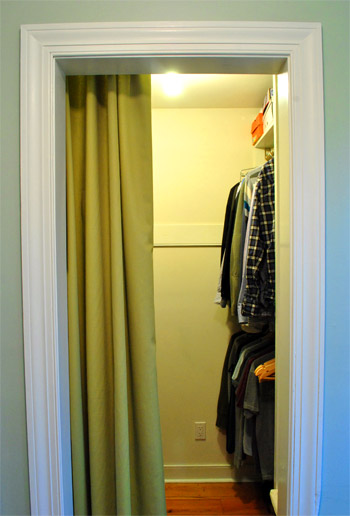 And if it ever gets crazy again we'll just turn off the light, draw the curtain, and hide the chaos like this: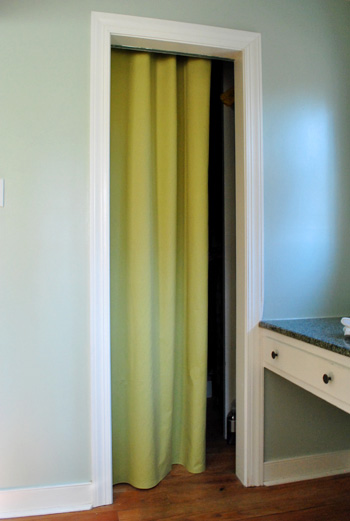 What? At least I'm honest.