Oh happy day. We're here to share all of our bathroom after pictures complete with a full timeline and a budget breakdown to detail every step of this month-long weekend and evening project of ours.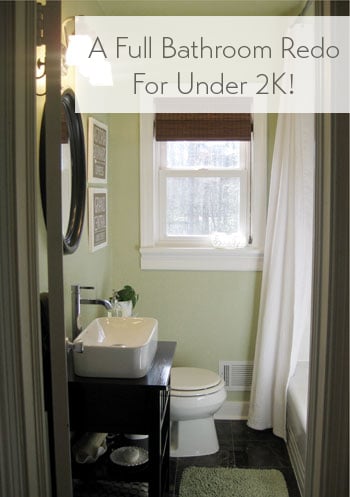 First we should remind everyone what the room looked like at the bleakest moment of the makeover. When it comes to most major renovations like installing a wet wall board, rooms usually have to get uglier before they turn the corner and start looking good, so let's take a moment to appreciate just how un-aesthetically-pleasing our bathroom was when it was all stripped down after John demo'd the entire thing by himself over the course of about 24 hours spent in the bathroom (my hero!):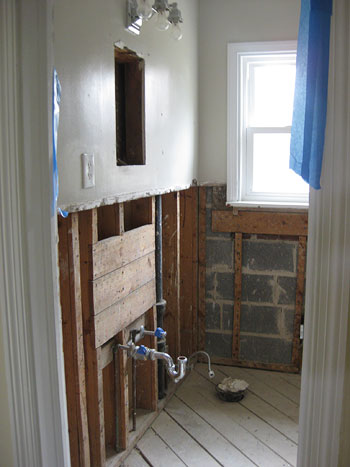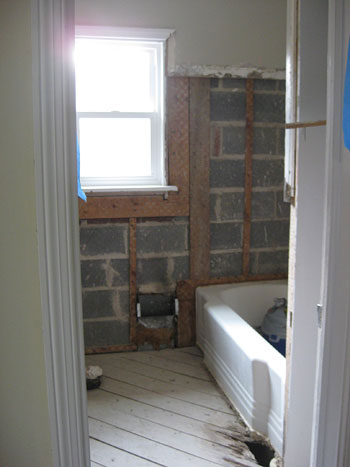 Now look at the same room all put back together again. We're thrilled that everything seemed to click into place in the home stretch, and now our bathroom is honestly one of our favorite rooms in the house. Weird, but true.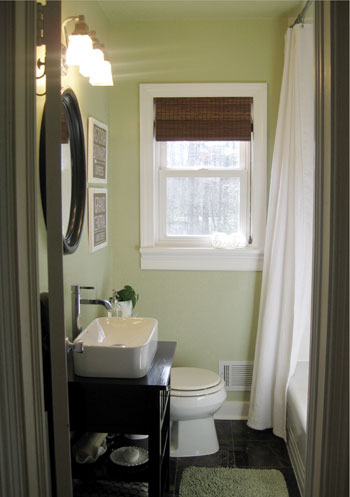 You can see that we hung a dark wood mirror (which we scored for $27 on clearance at Target) above the similarly toned vanity. We love that it also picks up the rich mocha color in our discount marble flooring (which you may remember we snagged for around $2.50/square foot at Lowe's on clearance).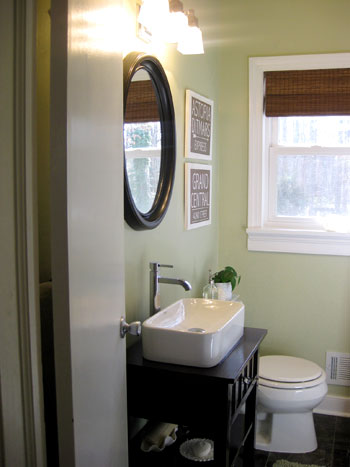 You'll also notice some art on the wall… and you know we weren't about to pay for something when we could make it ourselves, right? John actually came up with the idea of creating vintage-looking wood signs (he's the brains of this operation, I'm telling you) after I lamented that the thought of square frames next to the rounded mirror could look a bit chaotic. So we picked up one $6 piece of wood, had it cut into two equal pieces right there in the wood cutting area of Home Depot and took them home to transform them into something worthy of our brandy new bathroom.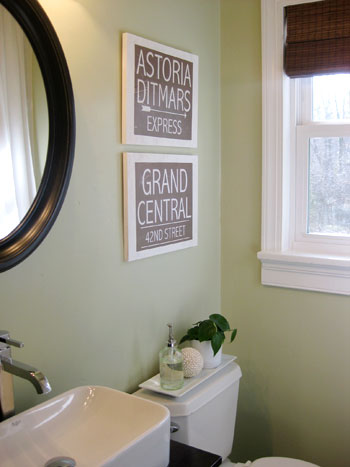 We took inspiration from our time spent in NYC (where we met and fell in love) so we thought making signs that mimicked the look of old NYC subway signs (like these that we hunted down on google) would be a special way to add more of that customized feeling that we love in our home. Of course we adapted ours to be a bit less dark to complement all the white in our bathroom (and in our house for that matter). We also picked two subway stops with the most meaning to us (we met working together near Grand Central and both lived in Astoria Queens at different times).
After bringing home our pre-cut planks of wood it was as easy as painting them white with craft paint that we already owned (it was thinner than latex wall paint so some of the wood grain still showed through) and designing two "signs" in Photoshop (we printed them out ourselves for free). Then we roughed up our prints for a weathered, creased, and vintage look and Mod Podge came in handy when it came to attaching them to the wood planks (the waterproof protection it added was also a plus since they live in a bathroom). Note: we'll be doing a follow up post with more step-by-step sign making details for anyone who wants to take on this project themselves so stay tuned.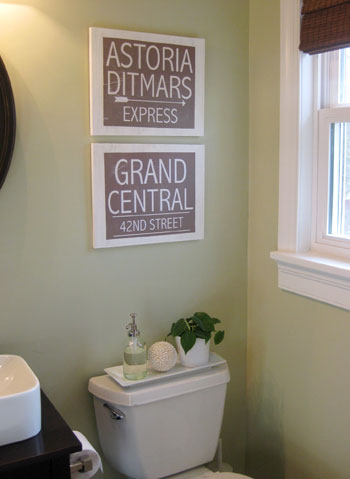 But on with the bathroom tour! If you look at the photo above, you'll see that we actually opted to attach a simple chrome toiler paper dispenser to the side of the vanity since we didn't want it attracting attention from the hall (which it would do if we placed it on the other side of the toilet under the window). We also picked up a simple white ceramic tray for the top of the toilet (we actually cut a thin strip off of one of our rubber rug-pads to form sort of a grippy buffer between the toilet and the tray to keep it "stuck" in place for the long haul). Then we used the tray to corral our favorite soap pump (which we waxed poetic about here) along with a cute little shell ball and a leafy green plant.
Although there was room for a soap dispenser on the back corner of the vanity behind the sink we thought it looked cuter a few inches to the right on top of the toilet- so while we know other people might want their soap pump right on the top of the vanity, we personally liked it on the tray (to each his own, right!). It really keeps the top of the sink uncluttered and sleek looking, and we always have the option to simply move the pump over to the sink if weeks of use make us rethink our nearby toilet-top placement.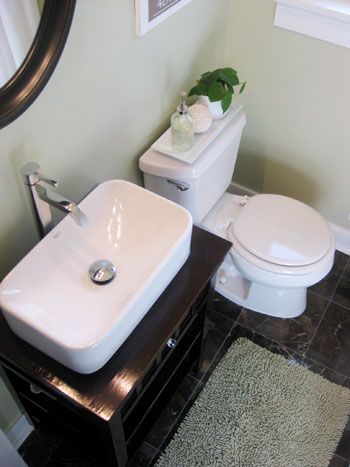 We also love that we were able to save the vanity's drawer by shortening it (read more about the process of building the vanity here) so we can still fit a few staples in there: toothbrushes, toothpaste, and deodorant in a bamboo tray along with contact cases and John's hair stuff.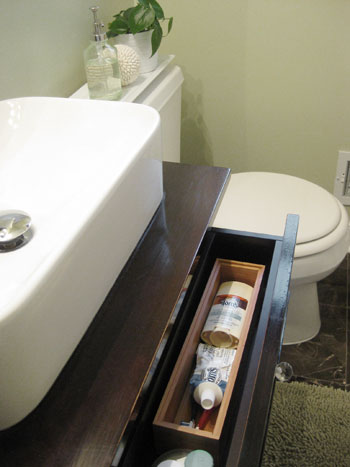 We love that our vanity also allows us to store a bunch of extra bath towels (picked up for just $6 each at TJ Maxx) along with a few cute decorative items like a loofah in a faux clam shell and a pretty scalloped plate with Dove soap on it for our guests (we use a bar of organic stuff in the shower, but when guests stay and want to shower/wash their face we can just mention that the soap under the sink is all theirs).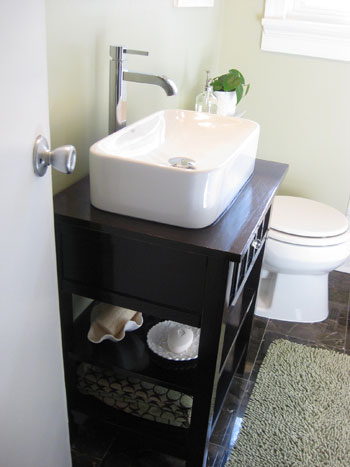 We also rehung our existing white waffle floor to ceiling shower curtain (read more about that project here) and really love that the shower tile now goes right up the ceiling to meet the bar for even more height and drama in the room. We're so glad we spent the extra time tiling all the way up… the ceiling seriously feels over a foot taller. You'll also notice that we snatched up a simple inside-mount bamboo blind from Home Depot for just $25. We love the texture and mocha color that it adds to tie in with the tones in the marble floor and even the vanity and the mirror.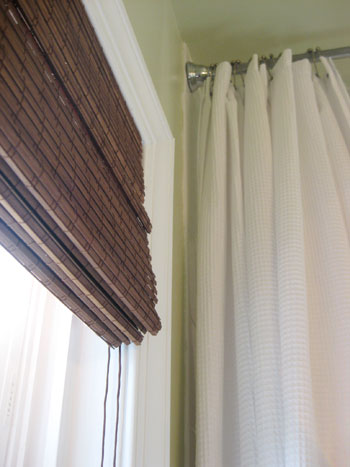 At the very end of our renovation we also had our tub professionally reglazed for a completely convincing like-new look. The tub was actually already reglazed when we inherited it with the house and that treatment lasted over 12 years (we received the original paperwork from the first time the job was done years ago from the last owners). And this new reglazing job should last just as long even with everyday use. The key is finding the best professionals who use the best equipment and the best formulas for a long lasting finish that looks amazing (we call for references, look them up with the Better Business Bureau, etc).
As for why we opted to get ours reglazed instead of replacing it, we love the large, deep, original cast-iron tub. It was too great to send off to a landfill (and too heavy and expensive to try to remove & replace). We're all about working with what we have, so because we couldn't salvage the bathroom's old tile, the least we could do was salvage the tub by refinishing it (to the tune of $399- oh and it would have only been $299 if our tub hadn't already been reglazed for anyone out there looking for a cost estimate). Oh and because we've lived without putting shampoo bottles around the edge of the tub for years (since it was previously refinished and that's not recommended) that's not an adjustment for us at all when it comes to the newly reglazed finish. Note: we used this top rated family owned local company and are extremely pleased with their work.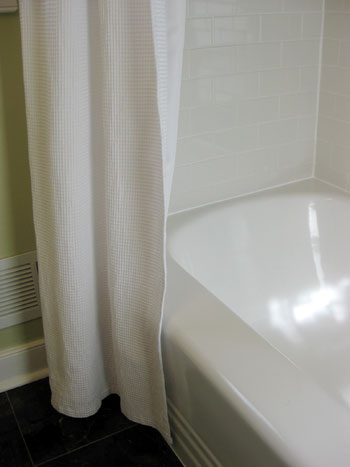 Here's a shot of John's amazing tub to ceiling subway tile. Doesn't it look like the work of a pro? I couldn't be more proud of my man and his first attempt at tiling! We also opted to add a simple chrome shower caddy (although we debated adding white porcelain corner shelves or even creating an enclave for shampoo and soap before we tiled) since we don't mind the look and love that it kept our first tiling job sweet and simple.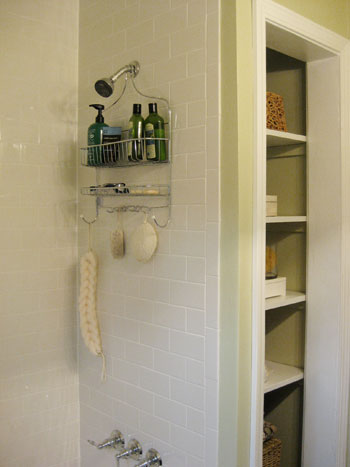 You might also notice that we replaced the shower fixtures with an insanely affordable $69 chrome set from Overstock since our old fixtures felt a bit too cottage-y with our new sink & faucet. The best part is that we Craigslisted our old fixtures (since they were only used for a few years and were in mint condition) and actually made back $30 of the $69 we spent on the new ones. Not bad, eh? Gotta love Craigslist. And on another note, how delicious does that twenty cent subway tile from Home Depot look up close? It's so bright and shiny and clean looking- perfect for a tub surround. Mmm.
Oh and this is one project where we weren't afraid to call in the pros. We paid $100 for an hour of an expert's time so he could remove our old fixtures (they were soldered in place behind the wall) and put in our new ones (also soldering them in place for long-lasting durability and performance). It was totally worth it to avoid any potential plumbing issues down the line and after receiving many $300+ estimates for a simple shower-hardware switcheroo we found a great local plumbing company (Advanced Plumbing – 804.358.1616) who gave us a much more reasonable price- so we'll definitely be using them again in the future.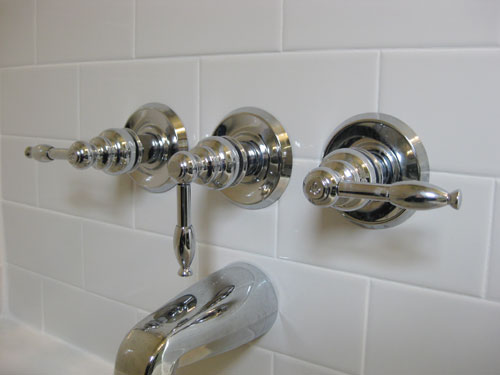 We also have our doorless linen closet (learn about how and why we removed the door a while back) which feels even more integrated into the room since we removed the threshold and tiled the floor of the closet (which used to be wood) so the entire bathroom now has seamless mocha stone squares underfoot. The difference really is amazing! It's like it was always meant to be an open nook instead of a disparate linen closet. It's a great place to store all of our extra towels, my hair dryer, my make-up bag, and other linen-closet stuff. But thanks to pretty boxes and bins (that we already had laying around) all the ugly stuff is hidden away for a clean and inviting look that's organized and still super functional.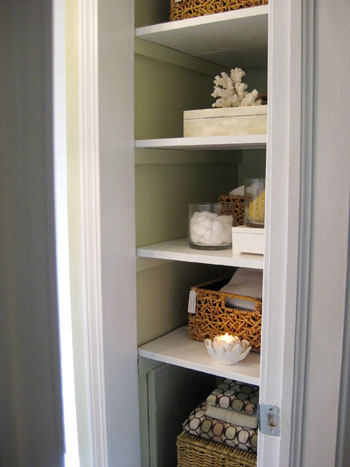 Oh and you might notice the tags on a few of those woven baskets (which we made back in the day). They keep us even more organized and John can't claim he doesn't know where anything is or fail to put things back in their places- gotta love a foolproof system that costs zero dollars and zero cents.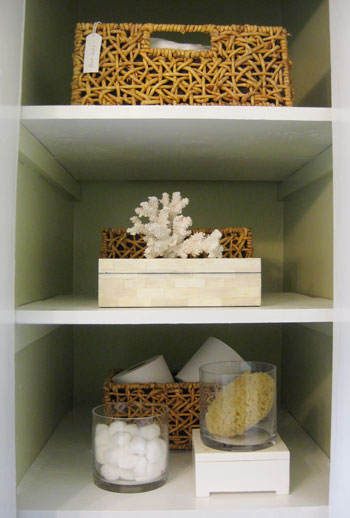 Here's a shot of the other side of the bathroom with our new $6 TJ Maxx towels hanging on the back of the door (see a close-up of our personalized towel hooks here). We also hung a small towel bar next to the sink for easy hand-drying. We actually adapted that towel bar to fit our bathroom so stay tuned for a follow up post with those details from John…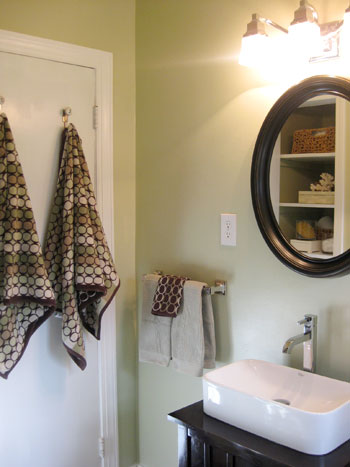 It's the little things that really make a room feel finished. It was amazing how adding some towels and a few accessories seemed to bring the entire space from "in-progress" to "thank goodness we're done!" And those last-minute touches only seem to emphasize and complement the more major materials like the veiny marble flooring, the crisp white trim and the soft taupey-green walls. Oh and speaking of the details, we scored our bath mat for $9 on clearance at our local West Elm (which is sadly closing its doors but that meant everything was marked down like crazy). It adds so much softness to the dark stone floors and the cushy texture is so inviting for bare feet.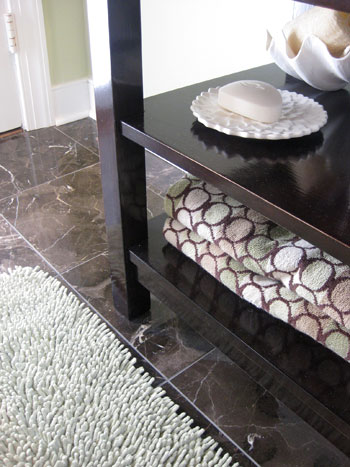 And now for the budget breakdown. First we should mention that we got two informal bathroom estimates from contractor friends of ours (so we would have a pro price to compare to our DIY price) and both of them came in right around 10K for the entire demolition, room rebuilding, floor and shower/tub tiling and vanity installation (which they knew would be harder than a more modern redo since our 50 year old house had mortar and metal-mesh behind those walls – not to mention some old floorboard rot).
Of course we knew that we could save a significant chunk of change by doing everything ourselves but we also knew that just because a job is DIY doesn't make it free (thanks to materials and supplies) so we headed into our bathroom makeover assuming that we'd spend around 3K on everything from demo to the final stage of accessorizing- especially because we were replacing everything from the floors and the walls to the vanity and the tile. Needless to say we were thrilled when we crunched the numbers and found out we came in blissfully under budget! Here's how it all shook out:
Demo: $67 (for the rental of the demolition hammer and a few other simple supplies)
Subway wall tiles: $101 (from Home Depot for 21 cents a pop)
Marble floor tiles: $120 (thanks to an amazing clearance price of around $2.50 at Lowe's)
Grout, spacers, sealer, caulk: $70
Drywall, furring strips, hardibacker, plywood, nails: $136
HD truck rental to get the big stuff home: $19
Trim, quarter-round & supplies: $100
Thinset & notched trowel: $75
Manual tile cutter: $15 (we went halvsies on it with John's dad)
Wet saw: borrowed from John's dad
Circular saw: borrowed from John's dad
Miter saw: borrowed from John's dad
Drywall mud, tape, sandpaper & spackle knives: already owned/borrowed from J's dad
Primer: $11 (Valspar Drywall Latex Based Primer)
Paint: $26 (Olympic No-VOC paint color matched to Benjamin Moore Dune Grass)
Vanity: $410 ($165 Crate & Barrel nightstand after coupon+ $119 Overstock sink + $109 Overstock faucet + $17 Low-VOC eco-varnish)
Shower Fixtures: $69 set from Overstock + $100 installation
Toilet: already purchased a few years back
Professional tub reglazing: $399
Towels: $30 from TJ Maxx
Mirror: $27 on clearance from Target
TP dispenser and towel bar: $37 from Target
Art: $6 for the wood (we already owned the paint/Mod Podge & printed 'em ourselves)
Bath mat: $9 on clearance from West Elm
Blinds: $25 from Home Depot
Other small accessories & miscellaneous expenses: $67
GRAND TOTAL: $1819.00
* It definitely bears noting that we were fortunate enough to get to borrow some tools and a few other supplies from John's dad (ex: the wet saw, circular saw, and miter saw). If you were to purchase these items they'd probably come in around $450 but you could also rent them for far less from places like Home Depot and True Value.
Yeah we're pretty excited about that final number. There may or may not have been some geeky high-fives being thrown around when we finally hit "=" and saw it come up on the calculator. Not only did we come in over eight thousand dollars cheaper than a professional most likely would have charged, we even came in more than 1K under our original budget. Thank goodness for clearance tile and places like Overstock, Target, and TJ Maxx for affordable accessories. And boy were we ready to have our new and improved bathroom back in action after exactly 40 days sans shower (although showering at the gym and John's sister's house weren't all that bad after you got used to it).
Of course it wasn't 40 solid days of work, it was more like four and a half weekends and a few evenings spent gettin' her done. And we can't forget that Christmas and New Years were thrown into the mix so we spent quite a bit of time taking a break with family and friends. Here's a more detailed timeline rundown:
Pre-project planning & shopping: 5 hours or so
Removal of toilet/vanity before demo: 2 hours
Tile demo: 24 hours (two twelve hours days)
Getting supplies and installing drywall, hardibacker and new plywood floor: 42 hours (three and a half twelve hours days) Note: this step can be substantially shorter in newer homes where you're not dealing with furring strips to build out walls to match old mortar depths, for example John's dad tackled this step alone at his house in less than one seven hour day.

Tiling the shower surround: 17 hours (one seven hour day and two five hour evenings)
Priming and painting walls: 2.5 hours
Tiling the floor: 11 hours (one seven hour day and one four hour evening)
Grouting & sealing the shower & floor: 3 hours
Buying, cutting, installing & painting trim: 9 hours
Reinstalling toilet: 30 minutes
Building and installing the vanity: 5.5 hours
Hanging the mirror, art, shower curtain, towel bars, etc: 1.5 hours
GRAND TOTAL: 123 hours (which breaks down into a little over five weekends of work)
The bathroom was definitely the biggest DIY projects we've taken on to date. We had never demo'd tile, used a wet saw, tiled anything, or even used a miter saw before! So we love to point to our latest big makeover as proof that anyone can tackle something like this in their own home with a good amount of research and some tireless enthusiasm and determination (for more info on how to evaluate whether a project is too big to DIY, click here).
So we'll leave you with a photo of our bathroom as it looked when we purchased our sweet old house three years ago. Can you believe the previous owners actually had gross matted carpet covering the old basketweave tile?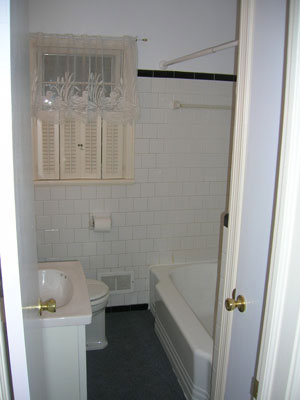 You've come a long way old friend.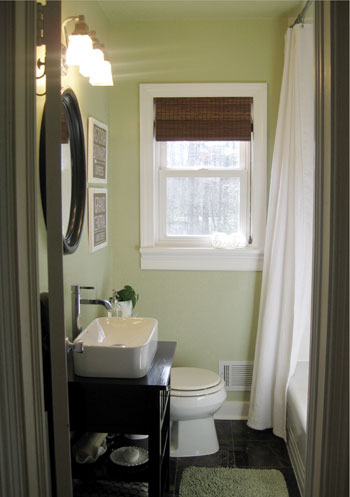 Would we do it all over again? Heck yeah. We're interested to see how much faster and more efficient we could be now that we're not such newbies in so many areas of the bathroom renovation process. But would we start another bathroom remodel this weekend? That might be stretching it. While we love the pride and self-satisfaction that our big bathroom project elicited, we'd be flat out lying if we didn't admit that it was hard work and we're happy to take a little break from sledgehammer swinging and tile cutting for a little while. We're not robots, ok? In fact, a nice long bath sounds about right after all that blood (some), sweat (lots) and tears (just a select few).
So what do you guys think? Is there anyone out there who recently took on a similar DIY bathroom project? Any first-time tilers who are about to take the plunge? We promise it's not nearly as scary as thinking about it. Really, once you stop dreading the whole thing and dive in it's kind of a relief to be "doing" instead of "anticipating." Happy renovating to one and all!
Wanna read each detailed post about the big bathroom makeover? Check out Chapter One (Planning), Chapter Two (Demo), Chapter Three (Wall Reconstruction), a little teaser post, Chapter Four (Tiling), Chapter Five (Grouting), Chapter Six (Trim) and Chapter Seven (Building The Vanity).