When Courtney sent over her awesome entertainment center transformation we just had to share the goods. Here's her letter:
YHL always inspires me because you find ways to tweak or repurpose the resources that you have rather than blow the budget on something expensive. I'm not a fan of clutter and have tried multiple ways to hide the shame that is the DVD collection in my entertainment center (I've covered the glass doors with wrapping paper, but this required opening the doors to use the remotes for the cable box and DVD players). Then I came across these cut-outs at Michael's that are used for scrap-booking and thought they would make great stencils. Down came the wrapping paper and up went the stencils (I used 3M General Purpose 45 Spray Adhesive to hold them in place) so I could frost the glass to hide the mess but still allow for remote controls access. I protected the wood frame of the door by placing plastic bags around the perimeter and just sprayed Rust-O-Leum Specialty Frosted Glass spray in a semi-transparent finish (about two coats while still wet). Ten minutes later it was dry and ready to use (see more details over on my blog). Thanks so much for your dedication to YHL and to your followers; it makes my day to see what you two accomplish and it inspires me to do the same in my own rental! – Courtney
Here's one side of her entertainment center before the big transformation (see the door on the right?). The left door has the stencil stuck in place but has yet to be sprayed…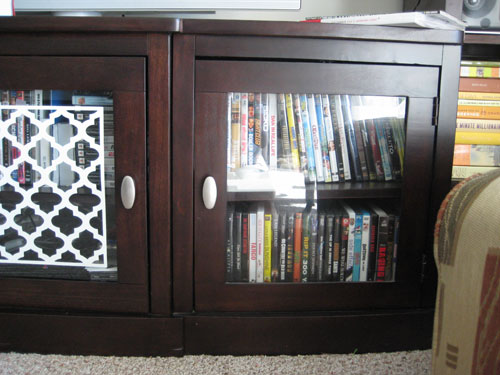 … and here's everything after the frosting spray was applied and the stencils were removed. Pretty darn amazing, eh?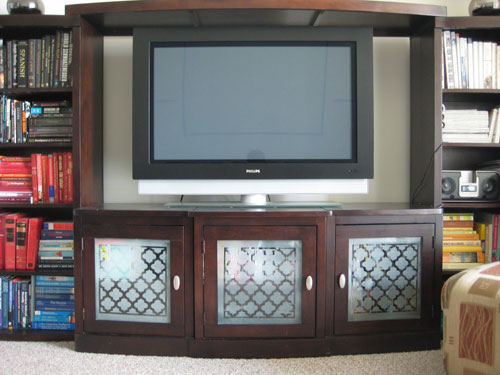 Wasn't that functional and beautiful solution a stroke of genius on her part? Thanks so much for sending the photos our way Courtney. We love that the remotes still work through the newly frosted doors and it all looks so chic and high end. The entire piece is elevated by this crafty little solution. What do you guys think? Didn't she use that frosting spray like a champ? Anyone else out there interested in frosting their entertainment center doors after seeing this stunning transformation?
Psst- Speaking of frosting things, check out this step-by-step tutorial on how we frosted the windows in our very own basement.