After more than a few requests, we're back to share a few more cheapo tips for keeping money in your wallet. We dished out a bunch of moolah saving tips here a while back, and also posted about paring down and keeping things simple (which also helps beef up the ol' bank balance). And since we still can't help but cling to our pennies (and cross our fingers before we open our Target bill), we thought sharing a few more of the things that save us the most loot might help you guys too. Here we go…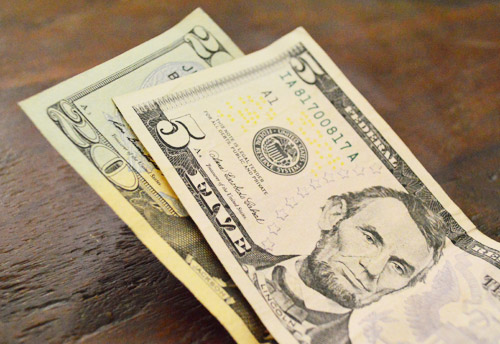 Cheapola Tip #1- Dollar Dinners. We eat at home almost every night of the week, but there's always room for improvement when it comes to the grocery store checkout counter. Inspiration struck when I was reminiscing about how cheaply I lived back in my NYC dorm days (surviving mainly on microwave soft pretzels and the ever popular fifty cent bag of Ramen Noodles). I certainly didn't wanna go back to that, but I could take inspiration from my one dollar dinners or yore and devote one night to eating a super simple dish that literally costs around a buck. Now at least once a week we enjoy spaghetti night. What's on the menu? Angel hair & pasta sauce. That's it. No side salad, no shrimp, no vodka sauce, no meatballs. Since it's just one day a week it hardly seems like a punishment (and we're sure to get our veggies at lunch). In fact it's kinda fun. And now our bag of shrimp stretches a little further and we purchase less chopped meat than we used to. For extra credit we just might add vegetables with brown rice to the weekly agenda (a frozen bag of veggies + some rice= a whole lotta savings over time).
Cheapola Tip #2- Post Your Goals. I actually read about this super inspirational idea in this month's Women's Health: keep your credit cards in an envelope and write your financial goals on the outside. My adaptation of it was to stick a post-it note in my wallet on top of the slots that hold my credit cards so I'm forced to read it before I whip out my cards. Penning things like "pay off the house in ten years" and "save up for an organic mattress" really keeps purchases in perspective- and nips any unnecessary spending in the bud.
Cheapola Tip #3- Go For Four. Four days a week (usually Monday-Thursday) John and I make a conscious effort not to spend a cent. We actually heard Suze Orman encouraging people to go one day a week without spending a penny (no morning paper, no Starbucks coffee, no nothing) but for two seasoned cheapskates like us, we thought we could try for four. The majority of our errand running is done on the weekend, so it's really not that hard. John takes the two-minute-longer-toll-free route to work, we read the news online instead of buying a paper, and we both eat homemade breakfasts, lunches (John brown bags his) and dinners. We also limit our trips on those days so we're not tempted to break the rules and we also occasionally pick up something on the weekend to keep us motivated (like a $2 box of chai tea that we can make at home all week to keep the Starbucks withdrawl at bay).
Cheapola Tip #4- DIY One Thing. Anything from the aforementioned homemade chai to doing your own nails counts. As long as you're taking on one thing you used to pay someone to do for ya, you're officially DIYing your way to some serious savings. Other ideas: wash your own car, make your own face mask with kitchen ingredients, get books and movies for free at the library, or even whip up your own cleaning products.
Cheapola Tip #5- Save The Date. They say the best things in life are free, and I think that's especially true when it comes to date night. Commit to one free date with your man once a week. Not only will it keep you busy (and keep cash in your wallet) it will genuinely make you both feel great. We love to go for long walks, hikes, and bike rides or tour a free landmark, museum or gallery. Other ideas: hit up garage sales or open houses just to browse, spend an afternoon reading at Barnes & Noble, listen to music and play your favorite board game or spend the night in your guest room- it's like a vacation at home.
Cheapola Tip #6- Break Out The Magnifying Glass. Take a good look at everything that you spend money on and think twice about it. There are certainly lots of bills that will pass inspection, but you just might realize that you're hardly getting your money out of Netflix these days (movies go unwatched for weeks) or that you no longer need your landline (now that you have your cell). And while you're at it, you just might find that consolidating your cell phones to a family plan or sweet talking the cable company will really end up saving you a bundle.
Cheapola Tip #7– Grow Your Own. Save some dough this planting season by starting herbs, veggies and flowers from seeds. You'll get a garden full of basil for the price of one serving at the supermarket. And a gorgeous floral cutting garden for less than the cost of one bouquet. Click here for a simple seed starting tutorial.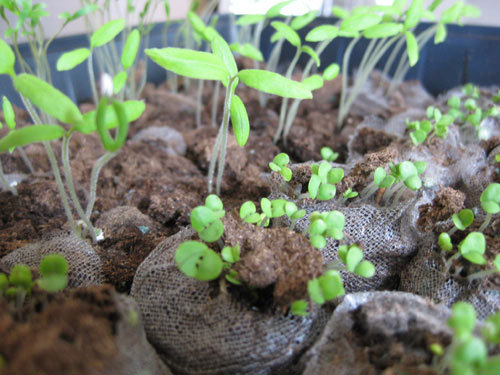 Now it's your turn! We'd love to hear your penny pinching tips and tricks. Share and share alike.
For another great money saving strategy check out the envelope system here and here on Imperfect