These days everyone's jumping on the budget bandwagon and John and I are no exception. We've always been pretty cheap- er, thrifty (often sharing one appetizer and one entree at a fancy restaurant or being sure to dig out our $5 off coupon every time we get the oil changed) but these days it's more important than ever to save a buck or two so we thought we'd throw together a little post about all the penny pinching habit's that we've honed over the years:
1. I cut John's hair. I started this ritual years ago when we started dating (in fact I used to cut his roomate's hair before we began going out, which caused John to think I was into his weird roomie when I only had eyes for him). I don't know where I picked up this skill, but it's fun and I do everything with a cheapie hair cutting scissors from CVS (no electric razor necessary) and John never ceases to get hair cutting complements which keeps me grinning like a fool (and keeps John coming back to my barber's chair in the den). Our approximate annual savings: $140 UPDATE: You can read how I cut John's hair here.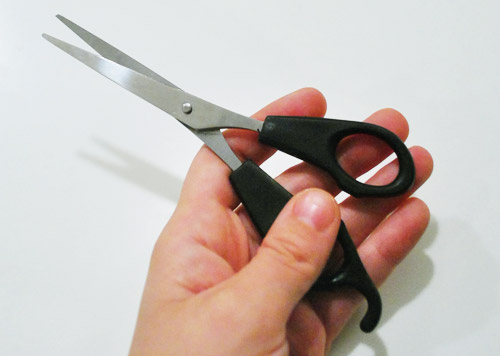 2. We only have one car. I know this set-up might not work for everyone, but thanks to the fact that I work at home (and haven't driven a car since I was in high school since I lived in NYC for almost a decade) we have saved out the wazoo because we only have one car to gas up, insure, maintain, etc. We even purchased our used Maxima outright (with cash) so we don't have a monthly car payment to worry about, which makes it even easier to save. Our approximate annual savings: around $1000-$2000+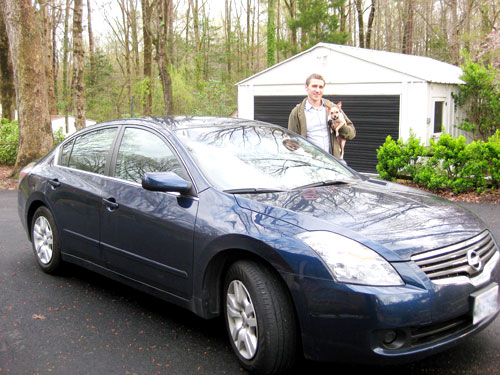 3. We Netflix with a vengeance. Although we usually go to the movies about once a month, we save considerable cash on the other three weekends thanks to the fact that we always have two flicks to pop into the DVD player for instant entertainment. Especially moving into the colder months, it's not uncommon for us to enjoy a movie on Friday AND Saturday night as opposed to hitting the town for pricier forms of entertainment. And another great money saving Netflix tip is to rent entire seasons of shows on the premium channels (we've watched everything from Six Feet Under to Dexter this way) so we never have to pay for HBO or Cinemax but still get to enjoy their award winning programming. We also rent yoga videos that we do together at home (3x a week these days- I'm so proud of us!) which is definitely a lot less expensive than hitting the yoga studio that often. Our approximate annual savings: at least $300
4. We buy plants that are guaranteed. 95% of the time we purchase our bushes, perennials, shrubs and even house plants from Lowe's and Home Depot, which both guarantee their greenery for up to a year. So if that finicky fern is brown two weeks later, back it goes and we don't lose a dime. Our approximate annual savings: around $80 (we buy lots and lots of plants, but around one in ten will inexplicably kick the bucket).
5. We pay every single bill online. Which not only makes identity theft less of a worry (many crooks steal outgoing mail from your mailbox with your info on it) it also saves us quite a few stamps over the course of the year (and loads of paper, too). Our approximate annual savings: around $40 a year in stamps alone.
6. We maintain a zero balance. With the exception of our mortgage, we carry absolutely no debt from month to month, which means we pay off our credit card in full each month, and never pay a dime in interest. And it's not because we're rich. Far from it. It's because we're cheap and we hate the idea of paying those greedy credit card companies! Our approximate annual savings: anywhere from $300 up (the average American has an annual interest rate of 18% and carries $8000 in debt… which means they're paying $1440 a year in interest alone!)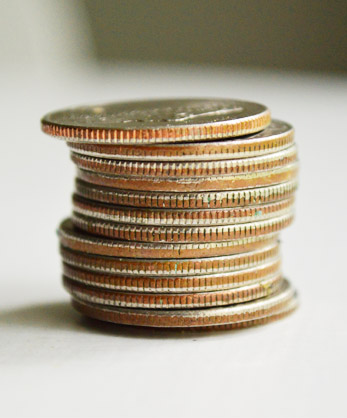 7. We rarely pay full price on home decor. If you look around our house, it's full of classic neutral pieces that should last us a while. And although everything looks pretty pulled together, we have scored almost every item on sale (and many with free shipping to boot). With the exception of our Pottery Barn sofa in the den (the PB Basic, their cheapest sofa at $1300, but still a splurge to us) most of our pieces hail from places like Target (our TV stand, our den ottomans, our dining table and chairs), HomeGoods (almost all of our accessories), West Elm (where we got our duvet on sale and our bedroom mirror on clearance), JC Penney (our guest bedroom rug), Ikea (our sunroom side tables and chairs, almost all of our frames, our sheepskins, our welcome mats), Lowe's (our bedroom floor lamp, our den rug), thrift stores (our sunroom table, our living room coffee table, our armchair in the den) and garage sales (our fireplace screen, our guest bedroom mirror, a few frames in the third bedroom). Many other things are hand me downs (our mattress, the bed in the guest bedroom, our den side table, our sunroom pillows). Our approximate annual savings: $1000+
8. And when it comes to our clothing we're the same way. John loves J Crew, Banana Republic and even Kenneth Cole, but it's always from the sale rack or even Marshall's (which is full of treasures, you just have to dig a little). Likewise, I buy my Nine West shoes at DSW, my BCBG dresses at Marshall's and my everyday staples on the sale rack at The Limited, Old Navy, or even Target. My best shoe score ever? Some gorge green Roberto Cavalli sandalls for 50 bucks at DSW. Our approximate annual savings: $300+
9. We bring fabric eco bags to the grocery store. And since our store is nice, they offer a 5 cent credit per bag (we usually bring in about four). Over a year of shopping, that's only $5, but it's great for reducing the amount of trash that we toss (and recycle) and there are a bunch of other ways we save loot when it comes to grocery shopping…
10. We buy the basics at Costco. We march in there and snag five huge double boxes of cereal and a giant box of Ronzoni Healthy Harvest spaghetti which lasts us well over two months (and allows us to snag two boxes of cereal for around $5 as opposed to one box for $3.50). That alone saves us $96 bucks a year, and when you factor in the spaghetti savings thanks to our bulk purchasing, our approximate annual savings is: $125 or so. Plus we get a discount annual membership for just $15 through John's office, so we never think twice about paying our yearly fee.
11. We also go food shopping less. We actually go as infrequently as we can get away with (usually two times a month or less) since we've learned that each time people go food shopping there are a few impulse purchases that aren't necessary (and usually aren't even that good or good for you) so cutting down the amount of shopping trips a month cuts down the impulse buys as well. And it really helps us to cook the food that we have instead of ending up with a bunch of errant cans and ingredients in the back of the shelves that we never use because we're always picking up new stuff. Our approximate annual savings: $200
12. We host an annual garage sale. Not only is it the ultimate form of recycling, we usually make some pretty good bank. Last year we made around $425, which is not a bad annual yield for something that only takes one morning a year. Our approximate annual savings earnings: $425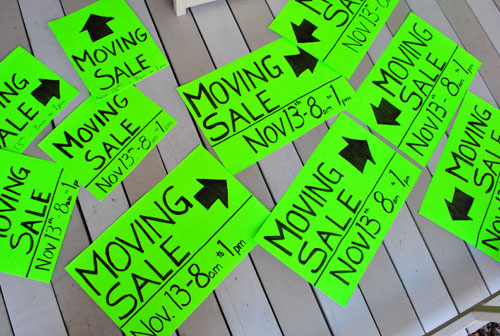 13. We're thermostat freaks. In the winter we keep our house at 69 degrees when we're around and at 63 degrees when we're not and when we're sleeping. In the summer we keep it at 74 during the day and 79 when we're gone or asleep. Sure for the second or two that Burger wakes us up in the middle of the night once a month it can be a little uncomfortable, but for the rest of the year that we sleep soundly through the super warm or super cold part, we're saving tons of money on our heating and cooling bills each year. And thanks to the fact that it's programmable, in the morning everything's perfectly comfortable by the time we wake up, and we even have a gas fireplace that we fire up in the den on cold nights when we're yearning for a little extra heat (and a big fluffy blanket). Our approximate annual savings: $200
13. Me and my girls do a magazine swap. I could easily subscribe to about thirty magazines, but instead my friends and I subscribe to around three each and we all swap until everyone has read each one. It's a great way to save money (and save trees) and then when we're all finally done with 'em I drop a big stack of glossy mags off at a local bookstore that gives them away for free to their customers. Gotta love a magazine that gets around. John and I also regularly use our library cards for free lit as opposed to buying something we'll only read once, and we also relax for a few hours a week at Barnes & Noble where we can leaf through books and mags for free while enjoying a big sprinkle cookie (our only splurge at $2) and some complementary water with lemon. Our approximate annual savings: $80
14. We're just generally frugal individuals. Maybe it explains why we're always suggesting sale items in every mood board (regardless of our client's budget). And why we're always trying to come up with cheap DIY solutions instead of springing for costlier home decor. It probably even explains why we're always digging up coupon codes, making our own chai tea at home instead of relying on Starbucks, hitting up Craigslist and Freecycle like it's our job, and stockpiling those Bed Bath & Beyond 10% off coupons like they're going out of style. We're happy that both of our families raised us to be so frugal (John's dad's nickname is "El Cheapo" while my dad's known as "The Dollar General") and even in times when it wasn't always cool to pinch pennies, we stuck to our guns (and split an entree in front of our high-rolling friends). Our approximate annual savings: $100
John and I are actually hyper aware of how lucky we are to be on the same page about money. And we truly believe that a penny saved is a penny earned. After all, if you tally up all of our annual savings above it's a total annual savings of $4,793. And that, my friends, is nothing to sneaze at. In fact, it's sort of like we gave ourselves a tax free 5K raise this year, which is one of the major reasons that we can afford for me to run the blog full time. Thank goodness for smart saving!
How about you guys? Do you have any tips and tricks for saving a little dough? Do tell!
Be sure to check out Decor8's fabulous post about how she saves money here. Inspiring!